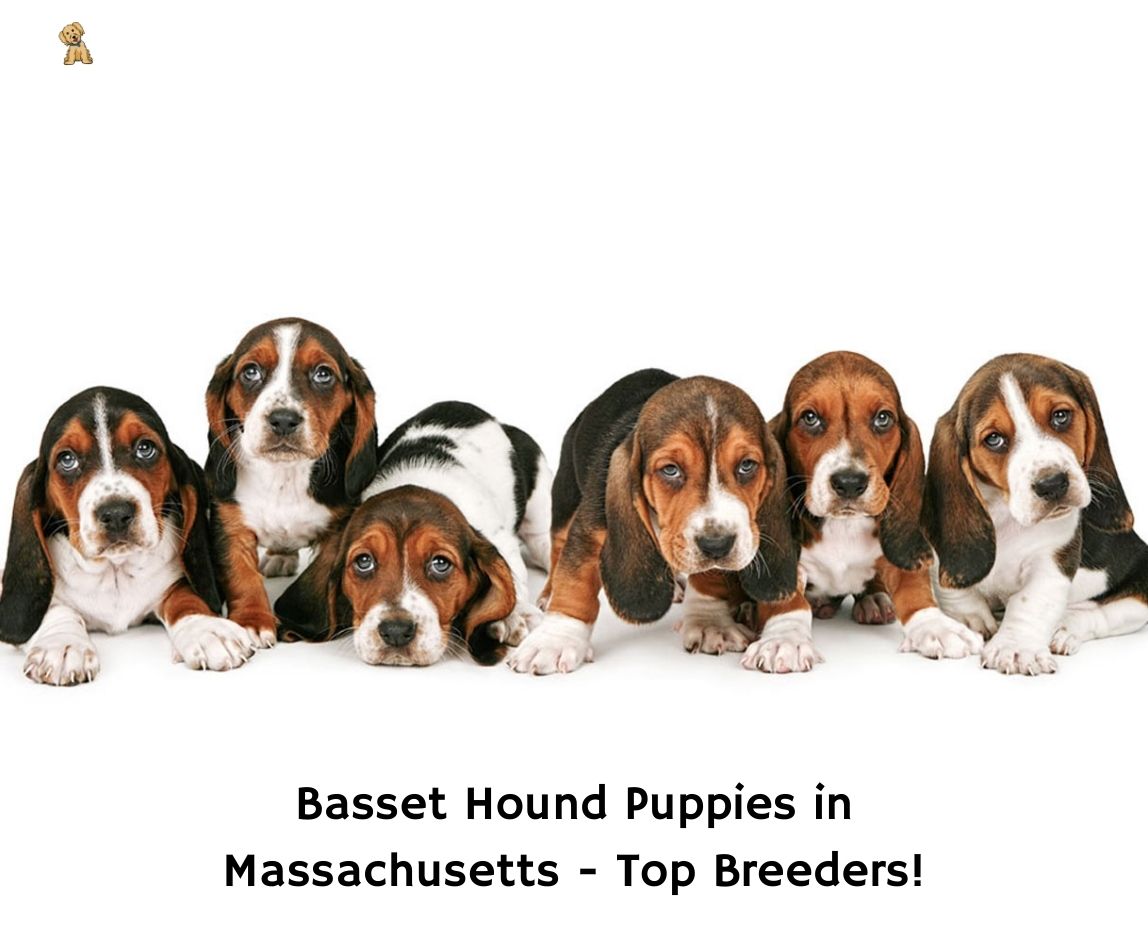 A Basset Hound is known for its iconic bark, excellent hearing, and scent tracking. Originally bred as a hunting companion favored for its ability to track game and slow pace, this dog has since been transitioned over to family pet status for most Basset Hound owners. In recent years, Basset Hound puppies in Massachusetts have become quite popular with their iconic.
One of the major factors that contributed to its designation as a family dog is that these puppies tend to love food and are likely to develop obesity as a result. As the dog's weight increases, the relative activity of the Basset Hound starts to lower, and they start to become "lazy." Simply put, there were better breeds for the job, but that hasn't stopped the Basset Hound from finding a place at the side of a mellow owner.
In fact, this mellow, low energy behavior makes the Basset Hound one of the best breeds for older folks who don't have the energy to chase down a hyper-active dog. Since they technically fall under the small dog category, they make great pets for apartments that restrict pets to small breeds.
Basset Hound Puppies For Sale in Massachusetts
If you're looking to get a floppy-eared Basset Hound of your own, then look no further than our list of the top 4 breeders for Basset Hound puppies in Massachusetts! Our research is based on reviews, health testing, and website information. We do our best to exclude all puppy mills, but always encourage people to do their own due diligence.
1. Spectrum Basset Hounds – Bolton, Massachusetts
First up on our list of the best Bassett Hound breeders in Massachusetts is Spectrum Basset Hounds. Spectrum Basset Hounds is run by Anne Testoni & Bjorn Zetterlund. This breeder is located in Bolton, Massachusetts, and is fairly well known due to them competing in a wide range of canine sports. For example:
Conformation Dog Shows
Obedience & Rally Trials
Agility Trials
Scent Work
And Pet Therapy
All Basset Hound puppies in Massachusetts from Spectrum must complete a rigorous health exam laid out by the Basset Hound Club of America and the American Kennel Club. The puppies are raised as pets, not hunting dogs within the home of Anne Testoni.
Basset Hound Breeder Information:
2. Elen L Bach – Harwich, Massachusetts
Next, we have Elen L Bach, a retired woman who breeds Basset Hound puppies for sale as a hobby over in Harwich, Massachusetts. Elen has been breeding for over 20 years and is one of the directors of the Pilgrim Basset Hound Club, a group of 11 individuals who love this breed. In fact, one of the members of this club is Anne Testoni, who is the owner of the Spectrum Basset Hounds, our first breeder on the list.
She has no business front – She breeds out of her own home on Round Cove Road. All business regarding obtaining a Basset Hound Puppy of your own is best done over the phone.
Basset Hound Breeder Information:
Check out for more: Best Basset Hound Breeders in Ohio! and Basset Hound Puppies in Pennsylvania!
3. Stowe Farm Orchard – Millbury, Massachusetts
Third on the list is the Stowe Farm Orchard, located in Millbury, Massachusetts. Owned by Amy Stowe, this farm deals in all sorts of produce, animals, and, yes, even dog breeding. In fact, they even have a dog training field for your pets – though that is currently out of operation due to staffing shortages and Covid restrictions.
The farm also has several services it offers dog owners for a modest cost:
Nature Walks
Wooded Ground
Agility Field
Country Stroll
Canine Massage
Frozen Treat Cups
The Stowe Farm Orchard has several different dog breeds that they deal in, including:
German Shepards
Mini Poodles
Saint Bernards
Poodles
Basset Hounds
Greater Swiss Mountain Dogs
Newfoundland
Cocker Spaniels
It may be challenging to get a Basset Hound puppy from Stowe Farm Orchard at this time since they only have two females at the moment. This makes breeding a bit of a slow process, as they need to find a male stud to get a litter.
Still, if you're patient, this is one of the best places to get a Basset Hound puppy in Massachusetts or any of the other breeds in the list above.
Basset Hound Breeder Information:
4. Basset Hound Ranch – Middleport, New York
The final addition to our list for Basset Hound puppies in Massachusetts is the Basset Hound Ranch, owned by Janice Weaver. This breeder is located in Middleport, New York, so it is a bit of a hike, but this is the closest breeder to Massachusetts that meets our strict criteria for making it into the list of best breeders.
If you're willing to make the trek over to New York if the other breeders on the list don't have puppies available, then this is where we recommend starting.
The puppies are raised on ten acres of land, which gives them plenty of room to run and play. They are kept in climate-controlled kennels and are monitored regularly using technology while the family works the farm. They are given TLC Pet Food as their dietary food choice.
The Basset Hound Ranch is home to seven Basset Hounds that they use to breed litters. They have various colorations, so you may get to choose a wide variety of markings, which is an advantage that some smaller-time hobby breeders can't offer.
If you're interested in getting a Basset Hound puppy from this breeder, you'll need to put in a $100 deposit to reserve the puppy. Families and visitors aren't allowed to hold puppies until they've had their 6-week vaccines and are dewormed before they leave.
Basset Hound Breeder Information:
Caring for your Basset Hound Puppy
A Basset Hound is an excellent pet for a first-time dog owner since they are great with other dogs and young children. They also aren't that bad in the shedding department, which makes them desirable for those of you who suffer from dog hair allergies.
With that said, they do need fairly regular grooming of their hair to keep it in line and healthy. Additionally, this breed is notorious for drooling, so you are going to need to deal with cleaning your floors more often wherever your Basset Buddy decides to hang out for a while.
They are also quite vocal and will alert you to the sounds of even the quietest of disturbances, courtesy of their excellent hearing and sense of smell.
As stated above, they are also notorious for over-eating. You'll need to ration your pup to make sure they maintain a healthy weight because they tend to simply devour food if it's in front of them.
How Much Can You Expect to Spend on a Basset Hound Puppy
The average price for a Basset Hound puppy in Massachusetts from a breeder is around $800-$1500+. However, the price can get to as high as $3500 if the Basset Hound puppy's lineage and health are considered to be extremely desirable. Typically these qualities include past championship bloodlines adhering to the American Kennel Club standards. These would typically be show-type dogs.
If you choose to adopt instead, You can expect to spend around $300, typical of most adoptions, to cover the pre-adoption costs of keeping the dog fed and up to date with its shots and the like.
Conclusion for Basset Hound Puppies in Massachusetts – Top Breeders
There are a lot of dog breeds out there, but few have the adorable composition of a Basset Hound with their massive floppy ears. Couple in the fact that they are fairly low maintenance, great with kids, and have this hilariously cute way that they run, they will leave you satisfied to have as a pet.
The only real downside to the Basset Hound puppy is that they can get on your nerves with how they bark at almost anything that makes a noise. Any sounds that are out of the ordinary can trigger this behavior, so bear that in mind if you dislike noisy animals.
If that isn't a dealbreaker for you, and you're still interested in getting a Basset Hound puppy for yourself from one of these reputable breeders, then don't let us stop you! Your furry friend awaits their new family!
Are these breeders too far away for you? Check out some of these other breeders in nearby states:
Still not convinced? Check out this cute Basset Hound video below:
Garrett loves animals and is a huge advocate for all Doodle dog breeds. He owns his own Goldendoodle named Kona. In addition, he volunteers at the Humane Society of Silicon Valley, where he fosters dogs and helps animals. Garrett enjoys writing about Doodles and believes that dogs can teach humans more about how to live than humans can teach a dog.
Why Trust We Love Doodles?
At We Love Doodles, we're a team of writers, veterinarians, and puppy trainers that love dogs. Our team of qualified experts researches and provides reliable information on a wide range of dog topics. Our reviews are based on customer feedback, hands-on testing, and in-depth analysis. We are fully transparent and honest to our community of dog owners and future owners.