Sometimes, we all need a reminder of where we belong when we step out of line. If you've ever started to doze off at the wheel – as I have – you were reminded that you belonged in your lane when people started honking at you or the center bump-grooves shook you up. Your dog needs reminders sometimes too.
When dogs are puppies, they need thousands of reminders. "Don't do that, do this. Don't eat that, eat this." When they are fully grown, they (hopefully) need far fewer. But what about when a dog is pulling on its collar or harness? If you have a small dog, such a bad habit might not be too annoying, but if you have a large dog, it might be dragging you around during your "walks." That might be fun for your dog, but it's not much fun for you. It should also be worth nothing that excessive pulling can lead to tracheal collapse. This is one of the main reasons that people use gentle leaders. 
However, when people use gentle leaders on dogs, it looks painful and cruel to be turning the head of your dog. Today, we will explore the question "Are gentle leaders cruel?" In general, gentle leaders are not cruel when used properly. They act as a mechanism to stop your dog from pulling. Most people confuse gentle leaders with a muzzle which may be considered cruel.
Before scrolling down, here are some related articles: Best Dog Head Halters
The Purpose of a Gentle Leader Harness
A gentle leader collar (also known as a head collar) is a simple, two-strap collar that is used in addition to your dog's normal collar. Why use a gentle leader? In short, it is extremely effective in curbing your dog's pulling issues. Ultimately, it causes your dog's head to turn if they pull on your leash.
How to put a gentle leader on a dog:
It has one strap that goes behind your dog's neck and another strap that goes over your dog's nose close to where their head is. Usually, they are made of nylon, but they can be made of leather or another strong material too.
These two loops connect below your dog's snout, and where they join, there is a small clasp that can attach to your leash. Most people get confused putting on a gentle leader the first time, so we suggest that you read the instructions.
How Does a Gentle Leader Work?
To use a gentle leader, simply place one strap around your dog's nose and close the clasp on the second strap behind the neck. After that's in place, you can connect your leash to the gentle leader and go for a walk.
When the dog pulls on the leash, the collar will push the back loop gently into their neck, which causes them to try and go backward to relieve the pressure. You can also give the leash a short tug to pull their mouth shut if you need to. With these two effects, you'll be able to take more calm and controlled walks with your dog. 
What Makes a Gentle Leader Different from Other Collars?
When a dog is wearing a normal collar, choke collar, or even a harness, they'll likely pull and tug on the leash when they want to move forward. The pressure on the front of their neck doesn't faze them.
This can lead to injuries for your dog—and for you too! The nice thing about a gentle leader is that it will eliminate this tugging and pulling once they get used to wearing it.
Another difference between a gentle leader and a standard collar is that the gentle leader will communicate to your dog that you're the alpha. By taking control of your dog's head, you are reminding him that you are in charge. 
Are Gentle Leaders Cruel?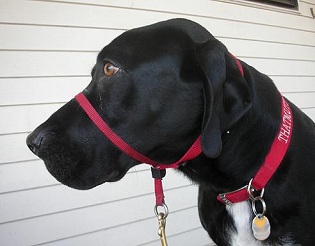 If you look at your puppy with a gentle leader on, you might be tempted to think that you're being cruel in using it. After all, it looks like a muzzle – what did your dog do to deserve this? One big difference between a gentle leader and a muzzle is that a muzzle keeps a dog from opening its mouth. A gentle leader lets a dog bark, pant, eat, drink, pick up toys, etc.
Despite its looks, a gentle leader sits gently on the dog's neck and nose, until he pulls on the leash. After the pressure is exerted by the leash, your dog will stop his forward momentum to get back to comfort. A gentle leader should never hurt your dog when used properly. You should never pull harshly on the gentle leader because they automatically work by turning your dog's head.
Another question you might have is, "What about my dog's psychological health?" Most collars don't seem to exist as far as your dog is concerned, but a gentle leader will here and there remind your dog that you're in charge.
If you have kids or work for an employer, you'll know that kind and gentle reminders of authority are fine – even good! You can remind your dog of your authority with a gentle leader, without being harsh or cruel. 
Gentle Leader for Puppies
You can make use of a gentle leader if you've noticed that your puppy tends to tug on his leash a lot or if he's tried to get away from you when you've been stationary.
Additionally, you can gentle leader harness to train a new puppy. If you start out strong, there's less of a chance that your dog will have these issues when grown.
One last reason you might give a gentle leader a try for your puppy: Your puppy likes to misbehave with his mouth—this might mean barking, chewing, or even biting.
Earlier, we mentioned that you can give a gentle tug on your dog's leash to close his mouth. If you have situations where your dog forgets his manners, you can take advantage of this feature to remind him what good behavior looks like.
Another Tool In Your Doggie-Tool-Belt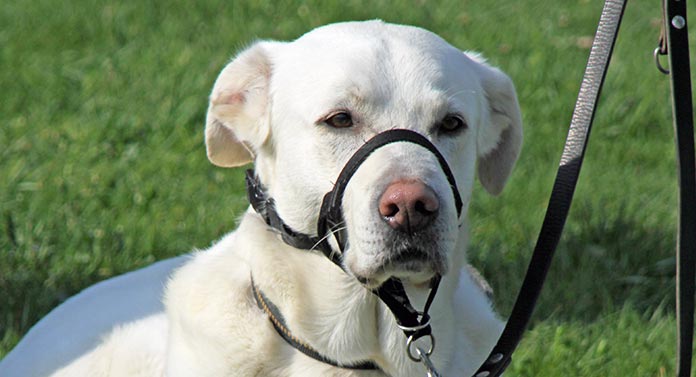 We've all seen the videos and pictures of dog torture devices. We've seen the electric barking shock collars, the electric fence collars, the barbed choke collars, muzzles, etc. Despite its looks, a gentle leader collar is exactly like what its name suggests.
Gentle leader collars are great for dogs that pull their leashes, drag you around on walks, misbehave with their snouts, or puppies and older dogs that need training. They teach your dog that you're in charge without being mean about it. They are easy to put on and take off and as simple as a regular collar to use – just attach your leash and away you go!
Ultimately, you must decide what's best for you and your dog. A gentle leader can make a great addition to your arsenal of dog accessories. Just remember that a gentle leader is a gentle reminder.
You will also like: