Going to the mall can make for a fun afternoon. You can go with your friends and family to enjoy some shopping at the end of the week. However, if you have a dog with you, you might feel conflicted about whether to bring them with you. After all, you do not want to leave them alone at home for hours at a time. Leaving your dog home alone for a long period can lead to several issues.
With that in mind, you might not know whether you are allowed to bring your dog with you to the mall. Unfortunately, not all malls allow dogs to go in, but it's not a rarity either. There are several dog-friendly malls throughout the United States. Additionally, many of those malls come with amenities such as dog comfort stations, doggie drinking fountains, and dog parks.
So, are dogs allowed in malls? Yes, but it depends on the mall. Most malls allow dogs in common areas, and some stores accept dogs on a leash when you go inside. Still, you need to check the rules for your local mall. However, if you have a service dog, you are allowed to bring them into a mall.
Other articles you would like: What stores are dogs allowed in? and Are dogs allowed in Home Depot?
Things to Consider Before You Bring Your Dog to the Local Mall
Before you decide if you're going to take your dog with you on your next shopping trip, you need to bear several things in mind.
Will Your Dog Feel Comfortable?
Even if it is allowed, you should only bring your dog if they will feel comfortable in their new environment. So make sure your dog is properly socialized. They need to be able to interact with other people and animals without causing issues. You should be able to determine this based on how they act when you have guests over. You can also look at how they act around other dogs when you bring them to the dog park.
Learn the Mall's Rules Beforehand
You should learn the rules of your local shopping center before leaving the house. Do they allow all dogs? Do certain stores allow dogs and others do not? Are there amenities for dogs available in the mall? All of these questions need to be answered before you consider bringing your dog to the mall.
Prepare Your Dog for Visiting the Mall
Start with a walk through an outdoor mall, which will be something similar to a normal walk for your dog. Then, you can enter a pet supply shop. The sounds and smells won't be new for your pet, and they will most likely feel comfortable.
After that, try visiting a shopping mall outside the rush hours when there won't be too many people inside. Don't go inside the stores just yet, stay in the corridors. The final step will be to take your dog to a mall during a busy time of day and see how he behaves.
Always respect your dog's feelings during this process, and don't push them to go somewhere where they don't feel well. If, at some point, they are too stressed, remove them from the situation and find a quieter place to stay.
Keep You Dog on a Leash at All Times
If you bring your dog with you to the mall, you should always keep them on a leash or in a carrier. Even if they are well-behaved dog that does well off-leash, there will be a lot of new stimuli at the mall. Your dog might react differently with hundreds of people around, and you don't want them running away from you. So, keep them on a leash at all times.
Finally, you should always clean up after your dog. Your dog will probably be fine if you do not go to the mall for long, but they might defecate or pee while you're there. If this happens, clean up after them.
Are Dogs Allowed in American Dream Mall?
American Dream Mall is one of the largest and most popular malls in the United States. Located in New Jersey, it is the largest mall in the tri-state area. However, it is not just big by New York City standards, it is big by USA standards. American Dream Mall is the second largest mall in the United States.
American Dream Mall is not just big because it is filled with several interesting stores to shop at, but because it has several exciting attractions. It has a theme park, an indoor water park, and a skating rink.
You can also visit the aquarium, explore the Tilt museum, and go to the Oreo Cafe. If you don't want to do any of those things, there are still plenty of stores to visit like you would at traditional malls.
Unfortunately, you are not permitted to go to American Dream Mall with your pet. The only exception is if you have a service animal.
Are Dogs Allowed in Bellevue Square Mall?
Bellevue Square Mall is another one of the most popular malls in the United States. Located in Washington state, this one is on the opposite side of the country. It attracts more than 22 million visitors every year.
At Bellevue Square Mall you can shop at some of the best stores in the country. There are over 200 retail outlets for you to explore, as well as dining and entertainment options for you to enjoy. There is even an indoor play area for your kids. So, you can leave them there while you do your shopping.
Unfortunately, you will not be able to share your experience at Bellevue Square Mall with your furry friends. Dogs and pets are not permitted in this shopping outlet. However, ADA-recognized service dogs are welcome in the mall. So, if you have a service dog, you do not need to worry about going somewhere without them.
Are Dogs Allowed in Aventura Mall?
If you would rather visit somewhere hot, you can visit Aventura Mall in Miami, Florida. There you can enjoy the best shopping experience in the state of Florida. Aventura Mall provides visitors with unique experiences, luxury shops, and world-class art. Additionally, there are indoor and outdoor dining options for visitors to enjoy.
Aventura Mall also contains popular farmer's markets and stunning architecture. Some popular shops in Aventura Mall include Aritzia, Gucci, and Valentino.
Fortunately, Aventura Mall is more flexible when it comes to dogs than others malls we have looked at so far. The only pets allowed at Aventura mall are leashed dogs and service animals. So, you cannot bring other pets, but you can bring your dog.
However, it is crucial to reiterate the point that your dog needs to stay on a leash at all times. People walking around with their dogs off-leash will be asked to leave. All service dogs are allowed at Aventura Mall without question.
Are Dogs Allowed in Cerritos Mall?
Cerritos Mall is located in California. It's a great place to visit if you are on a trip through the state. At the mall, you can enjoy exploring some of the best-shopping outlets the country has to offer.
This shopping mall always has new offers for you to take advantage of. There are "buy three get one free" events regularly and spread across multiple stores. As a result, you can save a lot of money by shopping here.
Furthermore, there are several other events held in the mall throughout the year. So, if you are passing through, you will need to check out the Cerritos Mall website to see if anything exciting is happening while you are there. There are also plenty of great dining locations so that you can finish your day of shopping with a great meal.
While Cerritos Mall does not allow you to bring your dog to every location within the mall, there are several dog-friendly places. Notably, the Lazy Dog Restaurant and Bar is a pet-friendly patio. And it comes with a dog-friendly menu. You can order chicken breast or beef patties for your dog to enjoy.
However, if you do not like the look of this restaurant, it is not your only option. There are 40 pet and dog-friendly locations in Cerritos Mall. So, you will have plenty of things to do if you bring your dog to the mall here.
Why Are Dogs Not Allowed in All Malls and Public Areas?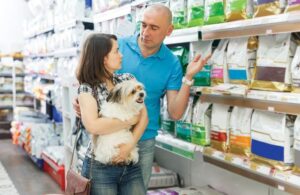 If you have a dog, you probably wonder why you cannot bring your dog wherever you go. You might think you have a well-behaved angel that would never hurt anyone or do anything wrong. While that might be the case for your dog, it is not the case for all dogs.
Unfortunately, not all dogs are well behaved or clean. As a result, there are three significant reasons for malls and other outlets to outlaw dogs.
Firstly, bringing dogs inside is not always hygienic. Dogs carry many germs, and as a result, they can compromise the cleanliness of the environment. The biggest problem is that dogs drool a lot, but they also sometimes poop and pee indoors.
Another reason is that it's not always safe for guests. Many dogs are unpredictable and can attack when they think they are in danger. Managers do not want their customers hurt by rogue dogs.
Finally, many people are allergic to dogs. Since dogs will not buy anything themselves, store owners will ban dogs rather than people with dog allergies.
Conclusion For Are Dogs Allowed in Malls?
Bringing your dog with you whenever you leave your house is ideal, but it is not always realistic. You need to figure out if your dog is allowed in a store before you bring it to one. Unfortunately, many malls do not allow dogs but may do as well. So, you need to check the rules of your local mall before you bring your dog.
Other articles you would like:
Want to see a cool video of dogs allowed into a mall? Check it out below:
Garrett loves animals and is a huge advocate for all Doodle dog breeds. He owns his own Goldendoodle named Kona. In addition, he volunteers at the Humane Society of Silicon Valley, where he fosters dogs and helps animals. Garrett enjoys writing about Doodles and believes that dogs can teach humans more about how to live than humans can teach a dog.
Why Trust We Love Doodles?
At We Love Doodles, we're a team of writers, veterinarians, and puppy trainers that love dogs. Our team of qualified experts researches and provides reliable information on a wide range of dog topics. Our reviews are based on customer feedback, hands-on testing, and in-depth analysis. We are fully transparent and honest to our community of dog owners and future owners.