Here's what you need to know if you're searching for the best Shih Tzu breeders in Washington. People-pleasers, Shih Tzus, have a lot of affection for other people.
They'll charm everyone within a few moments of meeting them, whether it's kids or adults. Because of their small stature and minimal exercise needs, they're the perfect apartment dog.
Before scrolling down this list of Shih Tzu breeders in Washington, check out these other recommendations from our team at We Love Doodles: Best Cane Corso Breeders in Washington and Best Boxer Breeders in Washington.
Shih Tzu Puppies For Sale in Washington
This article is for you if you live in Washington and look for Shih Tzu puppies for sale. Here are the most reliable and ethical Shih Tzu breeders in Washington.
Shih Tzu Product Recommendations: Best Air-Dried Dog Food and Best Dog Crate Alternatives.
1. PuppySpot's Shih Tzus For Washington
Since you're searching for Shih Tzu breeders in Washington, we highly recommend checking out PuppySpot's platform. PuppySpot is a marketplace where you can browse for many available Shih Tzu puppies from the comfort of your home in Washington.
All Shih Tzu breeders with listed puppies have to go through strict guidelines, so there's not much to worry about your companion being safely shipped to your home in Washington. Before you continue on your search for a Shih Tzu puppy for sale from a breeder in Washington, check out the link to the marketplace below.
PuppySpot Details
2. Frog Creek Shih Tzu
Frog Creek Shih Tzu is a small, in-home breeder of high-quality AKC Shih Tzus. They specialize in Shih Tzus, also known as Imperials. Small, but still possessing all the great qualities of the larger ones. They breed for quality, but just in a smaller package.
They also breed adorable 7-11lb Shih Tzus, receiving requests for larger dogs. In Sultan, Washington, northeast of the Seattle area, they welcome you to meet the puppies and see their parents.
They can also accommodate buyers in the area. In addition to being raised in their home with other animals, kids, and lots of love, all of their puppies are well socialized. Puppies are limited AKC registered. Full registration may be available for some dogs.
Frog Creek Shih Tzu Details
3. Shurbeez Shih Tzu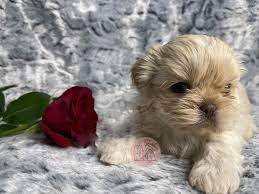 The Stevens family are small-scale hobby breeders of quality standard-sized Shih Tzus located in Spokane, Washington. Since they have a small program, they only have a few litters a year. So instead of selling as many Shih Tzu puppies as possible, they are focused on producing the highest quality.
Their goal is to stay current on the latest breeder practices, research, training methods, and canine studies. They focus on their puppies' health, temperament, conformation, and development. As a result, they don't get caught up in changing trends like imperial size and coat colors.
In 2000, they delivered and raised their first litter, and they continue to learn and develop best practices with each litter. In addition, all breeding adults are genetically tested to ensure optimal health for future generations. ​As cherished pets, their dogs live in a loving home environment. Their needs are met to the fullest extent possible. The dogs do not live in kennels or cages.
Shurbeez Shih Tzu provides:
The best food.
Supplements.
A clean environment.
Age-appropriate toys and experiences.
Lovingly handling and training their puppies.
They raise their puppies with Puppy Culture: an organized socialization and training program specifically developed for puppies from birth to the end of their critical socialization period. They use many other methods and techniques to help their puppies grow into the perfect new best friend for you.
All breeding dogs are genetically tested to ensure their offspring are free of inherited diseases. Puppies come to you dewormed and with at least one 5-way vaccination and a start on potty training.
Shurbeez Shih Tzu Details
4. Newsong Cocker Spaniels & Shih Tzu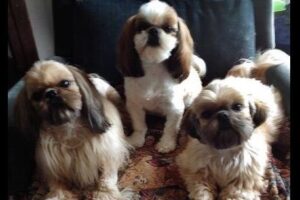 Newsong Cockers & Shih Tzu is located in Snohomish, WA. They breed to the AKC Breed Standard, focusing on health, temperament, beautiful breed type, sound structure, and big, expressive eyes and expressions. No dog with health issues will be bred, even if it is a champion in the show ring.
Research and sacrifice have gone into these bloodlines, and they want to be responsible stewards of the future Cocker Spaniels and Shih Tzus. They take car rides to the park to meet strangers and watch ducks. Dogs are taken to friends' homes and a cafe a couple at a time.
It allows them to be held by their friends in a noisy environment. Before rehoming, puppies undergo a vet wellness exam and fecal test. In addition, lifetime health guarantees are offered. It covers inherited fatal diseases during the lifetime of the puppy and is only valid for a healthy, vet-checked puppy at the time of purchase.
Newsong Cocker Spaniels & Shih Tzu Details
5. Curtis Imperials
In Tekoa, Washington, Curtis Imperials is a small Shih Tzu breeder. They specialize in Shih Tzus with a fun personality and a tiny face. They breed for health, conformation, size, and color variety. They believe they have found them in their search for the finest Imperial Shih Tzus in the U.S. Dogs are part of their family, and each one is unique and special.
No expense is spared for their care. Their goal is to raise well-socialized babies who can leave home, be well adjusted to their new families, and live a happy, healthy life. In addition, they offer a Puppy Nanny Service, so your puppy can be shipped anywhere in the United States with an experienced puppy nanny.
As a family, they raise their Tiny Imperial Shih Tzu at home. The babies are raised seriously and are given the highest possible care. Veterinarians examine all puppies regularly. A veterinarian administers all vaccinations. Puppies are priced based on their size, gender, and color. They strive to place their puppies in loving, pet-friendly homes.
Curtis Imperials Details
6. Li'l Country Shih Tzu
Li'l Country Shih Tzu is an AKC Shih Tzu breeder located in Washington State specializing in producing small standard, imperial, and teacup-sized Shih Tzu puppies for your family. As part of their family, they raise their Shih Tzu at home to ensure they will be a positive addition to your family.
Continually improving their quality, expanding their capabilities, and improving their efficiency, they are committed to enhancing Shih Tzu breeding technology. All puppies will be vaccinated and dewormed. In addition, a toy and blanket with the litter's scent are sent to their new home to ease the transition.
They will also receive a bag of food that they are accustomed to and a copy of the Purchase document and their Health Record. The puppies do not leave for their new homes until they are nine weeks old, and sometimes even later, depending on their size and the distance to their new homes.
Li'l Country Shih Tzu Details
7. Bayview Shih Tzu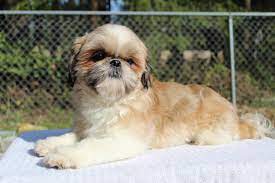 Tina of Bayview Shih Tzu is a small breeder and mother of three beautiful children. Just one hour away from Seattle and Olympia, they are located on the Kitsap Peninsula. In 1996, they started showing dogs, and since 2004 they have been breeding Shih Tzus. Their lives and home are entirely dedicated to their Shih Tzu.
Their Shih Tzus live in the family home as pampered pets. Their puppies are sold as pets without breeding rights. They want their babies to be valued members of the family. What matters most to them is that they are loved and cherished family members, not how many are crowned champions.
You won't find a timid dog here. They are raised in their homes and handled from day one. Their puppies are well socialized. Although they don't have many litters a year, sometimes they will have beautiful puppies. Unfortunately, they cannot ship puppies. Puppies from this breed come with no breeding rights and are not registered.
Bayview Shih Tzu Details
8. Jazzie Shih Tzu
Last on the list of the best Shih Tzu breeders in Washington is "Jazzie Shih Tzu." Jazzie Shih Tzu is located in Central Oregon, not Washington. They lie east of the Cascade Mountain Range and south of the majestic Smith Rock. They are breeding outstanding Shih Tzu to AKC standards for type and temperament.
With their Puppy Nanny Service, you can have your puppy shipped anywhere in the United States with an experienced puppy nanny. The boys and girls they have raised are descended from the most valuable bloodlines of Wenrick, Symarun, Tu-Chu, and Ultra.
For 30 years, they have collaborated and improved, grew, and expanded their knowledge of showing and breeding this adorable Shih Tzu breed. From the day they are born, their puppies are socialized in a loving environment.
To ensure sound temperament in their puppies, they emphasize socialization. In addition, they use the following enrichment methods: Household Desensitization. Each puppy is vaccinated and dewormed. The puppies are also regularly taken to the veterinarian. All puppies are guaranteed for one year. The health guarantee covers any genetic conditions or defects.
Jazzie Shih Tzu Details
Shih Tzu Puppies in Washington
A dog is a man's best friend, and a puppy is a man's sweetest companion. So if you are looking for a companion and cuddler, Shih Tzu might be the right pet for you.
Although Shih Tzus are pretty adaptable, they may not live in a small house unless they are always allowed to move. During the day, they will run to the door to greet strangers, play with their toys, or rest on their owner's lap for a short nap.
How to Choose The Right Shih Tzu Puppies in Washington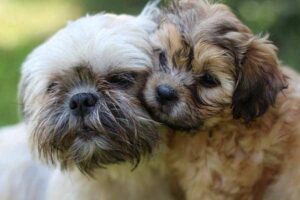 Dog breeders should only specialize in one breed, or maybe two at most, and they should work with dogs because they love the breed, not to make a lot of money. A reputable breeder will also include a clause in the contract that states that if you cannot keep the Shih Tzu for any reason, you will return it. The main reason for this is that a good breeder always looks out for their puppies and has Shih Tzu's best interests at heart.
Where Do You Find a Shih Tzu Breeder in Washington?
Referrals are the most reliable way to find a reputable breeder. In addition, you can get recommendations from friends or family who have used the breeder previously or from your veterinarian.
Ask your vet, friends, or family who has used a breeder for starters. You should also request a list of references from any breeder you consider. You can also search for reputable breeders through the AKC (American Kennel Club).
Conclusion For The "Best Shih Tzu Breeders in Washington"
According to the AKC, Shih Tzu puppies are the 20th most popular dog globally. To identify whether or not a breeder is a puppy mill, you'll need to do a lot of research.
To make things a little bit easier for you, we've gathered some of the most reputable Shih Tzu breeders in Washington. But, of course, you should always do your research and make sure you buy a healthy and happy dog.
For more guides similar to this list of Shih Tzu breeders in Washington, you can check out:
Before you bring home a Shih Tzu puppy from a breeder in Washington, you can learn more about the breed by watching "Shih Tzu Dog Breed Guide – Dogs 101" down below: