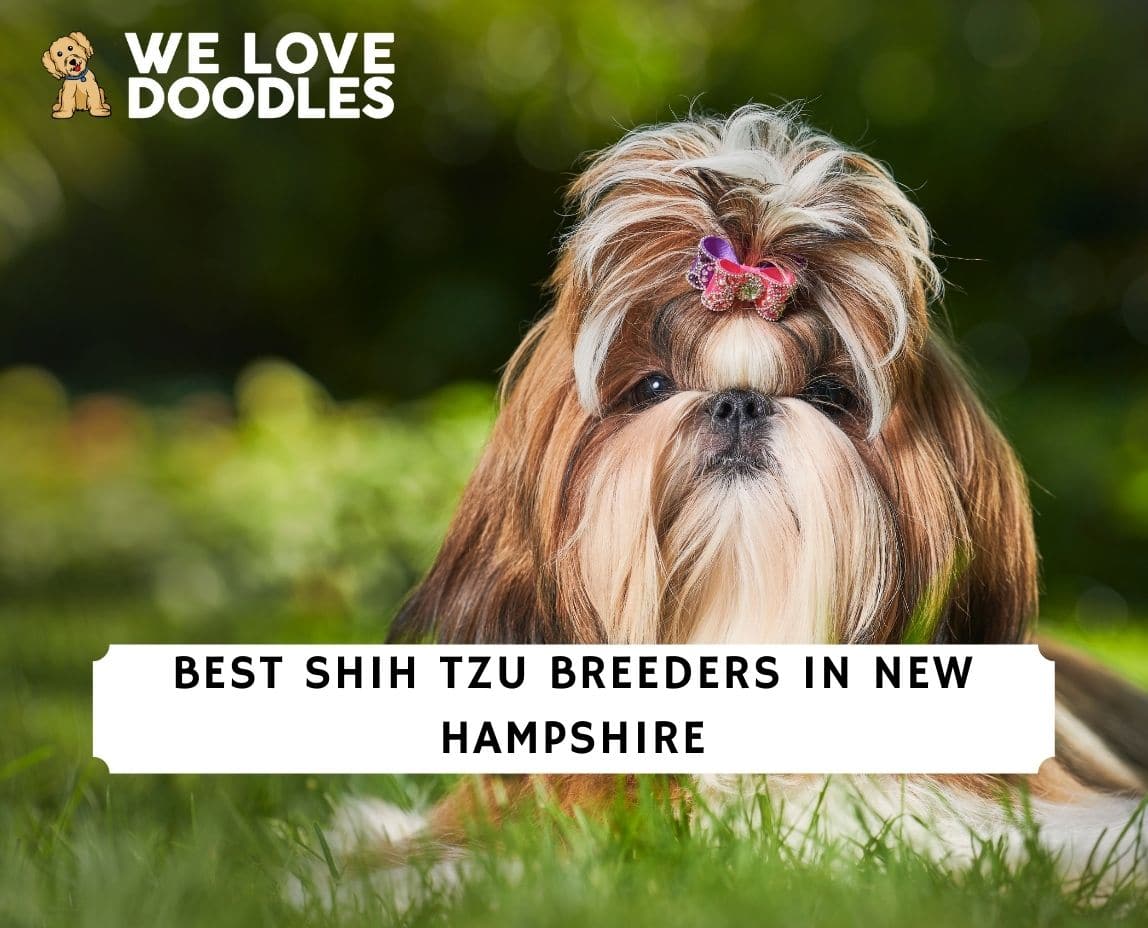 Here's what you need to know if you're searching for Shih Tzu breeders in New Hampshire. Shih Tzu dogs are some of the most sought-after breeds, mainly since they are small, have soft fur, and have a very calm temperament. They originally come from Tibet. They have since reached every corner of the world, accompanying their owners through their lives.
Before scrolling down this list of Shih Tzu breeders in New Hampshire, check out these other recommendations from our team at We Love Doodles: Best Rottweiler Breeders in New Hampshire and Best Labrador Breeders in New Hampshire.
Shih Tzu Puppies For Sale in New Hampshire
If you're thinking of sharing yours with a Shih Tzu, you're in luck, as we've prepared a list of the best Shih Tzu breeders in New Hampshire.
Shih Tzu Product Recommendations: Best All-Natural Shampoos For Dogs and Best Puppy Flea Shampoos.
1. PuppySpot's Shih Tzus For New Hampshire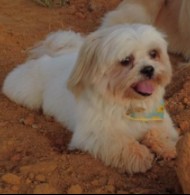 Since you're searching for Shih Tzu breeders in New Hampshire, we recommend checking out PuppySpot's platform. PuppySpot is a marketplace where you can browse for available Shih Tzus from the comfort of your home in New Hampshire.
All breeders with Shih Tzu puppies listed must go through a strict screening process, so you can rest assured knowing that your companion will be safely shipped to your home in New Hampshire. Before you continue searching for a Shih Tzu puppy for sale in New Hampshire, check out the link to the marketplace below.
PuppySpot Details
2. Dog Breeding
Let's start this list with Dog Breeding. You can find them in Manchester. They breed dogs out of sheer love and passion for them. They genuinely feel life is richer and better with a puppy beside them. They always breed with the utmost quality and care. Their objective is to breed very happy and healthy puppies.
All of their Shih Tzus are raised inside their house and are treated as members of the family with respect and care. As the puppies' health is very important, they are fed high-quality food. Once the puppies are born, from week three, they are fed rice cereal as it helps their development and also to sleep better.
After a few weeks, the dogs will also receive some litter box training and get general social training when they spend with their siblings. They are also certified by the AKC (American Kennel Association), meaning their quality, consistency, and legitimacy are recognized.
Dog Breeding Details
3. Shish-ka-bobs Shih Tzu
For this particular breeder, it all started with adopting a Shih Tzu of their own, they quickly fell in love with the dog, and now their objective is to share them and try to educate the world about them. They have bred over 30 champions from world-class breeds, mostly out of pure love and passion from the dogs themselves. They've been around for a long time and have plenty of experience and expertise.
When breeding their dogs, health is the most important thing they pay attention to. Before mating the dogs, they are tested for genetic disease. Once the puppies are born, they are checked by the veterinarian once a week. Additionally, they'll receive a vaccine and deworming treatment. All puppies are loved, cherished, and treated with a lot of love.
This helps them develop social and behavioral skills that would make your life easier if you adopt one of them. Due to their size and circumstances, if you're interested, there are only small windows of opportunity to get a dog with them. That is why it is recommended to do this with anticipation and time.
Shish-ka-bobs Shih Tzu Details
4. Windsong Shih Tzu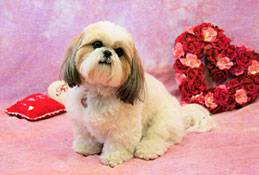 They are located in South Weymouth, MA. They are indeed a few hours' drives away from NH, but they'll go by quickly due to your excitement about getting your new dog. Windsong is a small-scale breeder that prefers to focus its attention on quality rather than quantity.
Their dogs are raised in a comfortable, clean environment before going with you. They have over 30 years of working with Shih Tzus. They know everything there is to know and have a lot of expertise and experience in every aspect. They'll gladly walk you through if you need some pointers or guidelines.
Before breeding, their dogs are tested for any genetic disease. Once the puppies are born, they are well taken care of, fed high-quality food, and receive weekly checkups from the veterinarian. Should you be interested, they offer health guarantees in an unexpected event.
Windsong Shih Tzu Details
5. Majesty's Shih Tzus
With over eight years of experience, Tay and her family have the small project of breeding high-quality Shih Tzus. Their main reason for breeding is out of love and passion for the dog breed, as having a dog has provided a lot of happy moments for them.
They are an AKC certified breeder, meaning they are very accomplished, trustworthy, consistent, and offer a quality puppy to accompany you. Their main focus is breeding happy, healthy, and social puppies. All three categories are extremely important to them.
They work hard to keep the dogs healthy. They often test the dogs and have them checked. Additionally, the dogs have a lot of time with the family to learn how to socialize and behave. If interested, they offer a 5-year guarantee in case of a health-related complication. Five years is one of the longest time lapses you'll ever see.
They'll also be honored if you come to them for advice or pointers on how to care for your dog. They'll also be happy to give you a doggie starter kit with all the tools you'll need to start.
Majesty's Shih Tzus Details
6. Morton Shih Tzu
Located in Maine, Morton Shih Tzu is a small-scale family-run project that looks to bring more Shih Tzus into people's lives. They passionately breed puppies. They take care of them until they're eight weeks old. In this time, they'll learn plenty of social and behavioral skills.
The puppies are bred with the main purpose of being happy and healthy. The puppies will be checked by a vet to check that everything is okay. They love to take pictures of their dogs and share them with pride. You can go to their web page and contact them if you're interested. You can ask them any questions that you might have.
Morton Shih Tzu Details
7. P & J Shih Tzus
The last breeder in our list of Shih Tzu breeders in New Hampshire is P&J Shih Tzus. They are a small-scale, family-owned quality Shih Tzu breeder located in CT. Although it is a bit of a drive to get there, it might be well worth it. Breeding out of a pure passion for the dog's breed and the dogs themselves, they have committed themselves to breeding high-quality dogs.
They consider the Shih Tzu brand the perfect companion pet and are very happy and eager to share them. They are an AKC-certified breeder. You can trust them to breed and take care of your dog until they relinquish it to your care. Their main priority as breeders is health.
They will have the puppies' parents tested for any disease- Once the puppies are born, they will also vaccinate and deworm their puppies. A veterinarian will also take a look at how the puppies are doing. Should you choose to go with them, they offer a 1-year health guarantee in the case of an unexpected event.
P & J Shih Tzus Details
Choosing a Shih Tzu Breeder From New Hampshire
Choosing a breeder is a big responsibility. After all, you are trusting whoever you choose to raise your puppy. Those first eight weeks of the puppy's life will be crucial. It'll teach many important things, to socialize, behave, and use the litter box.
The time they spend with their breeder will determine several aspects of their personality that will directly or indirectly affect you.
Every breeder breeds what they feel is the best way to do so, but there are plenty of interpretations to that. It's important that you feel comfortable with who you've chosen and the methods they employ.
New Hampshire Shih Tzu's Additional Information
Although not many, there are a few Shih Tzu breeders in New Hampshire. If the in-state suggestion weren't to your liking, you could always go for a short drive to one of the surrounding states, such as Rhode Island, Connecticut, or Maine.
It would be best if you always were wary of potential scammers. To check a breeder's legitimacy, ask them for their certifications. You can also ask as many questions as you feel you need to figure out the best choice for you.
Conclusion For The "Best Shih Tzu Breeders in New Hampshire"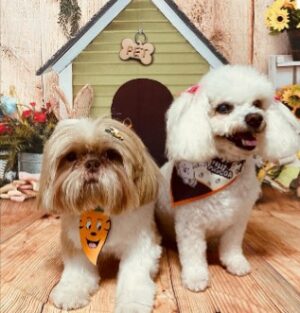 Shih Tzus are incredibly friendly dogs. If you're thinking of getting one of them as a pet, it's always prudent to go with a breeder you trust and feel comfortable with.
This will give you plenty of benefits in the long run and a quality dog to enjoy. The choice is up to you. There's no right or wrong, just what you feel fits and is what you're looking for.
For more guides similar to this list of Shih Tzu breeders in New Hampshire, you can check out:
Before you bring home a Shih Tzu puppy from a breeder in New Hampshire, you can learn more about the breed by watching "10 Important Facts About Shih Tzu" down below: