The Shiba Inu dog breed is a small to a medium-sized dog and one of the Japanese native dogs initially bred as hunting dogs. Though small, the Shiba is very alert, agile, attentive, and makes an excellent companion dog. Shibas are recognized purebred classified under the non-sporting group by the American Kennel Club.
Shiba puppies in Michigan have a solid and muscular body – females weigh about 17 pounds, the males weigh 23 pounds. There are not too tall as their height is between 14 to 15 inches for the female Shibas and about 15 to 17 inches for the males. Their life expectancy is usually between 14 to 16 years old, and their short double coat comes in various colors and markings.
If you're looking for Shiba puppies for Michigan, we found some of the top breeders for you to choose from. We did come across several puppy mills that do not care about the health of their dogs. In general, ask any potential Shiba breeder in Michigan for their health warranties, checks, and other customer reviews. Additionally, before you put down a deposit on a puppy, you should always request to see the parent dogs. Doing your own research will ensure that you get a healthy and happy Shiba puppy in Michigan.
Other articles you would like: Maltese Breeders in Michigan and Havanese Breeders in Michigan!
Top Shiba Breeders In Michigan
Shibas are adaptable and exceptional companion dogs with their agile and bold expression that keeps intruders at bay. You are making an excellent choice if you want a Shiba for a new family addition. However, we recommend you contact a responsible breeder for your new puppy; below are the names and contacts of some top Shiba breeders in Michigan.
PuppySpot is USDA-licensed and requires the same certification from all the Shiba breeders who wish to join this online community of dog lovers. That's why you're sure to bring home a puppy that does not come from a puppy mill or backyard breeder
Residents of Michigan can safely have their beloved puppy delivered to them through PuppySpot. A Puppy Chaperone accompanies your Shiba puppy so that it remains stress-free throughout the flight. You have the option to pick it up from an airport near your home or have it home-delivered.
Before your Shiba puppy is delivered, it goes through a complete health checkup and comes with a 10-year health guarantee. This is by far the longest health warranty from any breeder. PuppySpot has strict measures in place whereby the breeders are required to conduct this health check and ensure your new furry friend has been dewormed and vaccinated according to its age. We got one of our puppies from them and had a really good experience!
Update: PuppySpot is offering our blog readers $100 off a new Shiba. Use code WLD100 at checkout.
Shiba Breeder Details
2. Avalon/Amaterasu-Omikami Sou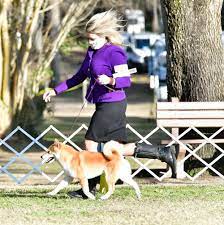 Dawn Hubbard is the responsible and reputable breeder behind a home-based breeding program in De Witt, Michigan. They are renowned for offering top-quality and healthy pups with beautiful dispositions and great looks. Their carefully planned program reflects their love, respect, and admiration for the Shiba Inu breeds.
Avalon/Amaterasu-Omikami Sou strives to produce Shiba puppies in Michigan that thrive as superb family companions and show prospects and better the breed. They are an AKC breeder of merit and a proud member of the National Shiba Club of America. Avalon Shibas are bred following the club's breed standards and are recognized by GoodDog for responsible breeding programs.
Avalon's breeder's report texting is on an excellent level, according to GoodDog, as they do not take the health testing of all their dogs with levity. Their mom and dad are carefully selected, tested, and cleared for OFA/CHIC DNA, Patellar Luxation, and CAER before mating to clear all genetic concerns. The entire Avalon puppies are born and raised in their home and are socialized daily to prepare them for a family environment of their new home.
All Avalon puppies are not ready to leave until after 10 weeks and are vaccinated, dewormed, vet checked, and microchipped. They are covered with a 2-year health guarantee against congenital or hereditary concerns. Their pups also come with a puppy pack containing their health record and a favorite toy with mom's scent.
Clients can pick up their new pet at the Avalon home or explore other transportation options provided by Avalon/Amaterasu-Omikami Sou. The adoption process at Avalon/Amaterasu-Omikami Sou is transparent and direct, with lots of tips for smooth transitioning. You are welcome to visit their home in De Witt or contact them through their page on the GoodDog website.
Shiba Breeder Details
3. Lakeshore Shiba Inus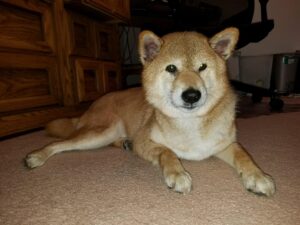 The Lakeshore Shiba Inus is a small breeding program located in Mason County, Michigan, and operated by Jasmine Mott, a trustworthy and dedicated breeder. Lakeshore is dedicated to breeding loving, healthy, and high-quality Shiba Inus that succeed as excellent show prospects and an exceptional family pet. The health and general wellbeing of all Lakeshore's dogs are prioritized; hence their well-planned breeding program follows the breed's standard.
Lakeshore breeding dogs are chosen from the best and health tested before whelping to produce puppies with sound health cleared of any inheritable diseases. Their Shiba puppies are born in their home, and they begin socializing and training all their dogs at a very early age. This prepares them for their new home and enhances a smooth transition.
Lakeshore's Shiba puppies for sale in Michigan are vet checked, current on all age-appropriate shots, dewormed before leaving for their new homes. Their dogs are a vital part of their family and are only placed with committed families who will love them forever. Please note that Jasmine does not ship her puppies, so customers are welcome to visit her home in Mason County for pick up.
Lakeshore's adoption process is straightforward, with many memorable moments and tips to get your new pet settled. Visit Lakeshore's page on the Gooddog website for more information about their Shibas.
Shiba Breeder Details
4. Classy Kennel Michigan
The classy Kennel located in Sunfield, Michigan started in 1988; however, they started breeding the charming and agile Shiba in 1996. Breeding has been in the Classy family for decades, and their breeding program is family operated. They are renowned for the superior quality of their Shiba Inu and the Kai Ken.
Classy Kennel's breeding program is carefully planned to reflect dedication and passion according to their breeds' club standards. Their stud dogs are chosen from the champion bloodlines and are thoroughly screened for health and temperament before mating. Classy puppies are born and raised in their house nestled on a vast fenced-in land and socialized daily to prepare them for the day-to-day life in the family environment.
Classy puppies are not just dogs but a significant part of their loving family, where they are nourished and well cherished with lots of affection. Therefore, their puppies are only placed in a warm and loving new home where they will be loved forever. The entire Classy puppies are dewormed, examined by their trusted vet, and up-to-date on all appropriate vaccination shots before leaving for their forever homes.
The classy Kennel adoption process is transparent, hassle-free with no hidden health concerns, and just a click away. You can visit the Classy website to check out available Shiba puppies up for adoption or contact them on the phone to get on their waitlist. Prospective clients are also welcome to visit their home to meet their adorable Shiba Inu or mail them to get the adoption process started.
Shiba Breeder Details
5. Onward Acres MI
Onward Acres is an intentional and well-planned family-operated breeding program in the rural area of Michigan, United States. They have over 20 years of experience thoughtfully cultivating and managing all the animals on their farm. They are renowned for raising high-quality Great Pyrenees Guardian Dogs, Holland Lop Rabbits, Boer Goats, Standard Rex Rabbits, and the agile Shiba Inu Dogs.
The Onward Acres passion and love for their animals and what they do is seen in their dedication to excellence and premium quality. Their thoughtful and deliberate breeding plans follow their breeds' club ethical standards. Onward's primary goal is to breed Shibas that will excel as a family companion and show prospects.
Onward Acres' stud dogs are selected from the finest of the breed and tested before mating to ensure no underlying health concerns. Their Shiba puppies in Michigan are whelped and raised on their farm and are handled daily to prepare them ahead of their new homes. Onward Acres' entire puppies are well-socialized and have smooth transitioning due to early exposure and handling.
Onward Acres' puppies leave for their new homes, dewormed, vet checked, vaccinated, and with American Kennel Club registration. They are also started on early good manner training and conditioning to bring out the best in them. Onward Acres' adoption process is direct and stress-free; contact them today to get the process started or visit their website to fill out the client's form.
Shiba Breeder Details
6. Emerald Shiba Michigan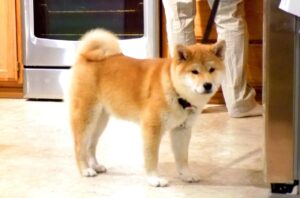 Mary Sheppard is the responsible and committed breeder and operator of Emerald Shiba's located in St. Clair County, Michigan. Emerald Shiba is focused on intentional breeding to raise high-quality, sound puppies and have a remarkable representation of the Shiba standard. Their intentional breeding plans follow the Shiba Inu's Club's ethical standards.
Emerald breeds for health and temperament; hence their dogs are selected from the best and health tested to produce healthy pups. The entire emerald puppies are well-bred and handled every day to enhance their ability to cope with the family environment. They are also started on early socialization and training that will aid smooth transitioning.
Emeralds Shiba puppies for sale in Michigan leave to be with their new family after being dewormed, vaccinated, and examined by their reliable and trusted vet. Customer satisfaction is on top of Emerald's list; hence, their dedication to providing their clients with a positive experience all the time. They have continued with responsible breeding practices acknowledged by their clients and the GoodDog organization.
Emerald's adoption process is easy with no headaches involved, plus they provide solid support to help all clients transition their pets. Visit Mary Sheppard's page on the GoodDog website for more information about her Shiba Inu.
Shiba Breeder Details
Conclusion for Shiba Breeders in Michigan
Shibas are one exceptional dog breed that makes a fantastic family companion, primarily because of their adaptable traits. They are highly intelligent and strong-willed; however, you have one of the finest dog breeds in your possession with good socialization skills and training. It is always advised that responsible breeders should be contacted for a hassle-free adoption process with no hidden health concerns. This article makes your search for a trusted Shiba Inu breeder in Michigan stress-free as it highlights the directory of some top Shiba breeders.
Other articles you would like:
Garrett loves animals and is a huge advocate for all Doodle dog breeds. He owns his own Goldendoodle named Kona. In addition, he volunteers at the Humane Society of Silicon Valley, where he fosters dogs and helps animals. Garrett enjoys writing about Doodles and believes that dogs can teach humans more about how to live than humans can teach a dog.
Why Trust We Love Doodles?
At We Love Doodles, we're a team of writers, veterinarians, and puppy trainers that love dogs. Our team of qualified experts researches and provides reliable information on a wide range of dog topics. Our reviews are based on customer feedback, hands-on testing, and in-depth analysis. We are fully transparent and honest to our community of dog owners and future owners.