Dog lovers looking for Poodle puppies in Wyoming for sale are in luck. The puppy breeders and sellers in this state are dedicated and highly professional in their tasks. Looking at the Poodles on sale will melt your heart instantly.
Before scrolling down this list of breeders with Poodle puppies in Wyoming for sale, you can check out these other recommendations from our team at We Love Doodles: Labrador Puppies in Wyoming For Sale and Golden Retriever Puppies in Wyoming.
Poodle Breeders In Wyoming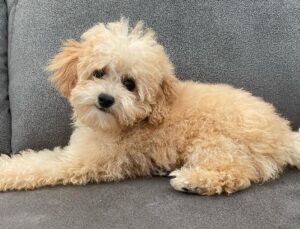 Thanks to their effectiveness, you can rest assured that you're in the right place when visiting their shops and facilities. Besides, who wouldn't want to buy dogs and puppies whose pedigrees are impressive and certified? Here's a list of Poodle puppy sellers (and breeders) whose services you might want to try out.
Poodle Product Recommendations: Best Brush For a Poodle and Best Poodle Insurances.
1. PuppySpot's Poodles For Wyoming
PuppySpot makes it easy to find your ideal Poodle dog with helpful search categories and a quiz that tells you the best breed for your household. Puppy has achieved great milestones like having over 200,000 puppies sold so far and 10,000 five-star reviews.
They have the strictest selection process in the country for breeders, including over 100 criteria that less than 10% of breeders can fulfill. They even partner with the American Kennel Club and the American Humane Society to guarantee no puppy mills, backyard breeders, or scammers.
They don't do waitlists; they only list Poodle puppies that have already been born so that you know exactly what you're getting, and they provide a complete health check before bringing your Poodle puppy home to you. They also provide 10-year health warranties for all their dogs, and they deliver everywhere in the United States for your convenience.
PuppySpot Details
2. Muddy Creek Poodles
The owner is a certified groomer who handles all dog breeds, including Poodles. He has thirty years of dog breeding experience under his belt and has proved to be reliable to his customers and dogs. Muddy Creek Poodles breed their puppies to be loyal and caring companions who can fit into any family willing to accommodate them. They are keen on their Poodles' health and do their best to ensure they feed them adequately.
Their breeding techniques are far advanced, and the results are impressive. Muddy Creek Poodles train their Poodles to adjust to their environment at a tender age. This makes it easier for their guardians to pick up from where the breeders left. They have a wide selection of Poodle puppies, including Harlequin, Mini, and Toy Poodles. Muddy Creek Poodles have made it their life-long ambition to ensure proper care and attention to each of their puppies.
Muddy Creek Poodles Details
3. Mitchells Wyoming Standards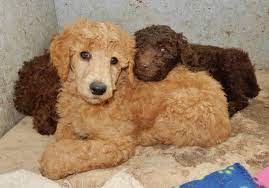 Mitchells Wyoming Standards is run by a couple who take the business very seriously. They own a ranch that breeds Poodles, among other family-friendly pets. Their passion for dogs led them to commit to their breeding business fully. They breed their Poodles and focus on the key elements; health and temperament.
Buying Poodle puppies from them isn't a mistake but a blessing on a whole new level. Mitchells Wyoming Standards Poodles are up to date on deworming and vaccination schedules. They are under the care of certified vets who go step by step in their administration of the necessary shots.
They strive to be as transparent to their clients as possible. A visit to their facilities is worthwhile since this is where they work their magic and produce the most loving and adorable Poodle puppies you'll ever come across. The breeders are always available for questions and set the customer service bar higher than most Poodle breeding counterparts.
Mitchells Wyoming Standards Details
4. Crandall Creek Kennel
The owners of Crandall Creek kennel have an immense love for dogs and have taken theirs in as part of their family. The couple breeds Poodle puppies with so much devotion and care and has taught their kids to do the same and more. This is a big win for interested Poodle lovers with children.
They won't have to worry about leaving their kids with the Poodles as they have a warm temperament. The breeders possess impressive work ethics that help shape the Poodles' personalities. Most importantly, they are very patient with their dogs and try their best to be understanding of their behavior.
Poodles are naturally intelligent dogs that can sense when their guardians are agitated, excited, or angry. This helps them know how to carry themselves when in their presence. Poodle owners can attribute this enviable trait to their breeders, who work tirelessly to ensure their Poodles turn out perfect.
Crandall Creek Kennel Details
5. Goldeneye Griffon Kennels
The breeders have a long history with dogs, contributing immensely to their successful dog breeding venture. They have gathered a vast wealth of knowledge that has propelled them to greater heights. This can be seen in the dogs and puppies they raise and breed in their kennels. Goldeneye Griffon Kennels breeders love and nurture their dogs close to their families.
This made them feel cared for and loved and contributed to their cheerful and likable temperaments. Not forgetting that the breeders follow up on their dogs' vet appointments and ensure they all get the mandatory vaccines and deworming shots. They do this regularly to curb unnecessary trips to the vet's office.
They have a wide selection of dogs for clients who would love to include different breeds in their litter. This gives the breeders at Goldeneye Griffon Kennels a sense of duty toward their valued customers. Their social media presence should also give you a reason to try them out. They enlist their latest arrivals of dog breeds and other details that may be important to potential clients.
Goldeneye Griffon Kennels Details
Choosing a Poodle Breeder in Wyoming
As an aspiring Poodle puppy owner, you must be wide awake when choosing your ideal seller and breeder. They all function differently, and you may want to know their operation modes. Prepare a list of questions about Poodle puppies that you must ask your potential seller. This helps you learn about their level of experience in the dog selling business.
Observe their body language as they take your questions. A Poodle puppy seller who keeps stuttering and taking a swipe at your questions is not worthy of your time and money. Finding the perfect Poodle puppy seller in Wyoming also requires you to be keen on the facility. They must have a wide variety for their customers to choose from regarding ages and sizes. If they sell Poodle puppies exclusively, ensure that they are available in all the sizes and colors you want.
The sellers must be ready to tell you about each Poodle and what you stand to benefit when you make your purchase. Another crucial factor to consider when choosing a Poodle puppy seller is customer service. This portrays how they handle the Poodles under their care. An excellent breeder must be cordial toward their customers and be available to answer all their questions. Check their social media etiquette and ensure they respond to their clients' grievances accordingly.
Information About Poodle Puppies in Wyoming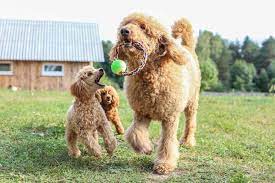 Just like other dog breeds, Poodles come in different shapes and sizes. It's up to you to decide the one that works for you and your family. One of the Poodle's most attractive yet intriguing traits is its gait. It walks gracefully and royally that catches the eye of anyone interested in observing it.
Its coat design is another center of attention. It is conveniently spread out on specific areas such as the head and neck area and the tail. Most dog owners prefer Poodles because their coats rarely shed. This means they are also suitable for dog lovers with allergies. Poodles need frequent grooming, especially when it comes to their fur.
It's highly sensitive that neglecting it for long leads to mats that can be painful during brushing. Seek a professional's services if this routine becomes too overwhelming for you to handle. Poodles exist in different colors, including black, silver, chocolate, white, and apricot.
The most common ones are white and are primarily considered for dog shows. You might also come across red, blue, and cream Poodles. Their personality matches their graceful poise as Poodles are noted to be highly intelligent, charming, loyal, and easily trainable.
Most breeders have nothing but praises for this exciting breed. What's more, they are fun dogs to be around and always liven up the atmosphere without even trying. Poodles love attention and will do their best to get every moment of it from their guardians. They will bark loudly and get restless when left alone without company.
Poodles are loyal and not afraid to show their wild side when strangers exude any form of violence toward their guardians. They have the inevitable ability to gain weight significantly when overfed frequently. This can be detrimental to their health, and guardians must monitor their diets carefully, including snacks. Poodles can live as long as seventeen years when their owners go out of their way to give them proper care and attention.
Related: Important Facts About The Moyen Poodle and Cockapoo vs. Poodle.
Conclusion For "Poodle Puppies In Wyoming For Sale"
Dog lovers must be on their toes and conduct adequate research before buying a Poodle puppy. Please familiarize yourself with the breeders and sellers in Wyoming and focus on the critical factors, including their years of experience.
This saves you unnecessary drama and tribulation when bringing a Poodle puppy on board. Check their registration with all the relevant organizations, such as AKC, to ensure that you're on the right track.
For more guides similar to this list of breeders with Poodle puppies in Wyoming for sale, you can check out:
If this guide of breeders with Poodle puppies in Wyoming for sale helped you, you could learn more about this dog breed by watching "Top Dog Facts About The Poodle" down below:
Garrett loves animals and is a huge advocate for all Doodle dog breeds. He owns his own Goldendoodle named Kona. In addition, he volunteers at the Humane Society of Silicon Valley, where he fosters dogs and helps animals. Garrett enjoys writing about Doodles and believes that dogs can teach humans more about how to live than humans can teach a dog.
Why Trust We Love Doodles?
At We Love Doodles, we're a team of writers, veterinarians, and puppy trainers that love dogs. Our team of qualified experts researches and provides reliable information on a wide range of dog topics. Our reviews are based on customer feedback, hands-on testing, and in-depth analysis. We are fully transparent and honest to our community of dog owners and future owners.