Searching for responsible Poodle breeders in Toronto can be challenging, especially when puppy mills and backyard breeders are increasing daily.
That's why we're giving you a head start with our top 5 recommendations for Poodle breeders in the Toronto area. We sorted through the Canadian Kennel Club registry to ensure that only CKC-registered breeders are on this list.
Before scrolling down our list of Poodle breeders in Toronto, check out these related articles: Best Pet Stores in Toronto and Best Dog Rescues in Toronto.
1. Little Cups
Little Cups is one of the most reliable Poodle breeders in Toronto. They specialize in breeding hypoallergenic breeds such as the Poodle, Maltipoo, Maltese, and Pomeranian.
At Little Cups, all the puppies are raised with a lot of care and love, which contributes to their friendly personalities and ability to adjust to any environment.
The puppies are also healthy and physically fit. A vet examines them for diseases, pests, or behavioral issues post-birth. The breeders only list their puppies for adoption once the vet fully approves them.
To adopt a Poodle puppy from Little Cups, you must first subscribe to their mailing list. It notifies you when there is a new litter available. These notification emails will contain all the vital information you need to know about the characteristics of the litter.
You can then email them to let them know you're interested in reserving a puppy. With each puppy, you receive a written health guarantee valid for one year after adoption.
Furthermore, if you discover a life-threatening defect within three days of adoption, you may return the puppy for a full refund. Therefore, you should have a veterinarian examine your pet soon after you adopt it. Little Cups also offers free shipping through Air Canada Airlines within Canada.
Little Cups Details:
2. My Tiny Toy Poodles
Next on our list is My Tiny Toy Poodles, A Toronto-based breeder offering excellent quality Poodle puppies for sale in Toronto.
Like other genuine breeders, the health of pet parents and puppies is the focus of this breeding program. The males and females they use for breeding are registered with the Canadian Kennel Club, health tested to rule out genetic abnormalities, and well-loved to ensure a sunny disposition.
In addition, puppies receive deworming treatment when they are two, four, six, and eight weeks old. Each puppy is examined and approved by a licensed vet before being made available for adoption.
At My Tiny Toy Poodles, the breeders give a health guarantee against life-threatening genetic defects. This includes heart, liver, and kidney defects. It is valid until the puppy reaches one year of age.
If you do discover a life-threatening genetic defect in your puppy before it is one, My Tiny Toy Poodles provides a replacement puppy of equal value. To view the Poodle puppies available for adoption, check out their website.
My Tiny Toy Poodles Details:
3. Delilah's Poodle Doodles
Delilah Poodle Doodles raises their puppies in an in-home, kennel-free environment, showering them with love and attention.
Puppy training starts with Early Neurological Stimulation and Early Scent Introduction, followed by potty, crate, and clicker training when they are five to six weeks old. Generally, all puppies learn basic commands by the time they are eight weeks of age.
Once the breeder achieves their standard for conformance, they make the puppies available for adoption. They sell the puppies on a spay or neuter contract, which requires you to provide proof upon completion of the surgery.
The price for a Poodle puppy at Delilah Poodle Doodles is $3200 and is the same regardless of the size, color, sex, or generation of the puppy. Puppies currently available for sale at Delilah's Poodle Doodles are listed on their website.
A puppy from Delilah Poodle Doodles comes with a 3-year health guarantee and a lifetime of breeder support. Besides the Poodle breed, they also have Aussiedoodle and Goldendoodle puppies.
Delilah's Poodle Doodles Details:
4. Family's Standard Poodles
Family's Standard Poodle is a reliable breeder to get your next Poodle puppy. All their puppies and parents are registered with the Canadian Kennel Club. They DNA test every dog for genetic health defects such as heart, eye, and kidney disorders. Furthermore, they are all vet-checked and vaccinated before adoption.
Family's Standard Poodle has Miniature Poodle puppies available in its current litter. To view them, you can visit their website. Additionally, they're also expecting a litter of Standard Poodle puppies soon.
You can start the adoption process by filling out their online application. Puppies at Family's Standard Poodle sell out quickly, so if you'd like to reserve a puppy, you should contact them soon.
Family's Standard Poodles Details:
5. Hillhaven Poodles
Hillhaven Poodles is one of the most reputable Poodle breeders in Toronto. They strive to produce healthy, intelligent puppies that conform to CKC standards.
Puppies at Hillhaven are bred and raised in a home environment where they receive the love and attention necessary for a healthy upbringing. They also give their puppies access to a safe space where they can learn and develop social skills.
Hillhaven tests their males and females for genetic disorders to avoid the risk of congenital diseases passing on to offspring. Once the puppies are born, they are dewormed, vaccinated, microchipped, and registered with the Canadian Kennel Club. Moreover, to comply with the CKC's guidelines, the breeder removes the dewclaws and docks the tails of all of its puppies.
If you are considering buying a puppy through Hillhaven, you should fill out their online adoption application. You can view the puppies available for adoption on their website. Hillhaven puppies are sold on a strict-non breeding agreement which can have severe consequences if violated.
Reach out to it directly to see whether you fit their adoption criteria!
Hillhaven Poodles Details:
How to Choose Poodle Breeders in Toronto
Finding the right breeder takes time and patience, but the reward is always worth it. There are several ways to ensure you are placing your trust in a responsible breeder.
The easiest way to find a responsible breeder is to meet them in person instead of emailing or calling. However, you should set an appointment in advance since several breeders have visiting restrictions due to the Covid pandemic.
When you meet the breeder, ask them for details about their breeding practices and adoption policies. This can give you insight into their values and whether they prioritize the health of their puppies over profit. Additionally, it would be best to visit the place where the puppies are bred and raised. A clean and spacious environment reflects the amount of care they receive.
Remember to verify any claims the breeder makes regarding the pedigree and health records of the puppy. Always ask for official certification as proof.
Another factor that several people need to consider is checking the parent dogs. Often, unethical breeders keep parents in a miserable, unhygienic state. They only make the puppies look presentable because their sole concern is making money off of them.
The state of the parents can be a reliable indicator of how their offspring are going to turn out, too. Responsible breeders often get their parents' puppies DNA tested to ensure they are healthy and will give birth to healthy puppies.
Frequently Asked Questions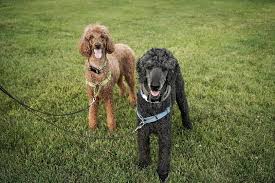 Are Poodles better than doodles?
Whether one dog is better than another is entirely dependent on the person. However, many people prefer Poodles over doodles because they are said to have better personalities and be easier to train.
Which size poodle is the healthiest?
Every breed comes with its own set of health risks. That being said, the Miniature Poodle tends to live longer than the Standard Poodle.
What are Poodles weaknesses?
Poodles make great dogs. They are intelligent, hypoallergenic, and highly loyal. However, like other breeds, they have their weaknesses. Some cons of poodles include their hypersensitivity to loud noises, which can cause extreme stress.
Adopt From The Best Poodle Breeders in Toronto
Adding a pet to your family is a huge decision that can significantly impact your life. This can be both good and bad, depending on how careful you are.
Refrain from relying on word of mouth when looking for a poodle breeder in Toronto. You should always counter-check the breeders' claims, read their reviews, and visit their breeding facility. The more time and effort you invest in choosing the right breeder, the better the outcome.
We hope this article soothes some of your worries about finding superior quality Poodles puppies in Toronto. Happy adopting!
For more guides similar to this list of Poodle breeders in Toronto, check out these guides:
Before you bring home a Poodle from a breeder in Toronto, you can learn more about the breed by watching "Poodle Facts: 10 Interesting Things You Didn't Know" down below:
Garrett loves animals and is a huge advocate for all Doodle dog breeds. He owns his own Goldendoodle named Kona. In addition, he volunteers at the Humane Society of Silicon Valley, where he fosters dogs and helps animals. Garrett enjoys writing about Doodles and believes that dogs can teach humans more about how to live than humans can teach a dog.
Why Trust We Love Doodles?
At We Love Doodles, we're a team of writers, veterinarians, and puppy trainers that love dogs. Our team of qualified experts researches and provides reliable information on a wide range of dog topics. Our reviews are based on customer feedback, hands-on testing, and in-depth analysis. We are fully transparent and honest to our community of dog owners and future owners.