Searching for Pitbull rescues in Indiana can be overwhelming. You may see so many options that might get confusing, but we are here to help you. We have created a list of the most reputable rescues with essential details to help you find the puppy of your dreams.
When looking for Pitbulls in Indiana, it is important to find a reputable rescue. This can be difficult since these dogs are often used as bait for fighting, so their reputation isn't very good. Moreover, they have a bad rep for being a dangerous breed.
As a result, many Pitbulls are often abandoned by their owners. However, the Pitbull is a wonderful breed. Their courage and tenacity make them excellent choices when competing in dog sports. At the same time, these dogs are affectionate, friendly, and adorable.
So, if you are a fan of this breed and want to play your role in improving their future, you have come to the right place. Here is a list of trustworthy pet rescues in Indiana where you can find the perfect Pitbull and give it a second chance at life.
Before you scroll down this list of Pitbull rescues in Indiana, you can check out these other dog rescue shelter recommendations from our team at We Love Doodles: Best Dachshund Rescues in Indiana and Best Great Dane Rescues in Indiana.
Find a Pitbull Rescue Shelter Near Me in Indiana
Our team at We Love Doodles created and compiled this list of the best Pitbull rescues in Indiana with available dogs for adoption.
Pitbull Product Recommendations: Best Dog Shampoos For Shedding and Best Dog Boots For Hot Pavements.
1. Lucci's House Bully Rescue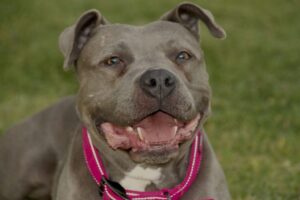 Lucci's House Bully Rescue rescues and rehomes bully breeds that have been abandoned, neglected, or are homeless. Not only this, but they also aim to eliminate widespread rumors regarding this breed through awareness and education. It is a foster-based organization that rescues Bully breeds and places them in loving foster homes where they get medical attention, training, and love.
The Lucci's House Bully Rescue adoption process is simple. Once you've found the rescue group online, fill out the online inquiry form to contact the rescue. Then, the rescue staff will contact you to ask some simple questions concerning your preference and living situation. If you want to surrender a Pitbull, the rescue asks about the situation that may be worth an immediate rescue.
The rescue will also initiate correspondences with potential adopters to ensure all parties are on the same page before moving forward. Their adoption fees vary according to the dog's age, gender, health, and special needs. It generally covers the cost of vaccination, spaying/neutering surgery, deworming, and grooming.
Lucci's House Bully Rescue Details
2. Fort Wayne Pit Bull Coalition
Next on the list of puppy rescues in Indiana is a small rescue called Fort Wayne Pitbull Coalition. This rescue started as an advocate for the Pitbull breed in Northern Indiana. Its goal was to improve this breed's future and reputation with the help of education and by providing important resources for Pitbulls in need.
Later, they added rescuing and rehoming Pitbull type breeds to their mission. All dogs at Fort Wayne Pit Bull Coalition are spayed and neutered to help control pet overpopulation. The dogs are also vaccinated, microchipped, heartworm free, dewormed, and on heartworm and flea preventative.
So you can be sure your new pet will be happy and healthy. Fort Wayne Pit Bull Coalition also charges a small adoption fee to help cover the cost of rescuing and rehabilitating the rescues.
The adoption charges are:
$250 for puppies under six months old:
$150for six months to 7 years old dogs
$100for senior dogs from 7-10 years old
$75for dogs older than ten years
So, if you are searching for the perfect Pitbull to add to your family, check out Fort Wayne Pit Bull Coalition.
Fort Wayne Pit Bull Coalition Details
3. Casa Del Toro Pitbull Rescue
Casa Del Toro Pitbull Rescue was established in 1977. Since then, they have rescued and rehabilitated hundreds of Pitbulls. They also work with other shelters to promote the well-being of this breed. Also, the rescue does not have a facility, as all the dogs live in foster homes where they receive lots of love and care.
The rescue requires all potential adopters to complete their adoption application in-depth, as it helps them learn more about you. In addition, all your previous pets should be spayed/neutered, vaccinated, and on heartworm and flea preventative. Casa Del Toro Pitbull Rescue charges an adoption fee for their dogs. They charge $200 for adult dogs and $150 for senior dogs.
This adoption fee covers the following:
Spaying or neutering
Up-to-date vaccinations such as DAPPv and Bordetella
Rabies vaccination
Microchip
Heartworm tests
Flea and heartworm preventative
Necessary supplies such as crates, food, and toys
Basic obedience training
So, head over to their website and start the process of adopting your new best friend.
Casa Del Toro Pitbull Rescue Details
4. Fat Heads Rescue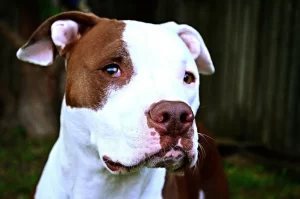 Fat Heads Rescue is next on the list of puppy rescues in Indiana. This not-for-profit rescue organization was established in March 2014, and since then, it has saved over 1,000 Pitbull dogs. Fat Heads Rescue operates in Kentucky and Indiana intending to rescue, rehabilitate and rehome Pitbulls in need.
The rescue also promotes better pet ownership by spreading awareness and offering training to new Pitbull adopters. They strive to adopt this breed to educated owners and improve its reputation. In addition, the rescue provides special training to their rescues, hoping to prepare them to be certified as Canine Good Citizens.
The rescue not only focuses on the dogs' training but their health as well. Every dog that is put up for adoption is vaccinated, tested for heartworms, and put on preventative, microchipped, and spayed or neutered. If you want to adopt a Pitbull from Fat Heads Rescue, you can go to their website and fill out an adoption application.
It is essential to answer all questions in the application; incomplete applications will be rejected. In addition, you must also provide your landlord's and vet's contact information and references. The rescue also requires the homeowner's approval for adoption. Fat Heads Rescue does not adopt their dogs to individuals under 18 years.
Additionally, the rescue only allows the adoption of one puppy to prevent Littermate Syndrome. As this is a non-profit organization, Fat Heads Rescue charges an adoption fee which covers a part of the rehabilitation costs. The adoption fee for a puppy is $250, and $200 for an adult dog.
Fat Heads Rescue Details
5. Canine Castaways Rescue, Inc.
Last on the list of Pitbull rescue in Indiana is Canine Castaways Rescue, Inc. This non-profit organization rescues and rehabilitates all dog breeds but is experienced in dealing with Boxer breeds. They primarily rescue dogs from high-kill and overcrowded shelters.
The rescue aims to help castaway dogs find new and loving homes. They take in all dogs regardless of their breed, age and health. After the dogs are rescued, they are spayed/neutered and receive a thorough medical examination.
You can fill out their adoption application online with a $10 non-refundable fee. The rescue will contact you within 5-7 of receiving your application. You can also speed up the adoption process by emailing vet records if you have any previous pets and your landlord's information beforehand.
The rescue will set up a meet and greet if your application is approved. This will help you meet your new furry friend before you finalize the adoption process. You must pay $50 to set up a meet and greet. If you decide to adopt, the amount will be adjusted in the adoption charges. If not, it will be refunded.
Canine Castaways Rescue, Inc. Details
More Information About Adopting a Pitbull in Indiana
Adopting a pet is a huge decision. After all, you are making an addition to your family, which will stay with you for several years. So, it is necessary to know essential things about the Pitbull breed before adopting. The stereotype around Pitbulls is just what it is, only a stereotype.
Pitbulls can be one of the most affectionate and loving pets ever. Your Pitbull will always be down for a cuddle session and shower you with kisses any time of the day. In addition, Pitbulls are gentle with kids. In the past, they were known as nanny dogs due to their gentle behavior toward children.
Another great thing about them is that they are low-maintenance pets. With short coats and little to no genetic diseases, these dogs are easy to keep. So as long as your Pitbull gets enough exercise, it will be happy.
When adopting, it is necessary to ensure whether you want to adopt a puppy or an adult. Puppies are adorable, but they require more attention and care. So, if you have a busy schedule, it is recommended to adopt an adult Pitbull.
Lastly, Pitbulls are known to be aggressive toward other animals, but that is not a breed-specific issue. Any dog breed can get excessively aggressive according to their situation, temperament, socialization, and nature.
Conclusion For The "Best Pitbull Rescues in Indiana"
The Pitbull is one of the most misunderstood breeds in the dog kingdom, but these affectionate dogs get all this hate due to no fault. They are caring and friendly and can be gentle with kids as well. Still, they are often found neglected in shelters.
So, several Pitbull rescues in Indiana are working to promote and improve this breed's future and reputation. These rescues are non-profit organizations that rescue Pitbulls in danger and help them find loving homes. We hope they help you find an excellent Pitbull match too.
For more guides similar to this list of Pitbull rescues in Indiana, you can check out these other dog rescue shelter recommendations from our team:
Before you adopt a Pitbull companion from a rescue shelter in Indiana, you can learn more about this dog breed by watching the "Pitbull – Dog Breed Information" down below: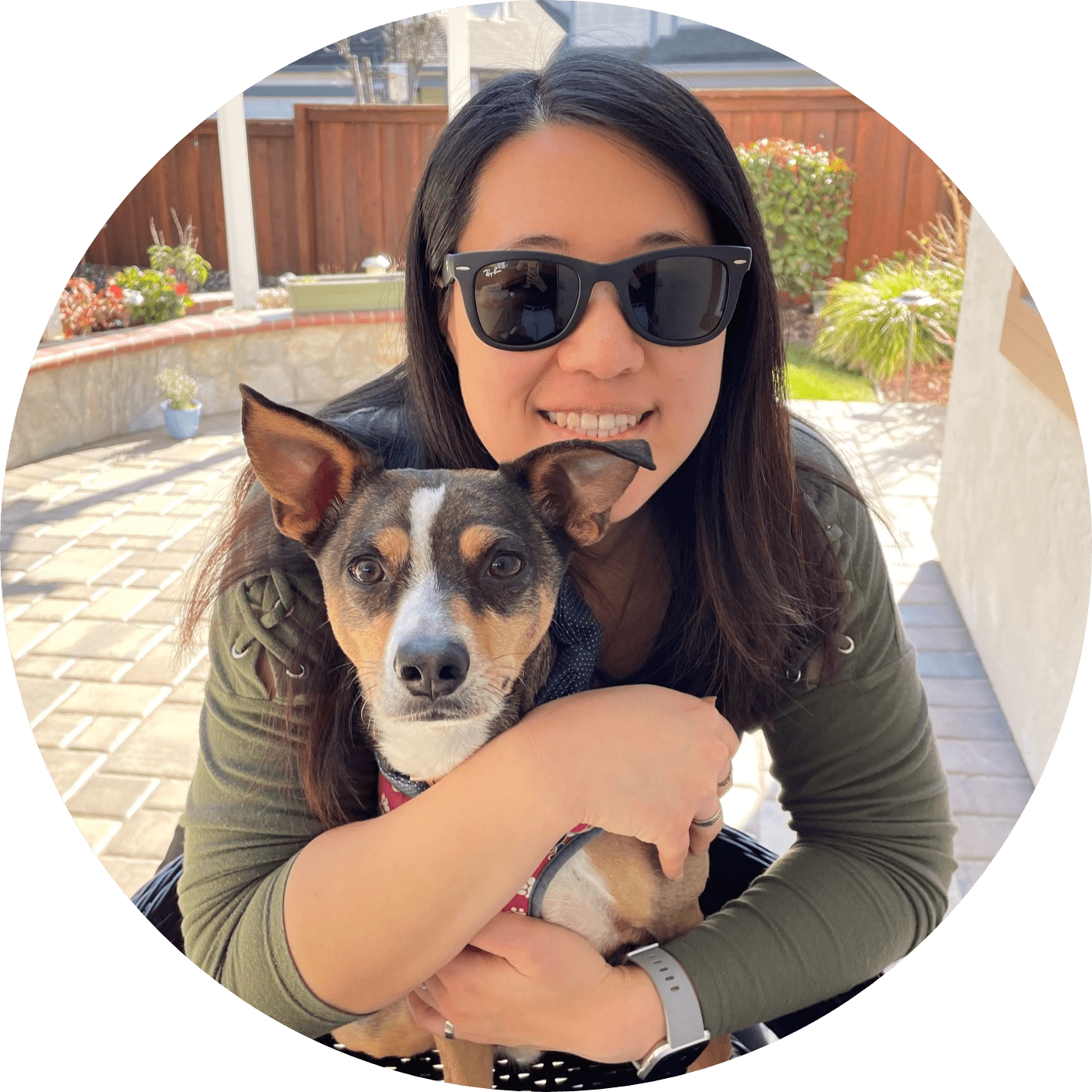 Dr. Sabrina Kong graduated from the Royal Veterinary College in England in 2016 and has been working at a small animal clinic in Northern California since then. She grew up in the Bay Area and got her bachelor's degree from Cal Poly San Luis Obispo. She also became a Certified Canine Rehabilitation Practitioner through a program at the University of Tennessee.
When she isn't in the clinic taking care of her four-legged patients, she enjoys traveling and trying new foods with her friends and her three-legged dog, Apollo. She adopted Apollo from her clinic when he was a puppy with numerous health issues. Dr. Kong truly cares about taking care of animals.