Labradors are a worldwide favorite because they are loyal, loving, and intelligent. Adding this breed to your family is like bringing home a bundle of joy that will keep you happy for years. If you are looking for the best breeders with Labrador puppies in Scotland, we are here to help.
There are dozens of places to buy a Labrador in Scotland, but you need to be extra careful when choosing who will breed and raise your puppy. Great reputation and trustworthiness are the two most important things to consider when looking for a dog breeder.
Trustworthy and reputable breeders can guarantee that your puppy is genetically sound, perfectly healthy, and will grow to live a long, happy life. Labradors are generally healthy dogs but still have some underlying health issues.
Hence, finding a breeder that conducts extensive genetic health and ensures the puppies are from premium-quality pedigrees is important. Here are some of the most reputable Labrador breeders in Scotland.
Before reading this list of Labrador breeders in Scotland, check out: 7 Best Labrador Rescues in Scotland! (2023) and The 4 Best Labradoodle Breeders in Scotland! (2023).
1. Exelby Labradors
Exelby Labradors is a family-run breeding business in rural South West Scotland. The family loves and cherishes their dogs, so they go the extra mile and invest a lot of resources to ensure puppies are healthy, safe, and happy.
The family always takes full use of the health testing facilities available. They ensure all the dogs are DNA and health tested before being added to the breeding program. In addition to conducting a series of health tests, the breeders adhere to their breed club's code of ethics.
In June 2011, after an in-depth visit from Mr. Bill Lambert from the Kennel Club, Exelby Labradors was accepted as a member of the Kennel Club Assured Breeder Scheme.
The puppies are born and reared in their home and cared for by the entire family. They ensure all puppies are fully ready to join their new families by the time they are eight weeks old. In the process of preparing them for their new families, the breeder ensures they are socialized with children, cats, and other dogs.
They take the Labrador puppies around and introduce them to various parts of the house to allow for an easy and smooth transition to their new homes.
Both parents are DNA tested for different health conditions, including EIC, PRA, HNPK, and CNM. They produce two to three litters yearly, so you can rely on them for puppies all year round. This breeder operates with the traditional waitlist, so you must join the queue to get a puppy from them.
Their website has a dedicated page with vital information on how to train your new puppy. While you might need an expert to handle professional training, you should still run your puppy through the basics to develop a strong bond. You will learn to house-train and teach other obedience commands.
Exelby Labradors Details:
2. Lochandaimh Labradors
Lochandaimh Labradors made it to our list of Labrador breeders in Scotland because of their great reputation in this field. The well-experienced breeders know the right health tests to conduct and how best to raise their puppies to become excellent family pets and companions.
This breeding program is located near Dunkeld, Scotland. However, they breed and ship their puppies nationwide.
You can get a well-bred Lab puppy with exceptional health and temperament from this family, regardless of where you are in Scotland. They also have dogs across the UK. Jamie Callen is at the forefront of this breeding program, and she runs it with her family.
Callen has loved this dog breed since childhood and bought her first Labrador in 2005. The dog became an amazing little worker who was a pleasure to train because of her desire to please. Callen spent a lot of time learning about this breed and how to produce the best puppies possible.
From her research, she discovered proper health testing is one of the secrets to breeding healthy puppies. As such, she ensures the sires and dams are fully health-tested working dogs with an excellent temperament and pedigree.
She conducts a series of health tests to significantly reduce the chances of the puppies having genetic defects. All the puppies are raised in her home and fed the best quality food suitable for their age.
The puppies leave fully vaccinated, wormed, and microchipped before going home. The breeder sends the puppies home with a puppy pack that includes the following:
Another good thing about this breeder is that she always updates her website with information about current and upcoming litter. In addition, she allows prospective owners to visit and see the puppies' parents as well as the environment in which they are bred and raised.
Lochandaimh Labradors Details:
3. Nook Lyne Labradors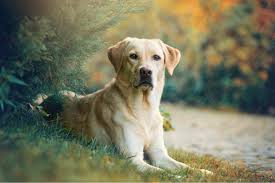 If you are looking for Lab puppies with exceptional temperament from health-tested parents, Nook Lyne Labradors is a great option to consider. Nook Lyne Labradors is a fully qualified five-star licensed Kennel Club breeder with a great reputation in this field.
Vicky is the owner of this renowned breeding program, and she runs it with her husband, Mike. The couple is highly passionate about this dog breed and ensures every litter yields the best results possible. The breeding program is close to the Scottish borders, and the couple lives with their dogs.
The dogs are, first and foremost, family companions. The sires and dams have access to their personal 10 acres of land where they can have all the fun they want. They run, play, exercise, and explore freely in their personal space. They also have a stretch of river to chill and relax during summer.
Vicky has always felt a moral responsibility to ensure that the core reason to decide to breed should always be to strive to enhance the breed and produce healthy puppies that will live a happy long life.
At Nook on Lyne Labradors, their breeding involves dedicating a lot of time and money with the aim of breeding responsibly and ethically to pass on the desirable traits and qualities of temperament, health, and confirmation to all of their puppies. You can rely on them for well-bred and healthy Lab puppies.
Nook Lyne Labradors Details:
4. Crammondkirk Labradors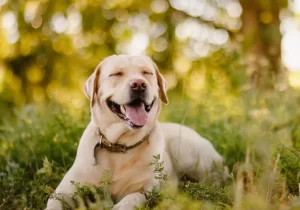 Crammondkirk Labradors is a family-run breeding program emphasizing health, temperament, and confirmation. It is one of the highest-rated dog breeders in Scotland and the UK. Located in West Lothian, Crammondkirk Labradors is a licensed member of the Kennel Club Assured Breeder Scheme.
This family-operated breeding program aims to breed healthy dogs with good temperament, breed standards, and conformation. All their Labs are tested for a wide variety of health conditions commonly associated with this breed.
They ensure dogs are genetically sound and free of inheritable health conditions. At eight weeks, all puppies undergo thorough health examinations to ensure they are free of genetic defects.
The family takes preventative measures to ensure their clients receive puppies that would be a great addition to their homes rather than a burden. Their goal is to ensure you do not have to visit the vet regularly due to underlying health issues.
Socialization is another major advantage of buying a puppy from this breeder. They expose their Labrador puppies to kids, adults, and other dogs, ensuring they are well-socialized and used to everyday family life before joining their new families.
Crammondkirk Labradors Details:
Frequently Asked Questions
Are Labradors from Scotland?
Labrador Retrievers originated from dogs in Newfoundland and the breed was developed in Britain.
Which Labrador is the calmest?
English Labrador Retrievers tend to be calmer than American Labs. When looking for a particular temperament, consult with a breeder to find the puppy that best suits you.
What is the life expectancy of a Labrador Retriever?
Labrador Retrievers typically live for 11 to 13 years.
Conclusion for "Best Labrador Breeders in Scotland"
Before setting out to buy a Labrador puppy, you want to ensure you are ready for the commitment.
Many people want puppies because of their beautiful and irresistible looks but end up giving them away because they are not ready. You also have to be patient through the housebreaking process, as your new puppy will need some time to settle and blend into your home. Puppy-proofing your home is another way to prepare for your puppy's arrival.
Check out the Scotland-based Labrador breeders above to find a wonderful health-tested puppy.
For more guides similar to this list of Labrador breeders in Scotland, check out:
Learn more by watching "LABRADOR RETRIEVER – ALL About This Popular Breed" down below:
Garrett loves animals and is a huge advocate for all Doodle dog breeds. He owns his own Goldendoodle named Kona. In addition, he volunteers at the Humane Society of Silicon Valley, where he fosters dogs and helps animals. Garrett enjoys writing about Doodles and believes that dogs can teach humans more about how to live than humans can teach a dog.
Why Trust We Love Doodles?
At We Love Doodles, we're a team of writers, veterinarians, and puppy trainers that love dogs. Our team of qualified experts researches and provides reliable information on a wide range of dog topics. Our reviews are based on customer feedback, hands-on testing, and in-depth analysis. We are fully transparent and honest to our community of dog owners and future owners.