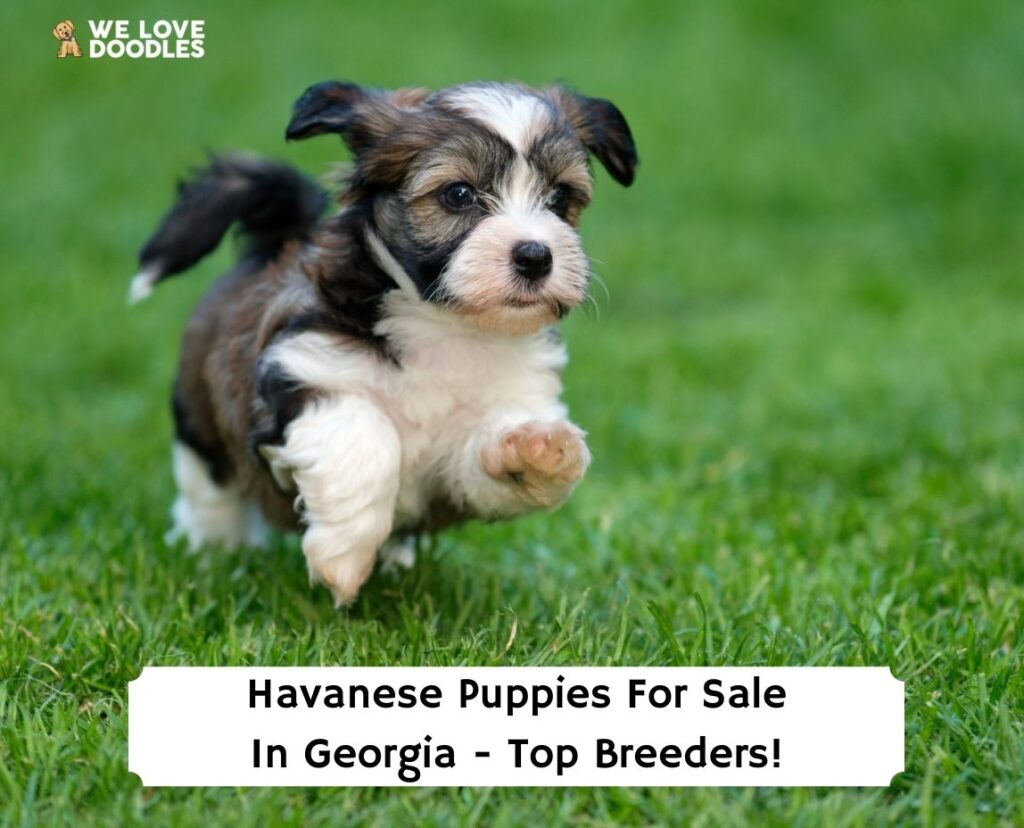 Finding breeders with Havanese puppies in Georgia can be a difficult task to look for. This is why we have taken on that task to make it easy for you to get all the provided information in one place. The Havanese dog breed is a descendant of the Bichon Frise, the Barbet, and the Water Spaniel.
Spanish settlers and traders brought these dogs to Cuba, quickly becoming popular among the Cuban people. Today, the national dog of Cuba makes a gorgeous addition to the family. It's a cute, affectionate puppy and the only dog breed indigenous to Cuba. They are intelligent, happy-go-lucky dogs with a hypoallergenic coat, an added benefit for folks with allergies.
Before you scroll down this list of breeders with Havanese puppies in Georgia for sale, check out these other recommendations from our team at We Love Doodles: Miniature Australian Shepherd Puppies in Georgia and German Shorthaired Pointer Puppies in Georgia.
Havanese Breeders in Georgia
Looking for a Havanese breeder can be intimidating, even with all the unethical backyard breeders. Fret not. We take the guesswork out of your search and are happy to share our favorite breeders of Havanese puppies in Georgia.
Havanese Product Recommendations: Best Whitening Shampoos For Dogs and Best Dog Crate Alternatives.
1. PuppySpot's Havanese For Georgia
PuppySpot comes backed by 10,000  5-star reviews from happy customers. With more than 200,000 (including Havanese) puppies sold so far, their screening process is the strictest in the United States to guarantee no scammers, bad breeders, or puppy mills. They even work with the AKC and American Humane Society to ensure ethical practices. Each pup has a 10-year health warranty and gets a nose-to-tail health check before coming home.
They don't do waiting lists or post listings of Havanese puppies yet to be born. PuppySpot has an A+ score with Better Business Bureau, and they deliver everywhere in the United States on their private airline. Their website also features lots of helpful advice on looking after your Havanese puppy, and you can check out their social media pages for updates on the pups.
PuppySpot Details
2. Noah's Little Ark
Our first recommendation is a long-standing, reputable Havanese breeder in Georgia specializing in the carefree breed. For over 25 years, Noah's Little Ark has provided professional, reliable, and considerate service focused primarily on the well-being of their dogs and litter.
They have stellar aftercare even after the sale is made. Each puppy comes vaccinated and dewormed and provides a health guarantee covering all potential healthcare costs up to the puppy's price.
Noah's Little Ark employees offer a hand-delivery service no matter where you are in North America. They will transport your pup to you with the care they deserve in a scary move to a new city.
Noah's Little Ark supports new owners through a detailed FAQ sheet and comprehensive online resources, answering your most pressing questions as a new puppy parent.
Noah's Little Ark Details
3. Windyhill Havanese
If you're looking for a smaller, family-run business in a breeder, look no further than Windyhill Havanese. Located on a 30-acre farm south of Atlanta, this family breeder lives closely with their Havanese parents and litters.
Their puppies are hand-raised in a loving, home environment. Such an upbringing carries massive benefits when choosing a furry friend for life, the first being that the early socialization will have the happy, healthy puppies that enjoy being handled and are properly introduced to the world, reducing the risk of behavioral problems in the future.
Of course, such a caring rearing comes with its limits, one of which is the limited number of litters they can produce, which is why their litters are few and far between. The family is active in AKC conformation shows and regularly shows their parent dogs.
This small breeder offers a three-year health guarantee for congenital disabilities that may arise as the puppy grows. Unlike more prominent breeders, Windyhill does not provide shipping for their animals.
Instead, they welcome new parents to visit their family and animals at their farm to get a feel of the puppy and facilities they'll be getting their pup from. Be sure to contact Windyhill Havanese ahead to arrange an appointment for viewing.
Windyhill Havanese Details
4. Highborn Havanese
Highborn Havanese promotes themselves as a high-quality, AKC champion sired breeder. Like our last recommendation, this small, family-oriented breeder prioritizes lovingly raising the pups in their home to help foster good temperament and healthiness.
The breeder's name is inspired by their commitment to pure bloodlines imported from Europe and past AKC champions. This breeder encourages potential customers to meet their puppies in person and see if they're a good fit for each other.
They will happily facilitate you seeing the parents, which is an excellent indicator of transparency in their breeding practices to ensure the health and happiness of your future family member.
All puppies come AKC registered, with all the necessary checkups. As with all responsibly-bred puppies, your new family member will be vaccinated and dewormed before going home with you.
Highborn Havanese Details
5. Journey Havanese
With the tagline "The journey of life is sweeter with a Havanese.", how can we go wrong? Journey Havanese are hobby breeders who offer Havanese puppies bred to the AKC standard. If you purchase a puppy from Journey Havanese, you can be sure it is a well-adjusted and healthy dog, as that is their goal when raising them.
Journey puppies come with some level of housetraining, too. Your new family member will be pee-pad trained and partially crate trained to help your dog transition to life with you, away from siblings and familiarity, and to begin the new chapter.
Every dog from Journey Havanese comes with limited registration and a three-year replacement of your puppy warranty. The Journey Havanese breeders encourage potential customers to contact them and assist in their Havanese puppy search.
Following successful adoption, this breeder will also provide aftercare and support you with rehoming. All their purchase contracts have spay/neuter clauses and a return-to-breeder clause which means they get first to pick if you need to give your puppy up for any reason.
Journey Havanese Details
6. Gap Kennels Georgia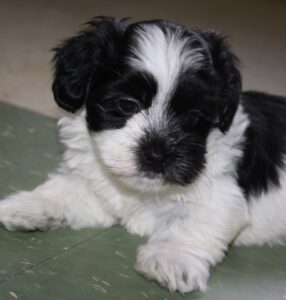 This homely breeder specializes in small AKC/CKC puppies in Sylvania, Georgia. Gap Kennels offer well-loved Havanese pups amongst their lineup and emphasize that they are not a puppy mill, loving their dogs individually.
In addition to Havanese puppies, they also have Westies, Miniature and Toy Poodles, and Havapoos (Havanese x Poodles). They are state-licensed and house their animals in a clean environment, upholding the highest standards for your new purebred puppy.
They come vaccinated and wormed and with a written health guarantee. Melanie Clark, the breeder, personally assures her to support her customers in raising their puppies.
Gap Kennel Georgia's Havanese puppies boast the breed attributes of intellect, having a hypoallergenic coat, and being adorable. Each puppy comes healthy and happy with all the necessary checkups. Your new family member will be vaccinated and dewormed before rehoming.
Gap Kennels Georgia Details
Choosing a Havanese Breeder in Georgia
Have you decided to buy a Havanese puppy in Georgia? While our list above contains the best breeders in the state, you might want to deviate from it and do your research. First, why not check local shelters and rescue groups?
A shelter dog doesn't necessarily have behavioral problems. Some dogs are given up because their owners are going through unfortunate life changes like divorce, moving homes, financial difficulties, health, or even death.
You don't want to buy your puppy from a pet store or a free site like eBay or Craigslist. They are likely to be puppy mill litters or backyard breeders who breed for profit. Their litters will be unsocialized and potentially come with a slew of health problems, and the breeding pairs are often kept in cramped, unsanitary conditions.
Look for breeders that:
They are happy to show you around their facilities and homes to show you how their pups are raised
They regularly participate in conformation shows or obedience training with their dogs.
Their dogs have adequate documentation like OFA checks, AKC registration, DNA testing, and up-to-date medical records.
They are proud to show off their beloved breeding pairs, happy, well-balanced dogs that look like part of their family.
They ask PLENTY of deeply personal questions to make you feel under the microscope. Don't get offended. This is good and indicates that they are careful in finding good homes for their puppies.
They have a sales contract that will always have a health guarantee, a spay and neuter clause, and a return-to-breeder clause.
This means you'll have to spay or neuter your pup within a few months (usually six months), and if at any point, you need to give your pup up, they get the first right to take them back, assuring them their pup won't end up in a shelter.
They have infrequent litters, usually only once a year. Havanese are small dogs that can be bred at about 12 months. Anything more than a litter a year might be a sign of overbreeding, often done by unethical breeders that breed more for profit than for the betterment of the breed.
Conclusion For The "Havanese Puppies In Georgia For Sale"
Bringing a new Havanese family member into your home is no mean feat and a commitment lasting up to 15 years. Proper breeder selection is vital to avoid health and behavioral problems down the road, potentially leading to costly veterinary bills and heartache.
We hope this post has clarified things and given you more information about where to find your new puppy and what to look out for. Thank you for reading, and all the best to you and your hunt for your new Havanese best friend.
For more guides similar to this list of breeders with Havanese puppies in Georgia for sale, you can check out:
If you enjoyed this guide on breeders with Havanese puppies in Georgia for sale, you could learn more about this dog breed by watching the "Havanese – Top 10 Facts" down below:
Garrett loves animals and is a huge advocate for all Doodle dog breeds. He owns his own Goldendoodle named Kona. In addition, he volunteers at the Humane Society of Silicon Valley, where he fosters dogs and helps animals. Garrett enjoys writing about Doodles and believes that dogs can teach humans more about how to live than humans can teach a dog.
Why Trust We Love Doodles?
At We Love Doodles, we're a team of writers, veterinarians, and puppy trainers that love dogs. Our team of qualified experts researches and provides reliable information on a wide range of dog topics. Our reviews are based on customer feedback, hands-on testing, and in-depth analysis. We are fully transparent and honest to our community of dog owners and future owners.