Finding breeders with German Shorthaired Pointer puppies in Georgia may be difficult, so we've put together this guide to help you find the best breeders. Prospective pet owners will be glad to know several reputable breeders in the area.
Before you scroll down this list of breeders with German Shorthaired Pointer puppies in Georgia for sale, you can check out these other recommendations from our team at We Love Doodles: Husky Puppies For Sale in Georgia and Shiba Inus For Sale in Georgia.
German Shorthaired Pointer Breeders in Georgia
German Shorthaired Pointers are the perfect companion for a family looking for a good balance in size and intelligence. This list below will help you decide which breeder you should go to when adopting one in Georgia.
German Shorthaired Pointer Product Recommendations: Best E-Collars For Large Dogs and Best GPS Dog Collars with No Monthly Fees.
1. All American Pointers
All American Pointers aim to breed the highest quality German Shorthaired Pointers in Georgia. While they focus on the premium hunting aspects of the breed, they always focus on them being a perfect family dog before anything else.
Some of the other things that All American Pointers focus on are:
A good mental balance
Ideal size
Bone structure
Large heads so they can stick around the fields for long periods
All American Pointers is about customer service and their relationship with their customers. If you want a German Shorthaired Pointer from All American Pointers, you'll have a 12-hour window between 9 am and 9 pm. All American Pointers provides a 100% guarantee against health defects, diseases, or infection in their puppies when you adopt them.
They also state that their working relationship with their customers doesn't suddenly end after you make your purchase. Your German Shorthaired Pointer will have all necessary vaccinations and wormings before picking it up. After the puppy is in your hands, it's up to you to continue with the required boosters, wormings, and vaccinations.
By getting your German Shorthaired Pointed from All American Pointers, you can rest a little easier at night knowing that it comes from a reputable breeder who cares highly about their dogs' health. In addition to the 100% guarantee against health-related issues, you'll also get a 1-year genetic warranty.
All American Pointers Details
2. Canis Magnus Kennels
Canis Magnus Kennels have been in the breeding business for over 25 years. They initially started with only German Shorthaired Pointers, and then they started trying out other breeds, such as Bloodhounds, after several years. They have become a highly reputable breeder in the Georgia region and boast one of the best facilities for breeding.
Canis Magnus Kennels is a breeder that is recognized all over the world. Their focus is on breeding specific hunting skills in their dogs, but they also want the owners to have a great companion alongside them. Their breeds have been used as support dogs and police assistants.
If you choose to get a German Shorthaired Pointer from Canis Magnus Kennels, you'll get a smart, healthy, and disciplined dog. You'll also get a dog that has a well-suited temperament and disposition to bring home to your family.
That's because Canis Magnus Kennels also focuses on the socialization of their puppies. The AKC recognizes this kennel as an example of how other kennels should run theirs. They upload pictures of their new breeds onto their website so potential customers can see what they get before visiting in person.
Canis Magnus Kennels is proud to say that their German Shorthaired Pointers and other breeds have become somewhat of a global sensation. You'll see them on magazine covers, landing pages on websites, and sitting with their owners in trucks. You'll spot them in the hospital, at the police station, and your local hardware store.
Canis Magnus Kennels Details
3. Walker's Farm & Kennel
Walker's Farm & Kennel breeds strongly focus on breeding German Shorthaired Pointers. In addition to breeding these dogs, they also provide gun dog training. They've been breeding these dogs for many years and are recognized as an AKC award for a merit dog breeder. Through every single litter that they breed, their goal is continuous improvement.
Over the years, they have bred, competed, and trained German Shorthaired Pointers. By getting one of these dogs from Walker's Farm & Kennel, you won't have to worry about getting a dog with an unpleasant temperament.
The German Shorthaired Pointer puppies are raised right in their home, and that's good for teaching them socialization skills and to grow a stronger relationship with the people around them. Walker's Farm & Kennel states that you'll be getting a high-quality German Shorthaired Pointer that is athletic, intelligent, healthy, and a great companion. Walker's Farm & Kennel points out that you don't need limited registration with them.
They also specify that all of their puppies have:
Had their tails docked
Been de-wormed
Have been vaccinated
The tell-tale sign of a reputable breeder cares about the home their puppies will be in. Walker's Farm & Kennel only wants to sell to responsible pet owners, and they suggest that people take a look at the AKC page beforehand. They like to have updates now and then to people they have sold German Shorthaired Pointers to.
Walkers Farm & Kennel Details
4. Point Blank Kennels
Point Blank Kennels is a family-owned and operated breeder in northeast Georgia. They are AKC-registered and have been in the business for several years now. On their grounds, they have a total of 4 different dog years that are all fenced in and provide adequate shade for the dogs. The kennels also include lights and fans to ensure dogs are comfortable. Their indoor dog kennel provides sufficient heating and air conditioning, depending on the climate.
Their indoor dog kennel is used as their maternity ward. After visiting Point Blank Kennels and seeing how meticulous and organized they are with their breeding practices, you get an instant sense of professionalism behind what they do. If you're looking for German Shorthaired Pointer puppies for sale in Georgia, you won't be disappointed by choosing Point Blank Kennels.
Point Blank Kennels Details
5. Oak Run Kennels
Last on the list of the best breeders with German Shorthaired Pointer breeders in Georgia is "Oak Run Kennels." Oak Run Kennels is another family-owned and operated German Shorthaired Pointer breeder in Georgia. They have been actively breeding German Shorthaired Pointers for the past 20 years, and they are perfect hunting companions.
Oak Run Kennels stands behind their bloodlines. In addition to being bred to be great hunting dogs, they are also perfect to have around the family. They are affectionate and loving dogs that make great companions for every family member.
Some dogs they have bred have become skilled at detecting bombs for police stations. Oak Run Kennels aims to produce German Shorthaired Pointers that are good at all aspects of hunting. You'll never have to worry about your dog growing tired during the day.
Oak Run Kennels Details
Choosing a German Shorthaired Pointer Breeder in Georgia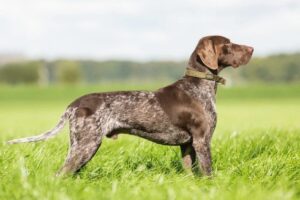 A breeder is willing to spend the time and money necessary to breed German Shorthaired Pointers responsibly. Responsible, caring German Shorthaired Pointer breeders are the only sure way to get a healthy, well-adjusted puppy.
A good breeder will have extensive knowledge of the breed and a passion for their dogs. This passion should be evident in everything they do. They will be interested in how you plan to raise the puppy and want to know how they can help you succeed with your new pet.
A good breeder should be willing to provide references from previous buyers and veterinary contacts. A good breeder can become a mentor as you learn about the breed, training, health issues, and proper care of your GSP!
Do not expect a breeder to take your money and hand over a German Shorthaired Pointer without questions or regard for the dog's welfare. A good breeder wants to ensure that the puppies end up in homes where they will thrive and be loved for life.
Conclusion For "German Shorthaired Pointer Puppies in Georgia"
If you've fallen for this breed, congratulations—you have a new best friend that will be by your side day in and day out. Just make sure you're ready for the commitment and are willing to do what it takes to take good care of your dog, and you'll be in for years of delight.
For more guides similar to this list of breeders with German Shorthaired Pointer puppies in Georgia for sale, check out these articles:
If you enjoyed this guide on this list of breeders with German Shorthaired Pointer puppies in Georgia for sale, you might want to watch the "German Shorthaired Pointers – Is It Right For You" video down below:
Garrett loves animals and is a huge advocate for all Doodle dog breeds. He owns his own Goldendoodle named Kona. In addition, he volunteers at the Humane Society of Silicon Valley, where he fosters dogs and helps animals. Garrett enjoys writing about Doodles and believes that dogs can teach humans more about how to live than humans can teach a dog.
Why Trust We Love Doodles?
At We Love Doodles, we're a team of writers, veterinarians, and puppy trainers that love dogs. Our team of qualified experts researches and provides reliable information on a wide range of dog topics. Our reviews are based on customer feedback, hands-on testing, and in-depth analysis. We are fully transparent and honest to our community of dog owners and future owners.