Allowing your dog to roam freely off of its leash can be an excellent way to provide exercise and stimulation. But putting up a physical barrier isn't always possible. That's why invisible fences have become popular.
The latest generation of invisible fences takes the idea to the next level. Through GPS and cellular-enabled collars, you can forget about burying annoying wires or being restricted to an area you own.
Halo and Spot On are two popular brands that make such collars. In this post, we'll compare these brands, their unique characteristics, and their noteworthy differences so you can have everything you need to know before choosing a product.
Are you ready for the Halo collar vs. Spot On collar comparison? Let's do this.
Before you scroll down this review, "Halo Collar vs Spot On Collar," you can check out these other reviews from our team at We Love Doodles: Best Underground Dog Fence – Top 8 Picks and The 5 Best Shock Collars To Keep Your Dog in the Yard.
GPS Dog Fences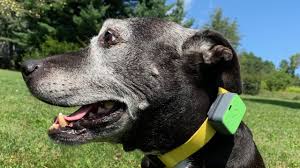 Before we jump into the details of the Spot On vs. Halo collar comparison, let's briefly discuss some of the main characteristics of most GPS dog fences and what they do.
The most simplistic type of dog fence is a physical one. It also requires significant materials, labor, and land to create.
Invisible fences do away with a lot of the heavy lifting and costs. Instead of having to erect a tall, physical fence to restrain your dog, you could bury a wire along your desired perimeter, put a specialized collar on your dog, and keep them from leaving the area.
GPS dog fences are the latest innovation in dog fence technology. They remove the need to bury a physical wire and instead rely on precise GPS mapping information to create a "fence" to contain your dog.
That means you can move freely and create intangible fences — without a wire! — anywhere you and your furry friends travel.
There are quite a few GPS dog fences on the market, but two of the most trusted brands are Halo and Spot On. Let's see why that is.
Halo Collar vs. Spot On Collar
Some brands provide the bare minimum product. It'll get the job done without much in the way of extra features or abilities. When looking at Spot On vs. Halo collar comparisons, you can leave the bare minimum in the dust.
Both of these brands have worked tirelessly to create the best products possible. They push the design of the dog collars themselves while using the latest GPS and cellular technology in conjunction with top-tier iOS and Android app development.
They have also worked with professional dog behaviorists to create easy-to-use programs to assist you in training your dog to use this type of fence. In particular, Halo collaborated with Cesar Millan.
The result? Both of these collars will do everything you need and more. They'll keep your dog safe and secure and can help you get them back if they ever escape. That's a pretty big deal.
But the Spot On vs. Halo dog fence conversation doesn't stop there. These collars have significant differences, and understanding them is crucial to figuring out which one will meet your needs.
Size of Fenced Area: Spot On vs. Halo
One of the most consequential distinctions in the Spot On vs. Halo collars comparison comes down to the size of the fenced area they can cover.
As we just reviewed, both collars use GPS technology to define the area to contain your dog. GPS is incredible, but it has some limitations. You are likely already familiar with them from your everyday life.
Do you know how sometimes your phone shows an incorrect location when driving in a big city or narrow canyon? That can happen with the GPS dog fences too. That's why Spot On and Halo collars work best when they're not surrounded by tall buildings or steep mountains.
Now here's where the Halo vs. Spot On difference really comes into play. These collars have distinct minimum requirements for the dog fence area.
The Halo collar can safely accept a minimum area of 900 square feet and a maximum of over 1,200 square miles on the extreme end. That's a lot of range. It can work for those who want to keep their dog somewhat tightly restricted but it's also suitable if you want to give them lots of room to play.
If we turn to the Spot On dog collar, things are different. Spot On is designed to have a large buffer zone near the fence to provide an alert when the dog approaches ten feet and a stronger warning when the dog gets within five feet of the fence.
Spot On also recommends incorporating at least 15 feet between the boundary and any unsafe areas. That is because GPS technology is not flawless — it can drift sometimes. A buffer zone is crucial for your dog's safety.
Because of these characteristics, Spot On has a much larger minimum fence size than Halo. Spot On can cover a minimum area of half an acre (21,780 square feet), up to a maximum of 1,000+ acres.
That means Spot On is not useful for those without a half-acre area for their dog. If you want to provide coverage for a smaller dog fence, then Halo is a better fit.
GPS Technology Differences
The previous section might have you wondering why Spot On requires so much space. Does it use inferior technology to define the dog fence area? Is Halo that much better?
It's important to avoid this train of thought. Both collars use sophisticated GPS technology and both are subject to similar pitfalls as other GPS devices.
Halo collars use two separate GPS systems to provide location data. These are GPS and GNSS, making their technology on par with autonomous cars and much more accurate than your average cell phone.
On the other hand, Spot On uses four separate global satellite systems, including GPS, GLONASS, Galileo, and Beidou. Once again, these systems are known to be extremely accurate.
Spot On has seven separate patents behind its True Location technology, plus it also has a forest mode to improve reliability in areas with dense tree cover.
What Does This Mean for Your Dog Collar?
Both likely use similar GPS technology to provide the accuracy you'd expect. Spot On seems to take their understanding and responsibility very seriously. Is it necessarily better than Halo? That is a difficult question to answer.
But Halo takes things a step further. If your dog does escape, it uses a built-in navigation system to guide your dog back to the fenced area. It can detect when they are facing the direction to get home and provide positive encouragement to stay on that path.
While their GPS systems are likely quite similar overall, Halo's ability to guide your dog back home is a nice added benefit.
Recurring Subscription Costs
Let's move on to the other communication technology these dog fence collars use: cellular.
Why does a dog collar require cellular communication? It doesn't necessarily need it. GPS works without a cell signal and if you only want something to act on GPS, you can leave cellular technology out of the picture.
This means that the GPS-enabled dog collar could notice when your dog has approached the fence and provide active feedback to keep them in the containment area if designed to do so.
But cellular technology allows the collar to send GPS information to other devices. If you want to see where your dog is from your phone or computer, the collar needs a cellular connection.
Similar to your phone, a monthly cellular plan is required to obtain a cellular connection. And this is a prominent difference in the Halo dog collar vs. Spot On discussion.
Halo requires a monthly subscription plan. It is not designed to work without it, and you won't be able to set up the collar without purchasing a plan.
Halo's plans range from $4.49 to $29.99 per month, depending on the features selected. The top-tier package provides premium training lessons and live sessions with expert trainers.
On the other hand, Spot On allows you to decide if you want to use cellular communication or not. A monthly subscription is not required.
The Spot On collar will still work like any other invisible fence, but you can't see your dog's location from your cell phone, nor will you receive notifications if it escapes.
If you want a Spot On subscription, it costs $9.95 when paid monthly, but you can save money by paying for one year upfront for $95.40 (equal to $7.95 per month) or two years upfront for $142.80 (equal to $5.95 monthly).
There are no differences in services between the plans, only payment timing. All Spot On collars come with a professionally-developed step-by-step program to help train your dog, but Spot On does not offer as many ongoing training opportunities.
Admittedly, you can save some money with Spot On — but you also lose the ability to track your dog. If your dog escapes, you won't be alerted and you can't see the collar's location.
If you get a subscription with either Spot On or Halo, you can pull up your dog's location, receive alerts when they go outside the fenced area, and track their actual location to find them and bring them home.
The subscription helps get the most out of either collar, but if you just want a fence and don't need active updates or location, then Spot On allows you to skip the cellular subscription.
Spot On vs Halo Collar – Other Important Features
There are a few other key characteristics to discuss in the Halo vs. Spot On dog collar comparison. These might help you decide which one works best for your needs.
Feedback Types and Purposes
Halo and Spot On use three methods to provide feedback to keep your dog inside the defined area. But they are slightly different. And Halo has an added benefit.
Halo's system uses customizable sound, vibration, or static feedback options. These serve two purposes. First, keep your dog inside the fenced area. And second, guide your dog back to the fenced area if they escape.
Spot On also uses customizable sound, vibration, or static feedback options. But these options are limited to warnings and alerts when the dog leaves the fenced area. It won't stop your dog from returning, but it also doesn't provide the active guidance home that Halo does.
Battery Life
Battery life is a crucial element of any battery-powered device. If your dog's collar runs out, it will power down and fail to keep your dog within its boundaries.
Halo's battery life is clocked at 20 hours or more, while Spot On's lasts up to 18 hours. These are similar numbers, and both collars require regular overnight charging.
Creating Fenced Areas
Another consideration is how you create new fenced areas. But once again, the Halo vs. Spot On collar doesn't show much of a difference.
With both systems, you can walk the perimeter you desire to keep your dog in. Or you can add or adjust them through the iOS or Android app. Both are easy to use and intuitive.
If you have multiple pets, fenced areas can be shared by multiple collars. Each pet needs its own collar with both systems, but you only have to set up the fences once.
Frequently Asked Questions
Will the Halo collar shock my dog?
The Halo dog collar uses static feedback that amounts to "a tap on the shoulder," but you can opt out of using static, and there's a range of static levels. It's up to you!
What if I don't want a subscription plan?
Halo collars require a monthly subscription, so if you're trying to save money long-term, Spot On collars might be a better match for your budget — the service is optional.
Conclusion For "Halo Collar vs Spot On Collar"
Halo and Spot On dog collars are incredible devices that can keep your dogs safe inside an invisibly-fenced area. Here is a quick summary of the main characteristics and differences between these systems:
Minimum Area: Halo can cover as little as 250 sq ft, while Spot On requires one-half acre.
GPS Technology: Halo uses GPS and GNSS, while Spot On has a patented True Location technology leveraging four different satellite systems.
Subscription: Halo requires a subscription ranging from $4.49 to $29.99 monthly. Spot On can work without a subscription or costs anywhere from $5.95 to $9.95 per month, depending on payment frequency.
Feedback: Both collars use customizable sound, vibration, and static feedback, but only Halo provides guidance back to the fenced area if your dog gets out.
Battery Life: Halo has 20+ hours of battery life, and Spot On has up to 18 hours.
Create Fences: Both can be created by walking the perimeter or using the dedicated app.
If you find this guide, "Halo Collar vs Spot On Collar," helpful, you can check out these other review guides from our team at We Love Doodles:
You can learn more about dog collar trackers by watching "Best GPS Pet Trackers in 2022 – How to Choose a Tracker to Keep an Eye on your Pet?" down below:
Garrett loves animals and is a huge advocate for all Doodle dog breeds. He owns his own Goldendoodle named Kona. In addition, he volunteers at the Humane Society of Silicon Valley, where he fosters dogs and helps animals. Garrett enjoys writing about Doodles and believes that dogs can teach humans more about how to live than humans can teach a dog.
Why Trust We Love Doodles?
At We Love Doodles, we're a team of writers, veterinarians, and puppy trainers that love dogs. Our team of qualified experts researches and provides reliable information on a wide range of dog topics. Our reviews are based on customer feedback, hands-on testing, and in-depth analysis. We are fully transparent and honest to our community of dog owners and future owners.