This guide will cover the Grinch's dog name and breed if you've been wondering what it is. Before getting started, here's what you need to know. "How the Grinch Stole Christmas" is a fantastic story people love returning to during the holiday season. While The Grinch remains the story's main character, people can't forget about his cute companion.
Throughout the story, The Grinch interacts with his dog, which many people find adorable. However, some people want to adopt a dog that looks like it. Because of that, we want to look deeply at the Grinch dog and see if we can figure out his breed. The Grinch's dog's name is Max, but his breed is unknown. We will help you understand the potential dog breed and where Max shows up throughout the Grinch's movies.
Before you scroll down this guide, "What is Grinch's Dog Name and Breed," you can check out these other dog-related questions answered by our team at We Love Doodles: How Many Dog Breeds Are There in the World and What is the Best Doodle Breed?
Learning About the Grinch's Dog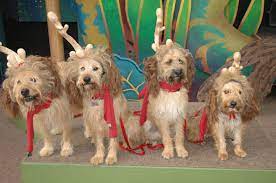 While the Grinch dog's name is no secret, and we know it's Max, his breed is a bit of a mystery. If you look at Max, you'll notice some defining features, such as rounded floppy ears and light-brown fur. Interestingly, the hair on Max's ears is darker than the fur throughout his body, which also stands as a critical trait. Usually, the stories portray Max as a small or medium-sized dog.
He also has a longer snout with a dark nose at the end of it. His legs are also proportionate to his body, so he has longer legs and a tail to match the longer body length. The fur on his body appears to be short and potentially curly, especially near the feet. However, some details vary between the books and the movies, so you must also consider those differences.
Grinch's Movies and Source
While looking into Max, we must consider the different source materials for The Grinch series. First, we'll look at the primary sources: the original book and 2D-animated movie, the live-action movie, and the 3D-animated movie.
"How The Grinch Stole Christmas" Original Book and 2D-Animated Movie
When it comes to the original book and the 2D-animated movie, the designs are the same. Max has his light-brown fur with darker ears. He also maintains his shorter fur while having longer hair along the paws.
Max also has a small appearance, contrasting with The Grinch's size. Overall, Max's designs in these versions are the most common ones people think of when it comes to furry dogs. He also has a long tail rather than a docked one.
"How The Grinch Stole Christmas" Live-Action Movie
In the live-action movie, Max looks overall the same, but with a few differences. First, Max is considerably bigger than in the book and 2D film. However, he still has the standard features associated with the original version. For example, he has a distinct difference between the ears and the fur on his body.
He also has mostly curly fur, but the fur near the feet isn't nearly as curly. He also has the expected long snout, though it's darker than the rest of his fur. Interestingly, while Max has a long tail, the tail fur is darker than the rest of the body. So while he has a few differences, people still see that version as Max.
"Dr. Seuss: The Grinch" 3D-Animated Movie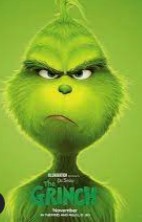 However, Max has another appearance in the 2018 3D-animated movie. He has much longer fur along the head, which goes into different styles throughout the movie. For example, sometimes, it gets combed to the side and sticks straight up. He also has a smaller appearance, like in the original series.
While his fur is a bit darker than usual, it still has distinctly darker hair along the ears. He also has longer fur along the paws and a long tail. The long tail has a slightly darker tone than the rest of the body, similar to the ears. Max still has the long-pointed snout as well. He has some differences from the other versions but still looks like a similar breed overall.
Potential Grind's Dog Breed
As we look at the similarities between versions, we know which features to look for from a dog. For example, Max has ears darker than the rest of the body, light-brown or brown fur, a small or medium size, a long snout, and a long tail.
We could narrow down the potential dog breeds that match Max based on our information. With that in mind, we'll look at some common species that share characteristics with Max so that you can find a dog similar to him.
1. Black and Tan Coonhound
A Black and Tan Coonhound has some defining features that make it a possible match with Max. First, they have round and floppy ears, just like Max. They also have a long snout, dark nose, long tail, and the proper leg-to-body ratio for Max. However, the fur doesn't precisely match.
While everything else works well, the Coonhound has primarily black hair and a tan coat. On top of that, the dog is a medium-sized dog, so that might not work for people who want a smaller dog. The fur length also matches, but the breed doesn't have longer fur along the feet. So with that in mind, the Coonhound matches almost every way except the feet and the fur color.
2. English Cocker Spaniel
If you want a dog similar to Max, you can check English Cocker Spaniels. These dogs have floppy ears and the right fur color for Max. They're also smaller, which matches Max. They also have the right snout length.
However, Cocker Spaniels usually have docked tails. On the other hand, they have longer fur along their bodies and don't have darker hair around the ears. They also don't have longer fur around the paws. But, despite those points, they are an excellent match for Max. Since they have a good fur color and the right body type, they work well.
3. Spinone Italiano
Spinone Italianos also share some standard features with Max. For example, their floppy ears work great and even have a darker tone than the rest of the body. They also have short and curly hair around the body and some long fur around the paws. Alongside those features, the dog has the right snout and a darker nose.
However, Spinone Italianos sometimes have white fur around the body, which Max doesn't have. They're also a bit bigger than the book version of Max but not as large as a Coonhound. The tail is slightly shorter than expected but has the right color. The Spinone Italiano matches in multiple ways but has a few shortcomings.
What Dog Breed is the Grinch's Dog?
With all that information in mind, can we figure out what breed matches the Grinch dog? Interestingly, we have a point not considered yet that explains Max's species.
Max is Most Likely a Mutt
Going off the information and the fact that The Grinch happened to end up with Max, we can assume Max is a mutt. After all, mutts tend to occur as various breeds keep mixing, leading to unique dogs. Max doesn't fit into a specific breed, and according to a prequel story, the Grinch found Max after the furry friend scratches the Grinch's back.
So while we don't know the exact origins of Max, he most likely qualifies as a mutt. On top of that, in the live-action film, the dog they adopted to play Max was a mutt. They thought the dog was a mix between an Airedale and a Wheaton Terrier, which was never confirmed.
What Type of Mutt is Max, the Dog?
We can still look at Max and see what features we notice in him so that you can find as close of an option as possible. Based on the information, he might be a Spinone Italiano mixed with other breeds. If a Spinone Italiano were to mix with other breeds, the darker colors would overtake the white fur so that it would remove that color difference.
Going off the different fur colors, Max could be mixed with a Coonhound and have darker ears for it. The tail color would also match. Max could also have some English Cocker Spaniel in him. Such a mix would give him the right ears and tail while also making the dog smaller overall.
That way, the dog will be slightly smaller than a Spinone Italiano, around Max's size. However, mutts sometimes have a mixture of multiple breeds. For example, a Corgi bred with a Dachshund would have a mixed breed.
These possibilities only stand as theories since we don't have an official statement on Max's breed. After all, Max could be a large mix of species, leading to his cute look throughout. Despite that point, we can rest easy knowing he likely has a good mix of breeds, such as a combination of the ones listed earlier.
Conclusion For "Grinch's Dog Name and Breed"
If you've ever wondered what the Grinch's dog's name is, it's Max. Max is a cute dog in How The Grinch Stole Christmas, so people naturally also want to know the dog's breed. Even though he most likely qualifies as a mutt, you can still find plenty of species that look similar to him.
While a mutt is obvious, you can always look for key traits in other breeds. If you want to find a dog like Max, you won't want to look for a specific species. Instead, you can look at your local dog shelter and find a cute dog who looks like Max.
If you find this guide, "What is Grinch's Dog Name and Breed," helpful and entertaining, you can check out these other guides from our team at We Love Doodles:
You can see the Grinch's dog from this movie clip by watching "How The Grinch Stole Christmas: Christmas is Goin' to the Dogs" down below: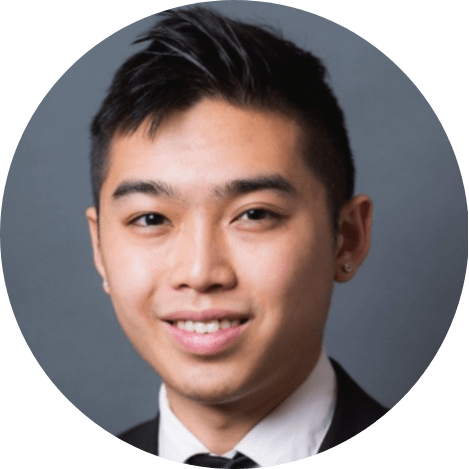 Andy is a full-time animal rescuer and owner of a toy doodle. When he's not saving dogs, Andy is one of our core writers and editors. He has been writing about dogs for over a decade. Andy joined our team because he believes that words are powerful tools that can change a dog's life for the better.
Why Trust We Love Doodles?
At We Love Doodles, we're a team of writers, veterinarians, and puppy trainers that love dogs. Our team of qualified experts researches and provides reliable information on a wide range of dog topics. Our reviews are based on customer feedback, hands-on testing, and in-depth analysis. We are fully transparent and honest to our community of dog owners and future owners.