Are you searching for dog breeders in Utah? Bringing home a puppy is a really exciting time that can bring a lot of joy and love into your life. However, the process can be overwhelming if you don't know where to start looking.
There are so many dog breeders in the United States, let alone in Utah that sometimes it can be a real challenge to determine which ones you can trust and which ones you should avoid.
One of the good things about there being so many dog breeders out there, however, is that there are plenty of good ones that you can trust. If you live in Utah and are interested in adopting a new dog into your family, you've found the perfect article.
Before scrolling down this list of dog breeders in Utah, you can check out these other recommendations from our team at We Love Doodles: Best Yorkie Breeders in Utah and Best Boston Terrier Breeders in Utah.
Puppies For Sale in Utah
This guide covers all of the very best dog breeders in Utah. We spent tons of time combing through all of the breeders in Utah and the surrounding areas so that we can help make your search as easy as possible. We took our favorites from our research and added them to this comprehensive list, complete with contact information.
These breeders specialize in various breeds from Corgis to Rottweilers and everything in between. We also include some helpful information about how you can choose the right breeder for you and your family, so be sure to read the sections at the bottom of the list. Best of luck with your adoption process.
Dog Product Recommendations: Best Plush Dog Toys and Best Air Dried Food.
1. PuppySpot's Puppies For Utah
Puppies need to right homes to be happy and healthy. PuppySpot, a community of dog lovers, does exactly that by sending puppies to healthy and comfortable homes. They connect the best dog breeders to the most caring dwellings so that puppies enjoy their life as much as possible.
To date, they've sent over 200,000 puppies to 200,000 homes and changed the lives of puppies and families in meaningful ways. You can find your companion on PuppySpot right from the comfort of your home in Utah. PuppySpot adheres to high standards for both breeders and customers.
There are no puppy mills, and scammers aren't tolerated either. They're licensed by the United States Department of Agriculture (USDA), and to be part of their network, breeders must also be USDA certified. Their data-driven system is reliable and helps them vet thousands of breeders. Since they rely on high-quality data, they have a network of committed and modern puppy breeders.
Breeders are selected after a thorough process involving interviews, review of operational history, criminal background checks, governmental database review, veterinarian history, and compliance evaluation. In addition to these checks, PuppySpot also has another screening process that thoroughly vets breeders.
Breeders must pass this test to become part of the network and must go through it annually to ensure compliance. Their screening test has been developed by a highly qualified and independent Scientific Advisory Board and surpasses the national standards for breeder screening. It becomes impossible for a non-compliant breeder to enter the system or stay as part of it with all of the extensive screening.
Therefore, if any breeder is found to be violating their standards is promptly terminated. Furthermore, PuppySpot is committed to preventing all types of scams. So, if you have any information regarding any puppy scam, you can reach out to them and provide all the information you have. They take strict actions against such complaints and take puppy scams seriously.
PuppySpot Details
2. Elite Gem Puppies — Bernedoodles and Poodles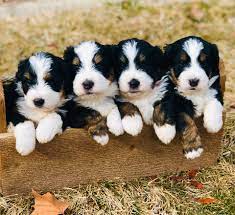 This breeder in Utah specializes in breeding Standard Bernedoodles, Mini Bernedoodles, and Poodles. These dogs are adorable, and the breeder is dedicated to producing the healthiest and happiest dogs possible. This breeder is family-owned and operated, and each of the family members is deeply involved in raising each dog.
This is a great thing because it means that each puppy is heavily socialized and loved from birth. Each dog is thoroughly health checked for genetic conditions, so you can feel confident that the puppies you adopt from this breeder will be very healthy and happy.
None of their dogs live in a kennel, so they use a guardian program to ensure that they have a strong pool of breeding dogs. This means that carefully screened and loving families raise each breeding dog like their own while not being used to produce beautiful and perfect puppies.
This breeder is always researching and learning, which means that they are constantly learning and evolving their breeding program to produce the highest quality dogs. Their puppies are exceptional, and they limit the number of litters per year to control for quality and the care and attention each dog receives. Each puppy comes with a lifetime of support from the breeder, so you can always reach out whenever you have questions.
Elite Gem Puppies Details
3. Del Cono Sur German Shepherds — German Shepherds
Del Cono Sur German Shepherds is one of the top German Shepherd breeders in Utah and the country. They believe that good dogs and good puppies result from excellent breeding choices and experienced breeders. This breeder is backed with expert knowledge, experience, thoughtfulness, and selflessness that allow them to produce some of the best dogs around.
They strive to breed consciously, so their dogs are well-tempered, happy, and healthy dogs that make excellent companions. The breeders are excellent, experienced, and passionate about producing the best possible German Shepherds.
They import their breeding dogs from worldwide, including South America, Central America, Eastern Europe, and Western Europe. One thing that sets this breeder apart is their breeding standard and method, which makes all the difference. They have several key ideals that they follow to achieve this method, all of which can be read about in their website's "About" section.
Del Cono Sur German Shepherds Details
4. Mountain Rose Bordoodles — Bordoodles
Bordoodles are precious dogs that are a designer hybrid between Border Collies and Standard Poodles. Doodle breeds have grown in popularity in recent years because they are low-shedding, incredibly loyal and affectionate, and very intelligent, making them easy to train.
There are tons of different Doodle breeds, including Aussiedoodles, Bernedoodles, Goldendoodles, and many more, but none is quite as special as the Bordoodle. One of the things that set this particular breed apart from the rest is that both parent breeds— the Border Collie and the Poodle— are two of the smartest dogs on earth.
Their high intelligence makes them incredibly easy to train and excellent companions. The Bordoodle inherited the smarts of both parent breeds, and this dog is a powerhouse of intelligence and obedience. This breeder is dedicated to breeding excellent dogs with all of the best qualities of both parent breeds.
Their dogs are affectionate, kind, playful, and have keen minds. The breeder is owned by a lovely couple passionate about their family and raising high-quality dogs. They have 22 grandchildren that love to play with the puppies, so each dog is well socialized and very used to children. Check out their adoptable dogs and read about their very cool story on their website today.
Mountain Rose Bordoodles Details
5. Lulu's Lil Aussies — Toy and Mini Australian Shepherds
Lulu's Lil Aussies is a premier Champion Toy and Mini Australian Shepherds breeder. These dogs are wonderful, and the breeder is too. Australian Shepherds are incredibly intelligent dogs that are affectionate, loyal, easy to train, and quite beautiful. They were bred as working dogs on Western U.S. ranches, and they still have the same strong working instincts.
These manifest in adorable ways when the breed is a family pet instead of a working dog, including snuggling, herding children, catching bugs, and playing fetch. The Toy, Mini, and Teacup Aussies have these same qualities, just in a smaller package that loves to sit in their owner's laps.
This breeder believes that the key to breeding a good dog is to raise it with love and affection. They raise all of their puppies by hand in the family home. Their dogs are loved and spoiled and get plenty of playtime and lots of space to run and romp.
The way that this breeder raises their puppies allows the puppies to grow up to be the perfect little family companions. These dogs come with a full health guarantee. Each breeding dog is genetically tested for any defects, and all puppies are ensured to have a healthy and long life. Check out their adoptable puppies on their website today.
Lulu's Lil Aussies Details
6. Sevier River Retrievers — Golden Retrievers and Labrador Retrievers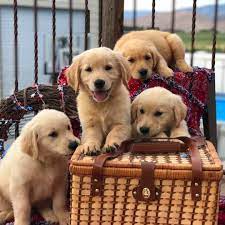 Sevier River Retrievers is an excellent breeder that produces the highest quality Golden Retrievers and Labrador retrievers. Each dog and puppy in their care is raised by hand in their family home, so they are used to a loving and caring environment from the minute they are born. Each litter receives the complete attention of the breeders to make sure that every puppy is as healthy, comfortable, and well-adjusted as they can be.
This breeder began their breeding journey ten years ago in 2012 when they began breeding Labs, and they added Goldens to their lineup in 2019. The whole family is a part of the breeding and raising process, which means that each dog is loved, nurtured, and trained by adults and children alike, allowing them to go to their forever families with a seamless transition.
This breeder is proud to be a responsible breeder, and they are committed to using only exceptional breeding practices. This allows them to offer health guarantees for each puppy. They check for pedigree, temperament, suitability, and structure when planning to breed each litter.
Sevier River Retrievers Details
7. Full Throttle Aussies — Australian Shepherds
Full Throttle Aussies is one of the Australian Shepherd breeders in Utah dedicated to breeding and raising the highest quality Australian Shepherds possible. All of their dogs truly exemplify the breed standard for Aussies. Each dog is raised in the family home like a true member of the family, which means that when they come to you, they are very socialized, well adjusted, and will fit right into what family life you have.
When making breeding decisions, this breeder only ever has one thing in mind: to preserve the Australian Shepherd's breed integrity for generations to come. They make sure their dogs are all well-rounded and versatile dogs with perfect structure, fluid movement, and ideal temperaments.
All of their breeding dogs are health tested for genetic health concerns, so you can be sure that all of your puppies from Full Throttle Aussies are as healthy and happy. Each puppy is ASCA and AKC registrable, and all puppies are well socialized.
These puppies make excellent dogs for competition in agility, conformation, and rally, as well as therapy, service, and tracking— not to mention that they make fantastic family companion dogs. This breeder has been working with Australian Shepherds since 1987. Their entire family inherits their love of Australian Shepherds, and all family members help out with the raising of the puppies.
Full Throttle Aussies Details
How to Choose a Dog Breeder in Utah
Choosing the right dog breeder is the most important part of dog adoption. You want to be sure to choose a trustworthy, reputable, knowledgable, and ethical breeder. A breeder's breeding habits and practices will lay the foundation for the healthy development of each puppy. This means that the better the breeder, the more well-adjusted your dog will be for years to come.
A good way to find out if a breeder is good and trustworthy is to ask them many questions. You can ask them about their habits, breeding philosophies and practices, experience with the breed, and other questions you may have. Be sure to ask about the health of their dogs and puppies, whether each puppy comes with a health guarantee, and how long the breeder has been breeding.
It's also a good idea to ask if you can tour the breeder's facility. Keep an eye out for the cleanliness of the facility and the behavior of both the breeder and the animals. The breeder should act comfortably, and so should the dogs if the breeder seems annoyed or on edge with your presence. It's also a bad sign if the dogs act scared around the breeder.
Related: Ways to Find a Hypoallergenic Dog Rescue.
Conclusion For The "Best Dog Breeders in Utah"
Choosing the right dog breeder in Utah can be challenging or overwhelming, but the process is a lot easier if you have healthy options. All of the breeders on this list are excellent choices to adopt from, and you can be confident that if you adopt a puppy from any of them, your puppy will be happy and healthy and live a long life.
For more guides similar to this list of dog breeders in Utah, you can check out:
Before you bring home a puppy from a breeder in Utah, you can learn more about the average cost of raising your puppy by watching "What's The Real Cost of Owning a Pet" down below: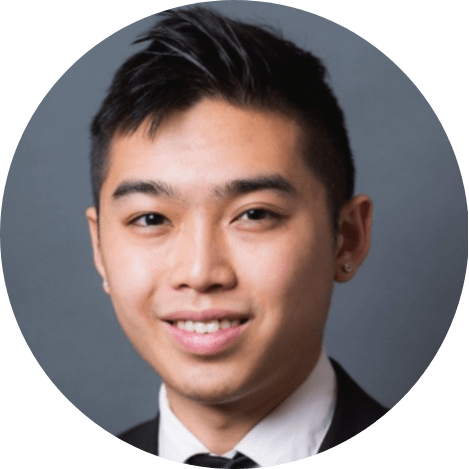 Andy is a full-time animal rescuer and owner of a toy doodle. When he's not saving dogs, Andy is one of our core writers and editors. He has been writing about dogs for over a decade. Andy joined our team because he believes that words are powerful tools that can change a dog's life for the better.
Why Trust We Love Doodles?
At We Love Doodles, we're a team of writers, veterinarians, and puppy trainers that love dogs. Our team of qualified experts researches and provides reliable information on a wide range of dog topics. Our reviews are based on customer feedback, hands-on testing, and in-depth analysis. We are fully transparent and honest to our community of dog owners and future owners.