If you're a Montreal resident who's considering adding a puppy to the family, you'll need to know where to find responsible, reputable breeders. Canadian puppy mills are unhealthy and unsafe environments for puppies and their moms. Dogs often deal with neglect, abuse, or inhumane housing. Finding good dog breeders in Montreal is imperative to the health and safety of your dog and your family.
Not sure where to look for reliable and safe dog breeders in Montreal? That's okay — we're here for you! We've put together a list of the top kennels in Montreal so you can find a healthy and happy little fur baby to call your own!
Before scrolling down this list of dog breeders in Montreal, check out these other articles: 4 Best Dog Rescues in Montreal! (2023) and 5 Best Dog Rescues in Ottawa! (2023).
1. Ormar Poodles
Ormar Poodles is the first on our list of dog breeders in Montreal. If you're a Poodle lover like us, you'll find a wonderful addition to your home at this breeder. The kennel focuses on breeding Standard Poodles. They've shown their dogs across North America, and breed for health and temperament.
Ormar Poodles genetically tests dogs before they breed to help ensure that your puppy is free of hereditary conditions. While in the kennel's care, your puppy will be vet-checked, vaccinated, and administered worming meds so that he or she is as healthy as possible upon arrival at your home.
Dogs at this Montreal breeder have limited CKC registration. That means you'll need to sign a spay or neuter agreement for your dog — these dogs are companions only unless the breeder gives special permission.
The price of your puppy from Ormar Poodles will vary based on the dog's characteristics and pedigree. Check the Ormar website or contact the breeder for the most up-to-date information about available dogs and their prices.
Ormar Poodles Details:
2. MonRoyal Frenchies
MonRoyal Frenchies is arguably the best French Bulldog breeder in Montreal; they've specialized in the breed for over 20 years. Puppies are home-raised and in addition to offering healthy puppies for sale, MonRoyal Frenchies also offers stud service. Be sure to check out the beautiful boys if you're interested in breeding your own female.
Your dog will come vaccinated and dewormed and will be microchipped before arrival at your home. As with the previous breeder, your puppy will come with a month of health insurance. You'll also receive some food for your dog, blankets that smell like mom, a few toys, and other goodies.
The breeder has a $1,000 holding fee for puppies. When dogs are available, contact the breeder for more information about deposits and pricing for your specific puppy. You can contact the kennel via email to learn about upcoming litters and the expected Gotcha Days associated with the litter.
MonRoyal Frenchies Details:
3. Elite Chow Chow
Elite Chow Chow is a small-scale breeder that has expertise in the fluffy breed. They're located in Mont-Laurier, a few hours from gorgeous Montreal. If the drive isn't appealing to you, contact Elite Chow Chow. The team will meet you or will deliver your dog to a more convenient location.
Puppy prices begin at $3,500 but may exceed this price due to characteristics and breeding rights. You'll need a $500 deposit to hold a puppy, so put your name on the list as soon as you're sure you're going to adopt a Chow Chow! Of course, you'll need to apply to adopt but once you're approved and pay the deposit, the kennel will contact you when litters are ready.
Dogs come nose-to-tail vet-checked and will have had all appropriate shots and wormers. Elite Chow Chow guarantees the health of your dog — speak with them directly for more information about the health guarantee. The dogs live in a family home so they are familiar with children, other dogs, and cats.
Elite Chow Chow Details:
4. Samoyed Quebec
Samoyed Quebec is a family-owned and operated business, and your Samoyed puppy will usually be socialized with kids and with other pets (such as cats) while in the care of this breeder. This organization also utilizes a network of breeders and guardian families — these responsible individuals will take loving care of your dog while he or she grows big enough to come home to you.
To purchase a puppy from this breeder you'll need to fill out an adoption application. The Samoyed Quebec caregivers want to know how you will raise your puppy. Let them know about your home (including your yard), family, lifestyle, and experience with dogs. You may be asked for vet records, so have them handy.
Once you're approved to adopt a Samoyed from this kennel you'll then need to place a deposit. The total cost of your dog is set at the breeder's discretion but the price will be disclosed to you prior to finalizing the adoption.
Puppies from Samoyed Quebec are companions only. As such, you'll sign a contract stating that you will spay or neuter your dog and not use them for breeding. Puppies come with a one-year health guarantee against genetic conditions and will be vet-checked before delivery or pickup.
Samoyed Quebec Details:
5. Manoir des Majestés
Manoir des Majestés is next on our list of the top dog breeders in Montreal. The kennel is located in Beaumont, which is about a three-hour drive from Montreal. They're a small-scale breeder of Golden Retrievers and they sell puppies as companions only.
Dogs at Manor des Majestés are bred primarily for temperament; the kennel wants you to have a valuable, beloved family dog.
To adopt a dog from Manoir des Majestés you'll be required to place a $200 deposit. This will hold your place in the pick order for upcoming litters. Speak to the kennel about whether the deposit is transferable to another puppy should you decide to pass on a litter. The deposit is non-refundable.
Your dog will come with a 26-month health guarantee and is sold as a companion only. You will need to sign a spay or neuter agreement for your puppy.
Dogs are current on vaccinations and wormers when they arrive at your home, and will be microchipped and socialized while in the care of Manoir des Majestés. Your companion will be registered with the CKC and you will receive all necessary paperwork upon the sale's completion.
Manoir des Majestés Details:
6. Belnois Bernese Mountain Dogs
The last independent kennel on our list of the top dog breeders in Montreal is Belnois Bernese Mountain Dogs. This breeder is about an hour outside Montreal, making it convenient for residents of the city to purchase quality Bernese. The kennel is family-run, and your dog will be played with and pre-loved before joining your happy home.
The Belnois team recommends that interested individuals put their names on the reservation list early. Puppies sell quickly and you want to be sure you don't miss a litter! The kennel does not regularly update the website with new and upcoming litters, so call the contact number if you'd like up-to-date information.
From time to time, Belnois will offer retired breeding dogs for sale. These older dogs will be spayed or neutered and not available to breed. However, the dogs have excellent genetics, have been tested and trained, and have been raised in a family environment.
Deposits and pricing for all dogs, whether they are puppies or adults, are set by the breeder. They lock in prices after determining the coloration and other characteristics.
Belnois Bernese Mountain Dogs Details:
7. Canadian Kennel Club
Not sure what breed of puppy you'd like to buy Check out the information on the Canadian Kennel Club's website! You can read articles about dog breeds, learn about how to care for a new puppy, and just find facts about the standards expected of CKC breeders.
Once you've narrowed down your decision you can visit the CKC's Puppy List. The Canadian Kennel Club permits reputable breeders who are registered with the organization to post puppies for sale on the website. You can click on the breed of dog you'd like to add to your family and you'll get a list of responsible breeders in your area.
You'll need to contact kennels individually to learn more about their policies and practices. In most cases, you can assume that dogs are companions only unless breeding rights are available. Most CKC sellers will offer limited registration papers with their dogs. Finally, all dogs will be vet-checked, vaccinated, and dewormed before they're sold to you.
Note that some CKC members are located in the United States. Confirm that these breeders are willing to sell puppies to Canadian residents, and determine what that will mean in terms of your purchase contract.
Canadian Kennel Club Details:
Frequently Asked Questions
How do I find a reputable dog breeder in Canada?
National and regional breed clubs can be a fantastic resource for finding reputable breeders. To narrow your search, you will need to contact kennels individually to learn about their policies and practices.
Can I buy a puppy in Canada and bring it to the United States?
Your puppy will need to be at least six months old to come to the United States. There are also requirements for the rabies vaccination certificate, microchip, and recent travel history. For more information, consult the CDC website.
How much does it cost to ship a dog from Canada to the United States?
With all of the associated fees, it can cost thousands of dollars to relocate a pet to a new country.
Conclusion for "Best Dog Breeders in Montreal"
Montreal and Quebec residents who are looking for new furry friends should avoid puppy mills! Puppy mills are unsanitary and sometimes abusive environments, and supporting these kennels usually means bringing an unhealthy animal into your home.
Our list of the top dog breeders in Montreal will help start your search for a new puppy! Whether you'd like to adopt a Great Dane or a Toy Poodle, you can use the resources above to help you on your way to adding a beloved family member to your household.
For more guides similar to this list of dog breeders in Montreal, you can check out:
Before you bring home a puppy companion from a breeder in Montreal, you can learn more about the costs of raising a dog by watching "What's The Real Cost of Owning a Pet" down below: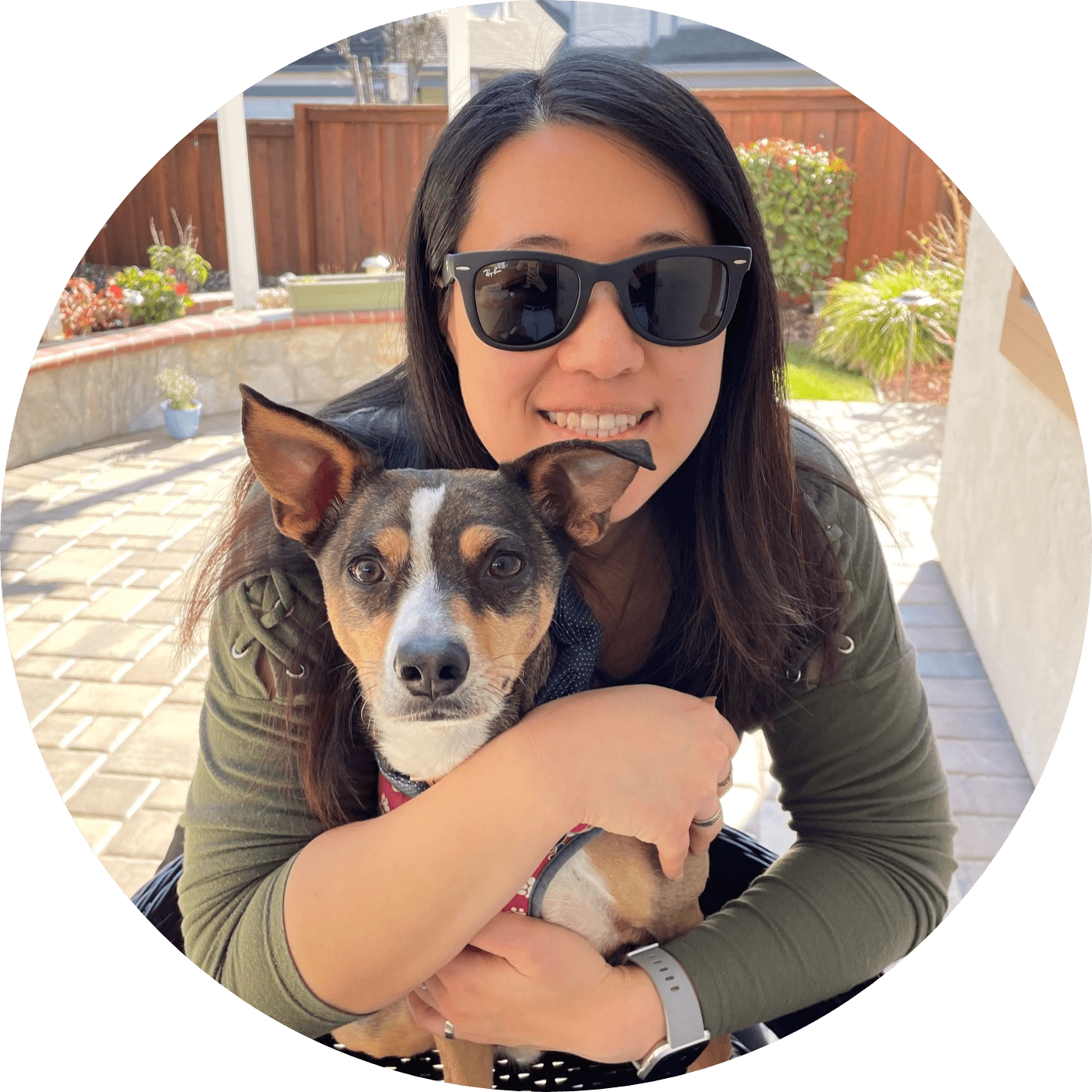 Dr. Sabrina Kong graduated from the Royal Veterinary College in England in 2016 and has been working at a small animal clinic in Northern California since then. She grew up in the Bay Area and got her bachelor's degree from Cal Poly San Luis Obispo. She also became a Certified Canine Rehabilitation Practitioner through a program at the University of Tennessee.
When she isn't in the clinic taking care of her four-legged patients, she enjoys traveling and trying new foods with her friends and her three-legged dog, Apollo. She adopted Apollo from her clinic when he was a puppy with numerous health issues. Dr. Kong truly cares about taking care of animals.