If you have a dog with diarrhea, it may be tempting to give them the same type of medicine that you would take for yourself. You want to provide your furry friend some relief but are worried about whether or not Imodium can harm or kill your dog.
There are some risks involved in giving your pet human medications. Before you give your dog any medication like Imodium, let's consider the risks. In high dosages, Imodium can kill a dog. Additionally, we will tell you the proper Imodium dosage for your dog.
Before you scroll down to a more in-depth answer to this question, "Can Imodium Kill a Dog," you can check out these other articles: What To Give a Dog For Constipation? and Can I Give My Dog Milk For Constipation?
What Does Imodium Do?
Imodium is a medication that reduces nausea, cramping, and diarrhea. Imodium contains loperamide, a synthetic opioid that causes constipation as one of its side effects. It was originally designed for humans.
Loperamide works by slowing down the natural motility of the gut, which results in less diarrhea. Immodium tablets have 2 mg of loperamide in them.
Can I Give My Dog Human Imodium for Diarrhea?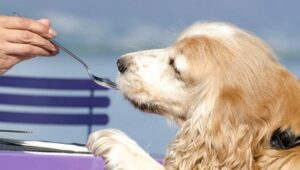 Can Imodium kill a dog? Imodium may relieve the symptom of diarrhea, but it can be deadly for some dogs. The dosage depends on the dog's weight, health status, and breed.
If you suspect your dog has diarrhea, seek veterinary care as soon as possible. Your vet may suggest Imodium or another medication for your pet, and the condition can lead to dehydration and other serious health problems.
What Dogs Should Not Take Imodium?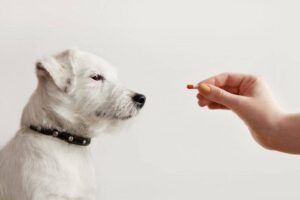 Giving your dog the correct Imodium dosage should stop diarrhea within a day. However, not all dogs should take Imodium.
The following dogs should not take Imodium:
Pregnant dogs
Dogs with mobility issues
Puppies and senior dogs
Dogs with kidney disease or liver disease
Dogs with hypothyroidism or Addison's disease
Dogs who have seizures or difficulty breathing
Dogs who are already on medication
Herding dog breeds like Australian shepherds, Shelties, or Collies
Dogs with loose stools from food poisoning or bacterial infection
White Feet, Do Not Treat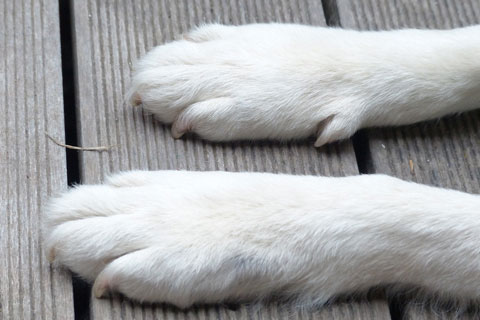 Some breeds of dogs like Australian shepherds, Shelties, or Collies have a gene mutation (MDR1) that prevents their bodies from properly metabolizing drugs like loperamide. They are at higher risk of developing toxic levels of the drug. If you have one of these breeds, avoid giving Imodium to your dog unless it is specifically prescribed by your vet.
Because white feet are a visual marker of dogs with the MDR1 gene, vets often say, "White Feet, Do Not Treat." Not all members of this group carry the gene, but you can find out with a genetic test. The good news is that dog DNA testing kits are readily available online.
Food Poisoning or Infection
Dogs with food poisoning or bacterial infections will usually have loose stools caused by any number of things:
Eating spoiled food.
Ingesting toxins from mushrooms
Consuming too many table scraps from the trash can (which often contain onion skins)
Eating something poisonous like chocolate.
A dog's diarrhea is the body's way of eliminating toxins, so it should not be interrupted by medication.
If your dog's symptoms are not due to an infection, and if the conditions mentioned above do not apply, then talk with your vet about giving your pet Imodium. They may recommend a dosage specific to your pup or a different product altogether.
Imodium Dosage for Dogs by Weight
Is Imodium safe for dogs? If your dog has diarrhea and you're looking for an effective remedy, Imodium may be the right choice. However, you must administer the correct dosage to avoid overdosing. The following dosage chart can help you determine how much Imodium to give your pet:
10 pound (4.5kg) dog = 0.4 mg dose
20 pound (9kg) dog = 0.9 mg dose
30 pound (13kg) dog = 1.3 mg dose
40 pound (18kg) dog = 1.8 mg dose
50 pound (22kg) dog = 2 mg dose
The average dose for dogs is 0.1 mg/kg, given every 12 hours.
if your dog doesn't fall within the weight categories listed above, you can determine the correct dosage for your pet by multiplying it yourself.
First, convert your dog's weight from pounds to kilograms. To do that, divide your pup's weight by 2.2 to estimate their weight in kilograms. Multiply that number by 0.1 for the dosage in milligrams of Imodium.
How much Imodium for a 12-pound dog? Using this math, .55 mg of Imodium for a 12-pound dog.
f your pet has diarrhea, it's important to keep them hydrated. Offer them water every 30 minutes until they no longer have diarrhea. If your dog is dehydrated, seek veterinary care immediately.
How To Give Imodium to a Dog
Youcan treat your dog's diarrhea with Imodium if you dose it carefully. And the treatment has been approved by your vet.
Imodium Tablets
Imodium comes in 2-milligram tablets, which is the correct dosage for a 50-pound dog. Smaller dogs may need the liquid form of Imodium.
Make sure your large dog gets all the medication. Hide the tablet in a pill pocket, a chewable treat into which you can stuff a pill. Or wrap the Imodium up in a piece of cheese.
se a treat or a small amount of food to hide the pill. Don't risk adding the tablet to an entire meal. Your dog might not finish all of it, and you want to be sure he took the medication. Only as much food as necessary to avoid irritating your dog's already delicate stomach.
If your pet weighs less than 50 pounds, you may need to get creative with the pill. You can chop up the pill with a pill cutter or crush it with a mortar and pestle. Then weigh the resulting powder to determine how much of it you need for your pet's medicine dosage. For easier dosing, use the liquid version of Imodium.
Imodium Liquid
Liquid formulations of Imodium are easier to administer than tablets, making them ideal for dogs under 50 pounds. You may need a milligram-marked dropper to give the correct dose.
When giving your dog medication (in liquid form), read the label carefully and make sure that it contains any artificial sweeteners. Xylitol and other artificial sweeteners are dangerous for dogs.
As you're treating your dog with Imodium tablets or liquid, it's important to keep an eye on its condition and ensure that it improves. If you don't see any improvement after two days, consult a veterinarian to rule out other causes of diarrhea before continuing treatment.
Side Effects of Imodium in Dogs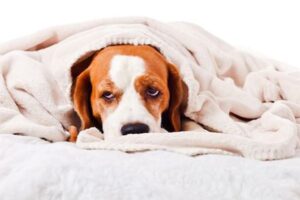 As with all medications, using Imodium in dogs can cause side effects. The most common side effects of Imodium for dogs:
Sedation
Bloat
Vomiting
Soft stools
Bloody diarrhea
Weight loss
Constipation
Pancreatitis
If your dog displays any of these side effects, stop using Imodium and seek veterinary care immediately.
Alternatives to Imodium For Dogs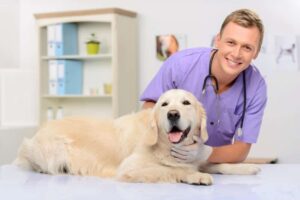 Although Imodium is an effective remedy for diarrhea in dogs, it's not the only option available. There are many over-the-counter and prescription remedies for canine diarrhea that can help your dog feel better faster.
Pepto Bismol
While Pepto Bismol is used by humans to relieve stomach upset, the pink liquid is also an effective remedy for dogs with diarrhea. The medication contains bismuth subsalicylate—the same ingredient found in Corrective Suspension (a specially formulated drug for dogs prescribed by veterinarians).
When administering Pepto-Bismol for the first time to your dog, check with your veterinarian about the proper dosage. Most experts recommend one teaspoon per 10 pounds of body weight. If your dog continues to have diarrhea after receiving two doses of Pepto Bismol, call your veterinarian; don't give your dog any more medication.
Be aware that salicylates can cause gastric bleeding, and that bismuth may turn your dog's stools black.
Some dogs should not ingest Pepto Bismol, including:
regnant or nursing dogs
Dogs taking non-steroidal anti-inflammatory medicines like Deramaxx or Rimadyl
Dogs with bleeding disorders
Bland Foods
Your vet may encourage you to feed your bland dog food while recovering. Rice is an ingredient used in some commercially produced dog foods, and rice boiled with nothing added helps treat diarrhea in some dogs and is good to feed any dog with an upset stomach.
White rice is quick and easy to prepare for your ill pet. If you're making rice for your dog, cook plain white rice. Brown rice has more fiber than white rice and can be hard on an irritated digestive system.
If your dog is diabetic, you should minimize the amount of white rice he eats. White rice increases blood sugar levels in canines just as it does with humans.
hite rice is a bland source of carbohydrates and calories, helping your dog deal with intestinal upset. Adding some plain, boiled chicken to the rice boosts its protein content.
How much rice to give depends on your dog's size. Give him about ¼ to 1 cup twice a day until you are sure your pet is well enough to eat regular food again.
Pumpkin Puree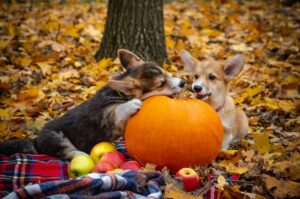 Pumpkin puree is a rich source of vitamins and antioxidants, in addition to soluble and insoluble fiber.
Pumpkin puree stops diarrhea in your dog by absorbing water and making the stool firm.
Smaller dogs can eat a teaspoon; larger dogs do well with a couple of tablespoons. Feed pumpkin to them twice per day, mixed into their normal food.
Make sure to get the pure pumpkin and not canned pumpkin pie filling, which contains sugar and spices.
Preventing Diarrhea in Dogs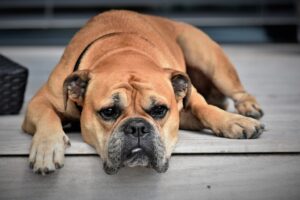 Prevention of diarrhea in dogs is much easier than treating it. Here are some tips to help prevent your pet from getting sick:
Most cases of diarrhea in dogs can be prevented by simply watching what your dog eats.
Keep your pet on a consistent diet, preferably one that is grain free.
Prevent them from eating human food.
Avoid dog bones; give them rubber chew toys
Vaccinate and deworm your dog regularly.
Frequently Asked Questions
Do you still have questions about Imodium and dogs? Let's look at some frequently asked questions about administering Imodium to dogs.
Can Imodium kill a dog?
An overdose of Imodium can be fatal for dogs. Also, some dog breeds may not metabolize the medication properly and could become sick or even die if given any.
What if I gave my dog too much Imodium?
Always consult an Imodium pill dosage for dogs chart before giving it to your dog. If you think your dog has ingested too much Imodium, contact your veterinarian immediately.
Conclusion For "Can Imodium Kill a Dog?"
If you want to know if Imodium is safe for dogs, we recommend you talk to your vet. The vet will be able to tell you whether or not Imodium is safe and the appropriate dosage for your dog.
If you find this guide, "Can Imodium Kill a Dog," you can check out these other guides from our team at We Love Doodles:
You can learn more about how to give your dog medication by watching "5 Different ways to give pill 💊or capsule to your dog🐶" down below:
Garrett loves animals and is a huge advocate for all Doodle dog breeds. He owns his own Goldendoodle named Kona. In addition, he volunteers at the Humane Society of Silicon Valley, where he fosters dogs and helps animals. Garrett enjoys writing about Doodles and believes that dogs can teach humans more about how to live than humans can teach a dog.
Why Trust We Love Doodles?
At We Love Doodles, we're a team of writers, veterinarians, and puppy trainers that love dogs. Our team of qualified experts researches and provides reliable information on a wide range of dog topics. Our reviews are based on customer feedback, hands-on testing, and in-depth analysis. We are fully transparent and honest to our community of dog owners and future owners.