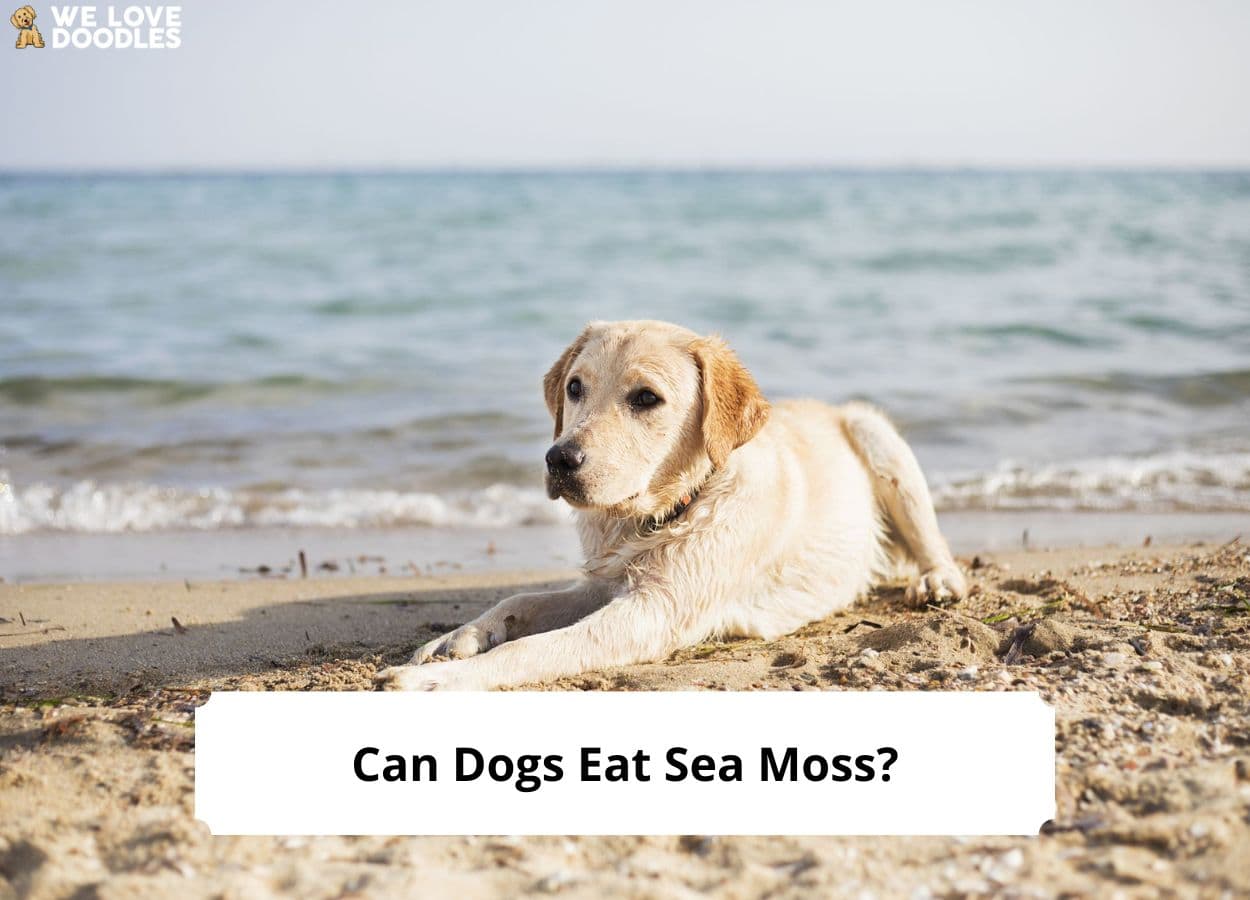 Can dogs eat sea moss as part of their diet? A balanced diet is crucial for canine health, just as it is for human health, and sea moss can contribute to that. To keep your dogs healthy and strong for many years, you need to ensure you're providing them with the proper amounts of foods with healthy nutrients.
Sea moss is safe for dogs to eat as a part of their diet. Sea moss is a type of algae that grows well underwater and organically absorbs nutrients from the sea. Interestingly, feeding your dog sea moss can have certain health advantages.
Sea moss can be found in many consumable forms that are healthy for dogs. However, dogs should never eat moss or seaweed found on the beach.
Before exploring, "Can Dogs Eat Sea Moss," check out these other dog-related questions answered by our team at We Love Doodles: Can Dogs Eat Crawfish? and Can Dogs Eat Coleslaw?.
Can Dogs Eat Sea Moss or Irish Moss?
Sea moss can be consumed by dogs, but as with any dietary supplement, caution must be used. Since dogs are an integral part of the family, we want to do all in our power to protect them. This entails offering the greatest nutrition available.
Dogs may safely consume both sea moss and Irish moss. These are nutrient-rich forms of algae that can help a dog's bladder and kidneys. Additionally, it could help dogs with dry skin issues.
How to Feed Sea Moss to Dogs
The moss is available in a variety of forms, including dried or fresh. Dried and powdered sea moss should always be given to dogs with a meal. Based on the size of your dog, around 1/4 of a teaspoon, every couple of days will do. You can add some daily on top of their meals. Avoid using wet sea moss. The gel that is created when sea moss is wet might obstruct your dog's intestines.
You should always talk to a vet prior to adding something new to your dog's diet.
Pay attention to the portion size. Supplements can become harmful if consumed in large doses. Do not forget how much smaller dogs are than humans. Even a small amount feels considerably larger to a dog than it does to you. The appropriate amount for your dog should be discussed with your vet.
Don't allow your dog to consume sea moss if it is present on the beach. It may absorb a wide range of dangerous chemicals, so beach seaweed is not safe.
Health Advantages of Giving Your Dog Sea Moss
Your dog may find many health advantages to eating sea moss. These range from healthy organs to cancer prevention, and aid digestion. Not to mention that being nutrient dense is beneficial, especially if your dog primarily eats dry dog food. Below are some of the health advantages of offering your dog sea moss.
Cancer Prevention
The American Veterinary Medical Association estimates that over half of all dogs over the age of 10 will get cancer at some point in their lives. This medical disease may result in lumps that don't appear to heal, swollen lymph nodes, bone enlargement, and unusual bleeding.
Due to its anti-tumor characteristics, adding sea moss to your dogs' food can lower their chance of developing cancer. Additionally, the substances in sea moss help stop the development and spreading of cancer cells in the bodies of your pets.
Controls Blood Sugar
Diabetes is widespread in dogs, particularly those that are older. Your dog may endure significant weight loss, increased urination, and excessive thirst as a result of this medical condition. Additionally, some dogs have increased appetites, which leads to obesity.
Fucoxanthin, an antioxidant found in sea moss, has been shown to lower insulin resistance and normalize blood sugar levels, hence preventing diabetes in dogs. Additionally, sea moss contains fiber that slows down the breakdown of starch in a dog's body, preventing blood glucose levels from rising and initiating diabetes.
Enhances Thyroid Function
Iodine, which is abundant in sea moss, promotes your dog's endocrine system and thyroid function. Iodine helps your dog's metabolism by preventing weight gain.
When dogs don't consume enough iodine, they get lethargic and develop mood swings. Therefore, their quality of life may be negatively impacted.
Increases Heart Health
The heart is among the most vital organs in your dog's body, just like it is in people. A dog's heart will weaken and grow more vulnerable to various illnesses as they become older.
It's a great idea to sometimes give your dogs sea moss as snacks or rewards to keep them healthy. Feeding your dogs some sea moss can help maintain a healthy heart since it includes enough amounts of soluble fiber and omega-3 fatty acids. Additionally, sea moss contains sulfated polysaccharides that control blood pressure and anticoagulant qualities that stop blood from clotting.
Improves Digestion and Gut Health
Dogs' digestion can be aided and constipation can be avoided thanks to the fiber in sea moss. This happens because sea moss contains insoluble fiber, which feeds the good bacteria that nourish the microbiome in the digestive tracts of your dogs.
Your dog will pass food through their intestines more rapidly and have better bowel movements when there is a balanced population of bacteria in their gut.
Boosts Energy Levels
A better metabolism may result from the vitamins and minerals in sea moss. Due to their increased energy, your furry friends may be able to accomplish more during the day as a result.
Your dog's immune system can also be strengthened with sea moss. They will be less prone to get diseases and transmit them as a result. Dogs with a healthy immune system will live longer.
Nutritional Value of Sea Moss
The nutritional value in sea moss is beneficial to dogs because it acts as a vitamin or supplement. It provides them with vitamins and minerals that may be missing from their dog food.
Iron
You might be surprised to learn how crucial this particular mineral is to animals like dogs. It is responsible for delivering nutrients and oxygen into and out of your dog's organs and serves as the foundation for red blood cells in your pet.
Even while iron deficiency is seldom the cause of canine anemia, it can occasionally happen in some animals, particularly dogs who are not fed properly. This mineral can be found in large quantities in sea moss.
Phosphorus, Magnesium, and Calcium
Phosphorous, magnesium, and calcium are minerals that are abundant in sea moss. Magnesium controls the operation of your dog's circulatory system, while calcium is crucial for your dog's bones. Other minerals include copper and zinc.
Phosphorus plays a role in a variety of bodily functions and is a component of a pump (the calcium/phosphorus pump) that controls the movement of chemicals between cells.
Vitamins
Aside from vitamin B12, did you know that sea moss also includes vitamin B2? Vitamin B2 is crucial for the proper growth of the skin and gastrointestinal lining, as well as for regulating your dog's metabolism by assisting in the conversion of food into energy.
However, vitamin B12 is excellent for ensuring that the neurological system of your dog remains healthy. It is a component of your dog's genetic makeup and excellent for avoiding anemia and weariness.
For a full list of the nutritional value of sea moss, read the labels of the supplement you decide is right for your dog.
Can Sea Moss Harm Dogs?
Sadly, there are several health hazards associated with sea moss, all of which are explained below.
Intestinal Obstructions
When sea moss is in contact with water, it transforms into a gel. This happens any time it is consumed. Because of this, you must make sure that you feed them the proper dose and that your pet is extremely well-hydrated to prevent intestinal blockage.
Pet owners like the powder form better for the main reason that it doesn't gel as quickly. Therefore, it would be perfect if you could add it to your dog's canned food or put it over their kibble.
GI Discomfort
When given sea moss for the first time, you won't be able to tell if your dog falls into the category of those that react poorly to sea moss consumption.
The most common side effects of a reaction to sea moss are diarrhea and vomiting, which are the most typical digestive reactions. Never feed your dog too much sea moss; always start off slowly.
Kidney-Related Health Issues
Although sea moss is a good source of minerals, if your dog consumes an excessive amount of it and has a history of urinary tract problems, it may develop calculi (stones). Therefore, you must consult your veterinarian before using sea moss in your dog's diet.
How Much Sea Moss is Too Much?
In comparison to people, dogs require a different dosage of sea moss gel or powder. For instance, whereas one to four teaspoons per day is the typical dose advised for humans, we contend that this amount is excessive for the majority of dogs.
First of all, since dog breeds differ in size, you shouldn't give a Chihuahua four teaspoons of moss every day because it would undoubtedly cause significant stomach pain. Generally, one to two teaspoons per week is closer to an acceptable dosage.
When to Take Your Dog to the Vet
You shouldn't need to bring your dogs to the veterinarian if they show no symptoms after eating sea moss. Your dogs' bodies are capable of withstanding sea moss, as evidenced by the lack of any symptoms. However, stop giving your dogs sea moss and consult a veterinarian right away if they start having diarrhea and other digestive issues.
FAQs
Is sea moss safe for dogs?
Sea moss is safe for dogs when fed as a supplement to their diet. It even has health benefits when consumed in moderation.

Dogs should never eat sea moss or seaweed found at the beach because it may have absorbed harmful chemicals.
Is Irish moss toxic to dogs?
It is okay for dogs to eat Irish moss. It has nutritional value that is similar to sea moss and may be fed as a supplement. Irish moss grows in zones 7 and above and is non-toxic when eaten by pets.
What happens if my dog eats too much sea moss?
Dogs with a known shellfish allergy and pregnant dogs should not eat sea moss. Consult your veterinarian before feeding if your dog has thyroid issues.

Feeding too much sea moss to your dog can cause digestive issues and heavy metal toxicity. Sea moss is a great dietary supplement but can be overused.
Conclusion For "Can Dogs Eat Sea Moss"
So, is sea moss safe for dogs to eat? Yes. It is a natural supplement that is safe to use and has many advantages, but it should only be added occasionally as a supplement. It should not be fed on a daily basis.
Dogs can eat sea moss to improve digestion, diabetes symptoms, organ health, and more. Consult your vet when choosing the right sea moss supplement for your dog.
If you find this guide, "Can Dogs Eat Sea Moss," helpful and informative, check out these dog-related guides from our team at We Love Doodles: 
Before you feed your dog companion anything else, you can learn more about dog's diet by watching "Raw Food Diet For Dogs | 5 Undeniable Truths "Experts" Won't Tell You | Raw Dog Food For BEGINNERS" down below:
Garrett loves animals and is a huge advocate for all Doodle dog breeds. He owns his own Goldendoodle named Kona. In addition, he volunteers at the Humane Society of Silicon Valley, where he fosters dogs and helps animals. Garrett enjoys writing about Doodles and believes that dogs can teach humans more about how to live than humans can teach a dog.
Why Trust We Love Doodles?
At We Love Doodles, we're a team of writers, veterinarians, and puppy trainers that love dogs. Our team of qualified experts researches and provides reliable information on a wide range of dog topics. Our reviews are based on customer feedback, hands-on testing, and in-depth analysis. We are fully transparent and honest to our community of dog owners and future owners.