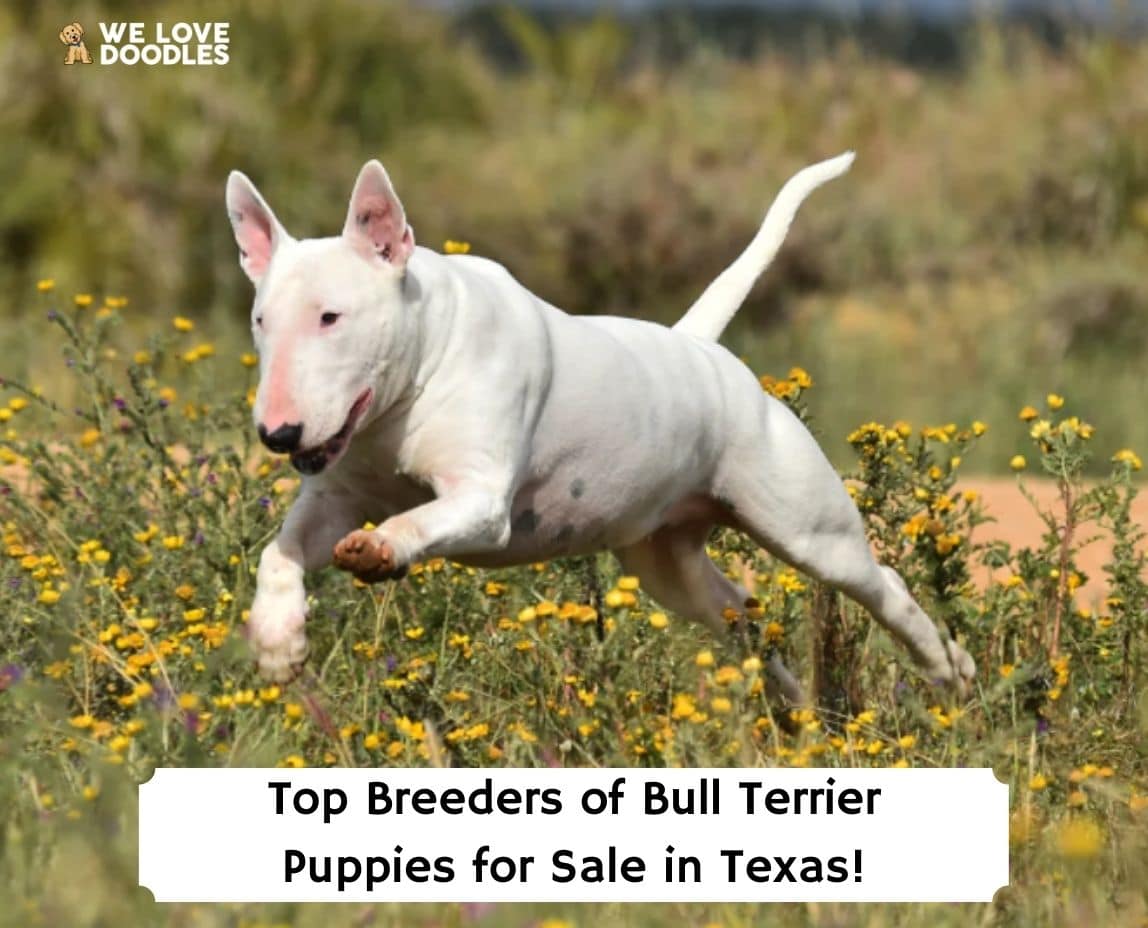 Finding the right one from the host of breeders of Bull Terrier puppies for sale in Texas can be overwhelming. But with this guide by your side, this job can be much faster and more reliable.
The Bull Terrier is a well-known breed with a playful nature and is sometimes stubborn but devoted to its owner. These dogs are robust, furry, and move with power and agility.
Finding the right dog for your home is an excellent step to guaranteeing your family's safety and fun. The Bull Terrier is a great family dog, but you must ensure it gets enough exercise daily.
If you're looking for the best Bull Terrier puppies for sale in Texas, look no further! Below is a list of the top breeders in the state.
1. Lechmere Bull Terriers
Lechmere Bull Terriers is a family-owned kennel in Sugar Land, Texas. They are reputable breeders of Bull Terriers as they ensure that their puppies are free of diseases. Some of the tests conducted on the parents are for kidney disease, heart problems, hearing, and patellar luxation.
This kennel ensures that the Bull Terrier parents and puppies get a balanced diet, including raw chicken, Innova food, venison, fruits and vegetables, fish, and tripe. The breeders schedule monthly check-ups for their puppies to maintain their wellness.
The owners of the kennel live together with the puppies. Thus, you are guaranteed the fur babies are well-socialized with people.
Bull Terrier Breeder Information:
2. Delicious Bull Terriers
The founders of Delicious Bull Terriers are a young couple – Kurtis and Samantha – with lots of passion for dog breeding. The couple mainly specializes in Bull Terriers and have been raising dogs for ten years.  They both have skills in animal husbandry, which is a huge bonus when it comes to dog breeding and rearing.
Their kennel is registered with the American Kennel Club. So, you're sure to get a Bull Terrier puppy that has been raised according to the required standards.
The children of the family spend time with the Bull Terrier puppies, an excellent factor to consider if you want a family dog. The dogs are given regular health check-ups to ensure their wellness.
With specific nutrition and exercise, these dogs remain active and flexible. No wonder you'll get a furry friend who'll keep you entertained throughout the day!
Bull Terrier Breeder Information:
3. RGV Bull Terriers
Another place to find the best Bull Terrier Puppies for sale in Texas is RGV. This kennel has been in operation for more than fourteen years and they boast of the highest-quality breed of Bull Terriers.
The RGV Bull Terriers are best at producing show dogs that can perform in a ring and watch dogs for guarding at night. The breeder's prowess in maintaining high standards in their dog breed is evident from their customer's reviews.
If you want to buy your puppy from RGV, the best option is to preview their website to see the available puppies before visiting their kennel.
Bull Terrier Breeder Information:
Check out for more: Best Staffordshire Bull Terrier Breeders in the USA! and Best Boston Terrier Breeders in Minnesota!
4. Houston Bull Terriers
This kennel links breeders with prospective owners. Their primary focus is helping Bull Terrier breeders find a home for their puppies. And while they are housing the puppies, they conduct regular maintenance, including brushing their mane.
The breeders provide up-to-date health records and a health insurance guarantee.
They take the puppies out for a walk to acclimatize with the environment and socialize with people.
The kennel is registered with the American Kennel Club (A.K.C.), which conducts its due diligence before admitting any breeder or breeder community. Therefore, you are guaranteed that the services you get from the breeders on this website are top-notch and professional.
Houston Bull Terriers are active on their Facebook channel as they mostly post their available puppies there. So hop on there and take a look. The customer reviews about this kennel are good, thus portraying the kennel as having the best Bull Terrier puppies for sale in Texas.
Bull Terrier Breeder Information:
 5. Valkyrie Bull Terriers
Valkyrie Bull Terriers in Houston, Texas, is run by Mary Holsen. Holsen is passionate about Bull Terrier breeding, and together with her team, she ensures that their dogs excel as family and show dogs.
They place the livelihood of their Bull Terrier puppies at the forefront by ensuring they are free of all genetic and other disorders by breeding healthy parents.
Before matching and sending the puppies home with their owners, they provide medical records to show that they are vaccinated, dewormed, and tested for hearing problems.
Puppies from Valkyrie Bull Terriers are microchipped to ensure they don't get lost and can be easily traced. They are also socialized with the outside environment, people, and children, making it easy to get used to families.
Once you purchase a puppy from Valkyrie Bull Terriers, you are offered some goodies, such as a food starter bag, toys, and dog leash. They also include a health guarantee.
Bull Terrier Breeder Information:
6. West Texas Bullies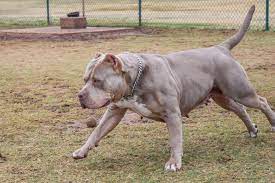 Last on the list of breeders providing the best Bull Terrier puppies for sale in Texas is the West Texas Bullies. This family of breeders has their work cut out for them as they are dedicated to bringing out the best of the Bull Terriers' personalities.
Puppies from this kennel display a playful and aggressive character common in this dog breed. This trait is the unique blueprint that the group nurtures in the dogs as part of their development.
This kennel has plenty of space which allows their dogs and puppies to play and exercise. And since it's a family kennel, their puppies are also socialized since they get to spend time with the kids indoors.
They are reared in a family environment, equipping them with a flexible temperament that makes it easy to adapt to a new environment quickly.
Bull Terrier Breeder Information:
 How to Choose a Breeder of Bull Terrier Puppies in Texas
Whether purchasing a show dog or a family dog, you must be careful when selecting your breeder. Use the tips below to choose the best breeder of Bull Terrier puppies in Texas.
Check if the breeder and the puppies are registered with A.K.C. or C.K.C.
Check out the breeder's length of experience.
Check out the kennel's level of cleanliness, which includes sanitization practices.
The dog kennel should be spacious to allow the dogs to play and exercise.
Genetic testing should be done on the parent dogs to ensure that any genetic disorder is not passed to the puppies.
There should be different delivery options available as per the convenience of the new owner.
The breeder should be available to give support whenever the owner faces any problem.
Flexible payment options should be there to make it easy to purchase a Bull Terrier puppy.
The level of engagement between you and the breeder should be such that each side gets to know detailed information before making the purchase.
 More Information About Bull Terrier Breeders in Texas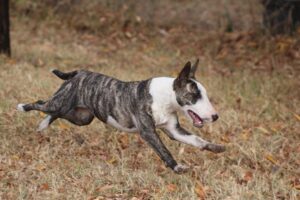 This list consists of breeders and community breeder groups that connect breeders and dog owners. And don't be afraid of being scammed, as we've included only the leading breeders of Bull Terrier puppies for sale in Texas.
More information about the breeders and the available Bull Terrier puppies can be found on their websites and social media channels.
Conclusion for the "Top Breeders of Bull Terrier Puppies for Sale in Texas"
The number of breeders of Bull Terrier puppies in Texas is quite impressive. Therefore, you shouldn't have a problem finding a puppy for your family. Visit any or all the kennels listed in this article and we hope that you will find the best Bull Terrier puppy that fits your needs.
Many more details about the breeders and the available Bull Terrier puppies will be found on their respective websites or reputable sites such as Good Dogs and American Kennel Club.
Have fun browsing and visiting the kennels and hope you find the Bull Terrier puppy you've been dreaming about!
You will also like:
For more information about Bull Terriers, check out this video: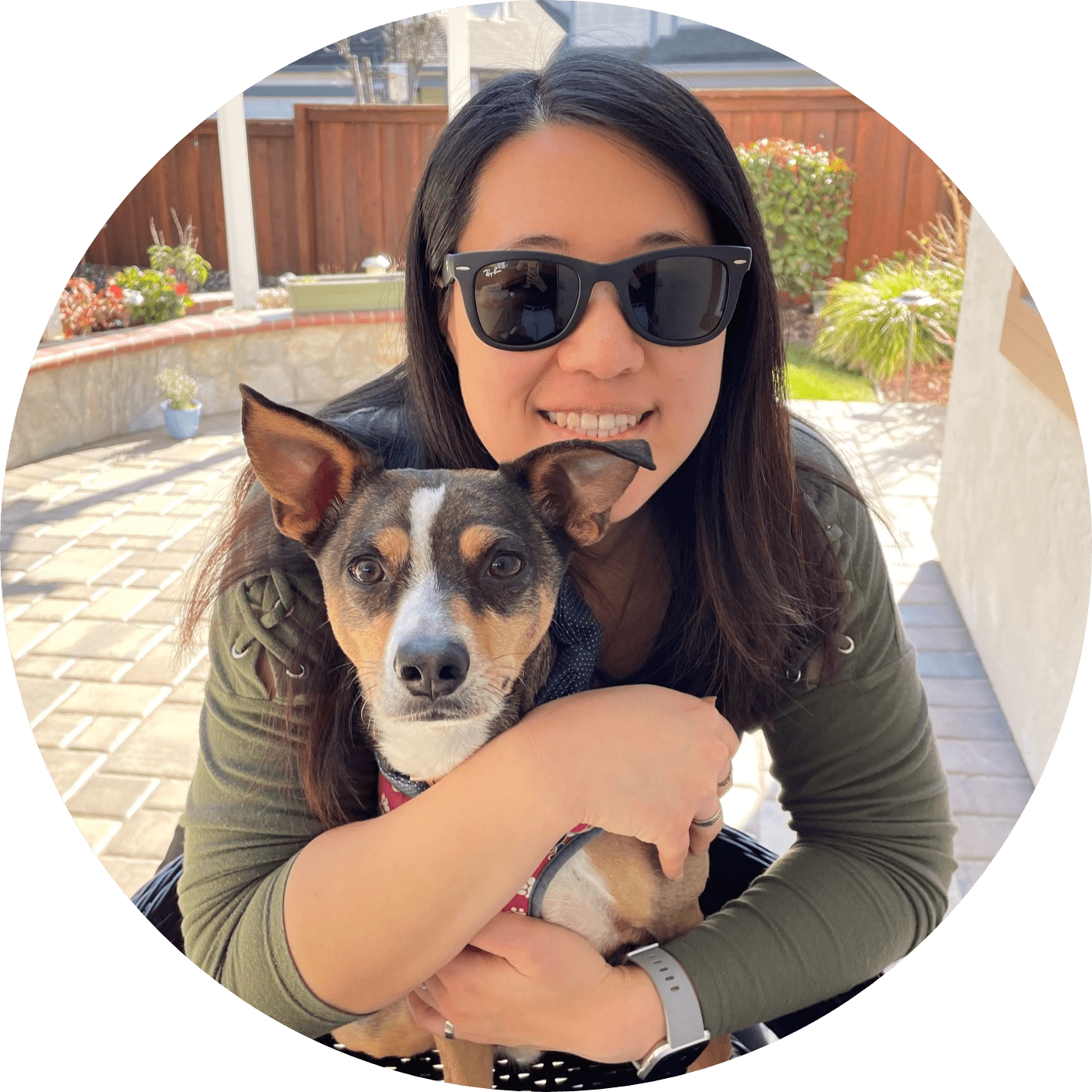 Dr. Sabrina Kong graduated from the Royal Veterinary College in England in 2016 and has been working at a small animal clinic in Northern California since then. She grew up in the Bay Area and got her bachelor's degree from Cal Poly San Luis Obispo. She also became a Certified Canine Rehabilitation Practitioner through a program at the University of Tennessee.
When she isn't in the clinic taking care of her four-legged patients, she enjoys traveling and trying new foods with her friends and her three-legged dog, Apollo. She adopted Apollo from her clinic when he was a puppy with numerous health issues. Dr. Kong truly cares about taking care of animals.