Bradley Cove is a popular place for dog owners in New Jersey to take their pooches for exercise and socialization at the beach. Here's everything you need to know before going.
Before you scroll down to this guide about Bradley Cove Dog Beach, check out: Do Goldendoodles Like Water? (2023) and Asbury Park Dog Beach – The Perfect Beach for Your Companion! (2023).
Are Dogs Allowed at Bradley Beach?
Boardwalks, promenades, and walkways located east of Ocean Avenue's easterly most curb are not allowed to have dogs or animals. Guide dogs, Seeing Eye dogs, and other guide animals are exempt from the prohibitions.
The beach is only open to dogs from October 1 through May 15. It is okay to unleash dogs on the beach during this time, provided you accompany them. The nearby boardwalk, promenade, and walkways can only be used to access the public beach area with your dog.
What NJ Beaches Allow Dogs?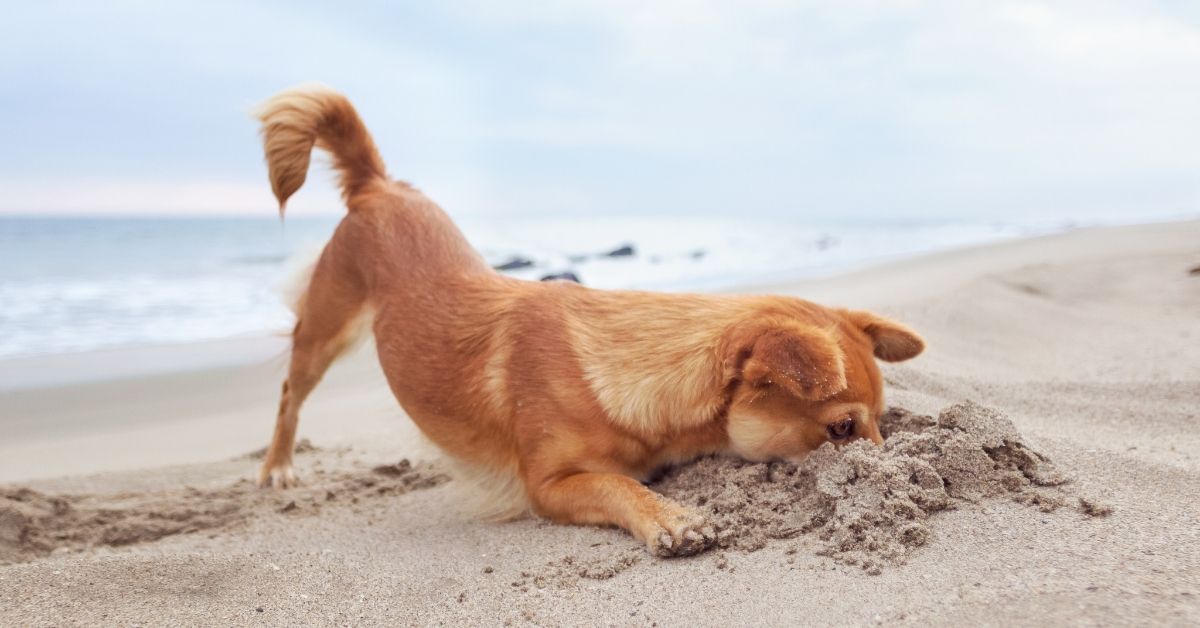 Numerous New Jersey beaches allow dogs or have dog-friendly areas, but you'll need to pay attention to the rules as they change based on the time of year and vary by location.
These are our recommendations:
8th Avenue Dog Beach
When visiting the 8th Avenue Dog Beach, your pet is bound to have a blast because they will be surrounded by tons of other dogs. A great off-leash dog beach to enjoy in the off-season can be found in Asbury Park. The beach is only dog-friendly before 8:30 a.m. and after 6:00 p.m. during the busy beach season, from May 15 to September 30.
Dog owners visit the sandy shores off-leash during other times of the year. On the beach's 8th Avenue section, this beach is appropriately named. Keep an eye on your pup as they play in the surf and roll around in the sand as they mix and mingle with the other pups.
Before you grab the doggie toys, you can chase your own dog with your eyes alongside the other owners. The picturesque shoreline is the perfect place to play frisbee, fetch, or just stroll.
Longport Dog Beach
Longport Dog Beach is a great place for dogs to play. Dogs can socialize at this off-leash beach, and there is no restriction on running or swimming here.
Visitors should arrive early at this beach since there is a small parking lot. Known as Somers Point Dog Beach, Malibu Beach, or simply Dog Beach, this is one of the most popular spots.
Beach Haven Doggy Bay
When the beach season peak between May 15 and September 15, Beach Haven is filled with cheerful screams and chatter from families, which quickly turns into playful dogs barking. Beach Haven Doggy Bay is located at the southern end of Long Beach Island's stunning 18-mile shoreline.
Schooner's Wharf and the NJ Maritime Museum are among Beach Haven's maritime attractions. In recent years, New Jersey has become a very pet-friendly state. The island has tons of dog parks to explore as you wait for the dog beach season.
You can let your dog run free on the beach after the busy beach crowds have passed, using a leash that is six feet long. You won't have to worry about wearing your dog out on vacation if you have a week-long or daily beach pass if you're just visiting. A year-long pass, however, allows frequent visitors to enjoy the dog beach year-round.
Brigantine Beach
There is plenty of space for dogs to run and play on Brigantine Beach, which is clean and safe away from crowds. North of the river, dogs are allowed. There is the softest sand in this area, which makes it ideal for dogs. You'll find it near Pirates Den restaurant.
During the months of September through May, dogs are not allowed here. There are plenty of bird species at this beach due to its wildlife refuge, along with tidal pools.
In the summer, this beach is a great place for swimming between June 15 and Labor Day (from 10 a.m. to 5:30 p.m.). It is always safe to swim in the water because there are lifeguards on duty, and it's also possible to surf and fly kites here.
Stone Harbor
Taking a photo of your dog in front of Stone Harbor's iconic boat is a rite of passage that gives you a souvenir to take home. It's likely your dog will be eager to end the impromptu photo shoot so it can enjoy its time at New Jersey's favorite beach.
Your dog deserves an authentic beach town experience, and you don't have to travel far for it. Pet-friendly accommodations are available at Stone Harbor, which sits right on the beach. No matter what time of year you visit, its pet-friendly beach is going to be the highlight.
Stone Harbor Beach stretches three miles along the coastline. Dogs are permitted on the beach from sunrise to 9 a.m. and 6 p.m. to sunset during peak beach season. It is fine to bring your pets to the bay as long as they are leashed.
Fisherman's Cove
There is a 55-acre tract within the Fisherman's Cove Conservation Area. The North Jersey Coast Line is just three minutes away. Before you bring your dog, note the leash requirement.
Dog owners are welcome in the East section, but not in the West. But don't worry — signs clearly mark the dog-friendly areas. Around the corner, there is a riverside cafe that offers dog meals. Oceanport's Wolf Hill Recreation Area and Thompson Park in Lincroft both offer off-leash dog areas.
Gateway National Park
There are specific dates when dogs are allowed in Gateway National Park. From March 15 to September 15, dogs are not permitted on oceanside beaches. At Horseshoe Cove and Plum Island beaches, dogs are welcome all year round.
Every year, millions of people visit. A park near Sandy Hook provides green spaces, beautiful beaches, historical structures, and cultural landscapes. There are several ways to get here, including buses, cars, subways, and ferries.
Wildwood Dog Park
The Wildwood Dog Park and Beach is the perfect place for your dog to play in the sand or in the water. It's an expansive dog park stretching from Glenwood Avenue to Maple Avenue.
The beachfront dog park is being redesigned with new additions and shaded areas. If you plan to swim or play fetch with your dog at the beach, they must be leashed at all times. There is, however, an off-leash area at the dog park. An oversized fire hydrant will greet you when you arrive, making your dog wag with excitement.
Dog owners can exercise their pets in this fenced-in dog park which is perfect for large and small dogs alike.
Sunset Beach
It's easy to see why Sunset Beach is ranked one of the best beaches in New Jersey once you arrive at the waterfront scenery and walk onto the sand. After a fun day in the sun, your dog will surely agree.
Sunset Beach allows dogs all year round. However, dogs are not permitted on the beach before 9 a.m. or after 6 p.m. during the busy season, which runs from April 15 to September 1. If you come down to the shores on a day like this, you'll have plenty of time to make the most of it. Step onto the beach and you'll discover a sparkle of clear quartz mixed with the sand known as Cape May diamonds.
Golden hour signals the beach's namesake sunset. As the sun dips below the horizon, dogs and their owners agree that Cape May Lighthouse Beach is one of the best pet-friendly beaches around.
Frequently Asked Questions
Can dogs go to Asbury Park beach?
Dogs can come to the beach, but they need a license and supervision. From May 16 to September 14, you can bring your dog to the Asbury Park beach from 6:00 p.m. to 8:30 a.m.
Does Long Branch beach allow dogs?
You can bring your dog to Long Branch beach from May 1 through September 30, but you must leash them and stay off of the boardwalk and promenade.
Can I bring my dog to Bradley Lake park?
Yes, but this park only allows leashed dogs.
Conclusion for "Bradley Cove Dog Beach: What You Need to Know"
When visiting Bradley Cove, remember that you can only bring your dog to the beach from October 1 through May 15. Even during this time, the boardwalk, promenade, and walkways are only open to dogs so that they can access the beach, so there's no loitering allowed.
If you find this Bradley Cove Dog Beach guide helpful, check out:
You can see dogs enjoying their time at Bradley Cove by watching "Asbury Park Beach April Bradley Cove Dog Beach" down below:
Garrett loves animals and is a huge advocate for all Doodle dog breeds. He owns his own Goldendoodle named Kona. In addition, he volunteers at the Humane Society of Silicon Valley, where he fosters dogs and helps animals. Garrett enjoys writing about Doodles and believes that dogs can teach humans more about how to live than humans can teach a dog.
Why Trust We Love Doodles?
At We Love Doodles, we're a team of writers, veterinarians, and puppy trainers that love dogs. Our team of qualified experts researches and provides reliable information on a wide range of dog topics. Our reviews are based on customer feedback, hands-on testing, and in-depth analysis. We are fully transparent and honest to our community of dog owners and future owners.