When the summertime is near, the beach starts to become crowded with families and friends. You just adopted a Goldendoodle puppy, and you're not quite sure whether it's safe for your new companion to be exposed to the water. You're asking yourself: "Do Goldendoodles like water?" Since it's your Goldendoodle's first time, how can you introduce your companion safely to this new environment?
Different Goldendoodles have different personalities and fears. If your Goldendoodle is afraid of water, don't force it. It's a rare case because most Goldendoodles love playing in the water. In this article, we'll guide you on what actions to take to introduce your Goldendoodle companion to the water safely.
Do Goldendoodles Like Water?
Yes, Goldendoodles like water because they can swim and enjoy the cool splash and breeze. In case you didn't know, the Goldendoodle is a mix between a Golden Retriever and a Poodle. The Goldendoodle parent dog breeds love water, so we guess you can say it's in your Goldendoodle's DNA. Throughout history, the Golden Retriever and the Poodle were often used for duck hunting and retrieving birds from the water. Both dog breeds are athletic swimmers and have webbed feet.
Goldendoodles love water, but that doesn't mean that you should immediately throw your companion in the pool. If your Goldendoodle has never experienced the feeling of water before, then you need to take it slowly for your companion to adjust. There's no reason to traumatize your dog. Take it one step at a time and let your Goldendoodle get used to it.
For some Goldendoodle owners, introducing them to water is easy. For others, it's the opposite. If you're struggling with how to introduce your Goldendoodle to water, then this next section will help you.
How To Introduce Your Goldendoodle To Water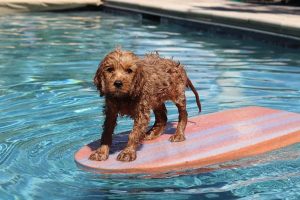 Backyard Hose:  You can teach these adorable dogs to love water by slowly increasing their exposure to it. One of the best ways to introduce your Goldendoodle to swimming is to play with a hose. If you have a backyard, you can have them run around as you occasionally spray them with a hose. This way, the sensation of water won't be such a surprise when they eventually go swimming.
Kiddy-Pool: You can fill up a little kiddy-pool with water. This will let your puppy learn to swim in a controlled and safe environment. However, we recommend using a hard shell kind of pool because if you use a plastic kiddy-pool, your Goldendoodle puppy will outgrow it.
Beach: Not all of us have a backyard at our disposition. So another way you can introduce your Goldendoodle to water is a trip to the beach. Don't worry – you won't have to swim if the water isn't warm enough. This is all for exposure. Let your Goldendoodle run around the beach and walk around the sand and near the water. Most puppies won't go in the water their first time. The purpose of this is just to let them get their paws wet, and in due time, they'll explore the waves at their own pace.
Goldendoodles are clever dogs. With little exposure and time, they'll naturally love being in the water. The sensation of swimming and the exposure to water is a pretty extensive sensory experience for Goldendoodle puppies. It's a large amount of physical and mental stimulus. At first – the sights, sounds, and smells can be highly overwhelming for your dog. We recommend that you keep an eye on your Goldendoodle in case of an emergency.
For dog pools and swimming gear, check out our recommendations:
Are Dogs Safe in Water?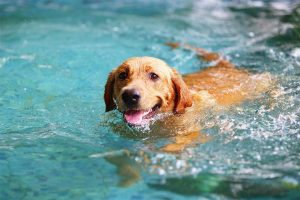 Every Goldendoodle owner wants their dog to have fun. While the memories are something to cherish, owners should always make sure that their dogs are safe. You want to make sure your Goldendoodle has a clear idea of where the entry and exit are, whether you're at a pool or places with high amounts of water. Keep in mind that dogs often get confused in pools because their sight dips below the water level. You need to make sure that the ladder or the steps are there if your Goldendoodle wants to climb out of the water.
When you're bringing your Goldendoodle to a beach or the lake, you want to be by their side. Owners should keep a clear vision and only let their dog run into the water where it's easy for their companion to get back out. Goldendoodles get tired from swimming quickly. Sometimes, they won't know when to stop. You should make sure they come back out for a small break. An older Goldendoodle will know when to take a break, but a puppy might not know when to stop. Make sure to help your Goldendoodle puppy calm down and relax after a certain amount of time.
Once you feel your Goldendoodle puppy caught a breathe and have the energy again, you can repeat the process and let your companion enjoy the fun.
Related: Can Goldendoodles Swim?
Goldendoodle Safety Equipments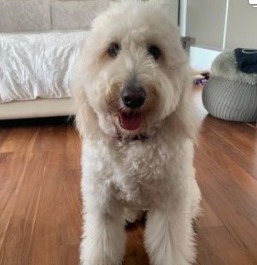 To prevent any safety risks, you can invest in swimming equipment to ensure your Goldendoodle puppy's safety. There are flotation devices for dogs that can clip on quite quickly. There are some with handles for when your Goldendoodle puppy is in trouble, and it's easy to use because you can grab them out. Whether your companion is prone to danger or it's a good dog, investing in safety gear is a must. You never know what can happen.
Grooming Your Goldendoodle After Swimming
Commonly, people let their Goldendoodles dry up and continue their day. Don't make this a habit. After a day at the beach, pool, or pong – it's important to groom your Goldendoodle. If you avoid grooming your companion after a swimming session, it can harm your dog. Without any grooming, your Goldendoodle's coat can become damaged.
Here's why it's important to rinse and groom your Goldendoodle:
After the beach, your Goldendoodle will have salt on it.
If you went to the pool, chlorine would be all over your Goldendoodle puppy.
There are chemicals and other things you won't want on your Goldendoodle, which is why it's important to rinse it off its coat with cold water. There are Goldendoodle owners who'll rinse their companion every time they come out for a rest. You can do the same. Shampooing your dog will help as well but try not to overdo it. Too much shampoo on your Goldendoodle can harm your dog. If you're using shampoo, you want to find one that's compatible with your Goldendoodle puppy. Make sure it's gentle shampoo.
Related: Best Waterless Dog Shampoos!
Conclusion For "Do Goldendoodles Like Water"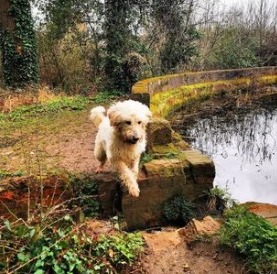 Goldendoodles don't like water – they love it! However, without any exposure at first, they may be opposed to swimming. Once they begin to get used to the feeling of being exposed to water, your Goldendoodle will constantly wag its tail in happiness and want to swim. You might have the most disciplined Goldendoodle there is, but once it's exposed to water, it's going to be challenging to get it back out.
For more Goldendoodle questions from WeLoveDoodles, check out:
For more information related to "Do Goldendoodles Like Water," watch "Can Goldendoodles Swim" from Oodle Life down below: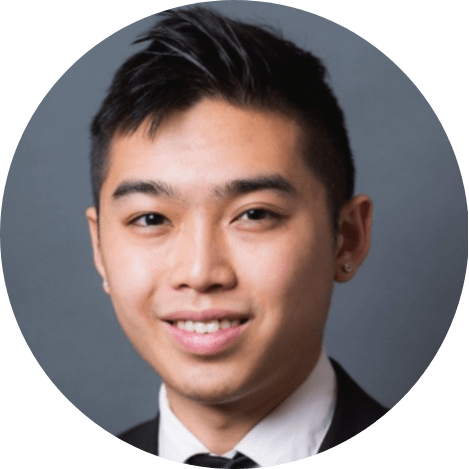 Andy is a full-time animal rescuer and owner of a toy doodle. When he's not saving dogs, Andy is one of our core writers and editors. He has been writing about dogs for over a decade. Andy joined our team because he believes that words are powerful tools that can change a dog's life for the better.
Why Trust We Love Doodles?
At We Love Doodles, we're a team of writers, veterinarians, and puppy trainers that love dogs. Our team of qualified experts researches and provides reliable information on a wide range of dog topics. Our reviews are based on customer feedback, hands-on testing, and in-depth analysis. We are fully transparent and honest to our community of dog owners and future owners.