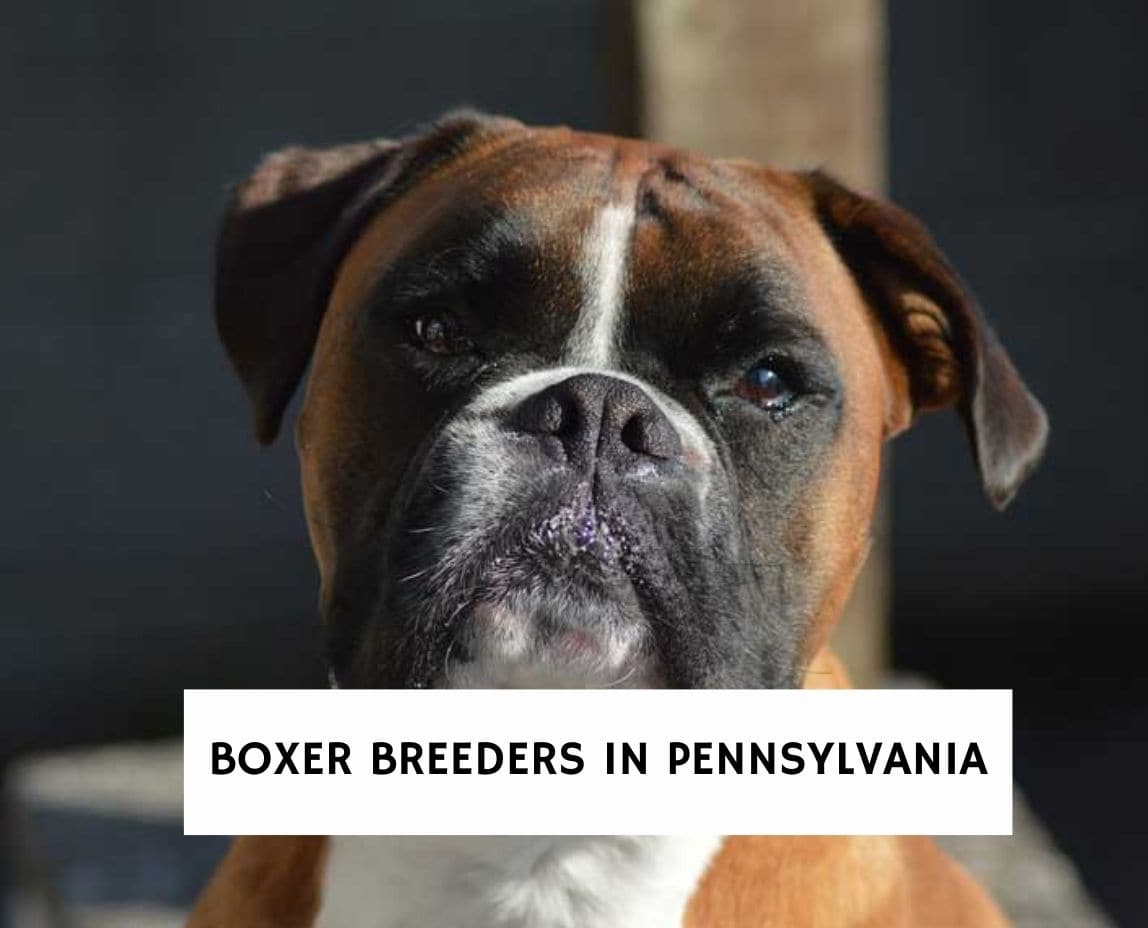 If you're searching for Boxer breeders in Pennsylvania, then here's what you need to know. Initially bred to be guard dogs, the Boxer is an energetic and playful breed with high exercise needs.
This dog is easy to groom, making it perfect for people who don't have time to bathe, brush, or clip their pet regularly. Boxers are highly affectionate with the people in their world. They are also friendly to strangers. If you can meet their high exercise needs, then this breed might be perfect for you.
Before scrolling down this list of Boxer breeders in Pennsylvania, check out these recommendations: Best Great Dane Breeders in Pennsylvania and Best Bernese Mountain Dog Breeders in Pennsylvania.
Boxer Puppies For Sale in Pennsylvania
We have listed the top Boxer breeders in Pennsylvania to help you find your dream pet.
Boxer Dog Product Recommendations: Best No Spill Dog Water Bowls and Best Plaque Removers For Dogs.
1. PuppySpot's Boxers For Pennsylvania
Since you're searching for Boxer breeders in Pennsylvania, then we highly suggest checking out PuppySpot. PuppySpot is a reliable platform filled with trusted Boxer breeders across the United States. After you find and purchase your desirable Boxer puppy, the breeder will ship your companion safely to your home in Pennsylvania.
In case you're worried about dealing with Boxer puppy mills, then don't. Even though most of these breeders are outside of Pennsylvania, they all have to go through strict guidelines before listing any puppies. So before you continue on your search for a Boxer puppy in Pennsylvania, check out the link below.
PuppySpot Details
2. Cocalico Boxer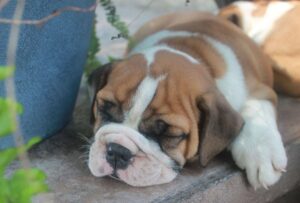 At Cocalico Boxer, you will find many puppies with excellent health and temperament. All the puppies here grow up inside the breeder's home. Once they are old enough, the team in this kennel all their dogs to run around their farm and play.
The puppies also have the opportunity of socializing with children and other animals. By the time you go home from Cocalico Boxer with your new puppy, he will be ready to adapt to your home. All the puppies from this breeder enjoy interacting with kids and adults.
The team of breeders ensures that they are socialized with humans and other dogs after they receive their first immunization shots. After that, they don't re-home their puppies unless they are up to eight weeks of age.
This way, the puppies get old enough to adjust to their new home environment before they leave. If you purchase a puppy at Cocalico Boxer, you will also get all the necessary documents alongside your new pal. If Cocalico Boxer is your chosen breeder, contact them today.
Cocalico Boxer Details
3. Hawk Valley Boxers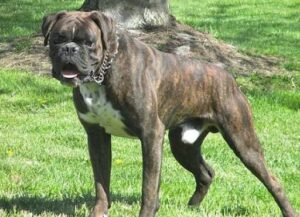 Hawk Valley Boxers aim to improve the quality of the Boxer breed. With over 45 years of breeding experience, they produce some of the healthiest puppies in the country. So if you stay in Pennsylvania, this might be the best place to buy your dream Boxer puppy.
The team here is always checking that their puppies and adult dogs are free from genetic health issues. In addition, they collaborate with a team of licensed veterinarians who provide them with great advice on how to care for their canines.
Hawk Valley is proud of the quality of puppies they produce, as they put in loads of effort in breeding them. So it's no surprise that they continue to get the 5-Star Breeders Award.
All the Boxer puppies here have great personalities. Hawk Valley Boxer puppies come with a 1-year congenital disability guarantee, brindle, and fawn. In addition, they are all up to date with worming and vaccinations.
The breeders also ensure that all puppies are vet checked and their tails are docked. In addition, you will receive a puppy pack containing dog food to help smoothen your new pet's transition into your home.
Hawk Valley Boxers Details
4. Creekside Boxers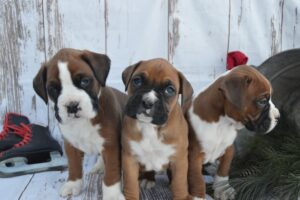 The team at Creekside Boxers requires people looking to purchase their puppies to familiarize themselves with the Boxers. They believe that researching the breed will help them determine if it's a perfect fit for their lifestyle.
If Creekside is your chosen breeder, you should visit their website. You can also contact them right away, as they are eager to guide you through your puppy adoption journey.
Creekside Boxers Details
5. Jades Boxers
At Jades Boxers, the team takes pride in providing good-natured families with the best Boxer puppy possible. All their puppies come with health certification, purebred registration papers (AKC or CKC), and their first round of immunization shots.
The breeder ensures that all puppies are vet checked, Dewclaws removed, and tails docked. The puppies are also de-wormed at three weeks, five weeks, and seven weeks of age.
Everyone at Jade's Boxers is passionate about the Boxer breed and handles them every day. They condition all their puppies with lots of love, interaction, hugs, and just the same amount of care humans show their children.
The team here considers all their Boxer puppies as family and treats them as such. All the family pets here have strong pedigrees. So it gives the staff joy when they sell their adorable puppies to keep inside their homes and care for them as pets.
If you intend your dog to a dog house, this breeder is not for you, as they are against such practice. In addition, they don't ship their puppies, so you will need to pick them up from this breeder in person. Before you make any deposits when purchasing your puppy, the breeder requires phone consultations.
Jades Boxers Details
6. East Coast Boxers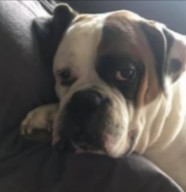 Located in Ronks, Pennsylvania, East Coast Boxers houses some of the finest Boxer puppies you will ever come across. The breeders here try to ensure that all puppies are socialized to prepare them for meeting their forever family. They consider all their Boxer puppies as family and treat them as such.
All the puppies here row up inside their beautiful home and go on to become well-behaved pets in their forever homes. If this is the Boxer breeder for you, contact them today. They will gladly answer all your questions and guide you through their puppy adoption process.
East Coast Boxers Details
7. Howdi Boxers
At Howdi Boxers. You will find many healthy and well-behaved Boxer dogs. They whelp their puppies inside their home, which helps them become socialized, well-rounded puppies. When you go home with your adopted puppy, it will be ready to adjust to your home. This breeder enjoys talking about Boxers and showing off their beautiful dogs.
While they don't know all there is to know about the Boxer breed, they take pride in sharing what they know. It gives them the joy to enlighten people on how to care for their dogs. So feel free to contact them and kick off your puppy adoption.
Howdi Boxers Details
8. K-Lin Boxers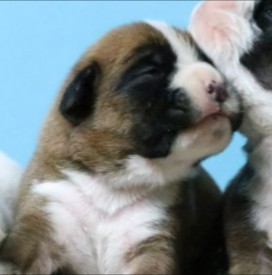 If you are looking to purchase a Boxer puppy around Intercourse, Pennsylvania, K-Lin Boxers might be the perfect place to go. They have many healthy and well-behaved dogs in their home.
Their team comprises hard-working and passionate individuals who are highly dedicated to enhancing the Boxer breed. As a result, all the puppies high receive top-notch medical care from licensed breeders.
The team at K-Lin Boxers wants to provide their clients with the best family pet possible, which is why they put lots of effort into their work. Their customer service is excellent, and they are always willing to entertain your queries. At K-Lin Boxers, it's a great joy to talk about Boxer puppies, so feel free to contact them.
K-Lin Boxers Details
9. Maplewood Boxers
With over 15 years of experience in breeding, Maplewood Boxers are one of the best places to get a Boxer puppy in Pennsylvania. Here, you will find many happy and healthy Boxers with pronounced jowls, shorter muzzles, and lots of wrinkles.
The breed has brought so much love and loyalty into this breeder's home, and they want to share it with as many homes as possible. Maplewood Boxers is located in the western part of the state, about 90 minutes north of Pittsburgh and 60 minutes south of Erie.
People living in Jamestown, Pennsylvania, might find this to be the best place to purchase their dream puppy. All the dogs here have a sizeable six-acre land, where they run around and play.
This helps to keep them exercised and healthy. All the dogs on this farm are energetic and well-socialized. That's no surprise because the breeder spends a lot of time with the dogs playing and caring for them.
This breeder loves all the canines in their home and treats them as part of their family. So if you want to get your dream puppy here, you should contact them.
Maplewood Boxers Details
10. Shaddai Kennels
Last on the list of Boxer breeders in Pennsylvania is "Shaddai Kennels." Shaddai Kennels is located in Tower City, Pennsylvania, and is one of the best breeders you will ever come across.
They have been in the business of breeding healthy and happy Boxer puppies for many years. Here, you will find high-quality therapy and show dogs. The team here aims to make the faces of their customers light up with their adorable puppies. They consider that to be an incredible experience.
All the dogs at Shaddai Kennels enjoy the best care possible. So, you can rest assured that your dream pet will be sound. If this breeder is the one for you, you should contact them to enquire about their puppies. Their team will gladly provide you with all the information you need.
Shaddai Kennels Details
Conclusion For The "Best Boxer Breeders in Pennsylvania"
Boxers are affectionate dogs with high exercise and low grooming needs. They can make excellent companions for people with active lifestyles. Ensure to get yours from a reputable breeder instead of puppy mills.
The best way to find trusted breeders near you is through research, and we have helped you with that. Feel free to choose from our list of top Boxer breeders in Pennsylvania.
For more articles with mentions of the Boxer dog breed, you can check out:
You can learn more about the Boxer dog breed by watching "Complete Boxer Dog Breed Guide" down below: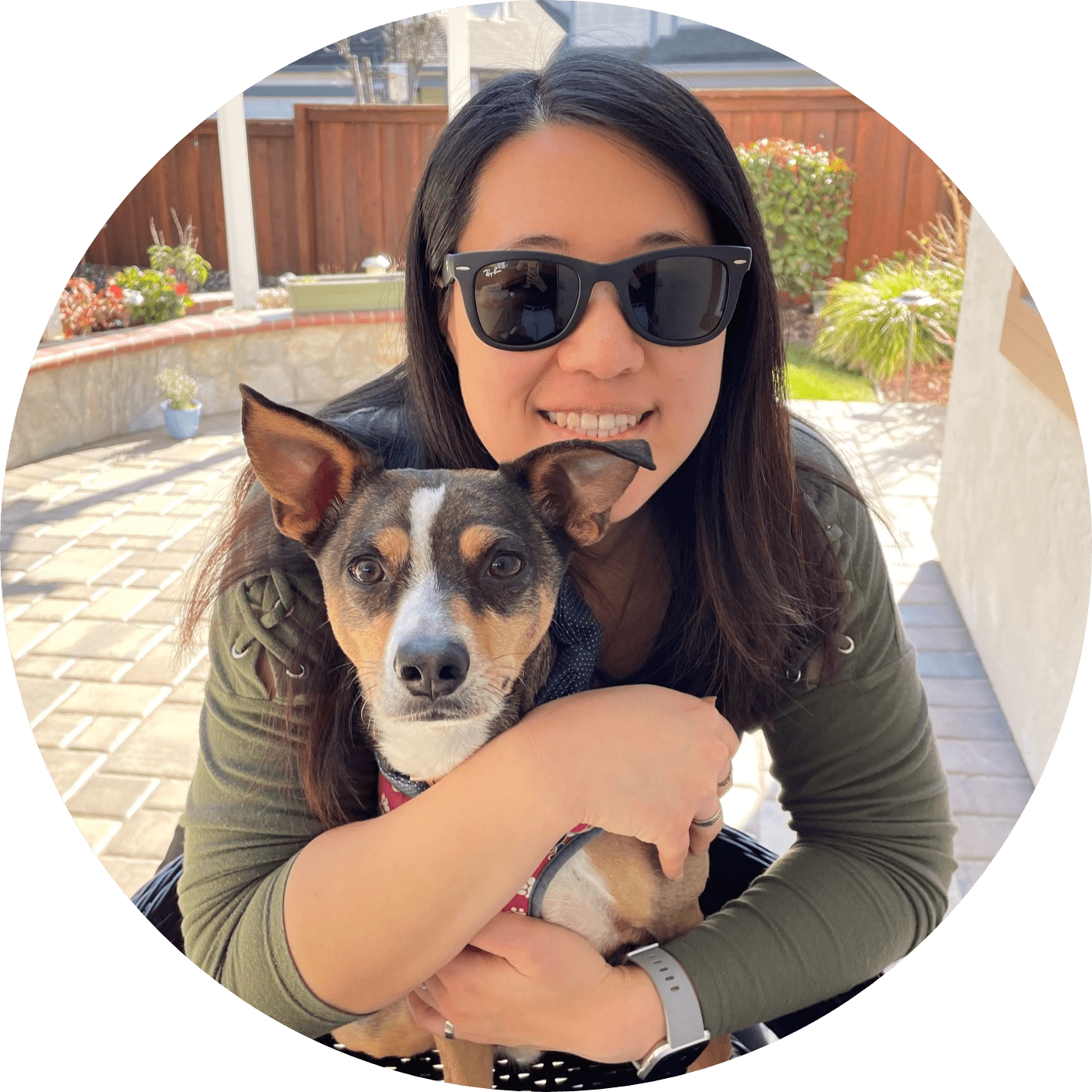 Dr. Sabrina Kong graduated from the Royal Veterinary College in England in 2016 and has been working at a small animal clinic in Northern California since then. She grew up in the Bay Area and got her bachelor's degree from Cal Poly San Luis Obispo. She also became a Certified Canine Rehabilitation Practitioner through a program at the University of Tennessee.
When she isn't in the clinic taking care of her four-legged patients, she enjoys traveling and trying new foods with her friends and her three-legged dog, Apollo. She adopted Apollo from her clinic when he was a puppy with numerous health issues. Dr. Kong truly cares about taking care of animals.