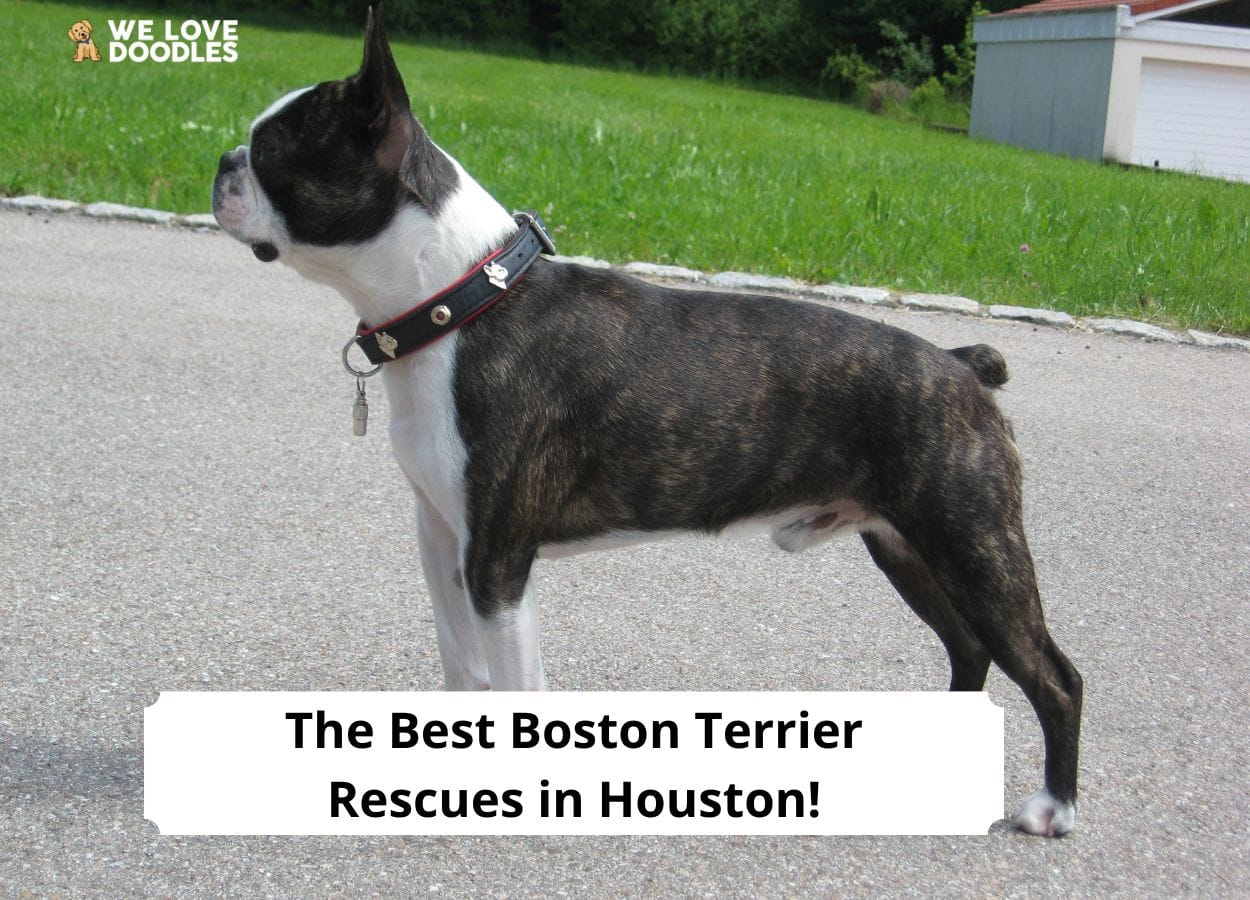 If you are struggling to find Boston Terrier rescues in Houston, you have come to the right place. This article lists 3 Boston Terrier rescues and one all-breed rescue in and around Houston that is bound to have some great Boston Terrier dogs.
Boston Terriers are a popular breed for many reasons. They are amusing and affectionate dogs that keep you entertained with their goofiness. Not only are they quite intelligent, but they are extremely friendly and love being around people.
Boston Terriers is known for their adorable tuxedo coat and impeccable manners. These qualities have earned this breed the title of the American Gentleman.
Adopting a Boston Terrier is the right way to go if you are looking for a suitable urban pet, as they are compact dogs that do not weigh more than 25 pounds. They make the perfect pet for people living in apartments and other urban dwellings.
Although it might be hard to find breed-specific rescues in Houston, you can consider organizations that rescue all dog breeds in your area. While it may take more time, you are bound to find the dog of your choice sooner or later.
Before you scroll down this list of Boston Terrier rescues in Houston, check out these other rescue shelter recommendations: Best Boxer Rescues in Houston and Best Poodle Rescues in Houston.
1. Boston Terrier Rescue of Greater Houston, Inc.
The first pet rescue in Houston on our list is BTRGH, a non-profit organization that primarily focuses on rescuing, rehabilitating, and rehoming homeless or relinquished Boston Terriers. They rescue Boston Terriers from the states of Texas, Louisiana, and sometimes Mississippi with the help of volunteers.
The rescue aims to help animals in need, nourish them back to health and help them find homes forever. They rescue every Boston Terrier they can, regardless of health or age.
Once rescued, all dogs receive a snout-to-tail medical check-up and behavioral assessment. The dogs are checked by a vet, treated for any injury or illness, spayed/neutered, dewormed, and vaccinated. They are also put on heartworm and flea preventative immediately.
When it comes to the living environment, the rescues receive the best of the best. The rescue kennel is climate controlled for the comfort of the dogs. Each dog has its indoor-outdoor kennel run as well as a Kuranda bed. All the dogs at BTRGH are well-socialized as they regularly interact with volunteers.
If you are interested in adopting a Boston Terrier, you can submit an online application to start the process. It is essential to answer all the questions on the application as it will increase its acceptance. After the application is reviewed and a reference check is conducted, the application is submitted to the board for approval.
If your application is approved, a home visit will be set up. This visit will allow the rescue to ensure whether you offer a comfortable living environment for a Boston Terrier. It will also let you ask any questions you might have. Finally, you will meet all the pups you are interested in and take your favorite one home.
BTRGH is located in the city of Spring in the Greater Houston region. It takes approximately half an hour to drive from Houston to Spring. So, if you are looking for Boston Terrier Rescue close to you, Boston Terrier Rescue of Greater Houston is a suitable option.
Boston Terrier Rescue of Greater Houston Details:
Location: 25318 Oakhurst Drive Spring, Houston, Texas
Fax: 281-862-7120
Phone Number: 281-296-2036
2. Boston Terrier Rescue of North Texas
Boston Terrier Rescue of North Texas (BTRNT) was established in the 1980s to help Boston Terriers in need. It has been rescuing and rehabilitating Boston Terriers for over 50 years and is located in Plano, Texas, approximately four hours from Houston.
Today, this organization is not only dedicated to rescuing Boston Terriers, but it also spreads awareness and helps people make informed decisions when it comes to pets. The rescue also helps Boston Terriers suffering from serious health issues and helps them find new loving homes.
This dog and puppy rescue in Houston only adopts its Boston Terriers to people living in Texas and some surrounding states. You can also learn more about their available dogs on their website.
If you are interested in adopting a Boston Terrier from BTRNT, you can submit an adoption application and a $20 application fee. The rescue will also require information on your current pets. This information includes spay/neuter, heartworm prevention, and vaccinations.
The rescue will conduct a vet and reference check after receiving your application. If the application is approved, an Adoption Coordinator will contact you and match you with an available Boston Terrier. After a match has been made, the rescue will call you to set up a meet and greet and a house visit.
If everything goes well, you will be ready to take your new pet home in no time.
Boston Terrier Rescue of North Texas Details:
3. American Boston Terrier Rescue and Rehabilitation
American Boston Terrier Rescue and Rehabilitation is a perfect choice if you want to give a loving home to a senior or special needs Boston Terrier. ABTRR is a 501 (c) (3) charitable organization that is run entirely by volunteers. It aims to rescue and rehabilitate neglected and abandoned Boston Terriers.
All the dogs at ABTRR are thoroughly vetted, vaccinated, treated for heartworms, dewormed, spayed/neutered, and neurologically assessed. They also care for senior or special needs Boston Terriers as they believe every dog deserves a loving home.
You must complete and apply online to adopt a Boston Terrier from ABTRR. After the application is received, the rescue will conduct vet checks and reference checks mentioned in the application. A house visit will also be scheduled to ensure their loved dogs go to the right home.
You'll be ready to take your furry friend to its new home if everything goes well. ABTRR is located in Little Elm, Texas, a four-and-a-half-hour drive from Houston. So, it is a suitable option if you are interested in adopting a Bostin Terrier.
American Boston Terrier Rescue and Rehabilitation Details:
4. Houston Pets Alive
Last amongst the listed Boston Terrier rescues in Houston is Houston Pets Alive.
HPA was established in 2014 with a mission to help companion dogs and cats find forever, loving homes. HPA works with other shelters to help reduce pet euthanasia, homelessness, and animal neglect and suffering. It also spreads awareness by educating people on how to care for their pets and offers accessible care.
As Houston Pets Alive adopts dogs of all breeds, you can visit their website to check if they have any Boston Terriers available. You can click on Apply for Adoption under the dog's profile and complete the application.
Moreover, you can meet the dog you are interested in by attending a weekly adoption event held every Saturday. However, a private meet and greet can also be arranged if possible.
If you feel like the dog is the perfect match, you can fill out an adoption contract and pay an adoption fee of $199. This fee covers the cost of basic medical procedures such as vaccinations, deworming, and spaying/neutering. You can also get a military discount if applicable in your case.
Houston Pets Alive Details:
More Information About Adopting Boston Terriers in Houston
Planning to adopt a Boston Terrier can be very exciting. However, adopting a pet and caring for it for the rest of its life is a huge responsibility. So, it is essential to know everything possible before making a final decision. The information below will help you prepare for what's about to come and plan accordingly.
If you are a fan of this breed, you might already know they are both friendly, loving, and intelligent. Boston Terriers are a suitable pet for you if you have a busy schedule, as they require minimal grooming. A bath once or twice a year is enough for them! However, it is essential to maintain their dental hygiene.
The Boston Terrier is excellent at adapting to its environment. So, they make perfect pets for urban dwellers with busy lives. Their energy levels also vary – your furry friend will be up for a game of fetch in the morning, but it will also be happy to cuddle with you on the sofa.
Although Boston Terriers make excellent pets, they are prone to developing several health issues during their lifetime. So, it is necessary to learn all about these issues so they can be detected and treated at the right time.
Moreover, it can be expensive to own a dog with health issues. Therefore, make sure you can afford a Boston Terrier if it develops a chronic condition. On the other hand, many rescue organizations and shelters help struggling owners financially by offering discounted healthcare. So, you may get some assistance in that regard, and finances should not weigh on your decision solely.
Conclusion For "Best Boston Terrier Rescues in Houston"
Boston Terriers are known for their tuxedo-like markings and their polished manners. Although Boston Terriers are intelligent dogs, their goofiness can keep you entertained.
These small dogs adapt well to their environments, making them an excellent choice for urban dwellers. Moreover, they require little grooming and do not need too much exercise.
Choosing the right Boston terrier rescue is the real challenge; there aren't many breed-specific rescues in Houston that specifically focus on Boston Terriers. However, we have listed 3 of the most reliable ones in and around Houston.
We have also listed a renowned all-breed rescue that will likely have a Boston Terrier dog available for adoption. Whichever organization you choose, make sure you get a dog that meets your personality and lifestyle for a long and loving relationship!
For more guides similar to this list of Boston Terrier rescues in Houston, you can check out:
Before you adopt a Boston Terrier companion from a rescue shelter in Houston, you can learn more about this dog breed by watching the "Boston Terrier" down below:
Garrett loves animals and is a huge advocate for all Doodle dog breeds. He owns his own Goldendoodle named Kona. In addition, he volunteers at the Humane Society of Silicon Valley, where he fosters dogs and helps animals. Garrett enjoys writing about Doodles and believes that dogs can teach humans more about how to live than humans can teach a dog.
Why Trust We Love Doodles?
At We Love Doodles, we're a team of writers, veterinarians, and puppy trainers that love dogs. Our team of qualified experts researches and provides reliable information on a wide range of dog topics. Our reviews are based on customer feedback, hands-on testing, and in-depth analysis. We are fully transparent and honest to our community of dog owners and future owners.