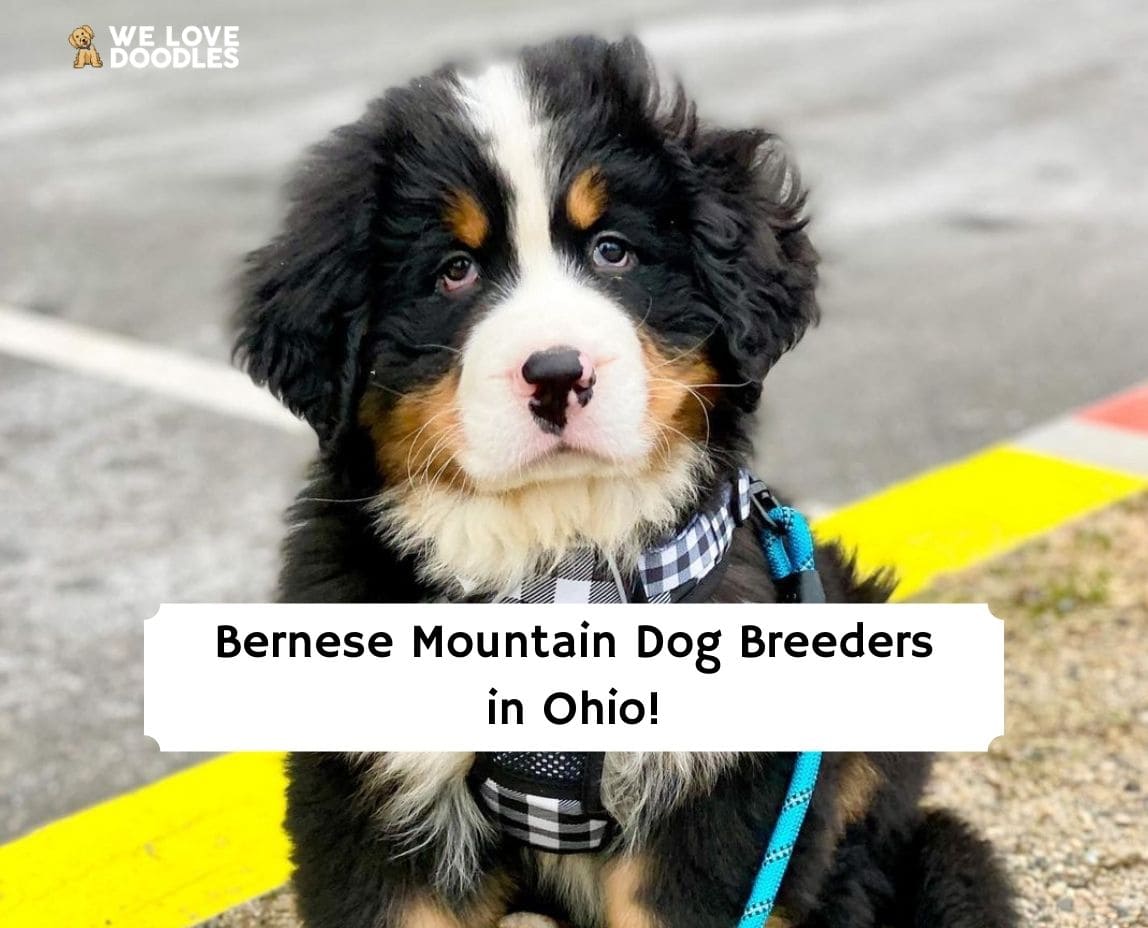 Bernese Mountain Dogs are extremely versatile farm dogs from Switzerland. Their original purpose was to herd cattle, pull carts, and be loyal companions and watchdogs. It's one of four types of Swiss Mountain Dogs, and the only one with long hair.
Bernese Mountain Dogs originate from the canton of Bern, hence their name. Their temperament is friendly and calm, and they are also well-suited to conformation, obedience, tracking, herding, and carting competitions.
There aren't many breeds with a greater affinity for friendliness. If you're looking for a Bernese Mountain Dog puppy in Ohio, one of the toughest challenges is finding a reputable breeder. That's why we put together a list of the best Bernese Mountain Dog breeders in Ohio to help you find your next puppy.
In general, when you are screening breeders, you'll want to ask for puppy warranties, health checks, and genetic testing. Additionally, you'll want to ideally see the parent dogs in person to verify they are an actual breeder. We saw tons of puppy mills as well as breeders that didn't look reputable selling Bernese puppies around Ohio.
Other articles you would like: Boston Terrier Breeders in Ohio and Belgian Malinois Breeders in Ohio.
1. Emerald Acres Bernese Ohio
Emerald Acres Bernese is a small hobby breeder of Bernese puppies in Walnut Creek, Ohio. The goal is to produce healthy, socialized puppies from healthy bloodlines that meet the breed standard. They love their Berners and consider them a part of their family. All of their puppies come from good genetic lines, with friendly temperaments. A few of them have attended confirmation shows. During walks to the creek, their dogs enjoy barking at the horses and making new friends. Their dogs are also trained to pull carts.
Emerald Acres Bernese guarantees that their puppies are healthy, well-socialized, vaccinated up to date, and free of excessive parasites. A one-year health guarantee further guarantees that their puppies are free of serious inherited genetic defects. During the lifetime of the puppy, they will also provide advice and support. You can return your Bernese Mountain Dog puppy if for any reason you cannot keep it.
Emerald Acres Bernese Breeder Details:
 2. Hidden Pines Doodles
In addition to emotional conditioning, strategic planning and creating the right temperaments for each early development stage is what makes Hidden Pines Doodles different. Even though it's important, it's not just about holding and nurturing each puppy. According to their philosophy, so much can be done before a puppy passes each critical stage of emotional development.
They are a family Bernese Mountain Dog breeder in Ohio and treat each puppy as if they matter because they do! Hidden Pines Doodles knows that how pups are treated can impact their lives for years to come. They want the adoption process to be a positive experience. Lots of snuggles, baths, and lap time prepare them for life with a new family.
Hidden Pines Doodles Breeder Details:
3. Woodlot Companions OH
Woodlot Companions' family enjoys raising Berner puppies in a beautiful rural area of Ohio. Since 2010, they have been connecting families with loving furry companions.
At Woodlot Companions, quality is everything – their motto is "whatever is worth doing, is worth doing right.". They want their companions to be healthy and happy with loving personalities. All their Bernese Mountain Dog puppies in Ohio are genetically tested every year and they have them checked by a veterinarian every two or three months.
A new house was built for their dogs in 2018. Providing their dogs with an environment that goes above and beyond state or USDA, requirements is important to them. They don't keep their dogs in wire cages or on netting floors — they live on a solid surface, radiant heated floors, and have well-ventilated living quarters that have a door leading outside. Furthermore, they have a two-acre field where they can run, explore, and play, getting plenty of exercise and enjoying the great outdoors.
The puppies are raised on the premises, and none are sold to pet stores or brokers.
Woodlot Companions Breeder Details:
4. Breed Bernese Acres
The Bernese Mountain Dog is known for its mellow temperament and its stunning good looks. It is impossible to find a more easy-going and lovable dog to welcome into your family. Breed Bernese Acres offers you show-quality pets to enjoy.
They carefully select breeding males and females for their health, looks, and personality. Breeding dogs are subjected to rigorous health tests for two years before they are allowed to be adopted. Their goal is to breed only healthy and strong Bernese Mountain Dogs, which is why they test for OFA hips and elbows, Degenerative Myelopathy, and Von Willebrand's Disease. Their Bernese Mountain Dog puppies for sale in Ohio are registered with the AKC and Berner-Garde Foundation.
Breed Bernese Acres Breeder Details:
5. Rossingham Berners
This breeder may be the perfect choice if you're looking for a good-natured, affectionate, smart Bernese Mountain Dog to join your family. The Rossingham Berners are located in Deerfield, Ohio, and are devoted to breeding champion-line Berner Sennenhund dogs.
Their mission is to preserve and improve the breed. They aim to create a loving friend and faithful family companion. They breed Bernese Mountain Dogs for temperament, health, and longevity.
Rossingham Berners Breeder Details:
Bernese Mountain Dog Puppies in Ohio
Apartment and condo living is not suitable for Bernese Mountain Dog puppies in Ohio. A home with a spacious, securely fenced yard is the best choice. Berners are working dogs, so they have a lot of energy. As well as yard play, these dogs require at least 30 minutes of vigorous exercise every day; three times that amount keeps them in shape.
Berners are ideal for cold climates thanks to their thick, handsome coat. They love snow. In contrast, his dark coat and large size make him prone to heatstroke. If it's extremely hot, don't allow them to exercise vigorously; restrict their exercise to early mornings or evenings when it's cooler. You can either use fans and/or air conditioning inside or use the shade outside to keep them cool during the day.
Raising a Berner puppy requires special attention. Between the ages of four and seven months, Berner dogs grow rapidly, which puts them at risk of bone disorders and injury. Low-calorie diets that prevent them from growing too fast are best for them.
In addition, avoid letting the Berner puppy play on hard surfaces (such as pavement), jump too high, or pull heavy loads until the puppy is at least 2 years old and their joints are fully formed. Normal grass play is fine, as are puppy agility classes with their one-inch jumps.
How to Choose a Bernese Mountain Dog breeder in Ohio?
Some Bernese Mountain Dog breeders in Ohio allow visitors to see their premises and meet the puppies and parents. In some cases, however, this is not possible. Several breeders choose not to allow visitors to protect the health and safety of their puppies. There may be concerns about exposing the puppies to viruses before they have been vaccinated. If you can visit the breeder's home, look for these things:
It is best to take puppies home between the ages of 8 and 12 weeks. During this period, they will be able to bond with their mother and get appropriate nutrition. A veterinarian should also administer their first round of vaccinations to the dogs and conduct a thorough health examination.
Conclusion for Bernese Mountain Dog Breeders in Ohio
We discussed some good examples of Bernese Mountain Dog breeders and some tips on avoiding bad ones.
If you are interested in a breeder, always conduct thorough research. You should not buy a Bernese Mountain Dog puppy at the first place you see them for sale!
Hopefully, our guide will assist you in finding the perfect puppy. Do not buy from puppy mills, pet shops, online sellers without experience, or backyard breeders. You might want to adopt a pet instead of purchasing one if your budget is tight.
Nonetheless, we cannot deny that you've landed in the right place if you're looking for reputable Bernese Mountain Dog breeders in Ohio. We found the best breeders who are experienced, ethical, and breed the perfect puppies.
Other articles you would like:
Garrett loves animals and is a huge advocate for all Doodle dog breeds. He owns his own Goldendoodle named Kona. In addition, he volunteers at the Humane Society of Silicon Valley, where he fosters dogs and helps animals. Garrett enjoys writing about Doodles and believes that dogs can teach humans more about how to live than humans can teach a dog.
Why Trust We Love Doodles?
At We Love Doodles, we're a team of writers, veterinarians, and puppy trainers that love dogs. Our team of qualified experts researches and provides reliable information on a wide range of dog topics. Our reviews are based on customer feedback, hands-on testing, and in-depth analysis. We are fully transparent and honest to our community of dog owners and future owners.