This list of breeders with Belgian Malinois puppies in South Carolina will help you if you are interested in finding the right one. Belgian Malinois dogs are one of four Belgian Shepherd varieties. They are medium-sized dogs and are mainly used for field and herding purposes. Due to their energy, temperament, size, and similarity to german shepherds, they are a very popular dog choice.
Before you scroll down this list of breeders with Belgian Malinois puppies in South Carolina for sale, check out these other recommendations from our team at We Love Doodles: Havanese Puppies in South Carolina For Sale and Dalmatian Puppies in South Carolina For Sale.
Belgian Malinois Breeders in South Carolina
If you find yourself a bit bamboozled by finding a trustworthy and quality breeder or have no idea where to get one of these dogs, you're in luck. We've compiled a list of the top Belgian Malinois breeders in South Carolina with the hopes it could help you.
Check out for more: Best Belgian Malinois Breeders in Pennsylvania and Best Belgian Malinois Breeders in Minnesota.
1. PuppySpot's Belgian Malinois For South Carolina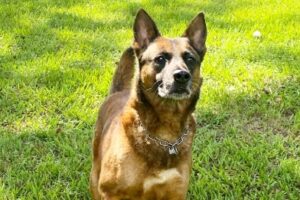 Since you're searching for breeders with Belgian Malinois puppies in South Carolina for sale, you should try checking out PuppySpot's marketplace. PuppySpot is a reputable dog marketplace where you can browse for available Belgian Malinois puppies from the comfort of your home in South Carolina.
It would be best to remember that all Belgian Malinois breeders must undergo a strict screening process, so you can rest assured knowing that your companion will be safely shipped to your home in South Carolina. Before you continue searching for Belgian Malinois puppies in South Carolina for sale, you can check out the link to the marketplace below.
PuppySpot Details
2. Cascade Malinois
Let's begin our list with Cascade Malinois, a small breeder in Bowman, SC. Cascade Malinois is committed to breeding healthy puppies both physically and mentally. Their main source of motivation is to preserve and promote the Belgian Malinois dog breed. They are personally in love with the breed and describe it as "extraordinary."
They are dedicated to breeding social and well-tempered puppies as well. As soon as they are born, they'll immediately start spending time with their siblings and live next to the family. This is very positive because it will teach the dog how to behave in a domestic environment, and it'll also have the comfort and happiness that come from being raised in a home. The health aspect for them is also a priority.
They'll test the puppies' parents before mating them for any genetic disease. Once the puppies are born, they'll be checked by a veterinarian. They also feed the dogs healthy food, so they grow to be strong. If interested, contact them through their webpage, email, and phone number. Be sure to ask any questions you may have.
Cascade Malinois Details
3. Kenko Farms and Gardens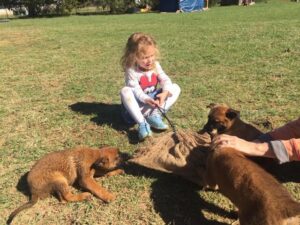 Next up comes Kenko Farms, which is located in Iva, SC. They are a family-owned small-scale breeder that primarily focuses on gardening and bee-keeping. The family who owns the garden seems to have a passion for everything, from boat building to medicine. Dog breeding, specifically Malinois, is included within that wide array of skills. Their goal is to breed a healthy and strong puppy. To accomplish that, they focus on genetics.
They selectively breed from excellent bloodlines previously tested for any genetic diseases in the eyes, heart, and patellas. They describe Malinois as one of the most disciplined dogs, simultaneously very intelligent and strong yet elegant. That's why they make such good police dogs. They'll also focus on developing the puppies' social aspects as well. The dogs will spend a lot of time with their breeder and siblings. They are a very smart breed and can be easily trained.
Kenko Farms Details
4. Chien Policier Malinois
Chien Policier Malinois is the next breeder we'll talk about, and they're located in Reidsville, NC. Chien Policier roughly translates to "Police Dog" from French to English. They have been breeding Malinois dogs for over 30 years, during which time they've mastered the art and all the tiny aspects of breeding them.
Their main priority is to breed Belgian Malinois puppies who are healthy, have no genetic defects, and are well-tempered. They are determined to offer quality puppies. They are tested using approved OFA (Orthopedic Foundation for Animals) tests to avoid genetic issues with their puppies.
They further strengthen their puppies' health with vaccination and de-worming. The dog's temperament will be determined by how much social time they have. They try to give the dogs time to play with their siblings or trainers. If you're interested, contact them through their webpage, and do so with time, as they have a waiting list.
Chien Policier Malinois Details
5. Warrior K9
Warrior K9 is a small-scale, family-owned kennel that focuses on breeding Belgian Malinois. They breed for domestic use but also police use, as they are a very smart, intelligent, and obedient breed. They don't breed their dogs as if they were a kennel. It is a priority for them to give the dogs space to run, play and be dogs.
They believe that the more a dog is outside in its element, the happier it'll be. They are certified by the AKC (American Kennel Club), a quality breeder who follows strict breeding standards to have healthy dogs. You can trust them to take good care of your future puppy early in life.
Some of their dogs have competed in events but haven't won yet. Despite it, they have very happy, energetic, and well-tempered puppies. Their biggest priority is to breed healthy puppies. They will always test the puppies and have them vaccinated and de-wormed as soon as possible. If you're interested, feel free to write to them with any questions that you may have.
Warrior K9 Details
6. Advance K9
Located in Georgia, Advance K9 focuses on breeding German Shepherds and Belgian Malinois due to their similarities. Both dogs are very smart and can be used as domestic pets or, due to their personality, be trained as police dogs. They focus on breeding premium European bloodlines, and they believe these bloodlines carry the best personality and health traits.
By breeding them, they can offer the best possible puppies. All of their dogs are certified by the AKC, and they are a quality breeder who can be trusted to raise a quality puppy. When breeding, their two biggest priorities are social skills and health. Regarding health, they test the puppies' parents for genetic diseases.
Once the puppies are born, they'll be vaccinated and de-wormed. For the social part, puppies will have a lot of bonding time with their breeders and siblings, which will help their personality development. Since Belgian Mals are about the smartest dogs out there, depending on their purpose, they might receive more training. Finally, if you have any questions, feel free to contact them.
Advance K9 Details
7. Newmanhaus Kennels
The last Malinois breeder we'll check out for our Top Belgian Malinois Breeders in South Carolina is Newmanhaus Kennels, located in Fayetteville, NC. A very experienced breeder, Newmanhaus focuses on breeding Belgian Malinois for the breed's love.
To them, the Malinois is one of the smartest, strongest, and best dog breeds out there; The dogs are friendly, energetic, and easily trainable. They focus on breeding Belgian Malinois from excellent bloodlines, thus ensuring the dogs have excellent genetic traits. They also only breed well-tempered puppies as they'll be an early example to the puppies.
They do a puppy aptitude test at six weeks old to determine the dog's personality traits and start breeding it in the best direction. Finally, they are an AKC-certified breeder and offer quality bred puppies. The certificate is also a testament to their trustworthiness and their breeding philosophy as a whole.
Newmanhaus Kennels Details
How to Choose a Belgian Malinois Breeder
Choosing a breeder is often not easy and shouldn't be underestimated. When you choose a breeder, you pick someone to breed your future puppy. That means overseeing its genetic health, properly raising it, and taking care of it. The first eight weeks of a puppy's life are often the most important. Every breeder has their approach and style to how they breed.
It isn't a matter of who is right or wrong, but it is more of what they do or what is important to them. Some might believe in vaccinating; others might not. Some might believe in removing the dog's claws; others might not. When you choose your breeder, be sure that their priorities are aligned with yours.
Some Extra Information Regarding Belgian Malinois In South Carolina
The Malinois breed is a fascinating one. Here are some interesting facts:
Dogs are named after the city of Malines
Their original purpose was to be herding dogs
They work with the police.
Belgian Malinois can skydive
There aren't many Belgian Malinois breeders in South Carolina, but luckily, there are plenty in the neighboring states. If you're open to the possibility, you can drive a few extra hours to pick up a puppy you like.
When doing your research, before you commit to any monetary commitment, it is advisable to do your research on the breeder, as there have been cases in which fake web pages are created and people are taken advantage of. It would be best if you went with a certified breeder, as they prove trustworthy and offer quality products.
Conclusion For "Belgian Malinois Puppies In South Carolina For Sale"
Belgian Malinois are some of the most intelligent dogs out there. They are incredibly versatile, friendly, and have a good temperament. If you're looking to adopt one of these dogs, go with a breeder who gives you the best dog. A dog bred with a lot of care and standards with which you can live.
For more guides similar to this list of breeders with Belgian Malinois puppies in South Carolina for sale, you can check out:
Before bringing home Belgian Malinois puppies in South Carolina, you can learn more about raising them by watching "Dogs 101 Belgian Malinois" down below:
Garrett loves animals and is a huge advocate for all Doodle dog breeds. He owns his own Goldendoodle named Kona. In addition, he volunteers at the Humane Society of Silicon Valley, where he fosters dogs and helps animals. Garrett enjoys writing about Doodles and believes that dogs can teach humans more about how to live than humans can teach a dog.
Why Trust We Love Doodles?
At We Love Doodles, we're a team of writers, veterinarians, and puppy trainers that love dogs. Our team of qualified experts researches and provides reliable information on a wide range of dog topics. Our reviews are based on customer feedback, hands-on testing, and in-depth analysis. We are fully transparent and honest to our community of dog owners and future owners.