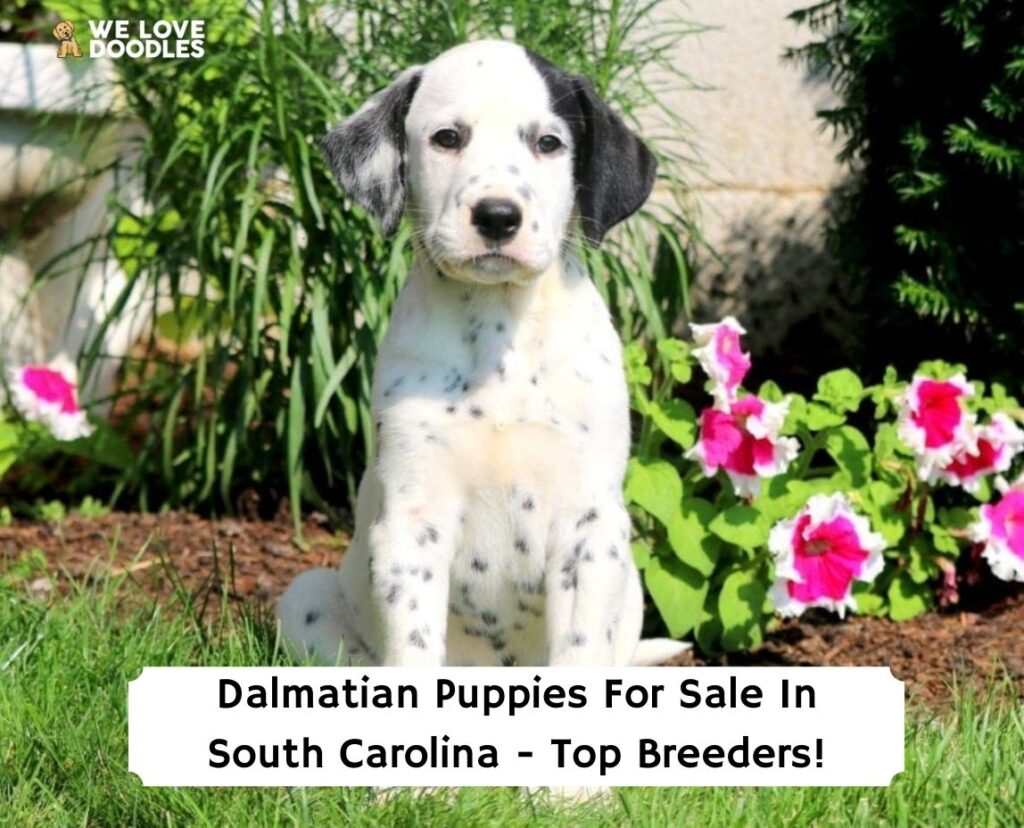 Finding Dalmatian puppies in South Carolina can be a little daunting if you don't know where to start. If you live in South Carolina and are excited about owning your Dalmatian puppy, this article is the perfect guide to finding the best Dalmatian breeders in your area.
Dalmatians are famous for their stunning spotted coats (and portrayal in a certain famous animated film) and are also known for being athletic, goofy, and charming. As a result, Dalmatians are some of the most popular dogs in America, as well as in South Carolina specifically.
Before scrolling down this list of breeders with Dalmatian puppies in South Carolina for sale, you can check out these other recommendations from our team at We Love Doodles: Shiba Inus For Sale in South Carolina and Shih Tzu Puppies For Sale in South Carolina.
Dalmatian Breeders in South Carolina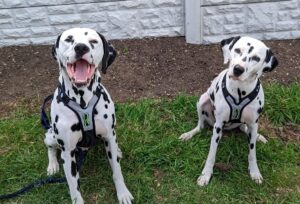 Dalmatians are super cute puppies, and, as a result, there are a lot of excellent and reputable Dalmatian breeders in the country as well as in and around South Carolina.
We understand that finding the best breeder for you and your family can initially seem a bit daunting, so we created this article. We took the time to research all of the very best Dalmatian breeders in South Carolina and the surrounding states, and then we compiled our favorites into this list.
Dalmatian Product Recommendations: Best Whitening Shampoos For Dogs and Best Plush Dog Toys.
1. Westview Dalmatians
This breeder is an excellent Dalmatian breeder and one of the leading Dalmatian breeders in the whole country. They produce some of the highest quality, happy, healthy dogs. Their puppies are even-tempered and adjust easily to life in your family home, largely thanks to the excellent love and care they receive from the breeder from the moment they are born.
Westview never places their puppies in out-of-home kennels or enclosures, and they firmly believe that dogs are family members and should be raised and loved inside the family home. The breeder takes extra care to socialize every puppy with adults and children to acclimate them to all sorts of social situations. Head to their website today to check out their adoptable puppies list and more information about their excellent breeding practices.
Westview Dalmatians Details
2. Alpha And Omega Dalmatians
Alpha and Omega Dalmatians is a wonderful American Kennel Club registered Dalmatian breeder with tons of experience and passion. This breeder has been breeding wonderful Dalmatian puppies for the past 28 years and is now an expert in the breed. They frequently produce puppies to be companions or show dogs, using only the most superior bloodlines during breeding.
This breeder is famous for achieving the perfect and ideal Dalmatian appearance, which can be tricky to pull off. They give each puppy plenty of personalized attention to ensure they are well socialized and easily adapt to life in your home. They only utilize the best and most ethical breeding practices and even offer top-quality dog training for your puppy if you're interested in that type of service. Head to their website today to see their available puppies.
Alpha and Omega Dalmatians Details
Dalmatian Puppies In South Carolina
When shopping for the perfect Dalmatian puppy for your family in South Carolina, you may become overwhelmed by the volume of breeders and other places to buy your puppy. Many people looking for a purebred dog like a Dalmatian are bound to stumble upon listings for puppies that seem too good to be true. Typically these listings will offer a "purebred" Dalmatian puppy for a much lower price than a breeder, making it seem like a good deal.
In reality, these places are usually backyard breeders and puppy mills trying to lure customers in with their low prices. Places like these don't care about the well-being of their animals and will often force inbreeding to produce as many puppies to sell as they can. Many of their practices result in dogs that look healthy but are sick or will become sick later.
They are also known for their abusive treatment of dogs and puppies, so if you've been eyeing a listing like that, we urge you to reconsider. On the opposite end of the spectrum, you have reputable breeders like the ones listed in this article. Good breeders will always perform extensive genetic health and temperament tests on their dogs to make sure that all of their puppies are free from genetic health problems.
Many breeders will offer their adoptive families a health guarantee that certifies their puppies will be healthy for a given period. Even though the non-breeders seem attractive because of their lower prices, keep in mind that you'll likely end up spending thousands more down the line if your puppy has genetic health issues.
Choosing a Dalmatian Breeder in South Carolina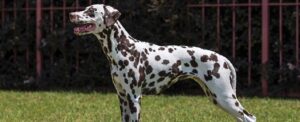 If you're new to the process of selecting a great breeder, it can be difficult to sort the good ones from the bad. How can you figure out which breeder is better than another? How can you be sure you can trust them? In many cases, you may even be trying to decide between multiple breeders to determine the best fit for you and your family.
When it comes down to it, you can look for certain qualities in your breeder to determine if they're reputable and trustworthy. All great breeders share a core set of qualities, making it easier to pick the right one if you know what to look for.
Tips for choosing the right Dalmatian Breeder in South Carolina:
Puppies should always stay with their breeder and mother until they are 8 weeks old at least.
The breeder should be an expert in the breed and be able to answer whatever breed-specific questions you may have.
The breeder should be kind to you and their animals — if their adult dogs tend to seem scared or skittish around them, that's a bad sign.
The breeder should provide support and communication before, during, and after the adoption process.
All dogs should be health checked and have their appropriate shots and treatments.
The breeder should be exceptionally picky about who they allow to adopt their puppies— be prepared to answer personal questions, provide character references, and possibly submit a background check.
These are just some things to look for in a good breeder, but it's a great place to start. You should always do your research in addition to using articles like this one, and be sure to read testimonials and reviews from previous customers.
If these aren't readily available on the breeder site, you can ask the breeder for them. Most breeders will be happy to share these with you. If they seem cagey or defensive at your request, it could be a sign that past customers have had bad experiences with this breeder.
It would be best if you also tried selecting a breeder you like and get along with. Many breeders encourage or request occasional updates or contact throughout your puppy's life. Therefore, it would be best if you strived to choose a breeder you feel comfortable communicating with now and then.
Where Do You Find a Dalmatian Breeder in South Carolina?
All the breeders listed here are excellent choices for Dalmatian breeders in South Carolina. We only considered breeders with ethical practices, great track records, and healthy puppies. That being said, there are still plenty of other great Dalmatian breeders in South Carolina, so if you don't see one you like on this list, feel free to conduct your research. Just be sure to keep the tips listed above in mind during your search.
There are also a lot of out-of-state breeders that would make great options for you and your family. Don't be intimidated by the distance— many breeders frequently supply puppies to loving homes across the country. Some even provide puppy delivery services if you can't travel to pick up your puppy. Just be sure you never consider adopting from a place like a backyard breeder or a puppy mill, as these locations are abusive and should not be supported.
Conclusion For "Dalmatian Puppies in South Carolina For Sale"
Dalmatians are such sweet dogs, and they make great family companions. No wonder they're one of the most sought-after breeds in South Carolina. If you're looking for the right Dalmatian breeder for you and your family, we encourage you to consider any of the breeders on this list. We did thorough research when compiling our list and only included reputable breeders with excellent breeding practices.
For more guides similar to this list of breeders with Dalmatian puppies in South Carolina for sale, you can check out:
If this guide for breeders with Dalmatian puppies in South Carolina helped you, you could learn more about this dog breed by watching "Dogs 101″- Dalmatian" down below:
Garrett loves animals and is a huge advocate for all Doodle dog breeds. He owns his own Goldendoodle named Kona. In addition, he volunteers at the Humane Society of Silicon Valley, where he fosters dogs and helps animals. Garrett enjoys writing about Doodles and believes that dogs can teach humans more about how to live than humans can teach a dog.
Why Trust We Love Doodles?
At We Love Doodles, we're a team of writers, veterinarians, and puppy trainers that love dogs. Our team of qualified experts researches and provides reliable information on a wide range of dog topics. Our reviews are based on customer feedback, hands-on testing, and in-depth analysis. We are fully transparent and honest to our community of dog owners and future owners.