If you're searching for the best Beauceron breeders in the United States, then you've come to the right place. If rare was a breed in the United States, the Beauceron would be it. Out of 189 AKC breeds, the Beauceron ranks 140th in popularity. This sheepdog, popularly known as red stockings or shepherd of Beauce, traces its origin to the 1500s from the plains of Central France. Despite being in existence for over 400 years, it is only until World War II that news about the breed spread beyond France's borders to countries like the US.
Before scrolling down this list of Beauceron breeders, we think you might be interested in these dog breeds: Best Doberman Breeders in the United States and Best Australian Cattle Dog Breeders in the United States.
Beauceron Puppies For Sale in the United States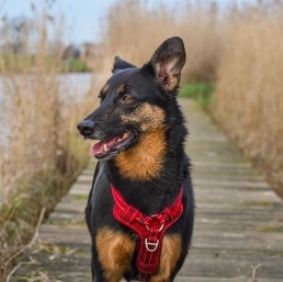 The demand for Beaucerons in the United States in comparison to other sheepdogs is slow. This also means Beauceron breeders in the United States are relatively few. In this article, we have compiled a list of seven Beauceron breeders across the United States that you can reach out to bring home a companion in no time. Keep in mind that some of the breeders have limited litters annually, so you may want to consider buying the breed out of state.
Get started in advance with our recommendations: Best Outdoor Dog Bed and Best Dog House For Hot Weather.
1. Joie De Vie Beaucerons
First on the list of Beauceron breeders in the United States is "Joie De Vie Beaucerons." Joie De Vie Beaucerons are préservation breeders in Las Vegas. Their main goal is to breed the ideal representatives of the Beauceron breed according to the AKC standard. The breeders live with all their dogs as part of the family. They introduce their puppies to doggy doors, potty, and leash training as they grow. This is to make the transition smoother for puppies as they move into your home. Aside from this, the breeders are also keen to socialize the puppies extensively.
They focus on building each puppy's confidence by exposing them to a wide variety of environments, surfaces, noises, and people of all ages. At five weeks, the Beauceron puppies start taking daily trips to police stations, nursing homes, fire stations, malls, hiking in the hills, and schools. In turn, they require new owners to continue socializing the puppies throughout their first six months. The breeders offer endless support on this end and throughout the puppy's life to ensure that it becomes an ideal companion.
Joie De Vie Beaucerons Details
2. Von Katzenstein Kennel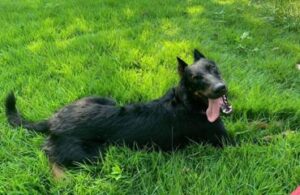 Second on the list of Beauceron breeders in the United States is "Von Katzenstein Kennel." Von Katzenstein Kennel has been breeding dogs for nine years. The kennel started with AKC Dobermans before expanding to include the Beauceron. The kennel boasts of the lowest inbreeding numbers in the world for its show and sport dogs.
Their dogs are derived from European and American lines for top quality, genetic diversity, and regal looks. All their dogs undergo extensive medical testing to ensure they don't have or pass on any hereditary illnesses. The kennel crops their Beauceron puppies to the french sheepdog's original standard. The Beauceron puppies come with all the bells and whistles for folks looking for a Beauceron show or sport dog.
Von Katzenstein Kennel Details
3. Wanderlust Beaucerons
Wanderlust Beaucerons is the brainchild of Ashley De Noma. Ashley, a long-time dog lover, fell in love with the Beauceron breed in 2016 and started earnestly researching the breed later. She brought home her first Beauceron, Luna, in 2017; they learned the ropes of the breed and rally rings. Eventually, this grew into a full-fledged breeding business that stands to date. Ashley's goal is to produce genetically sound, confident, and well-rounded Beaucerons that can thrive in various sports. She competes in rallies, dock diving, conformation, and lure coursing/fast cat, which she expects her Beaucerons to participate in. If you are looking for a Beauceron for sport, Wanderlust Beaucerons may be a good fit for you.
Wanderlust Beaucerons Details
4. Svajone Kennels
Svajone Kennels are preservation breeders in the beautiful Pacific Northwest, just 35 minutes outside Portland in Oregon. The mother-daughter team breeds Beaucerons, French Bulldogs, Berger Picards, and Cane Corsos. The mother-daughter team trace their love for animals over 30 years ago. Kayla (the daughter) raised APHA & AQHA cow horses with her mom (Sherri).
Sherri involved Kayla every step along the way from pedigree, health, finding the right stud, raising to marketing the foal. Aside from this, Sherri also rehabilitated HA Rottweilers and German Shepherds. While the duo had many success stories, they also had many failures attributed to the poor breeders' practices done to these beautiful breeds.
It is this experience that shaped how Svajone kennels breed, raise, and place their four breeds. The kennel has been in business for five years and has helped tons of folk across the US get their perfect match in either of the four breeds. This has been through the tight-knit village of breeders, co-breeders, and trainers. Aside from breeding, Svajone kennels provide training and litter services.
Svajone Kennels Details
5. Beaucerons du Chateau Rocher
Beaucerons du Chateau Rocher have been breeding Beaucerons for over 35 years. They consider Beauceron breeding not as a business or livelihood but a passion. They strive to maintain the actual Beauceron working ability and temperament to ensure it is a pleasure to live with a family companion or guardian. Their breeding stock comes from top Belgian and French show and working lines which are expertly combined to produce top-notch Beaucerons with all the true breed's elements.
Like all the breeders on the list, their puppies are carefully tendered to and exposed to various sounds, experiences, people, and animals as they grow. They also take utmost care to match the right Beauceron puppy with the right family. This means it may take a while longer to get a Beauceron puppy, but it is worth it in the long run, according to previous customers.
Beaucerons du Chateau Rocher Details
6. Armored Rose Beaucerons
Armored Rose Beaucerons is run by the rose family in California. The founder, Jill, has been raising and breeding dogs for over 50 years. She started off producing with Rodsden dogs in the 1960s, followed by numerous dogs from Big Oaks, Bratiana, Radio Ranch, and Von Meadow. In the early 80s, she started importing her own GSD's, Beaucerons, Rottweilers and Dobermanns. Her top priority, along with her co-breeders – Caitlin, Billy, Emily, and Jennifer – is health, sound temperament, correct breed type, structure, and movement.
Their Beaucerons are bred for sport and as working dogs. The breeders have their dogs checked and cleared for any genetic illnesses by board-certified professionals. In addition to this, they also radiograph both Beauceron's shoulders to rule out spondylosis and OCD. The breeders give priority to working homes – SAR, herding, and sport. They, however, do place their puppies in active dwellings where the Beaucerons will become part of the family and included in daily activities. With that being said, the breeders say what matters most is a home where their Beaucerons are well cared for, well-loved, and happy.
Armored Rose Beaucerons Details
7. Mes Yeux Vigilants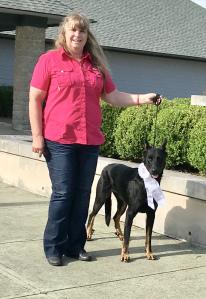 Mes Yeux Vigilants is the brainchild of former US Air force bomb evaluator Susan Bass. Susan's passion for canines has led her to become a certified trainer to Assistance dog instructors and administer the AKC canine good citizen test. Susan got her 1st Beauceron, Champion Epic Des Fugues de Saint Alban, in the late 1980s from a renowned French breeder. The Beauceron later became the 1st Beauceron dog-certified to do police work in the United States.
Champion Epic Des Fugues de Saint Alban later became the foundation for Susan's breeding business. Since then, Mes Yeux Vigilants Beaucerons have competed in conformation, herding trials, obedience, agility, and Schutzhund. Today, Mes Yeux Vigilants is the home of world, international, Mexico, and US champions in the above five categories.
Many firsts have occurred for this breeder, such as the award of the first Beauceron dog to earn an American championship. Susan aims to keep producing high-quality Beaucerons that are great working dogs or show winners and outstanding dogs in general. Susan is a MOKAN Pet Partner and member of the American Beauceron Club, the Center Place Business Association, and the Delta Society.
Mes Yeux Vigilants Details
Frequently Asked Questions
How much does a purebred Beauceron cost?
A Beauceron typically costs between $800 and $2,500. However, prices may vary depending on the breeder, location, and specific dog lineage. Some breeders may also charge additional fees for things like shipping or paperwork. If you're looking to show your Beauceron expect to pay more.
The Beauceron belongs to the AKC/UKC Herding Group and is an easily trainable but active dog breed requiring lots of exercise. They have a short, thick coat that is easy to groom and is not recommended for first-time dog owners.
The American Beauceron Club adds that the Beauceron is used in the same way as the German Shepherd in the US and is often used as police and military dogs, and are also used for the following:
Search & Rescue
Handicapped assistance work
 Canine sports such as Agility, French Ring, Schutzhund, Obedience, Tracking, Skijoring, and of course, as a family companion.
If you are interested in purchasing a Beauceron, research the breeders in your area and ask lots of questions. A reputable breeder will be able to provide you with information about the dog's parents and their health history. They should also be able to provide you with a contract that outlines their guarantee.
Is a Beauceron rare?
There are only a few thousand Beaucerons in the United States, so they are considered rare; outside of North America; however, the breed is much more common.
The breed is also popular in Germany and other parts of Europe. The Beauceron is a herding dog breed from France that is cousin to the Briard, both being French livestock guardians. This breed dates back to the late sixteenth century.
What is the most common dog breed in France?
Shepherd breeds are the most popular in France, with the Berger Picard and Beauceron being the most common. Beaucerons are versatile herders with a double coat, dense grey undercoat, and short outer coat.
Top Ten Dog Breeds in France
Golden Retriever
Belgian Shepherd
Staffordshire Bull Terrier
German Shepherd
Labrador Retriever
American Staffordshire Terrier
Cavalier King Charles
English Setter
Beagle
English Cocker Spaniel
What is the bite force of a Beauceron?
This breed does not have as powerful a bite as the Mastiff or Rottweiler, but their bites are still pretty strong. A Beauceron has a bite force of about 225-228 PSI. (pounds per square inch) This is similar to that of the Dobie.
Are Beaucerons good first dogs?
No, the Beauregard is not a good first dog. Instead, they require a very experienced owner in training and handling dogs, as they can be quite stubborn and willful. However, with an experienced owner, they can be loving and loyal companions.
The Beauceron is a dog breed that requires someone who can provide it with a job, dog sports, and plenty of organized activities. They do well with plenty of one-on-one attention and regular socialization.
The AKC describes this breed with a frank approach and being self-assured, never mean, timid, or worried. Although reserved with strangers, the character of the Beauceron should be gentle and fearless. Any display of fear or unjustifiable aggression is not to be tolerated.
Can Beaucerons be merle?
Yes, Beaucerons can be a blue merle. The merle gene is recessive, so both parents must carry the gene for a pup to be born merle. The coloring of the coat is black and tan, or blue merle. The Beauceron is sometimes known as the "bas rouge" in France.
Merle Beaucerons are rare and can command a high price tag due to their unique coloring. If you are considering purchasing a merle Beauceron, be sure to do your research and only purchase from a reputable breeder.
Are Beaucerons smart?
Yes, Beaucerons are considered an intelligent breed of dog and are often used as working dogs due to their intelligence and trainability.
Beaucerons are also very loyal and protective of their family and home. They are always eager to please, but if not trained during puppyhood can become challenging to handle.
The Beauceron is an excellent breed for those looking for an intelligent and loyal companion. They can make a great addition to any family with the proper training and socialization.
The AKC adds that the whole conformation gives the impression of depth and solidity without bulkiness, exhibiting the strength, endurance, and agility required of the herding dog.
He is alert and energetic with a noble carriage, a formidable dog with a frank and unwavering expression; he always demands respect wherever he goes.
Conclusion For The "Best Beauceron Breeders in the United States"
If you're looking for a versatile and active dog, a Beauceron is a wonderful breed. It makes an excellent fit for busy families or folks who want a working dog, sport, or show dog. The breeders on this list specialize in either two of the above choices or all. It is important to note that Beaucerons are not a good fit for everyone. It is usually not recommended for a first-time owner or a family with small kids due to the complexities of training and raising the Beauceron. Before purchasing a Beauceron, we recommend you do your due diligence to get the perfect Beauce for you.
For more helpful articles from WeLoveDoodles, feel free to check out:
To learn more about this dog breed, watch "All About Beauceron" from Dogumentary TV down below: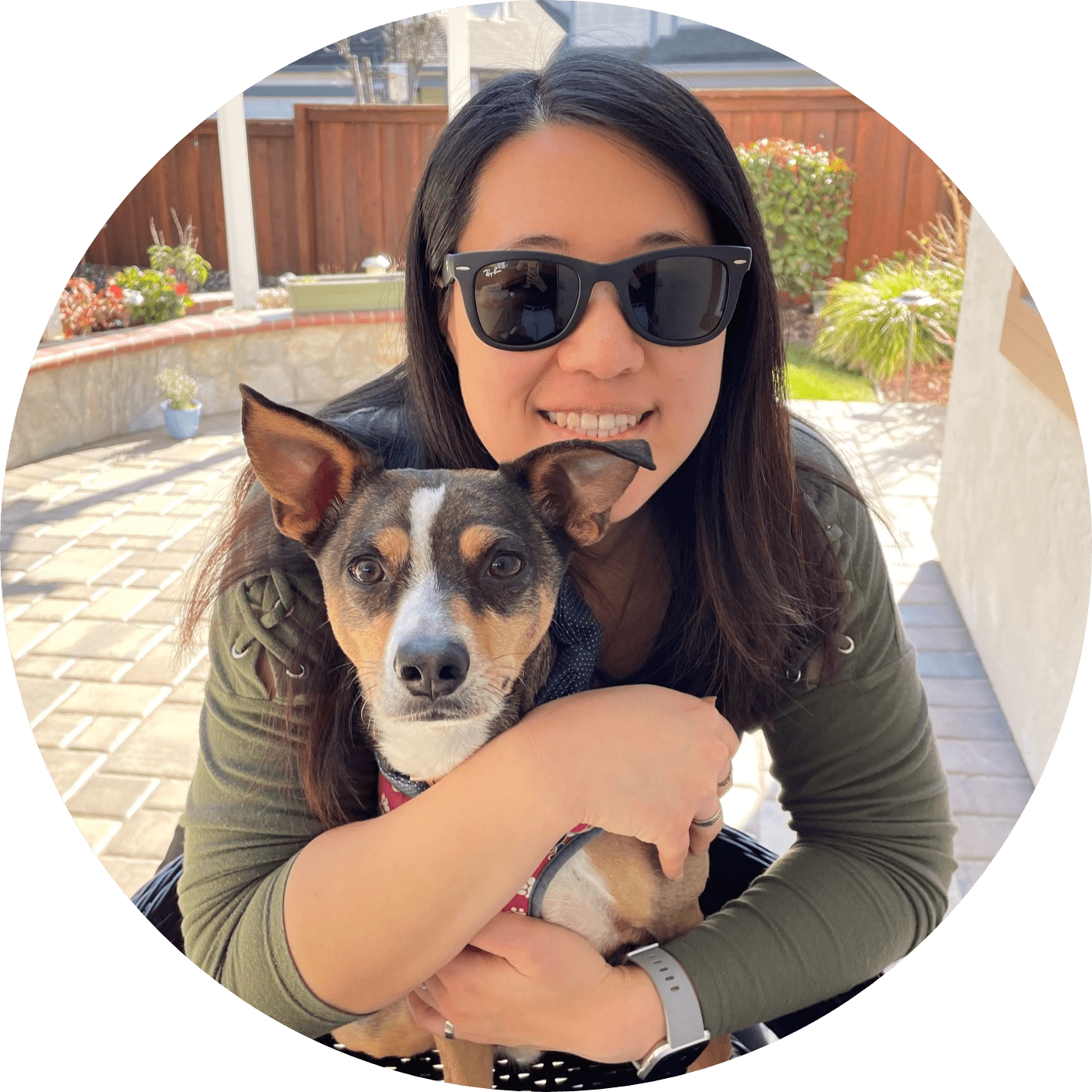 Dr. Sabrina Kong graduated from the Royal Veterinary College in England in 2016 and has been working at a small animal clinic in Northern California since then. She grew up in the Bay Area and got her bachelor's degree from Cal Poly San Luis Obispo. She also became a Certified Canine Rehabilitation Practitioner through a program at the University of Tennessee.
When she isn't in the clinic taking care of her four-legged patients, she enjoys traveling and trying new foods with her friends and her three-legged dog, Apollo. She adopted Apollo from her clinic when he was a puppy with numerous health issues. Dr. Kong truly cares about taking care of animals.