If you are looking into adopting a new pet, then you've likely spent some time researching what breeds might be a good fit for you. The great news is that there are so many excellent dog breeds out there to suit your lifestyle, and the Beagle-Poodle mix is one of the best. These good-natured canines make incredible companions and might just be your next best friend.
Before scrolling down this Beagle Poodle mix guide, you can check out these other Poodle mixes from our team at We Love Doodles: Whippet Poodle Mix and Chihuahua Poodle Mix Guide.
Beagle Poodle Mix History
These precious pups go by many nicknames, but the most common is the Poogle. Here are a few other names you might run across:
Beagledoodles
Beaglepoos
Beapoos
The Poodle Beagle mix is one of the most popular Doodle breeds, and it's no surprise. They originated in the 1980s and are as fun and friendly as their parent breeds, not to mention adorable. They come in a wide variety of colors and patterns and have a wavy or curly coat. The texture and density will depend on which traits they inherit.
Beagles
Beagles are loving, intelligent dogs with a lot of tenacity. They can be incredibly single-minded, making them easy to train and excellent pets. Their high energy and eagerness to please mean your Poogle will likely be just as willing to learn a trick or two.
The Beagle was originally a hunting companion. Their strong noses are perfect for picking up scents and helping the hunter keep track of elusive prey. However, when they're not working, this dog is happy and cheerful. They are great pets for many households, including adventurous singles and families.
Beagles are about 13 to 16 inches tall and typically weigh between 20 and 25 pounds. Thanks to their compact size, they tend to do well in smaller homes as long as they get adequate exercise.
Poodles
The Poodle half of your Beagles and Poodle mix is also a hard-working, smart breed. They are so intelligent that they are one of the most popular breeds for service dogs. They can remember several tasks, tricks, and commands. Poodles also have a great temperament.
The Poodle most likely originated in either Germany or France. Their coats come in several colors, including black, white, brown, and gray. Silver and red are also common colors. Some will even have a mixture of colors on their coats.
Poodles also come in several different sizes. There are the standard, miniature, and toy. There is also some debate about a medium-sized Poodle, but it's not always recognized. Ultimately, the size of the Poodle will have the greatest effect on the size of a Beagle Poodle mix.
Benefits of Adopting Mixed-Breed Dogs
Many people consider pure-breed dogs the best choice when searching for a pet. Many assume they will have the finest temperaments and be the easiest to train, but this isn't always the case. There are several great reasons for adopting a mixed-breed dog.
Mixed-breed dogs are often overlooked in shelters, so giving one a home can help protect them from tragedy. Their adoption fees are also usually more affordable, so you'll have more to spend on your new best friend.
Care Of A Beagle Poodle
Caring for a Poogle is pretty straightforward. As long as you stick to a regular schedule and practice consistency in training, there's no reason why caring for your Poogle shouldn't be a breeze.
Food
These dogs don't require a special diet, in particular, unless they have health conditions that call for it. Focus on getting your pup age-appropriate and highly nutritious meals. Depending on the size of your dog, they should get around one cup of food a day. This should be spread out between 2 and 3 meals and served at the same time each day.
Talk to your vet about adding fatty acids like fish oil to your dog food to help get them a nice soft coat. The Poogle's wavy or curly fur will be easier to maintain if you do this.
Exercise
The Beagle Poodle mix will need plenty of exercise to maintain optimal behavior. These dogs come from two breeds that are highly inquisitive and eager for a job. These traits are good news because it gives you plenty of different ways to entertain your dog.
Beagles are hunting dogs, which means they have a high prey drive. You can accommodate this behavior by engaging your dog in activities like fetch. They will enjoy chasing an object down and receiving a reward for bringing it back to you.
Poodles, on the other hand, love to swim. There is a good chance your Poogle will also enjoy this activity, so try it out with your puppy. Remember to introduce them to the water carefully and slowly so that you don't traumatize them and make them afraid.
Of course, you can always take your dog for a walk, engage in some playtime, or even get them another companion to help them release some energy.
Training
Training is essential in this breed because they will otherwise become bored and unruly. Teaching this dog a few basic commands is a great way to form a bond and build trust between you and your pet. This dog will enjoy the routine of completing tasks, and they will also appreciate the attention they get from the activity.
This is also incredibly important because Poogles are known to suffer from separation anxiety. Training can help them manage their anxiety and give them some peace of mind when you are not at home. Start training as soon as you get your puppy. The basics, like sit, stay, and potty training, will come quickly to your dog. Try adding more complex commands to help keep your pup engaged.
Grooming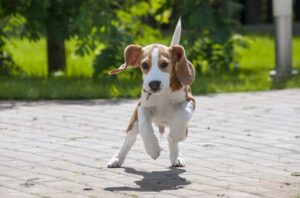 Although this dog is hypoallergenic and doesn't shed much, it still requires frequent grooming. Its coat will need regular brushing to help keep it from getting matted and tangled. Fortunately, many dogs love to be brushed, so that shouldn't pose much of a problem.
Otherwise, you should keep up with all of the regular grooming standards. These include keeping their nails trimmed and teeth brushed. Taking them to a groomer can make this a lot easier. They will be able to give your pup a thorough treatment and even spot potential problems.
Age Expectancy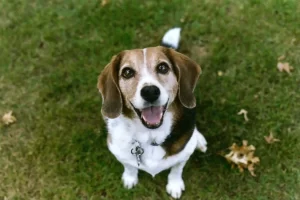 These are hearty dogs that you can expect to live for a decade or more. The average Poogle tends to live for 10 to 13 years but will often live to 15 or 16 years old. This fact is essential to remember when adopting a pet because it can be a long-term investment.
The best way to ensure your dog lives a long life is to feed it a healthy and balanced diet, get plenty of exercise, and seek routine veterinary care.
Potential Risks
There is a common belief that mixed-breed dogs tend to stay healthier than purebred. While there is some truth to the idea that they are at less risk for inheriting genetic conditions, one shouldn't assume that there is no risk at all. The Poogle has the potential to inherit common problems from either parent. Below is an outline of some of the conditions to watch out for.
Hip Dysplasia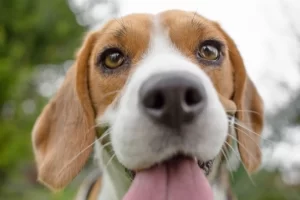 Hip dysplasia is a common ailment in dogs, and unfortunately, both the Beagle and the Poodle can suffer from it. It occurs young while the pump is still growing. It is an abnormality of the hip joint that is most likely to cause issues later in life. If you don't address it immediately, it could lead to paralysis.
You can recognize this condition by a few symptoms, such as limited range of motion or limping. They might also experience atrophy of the muscles on the leg and hip. If your dog struggles to stand after lying down for any period, this could be the cause.
The best way to avoid this condition is to choose a breeder that carefully selects animals that do not have this condition. It is also critical to ensure that the skeletal system grows properly through diet, exercise, and physical therapy if needed.
Cataracts
Both parents of the Poogle are at increased risk for vision and eye problems. Cataracts are one of the most common issues dogs experience as they age, and both the Beagle and Poodle are known to get them.
Cataracts happen to many different species, including humans. It is clouding in the clear part of the eye, making everything appear blurry and dull. You can usually see this happening just by looking at the eye. If you've ever noticed a dog with milky pupils, they were probably cataracts.
Unfortunately, there isn't much you can do to prevent cataracts other than keeping your dog healthy. If they do experience this condition, you can request a surgical procedure that will remove them, but it may be risky. Your dog will have to be put under general anesthesia, which can be difficult or impossible with older canines.
Patent Ductus Arteriosus
PDA is a congenital heart disease, and it's one of the most common heart defects found in dogs. Most often, Poogles will experience this issue due to the Poodle side of their genetics, as miniature and toy Poodles are at a greater risk.
Addressing this problem early in your dog's life is vital to your pet's long-term health. This heart defect causes blood to flow improperly through the heart due to a small shunt or hole. Over time, as blood forces its way through the shunt, it gets larger. Eventually, the damage will be too severe to repair, and heart failure is imminent.
A puppy with this condition might breathe harder than others or experience lethargy. Exercise can worsen the issue, so pay attention to signs like these. Your vet can perform an echocardiogram and listen for heart murmurs when diagnosing this issue.
Periodontal Disease
Periodontal disease is the most common dental disease in dogs. It affects the gums, and while it may not seem like a big deal, this can become a life-threatening condition. Not to mention it greatly reduces the quality of your dog's life. Fortunately, it is highly preventable and treatable.
This affliction is an infection in the gums that can eventually lead to severe damage to the jaw and mouth. Left alone, it can even increase the risk of lung and heart diseases, which is already a risk factor for Poogles.
The best way to take care of this is to ensure that you maintain good oral hygiene. Just like people, they need to have their teeth brushed and cleaned regularly by a professional. Dog toothbrushes and toothpaste are inexpensive, although teaching your dog how to get used to them can be tricky. Consult a vet or behavioral specialist if you are having problems.
Frequently Asked Questions
There is so much to learn about this wonderful breed. If you are still curious to know more about Poogles, you are not alone. Here are some of the most frequently asked questions about this canine.
What are a Beagle and Poodle mix called?
A Beagle and Poodle mix is known as a Poogle.
How big will a Poodle Beagle mix get?
The size of your Poogle will most likely depend on the size of the parent Poodle. Most often, breeders will choose a medium or miniature Poodle since it is about the same size as the Beagle.
Generally, most people expect their Poogle to be about the same size as a Beagle or slightly smaller. The average Poogle is about 11-16 inches tall and 20-25 pounds.
For the most accurate estimation of your puppy's future size, ask to meet both of the parents. This should give you a better idea of his or her potential growth. If you have a small place, it could be wise to try to find smaller parents.
Are Poogles good dogs?
Just like people, all dogs are different. Even the best-natured dog can be traumatized by a rough past. If you plan to adopt an older dog, look into their history to find out how to best care for their individual needs.
Typically, however, the Poogle is a great pet. It is easy-going, cheerful, and more than happy to go on an adventure with you. Like its parents, this dog is incredibly smart and relatively easy to train. They love a good snuggle and are more than happy to spend the day with their owner.
There is some chance that the Poogle will inherit the Beagle's trait of stubbornness. Overcoming this begins with positive reinforcement, consistent discipline, and plenty of bonding. Teaching a dog that it can trust you makes it more likely that it will listen to your commands.
How much does a Poogle cost?
Unlike typical purebred dogs, the Poogle is fairly reasonably priced, depending on which breeder you go with. A purebred Beagle can cost up to 6,000 dollars!
There are many breeders throughout the country, so you'll have some options when you're looking. Most people can expect to spend between 500 and 1,000 dollars when adopting a Poogle.
It's crucial to find a good breeder when you're selecting a pet. Otherwise, you might pay quite a bit more than just the adoption fee for medical care and social training. Do thorough research and avoid pet stores.
Do Beagle Poodles shed?
Poogles are one of the few dogs that do not shed very much, if at all. This quality makes it a great indoor dog if you are particularly concerned with getting hair on your furniture or clothes.
If your Poogle inherits the Beagle's shorter coat, there is a chance that it could shed more, but this will be unlikely. Nearly all doodle breeds will receive the genes for a curly coat.
Is the Beagle Poodle mix hypoallergenic?
Pet allergies can be a drag and are often one of the main reasons why someone would choose to forgo adopting a dog. However, this may not be as big of an issue with the Poogle. A Poodle mixed with a Beagle is not a guarantee that you won't be allergic, but it is true that they produce less dander to trigger allergies.
As it turns out, most people are allergic to dogs and cats for the same reason. Each creates a protein that is broken down in the saliva and urine. During the grooming process, the animal spreads this protein to their fur and dander, which can become airborne. These irritants get into the respiratory system and trigger a reaction.
The Poogle is much less likely to shed, so this makes it a great pet for someone with allergies. Less floating dander means fewer opportunities to breathe it in.
If you do suffer from allergies, there are a few steps you can take to make your experience less miserable. No one wants to isolate themselves from their pet, and it's not good for your dog anyway. Many over-the-counter allergy medications can greatly reduce symptoms. In some cases, there are prescription allergy medications you can have injected that will reduce your reaction over time.
Otherwise, keeping your pet clean and healthy is critical to reducing dander. Bathe your dog regularly, but don't overdo it, or else you risk drying out the skin. Dry skin, in turn, will make your allergies worse as they scratch and shed. Giving them a balanced diet will also help maintain healthy skin and fur.
Conclusion For "Beagle Poodle Mix"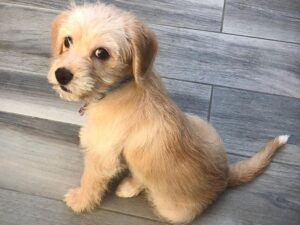 The Poogle is an incredible companion for anyone seeking a cheerful, intelligent pet. Perfect for active homes, including families, this dog can thrive in nearly any environment if given the proper care. It's no wonder that this breed is so popular and will likely make an excellent addition to your family. Find out more about local breeders in your area and schedule a visit.
For more Poodle mix guides from our team at We Love Doodles, you can check out:
If you find the Beagle Poodle mix a fascinating Poodle mix, you can learn more about other amazing breeds by watching "15 Poodle Mix Breeds That Will Melt Your Heart" down below:
Garrett loves animals and is a huge advocate for all Doodle dog breeds. He owns his own Goldendoodle named Kona. In addition, he volunteers at the Humane Society of Silicon Valley, where he fosters dogs and helps animals. Garrett enjoys writing about Doodles and believes that dogs can teach humans more about how to live than humans can teach a dog.
Why Trust We Love Doodles?
At We Love Doodles, we're a team of writers, veterinarians, and puppy trainers that love dogs. Our team of qualified experts researches and provides reliable information on a wide range of dog topics. Our reviews are based on customer feedback, hands-on testing, and in-depth analysis. We are fully transparent and honest to our community of dog owners and future owners.