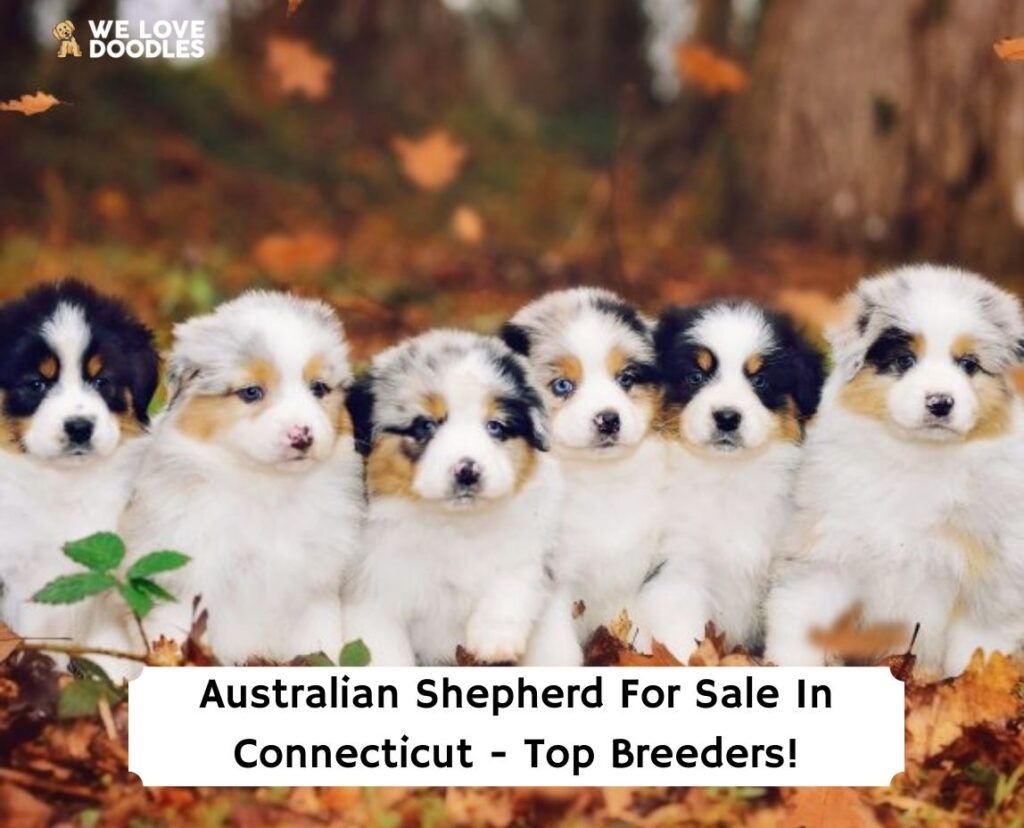 Finding breeders with Australian Shepherd puppies in Connecticut may be hard to come by when looking for the right breeder. The Australian Shepherd is a large, fun, and active dog breed. Despite its name, this dog breed originated in the United States of America, not in Australia. The nickname of this dog breed is Aussie, and they were initially bred to herd livestock.
Aussies are very active and hardworking dogs. In addition to being hardworking, Aussies can be delightful family pets if their energy and intelligence are adequately channeled. Hence, there are vital things you should consider when looking for the best Australian Shepherd for sale in Connecticut.
Before you scroll down this list of breeders with Australian Shepherd puppies in Connecticut for sale, check out these other recommendations from our team at We Love Doodles: Best Shiba Breeders in Connecticut and Doberman Puppies in Connecticut.
Australian Shepherd Breeders in Connecticut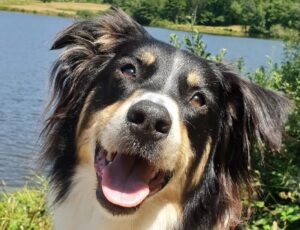 The puppy should come from a breeder that knows how to raise and train this breed. The best Australian Shepherd breeders also pay close attention to the unique health needs of this dog while breeding.
Large breed dogs usually have joint and hip issues, but the best breeders test for these conditions and use only healthy, genetically fit breeding dogs. Here is a list of the top Australian Shepherd breeders in Connecticut.
Check out for more: Best Australian Shepherd Breeders in New Hampshire and Best Australian Shepherd Breeders in Wisconsin.
1. PuppySpot's Australian Shepherds For Connecticut
First on the list of the best breeders with Australian Shepherds in Connecticut for sale is PuppySpot, which isn't necessarily a single breeder. PuppySpot is an enormous dog platform where you can browse for available Australian Shepherd puppies right from the comfort of your home in Connecticut.
It would be best if you kept in mind that all breeders with Australian Shepherd puppies in Connecticut for sale are required to go through a strict screening process, so you can rest assured knowing that your companion will be safely shipped to your home in Connecticut. Before you continue on your journey for an Australian Shepherd puppy for sale in Connecticut, you can check out the link to the marketplace below.
PuppySpot Details
2. Somewhere In Thyme Australian Shepherd
Somewhere in Thyme, Australian Shepherd is one breeder who produces and raises Aussies out of their love for the breed. They love their puppies so much, and they give them the best treat ever. S.T.A.S. has covered you whether you are looking for a lovely companion, working, or agility dog. They breed their dogs for conformation and temperament.
These puppies receive all the love and care they deserve because they are home-raised. The sires, dams, and puppies all live with the breeder in the house. Another pleasing thing about the puppies from this breeder is that they are well-socialized. They introduce the puppies to kids, visitors, and other animals.
Since the puppies are home-raised, transitioning is not an issue. The "housebreaking" job has already been done for you. The puppies are also outgoing and well-exposed. All their puppies come with up-to-date vaccination and are dewormed. They also give the little canines other preventative medications. Their in-house licensed, professional vet also runs regular health checks for the puppies. This breeder has over 40 years of experience producing and raising quality, healthy purebred dogs.
In the breeding industry, awesome puppies do not happen by chance. Deliberate and conscious actions produce great puppies, and this breeder understands that. It takes exceptional intelligence, well-bred bloodlines, outstanding athletic ability, and a strong willingness to produce quality and super healthy dogs. To reserve your puppy, you must deposit $300 (non-refundable). However, this breeder only accepts deposits after the puppies have been born.
You also have to request an application via email or text for pre-approval. The breeder only adds pre-approved applicants to their priority adopter's list. This breeder gives equal love and attention to its breeding dogs and puppies. They enjoy the best dog foods, vet care, comfortable living and sleeping space, etc. S.T.A.S. also displays its sires and dams on its website for customers to see the incredible bloodline of their puppies.
Somewhere In Thyme Australian Shepherd Details
3. Harmony Hill Australian Shepherds
Harmony Hills Australian Shepherds is one of the top Aussie breeders in Connecticut. This breeder occupies 30 acres of land in the Litchfield Hills of C.T. H.H.A.S., a small, home-based hobby-breeding kennel. This breeder has a special kind of love for this breed, and they care for them like their personal dogs in the kennel.
This kennel has five outdoor/indoor covered, heated, and A.C. runs. They have fully fenced play yards for the puppies and dogs. The facility is more like a home than a kennel. The puppies are home-raised and get all the love and care they deserve. Because of the strong desire of this dog breed to be with people, this breeder prefers releasing the puppies to homes with family members.
Australian Shepherds like attention and love being around people. This simple rule applies to all performance dogs, companion dogs, and show dogs. H.H.A.S. also has awesome co-owners with a passion for training and handling. They provide these puppies with the fundamental training they need. These puppies were introduced to potty and crate training at eight weeks old.
They also work on the behavior and socialization skills of the puppies. Thanks to the solid foundation, you will not have any issues training your dog the way you want. This breeder has many sires and dams, producing more litter in a year. H.H.A.S. divided its available puppies into different categories. They have companion puppies and show performance puppies.
You must fill out the puppy application form based on the type of puppy you want. This breeder is not only friendly to the dogs but also to the customers. They maintain healthy relationships with their customers even years after patronizing them. The sustained customer relationship creates room for the new puppies' parents to reach out and ask questions or share their concerns about their dogs.
Harmony Hill Australian Shepherds Details
4. Aislin Fields Aussie
Aislin Fields Aussie is a highly reputable Australian Shepherd breeder in a neighboring state – New Jersey. A.F.A. is a professional Aussie breeder and trainer. They breed various Aussies, including Standard, Miniature, and Toy Australian Shepherd. The owner of Aislin Fields Aussies, Lisa Wance, is an expert dog trainer. She competes with all her Aussies in agility, obedience, conformation, and herding.
Lisa Wance is also the owner of The Prestigious Paw Dog Training L.L.C. This breeder treats its dogs like its family. They live with dogs on a 7-acre farm. The dogs have enough room to play, run, and work on. To maintain its record of consistently producing healthy puppies, this breeder does not breed always. She allows her breeding dogs to rest for some time before breeding again.
This culture has helped her produce quality and beautiful puppies in the state. A.F.A. puts a lot into its breeding program. They breed for health and temperament, as they always aim to provide their customers with happy and healthy puppies. Their bloodlines are chosen with the utmost care, ensuring they are free of the common health issues associated with this breed. The breeding dogs are also tested for genetically hereditary diseases to ensure their puppies are clean and safe.
Lisa is living her dream of raising her family and pets on a farm with the respect and love they deserve. Dog lovers travel from other states like New York, Connecticut, Delaware, Maryland, and Pennsylvania to this farm to meet their Toy, Miniature, and Standard Australian Shepherds. A.F.A. put a lot of work into these puppies, including individually socializing with different animals, people, and environments. They have also started crate and potty training for the dogs.
Aislin Fields Aussie Details
5. Hemlock Brook Farm and Kennel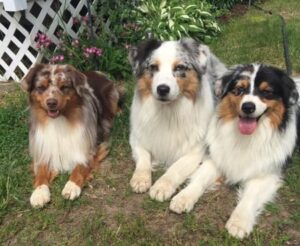 Hemlock Brook Farm and Kennel are the last Australian Shepherd breeder on our list. H.B.F.K. breeds Health, Education, Accountability, Responsibility, and Tradition (H.E.A.R.T.), recognized by the American Kennel Club. This breeder is focused on producing sound, healthy, and quality canine babies.
They cater to the health of their puppies by providing them with the best puppy food specific to this breed. They also provide the best medical care possible and run routine vet checks. This breeder tests all its sires and dams for genetic diseases common with this breed. They had their elbows and hips x-rayed, and the O.F.A. conducted a further evaluation on them.
H.B.F.K. shows their canines in working performance sports, conformation, and obedience. This breeder also starts training a few days after the puppies are born. Their putty training also comes early. Teaching the puppies that are going outside means going potty. They also have a boarding facility for dogs. The facility has A.C. in the summer and heated floors in the winter to keep the puppies cozy.
Hemlock Brook Farm and Kennel Details
Conclusion For "Australian Shepherd Puppies in Connecticut For Sale"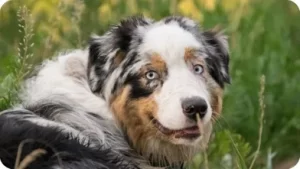 There are many Australian Shepherd breeders in and around Connecticut. Some breeders breed the three types of Aussies – Toy, Miniature, and Standard. On your quest for the best Australian Shepherd for sale in Connecticut, you first need to consider the type you want.
Read about the different species available and choose the one that best suits your needs, home, and lifestyle. Remember, owning a dog is a huge responsibility, so you must ensure you are up to the task.
For more guides similar to this list of breeders with Australian Shepherd puppies in Connecticut, you can check out:
Before bringing home Australian Shepherd puppies in Connecticut, you can learn more about raising them by watching "Dogs 101 Australian Shepherd" down below:
Garrett loves animals and is a huge advocate for all Doodle dog breeds. He owns his own Goldendoodle named Kona. In addition, he volunteers at the Humane Society of Silicon Valley, where he fosters dogs and helps animals. Garrett enjoys writing about Doodles and believes that dogs can teach humans more about how to live than humans can teach a dog.
Why Trust We Love Doodles?
At We Love Doodles, we're a team of writers, veterinarians, and puppy trainers that love dogs. Our team of qualified experts researches and provides reliable information on a wide range of dog topics. Our reviews are based on customer feedback, hands-on testing, and in-depth analysis. We are fully transparent and honest to our community of dog owners and future owners.