If you're searching for the best Australian Shepherd breeders in Ontario, then you've come to the right place. The Australian Shepherd is an energetic and friendly dog that loves to play with children and gets along with other pets in the household too.
They are a very intelligent breed and easy to train too. Aussies are also known for being eager to please their owners. Keep all these things in mind if you're thinking about getting an Australian Shepherd.
Before scrolling down this list of Australian Shepherd breeders in Ontario, check out these other recommendations from our team at We Love Doodles: Best Mini Bernedoodle Breeders in Ontario and Best Poodle Breeders in Ontario.
Australian Shepherd Puppies For Sale in Ontario
Scroll on down to find the best Australian Shepherd Breeders in Ontario.
Australian Shepherd Product Recommendations: Best Dog Grooming Kit and Best Shock Collar to Keep Your Dog in Yard.
1. Cheynat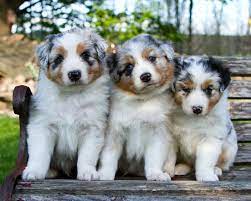 Cheynat is a small kennel located north of Barrie, Ontario. It has been breeding dogs since 1991. The dogs live in a home, and the puppies are raised with much love and care. They grow up to be beautiful, healthy, intelligent, and loving. A Cheynat puppy excels in competition and performance and can fit snugly into the role of a companion too.
When the puppy is ready to be picked up, they have had their first vaccination and a complete health examination by a vet and will also have been dewormed many times along with being microchipped. The puppies leave for their new homes with six weeks of insurance too. Moreover, they come with a three-year guarantee.
Apart from this, health and temperament focus on Cheynat's breeding program. Cheynat is highly selective and only keeps the best as their breeding stock. This is why their dogs are active in conformation and agility. Cheynat is also very careful when breeding adult dogs. They require hip dysplasia clearances from OFA and eye clearances from a board-certified ophthalmologist.
Cheynat Details
2. Q.T.
Q.T is a small hobby kennel located in Waubaushene, Ontario. Their dogs have a friendly and balanced temperament and excellent movement. They also have excellent dog communication skills and attend doggy daycare and dog parks every week. They get along well with various other animals, like bunnies, cats, ferrets, etc.
Plus, all Australian Shepherds are fed an all-natural diet (RAW). Q.T. Aussies are highly accomplished and competitive in agility, obedience, rally-O, herding, and conformation. Not only are they great athletes, but they are also loving members of the family. The CKC registered, and genetically superior puppies await your adoption in a home environment.
They come with a five-year health guarantee, have had their eyes examined, are microchipped, and are up to date with vaccinations and deworming. Moreover, Q.T breeds occasionally and places puppies only in homes that have been approved. After selling one of the puppies, the customers have lifetime support and become part of the Q.T family.
Q.T. Details
3. Weststone
Weststone aims to produce outstanding examples of the Australian Shepherd breed that will live easily as a companion in a family setting and excel in any venue. Conformation, health, and temperament are valuable characteristics for the breeder.
Apart from this, Weststone is a CKC registered kennel. All puppies are dewormed, micro-chipped, raw-fed, socialized in a family setting with people and adult dogs, and vet-checked too. They also come with a five-year genetic health guarantee to give you peace of mind.
Weststone Details
4. Dreamstorie Reg'd
Nestled close to Ontario's Gateway to the North, between Huntsville and North Bay, Dreamstorie Reg'd take pride in their dogs and the occasional litters that they produce. As you can see, they value quality over quantity. The puppies are suitable for conformation, performance, or as beloved companions.
Occasionally, Dreamstorie Reg'd have retired adults available. They also offer a health guarantee and after-sale support. They leave home just when they reach eight weeks of age and are dewormed, microchipped, vaccinated, and vet-checked.
Dreamstorie Reg'd Details
5. Black 'N Blue Reg'd
Black 'N Blue Reg'd are dedicated to producing cheerful, balanced, healthy dogs either made for love in your home, showing off in the ring, or playing guard in your field! The dogs have all been raised in the house alongside the breeders, making them a part of the family.
Also, the lines these breeders have chosen as their breeding stock have no aggressive tendencies. The adults are OFA certified, meaning they have completed the modules of the Organisational Fitness Assessment and have DNA health tested for nine different diseases.
Their eyes, too, are certified by an ophthalmologist. They are raised with much love and care alongside the adult dogs in a home. Some puppies are sold on non-breeding contracts to pet homes or co-ownership to breeding/show homes. Five-year guaranteed genetic health is also included.
Black 'N Blue Reg'd Details
6. GraceRok
GraceRok is another Canadian-based Australian Shepherd breeder with its home-based facility located in the Northumberland Hills in Ontario. These breeders use only multi-titled, champion parents for producing puppies.
The parent dogs are CERF-cleared, OFA-certified, and have genetic backgrounds tested and cleared. The puppies are dewormed, have their eyes cleared, and are vaccinated. These then grow up to become gorgeous, mentally and physically healthy dogs capable of becoming your best friend.
GraceRok Details
7. StarCreek
StarCreek Australian Shepherd's home is a farm west of Kingston, Ontario. CKC and ASCA registered Aussies are raised here. StarCreek is focused on breeding dogs that are fit, good-natured, well-balanced, and versatile.
Their Aussies love all physical activities and exercises and make for beautiful and loving companions. Health clearances, including x-rays for elbows and hips and eye exams done by board-certified ophthalmologists, are considered mandatory. A three-year coverage is offered against hereditary disorders as well.
StarCreek Details
8. Admore Kennel
Last on the list of the best Australian Shepherd breeders in Ontario is "Admore Kennel." Admore Kennel, located south of Hamilton, Ontario, has been breeding dogs since 1996. It breeds high-quality Australian Shepherds to be raised for companionship, performance, and show.
All dogs that have OFA certifications are genetic panel tested and cleared by the AKC, which is the prerequisite for a healthy canine. Puppies are born and raised in a home. They are CKC registered, microchipped, and on immunization schedules.
Also, the health guarantee and owner support are lifelong! Lastly, Admore focuses on producing high-quality dogs with calm temperaments that are easily trainable, giving the dogs a higher chance at success in completing tasks.
Admore Kennel Details
How to Choose An Australian Shepherd Breeder in Ontario
Step 1: First, you must decide which qualities and traits you want in your dog. Most breeders will breed their stock for particular qualities like herding ability, show quality, or versatility. You must look for a breeder that values and breeds for qualities you want your dog to have.
Step 2: Visit the breeder to examine the facility. Check if the parents of the litter are healthy and active. They should also possess the qualities you are looking for in your Aussie puppy. Moreover, the kennels should be spotless, and the dogs should be kept in big, spacey pens.
Step 3: Talk to the breeder to ensure that they are well-informed about the breed. They should answer specific questions about the parent dogs and why they chose them to produce a litter. It is also wise to ask what kind of guarantee the breeder gives on the puppies from his breeding.
Step 4: Ask to see the puppies. Observe their overall health, energy, and structure. Healthy puppies will appear alert and intelligent, not lethargic or anti-social.
Step 5: Choose the sex you prefer along with the type of colors you like best in your dog. Australian Shepherds exhibit a variety of colors, including black merle and red merle that come with white or tan shades.
Step 6: Choose the puppy that possesses the qualities you prefer. Look at the way your puppy interacts with their littermates and with other people. Don't hesitate to make several trips to the breeder to interact with the puppies. Once you have decided, tell the breeder and ask him to reserve that puppy for you.
Conclusion For The "Best Australian Shepherd Breeders in Ontario"
Each of the breeders we have listed for you is reliable and worth every penny. However, we recommend that you check out Q.T Aussies for the most well-bred puppies in Ontario.
For more guides similar to this list of Australian Shepherd breeders in Ontario, you can check out:
Before you purchase an Australian Shepherd from a breeder in Ontario, you can learn more about the breed by watching "What to Do With a New Australian Shepherd Puppy" down below: