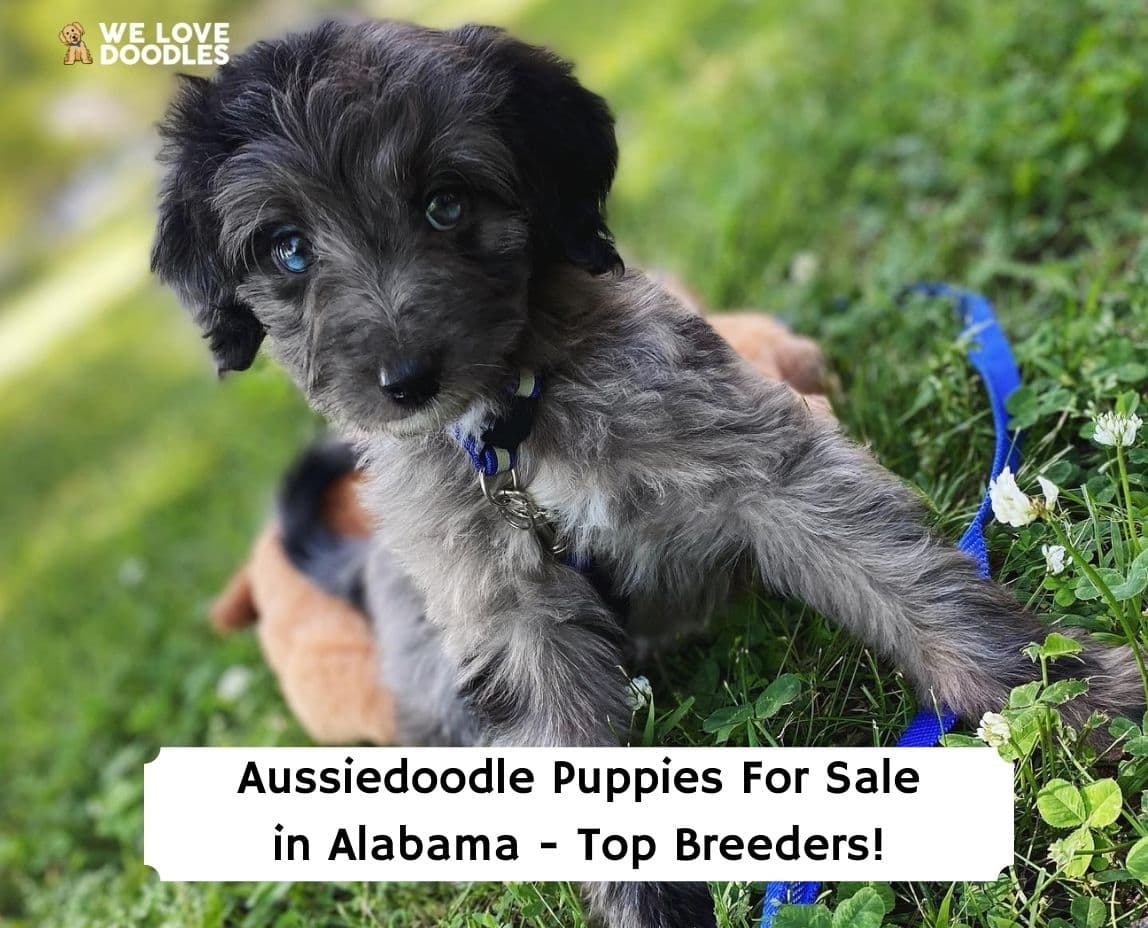 Here's what you need to know if you're searching for breeders with Aussiedoodle puppies in Alabama for sale. It can be challenging to find a well-bred Aussiedoodle for sale in Alabama because of the fledgling Doodle breeding business in the state, but that doesn't mean you can't get one.
We've searched high and low to present you with various reliable breeders raising exceptional Aussiedoodles in Alabama and neighboring states. If you want to add a smart and hypoallergenic puppy to your family, the Aussiedoodle is the right pick for you.
Also called Aussiepoo, this dog breed crosses between an Australian Shepherd and a Poodle. If you choose the right breeder, you get the best of both breeds in the Aussiedoodle. This designer breed is playful, active, and brilliantly smart. So much so that the Aussiedoodles are called the Einstein of dogs.
Their friendliness and easy-going temperaments are other qualities that make them ideal pets. Moreover, Aussiedoodles are great with children; their friendly and goof nature makes them the ideal kids companion. Want to adopt low maintenance and easy-to-train Aussiedoodle? If yes, you are making the right choice for yourself and your family.
Before scrolling down this list of breeders with Aussiedoodle puppies in Alabama for sale, you can check out these other recommendations from our team at We Love Doodles: Best Dog Breeders in Alabama and Best Pug Breeders in Alabama.
Aussiedoodle Breeders in Alabama
Many breeders in Alabama and surrounding states provide Aussiedoodles for sale, but the major question is which breeder should you trust to get a healthy dog? To make your task easier, we have found the top Aussiedoodle breeders in Alabama, well known for their high-quality dog breeding standards. We have thrown in breeders from the neighboring Georgia and Tennessee for good measure.
Aussiedoodle Product Recommendations: Best Dog Detangler Spray and Best Dog Head Halters.
1. PuppySpot's Aussiedoodles For Alabama
PuppySpot is a great website for helping future owners and dog breeders like the Aussiedoodle connect. It's easy to use and has many helpful categories to connect you with the right Aussiedoodle puppy and the best breeder.
They have one of the strictest screening processes in the United States, with over a hundred criteria that less than 10% of applicants pass. They also partner with the AKC and American Humane Society to ensure there are no scammers, backyard breeders, or puppy mills. 
PuppySpot provides all new owners with a ten-year health warranty for their puppies and a nose-to-tail health check before bringing them home to you.
They have sold over 200,000 puppies so far, with 10,000 five-star reviews from verified buyers and an A+ score with Better Business Bureau. There are no waiting lists, and they deliver everywhere in the United States via their private airline.
PuppySpot Details
2. Toys and Teacups Boutique
Located in the state of beautiful gulf coast beaches, "Toys and Teacups" is one of the most knowledgeable breeders in Alabama. The breeder works hard to produce well-trained, socialized, and healthy Aussiedoodle puppies in Alabama. Toys and teacups claim that health, temperament, and beauty are a top priority in their breeding practice.
A veteran breeder, Toys and Teacups have 13 kennels and home locations where they breed and care for their dogs, including Cavapoos, Yorkshire Terriers, and Aussiedoodles, among other dog breeds. Their dog parents and puppies are registered with the AKC and the CKC so that you can be assured of the quality.
Since the puppies' health is its primary focus, the breeder takes care of all the medical needs of the dogs, from regular vet checkups to vaccination and deworming. Best of all, Toys and Teacups offer a one-year health guarantee certificate to the buyers. Ready to adopt a cute dog? Contact them through email or phone and deposit the amount to book a puppy. You can take a puppy to your home at 8-12 weeks.
Toys and Teacups Boutique Details
3. Georgia Dog Club
Do you have a hard time finding a good Aussiedoodle breeder in Alabama? A great breeder in a neighboring state can solve your problem. Georgia Dog Club is a trusted name that breeds quality dogs in Georgia. Their 15 years of experience in this field with a 5-star rating will clear any misgivings you may have about this breeder.
Registered from AKC, the breeder covers all health standards to keep the puppies away from different diseases. At the time of adoption, the breeder guarantees that your pup is free from infectious diseases and provides documentation to back their claim. They also offer ten years warranty for genetic diseases.
Unlike most breeders who offer only a 6-month or 1-year replacement warranty, the Georgia Dog Club is happy to replace the puppy for free even after three years of purchase. If your dog manifests a congenital issue after seven years of purchase, the breeder offers a 50% discount on a replacement.
Their generous replacement policy shows complete confidence in their breeding program. Want to get a puppy from their next litter? Then you need to pay $200 for early vaccination and microchipping.
Georgia Dog Club Details
4. Joker's Red Rose Farm
Many Aussiedoodle breeders in Alabama claim to produce quality dogs, but the reality is different. In most cases, you will find that the puppies are bred by puppy mills or backyard breeders upon further inspection. Since Aussiedoodles are a relatively new breed, there aren't many registered and vetted breeders in every state.
In this case, you would do better to purchase your desired breed from a reliable breeder in bordering states. The money and time spent traveling to and from the neighboring state would be infinitely lower than the amount you will pay in health bills for an unhealthy puppy from an unethical breeder.
Located in Georgia, Joker's Red Rose Farm is a reputable breeder you can trust. The breeder takes all steps recommended by the AKC and other local kennel clubs to meet the quality standards of every breed. Moreover, their primary focus is on ensuring the health and wellness of their puppies.
A professional vet regularly does a medical checkup of external and internal body parts for health-related problems. Their dogs get vaccinated and neutered/spayed at the recommended age. The breeders also deworm the Aussiedoodles so you can get a healthy puppy at eight weeks of age.
Interested in booking a puppy from their next litter? Then you need to submit an application and pay a $300 non-refundable fee to register your interest. Their puppies are between $750 – $2000, and they charge $100 for shipping inside and outside the state.
They ship their puppies via Flight Nanny, so you can rest assured of the safety and comfort of the puppy during travel. To avoid a long wait, it would be better to book a puppy before the litter comes out. You can check the dates of the upcoming litters on their website. Contact the breeders or check the website for the application form.
Joker's Red Rose Farm Details
5. Abounding Grace Doodles
Within driving distance of all metro areas in Atlanta and the southeast of Georgia, Abounding Grace Doodles is a premier breeding facility specializing in Aussiedoodles and Goldendoodles. Although they are a small breeder, their breeding program diligently follows the standards recommended by national and local kennel clubs.
Laurie Trocheck is the breeder behind this facility. She is a breeding specialist who bred horses for 20 years before jumping into the Doodle breeding wagon. She claims to have selected the best parent dogs from champion bloodlines to ensure that all her puppies are healthy and well-adjusted.
Her dams live with Laurie in her home, and the puppies are born and raised there too. Once the dams have whelped the recommended number of litters, Laurie tries to find them loving homes for the rest of their lives.
Since Laurie is very particular about the health and temperament of her puppies, she ensures that the puppies go through ENS after the first few weeks of birth. It improves their immune system and brain growth and makes the Aussiedoodles good at handling stress and solving problems.
Abounding Grace Doodles Details
6. Dynamic Doodles
There may not be a variety of breeders raising an Aussiedoodle for sale in Alabama, but the nearby states sure have some excellent options. Established in 2010, Dynamic Doodles is one of the best breeders in Tennessee, specializing in breeding Aussiedoodles and Aussie Mountain Doodles while occasionally breeding Bernedoodles and Standard Poodles.
They breed F1, F1b, F1bb, and F2 generation puppies in Standard, Moyen, and Mini sizes. Dynamic Doodles trains their dogs in so many ways to prepare them for their future homes. In addition, the breeder provides a friendly home atmosphere to the dogs where they raise around other pets and children.
Also, make sure that the dogs are used to everyday sounds such as vacuum cleaners, regular appliances, music, and television. The day your Aussiedoodle comes home, the puppy is used to the litter box and can easily sleep in a crate. Breeders at Dynamic Doodles groom all the dogs from an early age so that you will not find it hard to give them baths, trim nails, and blow-dry your pet. It's all because of the training provided by the breeder.
Moreover, each dog is tested for 210+ genetic disorders and provided with three years of health guarantee and 30 days of free health insurance. They are AKC registered breeders who collaborate with notable dog organizations, including the Badass breeding program, Trupanion, Good Dog, etc. If you are interested in a well-trained puppy for your next family member, look no further and go for Dynamic Doodles.
Dynamic Doodles Details
How to Choose Aussiedoodle Breeder in Alabama
When deciding to adopt an Aussiedoodle, finding a good breeder instantly comes to mind, but how can you find a reliable breeder? Here are a few ways:
Read reviews: Reviews for breeders on the AKC website are the best way to know about the breeder's reputation. You can also check online reviews and testimonials to get more information.
Assess their breeding program: The breeder should follow responsible mating and breeding to avoid inherited health issues in newly born litters. You can also ask for the health certificates of the parent dogs.
Visit the breeder: Some breeders mass-produce the puppies to get more profits, so it is necessary to check on the breeder. A good breeder treats each dog as a family member with all love and care and provides them with all necessities that are important for the healthy development of puppies.
Check for documents: You will usually get vaccinated, microchipped, and dewormed puppy at adoption. It would be better to ask for proof before signing the contract.
Read the T&Cs of the contract: Also, remember to read the terms and conditions of the contract.
Aussiedoodle Guides: Best Brushes For an Aussiedoodle and When is an Aussiedoodle Full Grown?
Conclusion For "Aussiedoodle Puppies in Alabama"
There aren't many reputable Aussiedoodle breeders in Alabama. Therefore, we conducted independent research to list the most reliable Aussiedoodle breeders in Alabama and its neighboring states.
Most of the breeders in the adjacent states provide safe shipping options. However, if you don't want to avail shipping, you can travel a short distance to get your registered and healthy puppy home. Trust us; you won't regret it.
For more guides similar to this list of Aussiedoodle breeders in Alabama, you can check out:
Before you bring home an Aussiedoodle puppy from a breeder in Alabama, you can learn more about this dog breed by watching "5 Reasons You Should Not Get an Aussiedoodle" down below: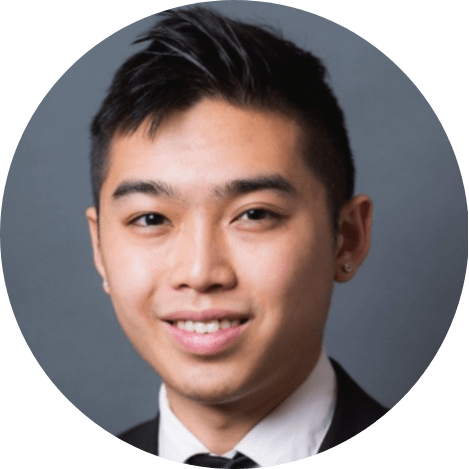 Andy is a full-time animal rescuer and owner of a toy doodle. When he's not saving dogs, Andy is one of our core writers and editors. He has been writing about dogs for over a decade. Andy joined our team because he believes that words are powerful tools that can change a dog's life for the better.
Why Trust We Love Doodles?
At We Love Doodles, we're a team of writers, veterinarians, and puppy trainers that love dogs. Our team of qualified experts researches and provides reliable information on a wide range of dog topics. Our reviews are based on customer feedback, hands-on testing, and in-depth analysis. We are fully transparent and honest to our community of dog owners and future owners.