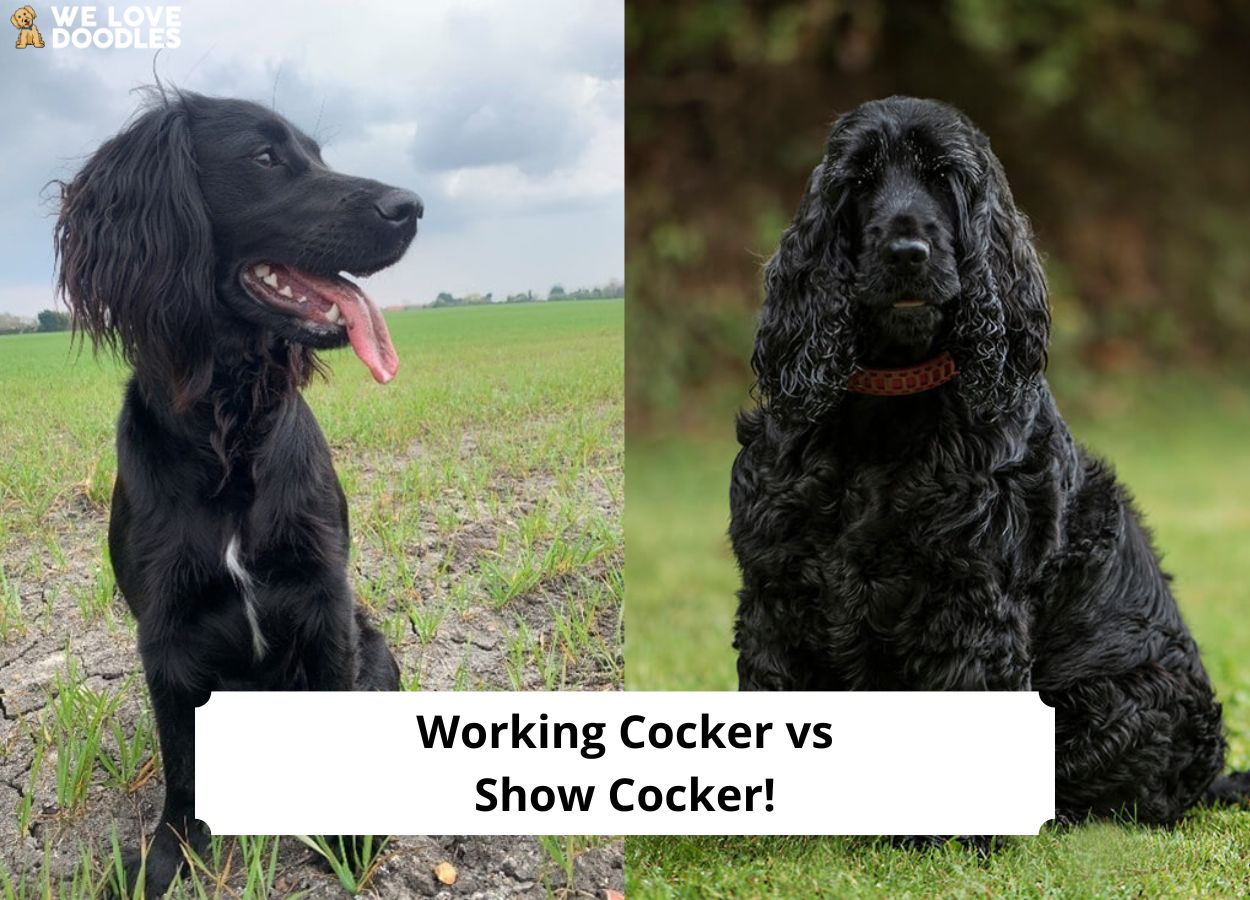 Cocker Spaniels are stunning dogs. They come in a wide range of sizes, amazing colors, and coat styles. If you've been curious to know how Cockers differ, here's a working Cocker vs show Cocker comparison.
There aren't many differences, to put it simply. Subtle variations in their appearance, head, body, tail, coat texture, and trainability are among them. But, a few other important criteria also play a significant role in determining how healthy they are overall.
Before scrolling down this working Cocker vs show Cocker guide, check out: 10 Best Cocker Spaniel Breeders in the United States! (2023) and 11 Best Cocker Spaniel Rescues in the United States! (2023).
The History of the Cocker Spaniel
Even the Kennel Club would claim that "show" and "working" Cocker Spaniels constitute the same breed if you looked up information on them. But if you were to do any research into purchasing a Cocker Spaniel puppy, you would quickly see that breeders market the two distinct varieties differently.
Like many other breeds across the world, this one began as a working breed. Breed standards have been maintained and governed more strictly throughout time. A lot of breeders now prioritize a dog's appearance over its function as a result of the enormous popularity of show dog competitions. The same applies to Cocker Spaniels.
More show dogs were bred due to their growing popularity. But this does not imply that the working Cocker Spaniel vanished. Instead, the two breeds were split to maintain pure "working" and "show" Spaniel lineages.
The Working History of the Cocker Spaniel
Cocker Spaniels have been around since the 14th century, but it wasn't until the 1800s that they were recognized as a breed. The Kennel Club established a Cocker stud book in 1893.
These dogs were bred with the intention of aiding hunters. Working dogs were experts at locating birds hidden in the bushes since they were trained to operate as flushing dogs.
After finding the birds, the dog would "flush" them out by startling them into taking off. Because of this, the hunter was able to take a decent shot at the bird. As time went on, this breed also received training in locating and bringing back shot birds.
They were thus trained to develop thick, muscular necks because they needed to be able to transport heavier prey to their handlers.
The name of this breed originates from its historical role as a woodcock flusher. These well-known game birds eventually contributed to the Cocker moniker being given to the breed.
Their Start as Show Dogs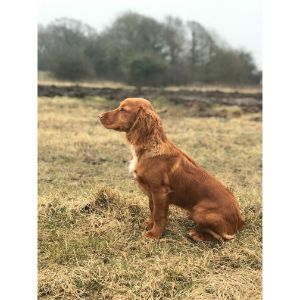 The English Cocker Spaniel began its career as a show dog in the early 1900s.
With the establishment of breed criteria, breeders started to produce "strains" of Cockers. The dogs were developed to be the perfect representation of the breed, with an emphasis on beauty. As a result, the look of the show Cocker Spaniel started to change over time.
The focus on traits like physical prowess, intellect, and stamina was still valued by working Cocker Spaniel breeders, but show breeders saw a shift. Breeders who were developing "show" Spaniels did not need to concentrate on any of the aforementioned characteristics because these dogs were not intended for working. Surprising discrepancies resulted.
Ultimately, the main genetic distinction between working and showing Cocker Spaniels is their breeding. The latter were developed particularly to be powerful, effective workers. On the other side, show Spaniels have been developed for their overall disposition and beauty.
The Working and Show Spaniels Examined Today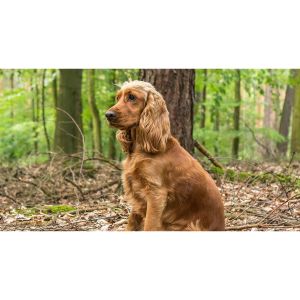 It is possible to link either of those "strains" to contemporary working and show Cocker Spaniels. Despite the fact that there are no formal rules governing working and showing Spaniels, expert breeders never mix the two varieties.
This is due to the fact that both types are exceptional at what they were bred for. Show Cocker Spaniels have won Best in Show an amazing seven times if you are familiar with Crufts. That's more than any other dog breed has ever won at Crufts, and it's definitely nothing to sneeze at.
There is much less popularity today for bird hunting. But despite the passing of their prime, working Cocker Spaniels continue to put in a lot of effort. The police and military frequently employ this breed as sniffer dogs. That means they have received training to identify a variety of unlawful goods, including explosives, weapons, and even cash.
Also, they are used as search and rescue dogs and make great service dogs. They work really hard to keep the public safe and are, overall, incredibly useful breeds.
Working Cocker vs Show Cocker Comparison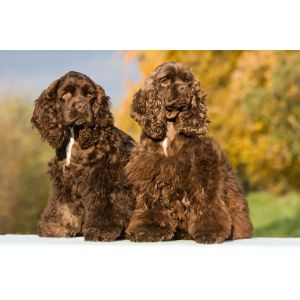 Let's examine the background of this breed in its entirety before we begin the comparison.
Cocker Spaniels was developed as a working gun dog breed, as we had previously discussed. They were mostly employed for hunting and flushing out animals, but as their popularity soared, more and more Cockers could be seen competing in dog shows.
As a result of the increased demand, breeders concentrated more on increasing their aesthetic features, giving rise to Cocker Spaniels of show caliber.
Overall Presentation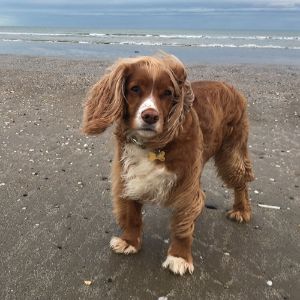 Working Cockers
Working Cockers have a commanding presence and are well known for their exceptional flushing abilities. They have large chests, thick necks, powerful legs, and somewhat thinner fur coats. They are ideal for both gun dog trainers and hunters due to these features and their rapid movements.
Show Cockers
Show Cockers, a relatively recent variety of the Cocker Spaniel breed, have a fluffier, cuter face and body. As all of their physical characteristics meet the requirements of show dog championships, differentiating a show Cocker from a working Cocker isn't that difficult.
Head Size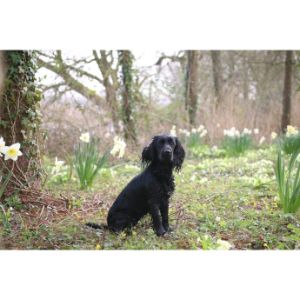 Working Cockers
First off, a working Cocker Spaniel will have a somewhat flat head and a snout that is longer and thinner. Their ears are also smaller and higher than their eyes, which makes it simpler for them to move through dense shrubs without suffering harm from friction.
Show Cockers
Compared to working dogs, show Cocker Spaniels have larger ears, a rounder skull, and a short but noticeable square-shaped snout. This gives them a hefty look appropriate for show needs.
Aside from that, they have a recognizable "Cocker Spaniel" appearance due to their large ears, which are covered in layers of fur. Unlike the tiny eyes observed in working Cockers, their eyes are doe shaped.
Body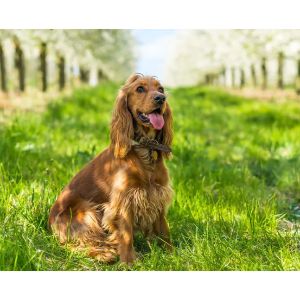 Working Cockers
Although the body sizes of the two Cocker subtypes are similar, working dogs have longer bodies. Their necks have less emphasis on angulation and are robust and muscular. The same can be said of their legs, which have a noticeably smaller yet muscular appearance. Moreover, the distribution of fur is often less than that of their counterpart.
Show Cockers
Show Cocker Spaniels have a small, densely furred body when they are born. Behind all these layers, their physique is fairly robust and sturdy, much like their field siblings and sisters, giving them the fluffy appearance for which they are famous. They have larger rib cages, powerful legs, and shorter loins. So, there isn't much to distinguish between Cocker Spaniels' bodies.
Coat Colors and Patterns
Working Cockers
Cocker Spaniels come in a variety of captivating hues and fur textures. This consists of four single-tone solid colors and the remaining roan mixtures. Some puppies can have two or three solid color coats, which makes them attractive.
Also, as working Cocker Spaniels are not subject to any severe standards, these puppies are typically produced or adopted in practically every color. When it comes to the usefulness of a dog for hunting, its coat color is irrelevant.
Show Cockers
Sadly, if the owners of show Cockers want their Spaniels to compete in competitions, they must adhere to breed criteria. Only particular coat colors or patterns are permitted due to breed requirements.
For instance, if your dog has white fur covering the bulk of their body, they could not meet the requirements. Just a small amount of white on the chest is acceptable; however, some judges may still reject the puppy.
Personality and Needs
Working Cockers
In contrast to their show counterparts, field Cocker Spaniels have a lot more activity and stamina, even if their personalities are identical in both subtypes. So, it follows that they will frequently need mental and physical stimulation.
There are several activities these dogs will need in order to settle down and refrain from destroying furniture. For example, treks, running, hunts, or flushing. Owners who are interested can also allow their puppies to enroll in lessons that promote scent work, gundog exercises, and other agility training.
Show Cockers
Show Cockers are bred to be more aesthetically pleasing rather than chase game on a hot sunny day, even if they do have functional qualities. These puppies respond well to an hour of exercise, but it must be regular. Without it, the dog can become bored and engage in destructive self-entertainment.
Trainability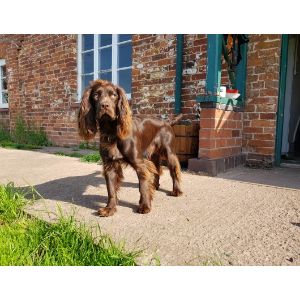 No matter which subtype they fall under, Cocker Spaniels are extremely clever dogs who have a strong desire to learn new things and please their owners. So, training these puppies is not too difficult. Yet as with any breed, you can also run into obstinate, dominant puppies who need more forceful training.
Following up with the appropriate positive reinforcement training typically works well. In addition to your dog having fun while learning skills, reward-based training also guarantees a closer relationship with your pooch.
Health
Working Cockers
The final and most crucial characteristic that distinguishes the two kinds of Cocker Spaniels is health. Despite the fact that both of them are typically robust, healthy puppies, the breed is nonetheless prone to a few issues. So, extra care may be required depending on their ancestry and any lingering health issues.
When utilized for gun dog activities or other high-pressure jobs, such puppies typically require a diet high in extra protein. Their muscles and bones will be strong enough to withstand the demanding needs of their profession thanks to the additional protein intake.
Show Cockers
Meanwhile, show Cocker Spaniels need to follow a meticulously organized food routine. Any extremes in the nutrients may cause them to gain weight, which would eventually result in obesity and medical issues.
Pet owners should always plan their feeding depending on their pet's age, health, gender, and advice from their veterinarian in order to guarantee their safety. Keeping the puppies healthy and fit requires frequent exercise as well.
Frequently Asked Questions
Should I get a working or a show Cocker Spaniel?
If you live a more active lifestyle, a working Cocker might be right for you. Otherwise, for a more laid-back companion, a show Cocker is a great choice.
How big will my working Cocker Spaniel get?
Expect a Cocker Spaniel to get 20 to 30 lbs depending on gender.
What age do Cocker Spaniels calm down?
Your Cocker Spaniel puppy should begin to slow down at two to three years.
Conclusion for "Working Cocker vs Show Cocker"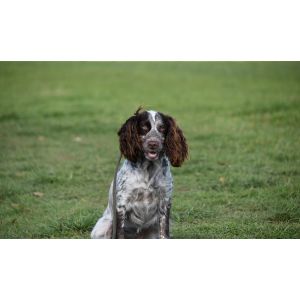 The Cocker Spaniel breed includes both working and show variants. The show varieties are excellent for breed contests and have less active lifestyles, as their names imply, whereas the working types make excellent working dogs. Now that you know the variations between these dogs, you can choose the one that's ideal for you.
For more dog comparisons like this Working Cocker vs Show Cocker guide, check out:
Learn more by watching "English vs American Cocker Spaniel – Which is the Best for You? 🇬🇧 vs 🇺🇲" down below:
Garrett loves animals and is a huge advocate for all Doodle dog breeds. He owns his own Goldendoodle named Kona. In addition, he volunteers at the Humane Society of Silicon Valley, where he fosters dogs and helps animals. Garrett enjoys writing about Doodles and believes that dogs can teach humans more about how to live than humans can teach a dog.
Why Trust We Love Doodles?
At We Love Doodles, we're a team of writers, veterinarians, and puppy trainers that love dogs. Our team of qualified experts researches and provides reliable information on a wide range of dog topics. Our reviews are based on customer feedback, hands-on testing, and in-depth analysis. We are fully transparent and honest to our community of dog owners and future owners.