Caring for young puppies is an unforgettable experience with so many joyful moments. It is also a hectic time since there are so many factors to take into account. What kind of excrement, for instance, is healthy in a newborn puppy? For instance, if your newborn puppy's poop is green, it should be seen as suspicious and something to investigate further.
There are several causes of green feces, including milk allergy, overeating, and viral and parasite intoxications. If you have a newborn puppy who poops green, it is important to call a trustworthy veterinarian.
In this article, we'll go over the most typical explanations and talk about why their pooping problems pose a serious threat to their lives.
We'll also provide advice on what to do and when to contact your veterinarian.
Before you scroll down to a more in-depth answer to this guide, "Why Is My Newborn Puppy's Poop Green," check out: Why is My Puppy Dry Heaving? (2023) and Why is My Puppy Peeing So Much? (2023)
Why Does My Newborn Puppy Poop Green?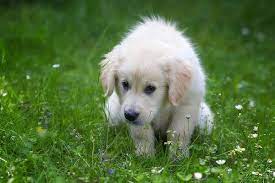 Puppies that are just born may defecate green for a variety of reasons. While some are minor and manageable, others are serious and require immediate veterinarian assistance.
Here is a brief summary of the most frequent causes of green feces in young puppies.
Allergies to Milk
While rare, it is possible for a puppy to have a mother's milk allergy. When milk formulas are provided as supplements, dogs are more likely to experience allergic reactions. Since milk allergies are an individual problem, not every littermate will experience them.
Overeating
Because the digestive tract becomes overwhelmed and is unable to handle all of the milk, spoiling processes occur, and a puppy who tends to overeat is prone to having green stools. Overeating may be the cause if only one puppy from the litter has green diarrhea.
Viral Infections
Due to their immature immune systems, puppies are more susceptible to several viral illnesses. Adenovirus, canine parvovirus, and canine distemper are among the top three viral diseases seen in young puppies. All three of them will be catastrophic if ignored.
Parasites
Puppies inherit parasites (intestinal worms) from their mom before birth. The puppy may display a variety of symptoms depending on the number of parasites, with diarrhea being the most typical. When puppies are young, severe parasite infections can be fatal.
Is Green Poop Normal for a Newborn Puppy?
No, a young puppy's poop is not normally green. Pooping green is not natural for any puppy, irrespective of age, to be even more clear. Let's first go through how newborn puppies normally defecate in order to better grasp the green feces problem.
Puppies are unable to defecate on their own in the early stages of life. They rely on their mom instead. In order to encourage urine and excrement, the mother dog will lick the puppies' genitalia. The stimulation routine is often carried out by the mother after each meal.
Given that young puppies only consume their mother's milk, typical puppy excrement should be yellow and odorless. You probably won't find excrement within the kennel unless there is a problem because the mother cleans up after the puppies.
With that said, anything deviating from this standard procedure is seen as a red flag. This includes any potential green feces. Whether the excrement is regular or more diarrhea-like in form, the green tint is abnormal and calls for a closer inspection.
What Should I Do if the Poop of My Newborn Puppy Is Green?
Call a reputable vet right away if your new dog is pooping green and needs assistance. If you can provide the veterinarian with more specific information, it would be helpful. However, don't wait around before calling, since things can quickly worsen.
Simply contact the veterinarian and describe everything you have observed. The more details you share, the simpler it will be for the veterinarian to identify the underlying issue. Even basic knowledge may be highly helpful.
For instance, if only one puppy from the litter has green feces, the cause may be overeating or a mother's milk allergy. But on the other end, if every puppy is experiencing green diarrhea, you probably have a more widespread problem, such as a bacterial or viral illness or possibly a parasite infestation.
How Risky Is Green Poop in Puppies?
In young puppies, green feces can be a serious and even fatal problem. The reason for this is that consistency changes frequently occur along with feces discolorations. In other words, a dog who has green excrement is probably suffering from diarrhea.
Since newborn puppies are young and vulnerable to dehydration, diarrhea is a serious issue. Green diarrhea may also be an indication of fading puppy syndrome, which is another problem.
Let's examine these two threats in more detail.
Dehydration
Newborn puppies are more susceptible to the developing dehydration issue, which can quickly get worse and potentially be fatal. Dehydration is considered a medical emergency, and as a responsible dog parent, you must be aware of the symptoms in young puppies.
These are dehydration symptoms:
Reduced skin elasticity
Rapid breathing or panting
Weakness and sluggishness
Having a dry tongue and thick, sticky saliva
Diminished appetite
Harsh and dry nose
Recessed eyes
You must also be familiar with the skin elasticity test.
The test is straightforward and easy to administer, and it will provide insightful data. Simply squeeze the dog's skin to see how long it takes for it to return to its natural position. The puppy is more hydrated the quicker it returns. Dehydration, on the other hand, is indicated by a delayed return.
Fading Puppy Syndrome
The phrase "fading puppy syndrome" refers to puppies who appear normal at birth but steadily deteriorate and pass away during the first two weeks of life. Up to 30% of dogs die before being weaned normally, such as stillborn puppies, with over 50% of these deaths happening during the first week of life.
Puppies are extremely susceptible to disease and environmental factors within the first two weeks of life because they are unable to control their body temperature on their own.
Young puppies are also less able to control their water and energy balances. They have a compromised immune system, which leaves them with little defense against illnesses. Because of this, puppies are more likely to pass away from a number of causes.
It is unclear what exactly causes the condition. There are a number of reasons that are thought to be involved, such as low birth weight, environmental problems, underdeveloped body systems, and insufficient milk supply.
Here are fading puppy syndrome warning signs and symptoms:
Low birth weight
being unable to gain weight
Crying incessantly
Pain in the abdomen
Increased salivation
Throwing up
Additionally, a puppy with this syndrome is more likely to be left alone or isolated from the other puppies by the mother. It can be possible to provide the puppy with the care it needs to live, depending on the underlying cause.
The caretaker would need to bottle-feed the puppy, maintain its warmth at all times, and encourage it to urinate and defecate. This is a fairly difficult task. Essentially, the owner must assume all of the mother's duties.
Frequently Asked Questions
What color should my newborn puppy's poop be?
The poop should be light brown, not green or red.
What does parvo look like in a puppy?
Canine parvovirus can present itself with lethargy, diarrhea, vomiting, a lack of appetite, and a fever.
Can puppies survive parvo?
Dogs who survive the first three to four days can make a full recovery. With proper care from a veterinarian, the survival rate can be as high as 90%.
Conclusion for "Why Is My Newborn Puppy's Poop Green"
All things considered, green feces coming from a newborn dog is a potentially fatal condition.
Puppies that have just been born are delicate beings with weak immune systems. They're vulnerable to several illnesses. Therefore, it is important to remain alert to even the slightest adjustments in their routines and behaviors.
You must call the veterinarian and set up an appointment if your newborn puppy poops green.
If you find this guide, "Why Is My Newborn Puppy's Poop Green," helpful, check out these other puppy topics:
You can learn how to fix a puppy's poop by watching "Fix puppy yellow, green and bloody poop & diarrhea 💩" down below:
Garrett loves animals and is a huge advocate for all Doodle dog breeds. He owns his own Goldendoodle named Kona. In addition, he volunteers at the Humane Society of Silicon Valley, where he fosters dogs and helps animals. Garrett enjoys writing about Doodles and believes that dogs can teach humans more about how to live than humans can teach a dog.
Why Trust We Love Doodles?
At We Love Doodles, we're a team of writers, veterinarians, and puppy trainers that love dogs. Our team of qualified experts researches and provides reliable information on a wide range of dog topics. Our reviews are based on customer feedback, hands-on testing, and in-depth analysis. We are fully transparent and honest to our community of dog owners and future owners.