Breeders with Vizsla puppies in Nebraska can be overwhelming to look for, which is why we created a list to help you. The Vizsla is a medium-sized breed that originated as a Hungarian hunting dog and is now found worldwide.
Vizslas are extremely energetic dogs, making them difficult to manage indoors. They are friendly, loyal, and active dogs that crave attention. This breed has no health issues other than a tendency toward seizures, and they make excellent hunting dogs, both due to their natural hunting instincts and alertness.
Before you scroll down this list of breeders with Vizsla puppies in Nebraska for sale, you can check out these other recommendations from our team at We Love Doodles: Golden Retriever Puppies in Nebraska and German Shepherd Puppies in Nebraska.
Vizsla Breeders in Nebraska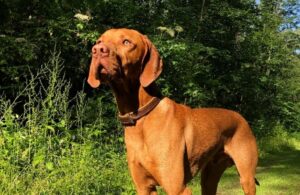 If you are looking for a Vizsla breeder in Nebraska, you have come to the right place. This article will look at the top Vizsla breeders in Nebraska that you can reach out to. We have also included breeders from the neighboring states that allow adoptions out-of-state and ship puppies to Nebraska.
Vizsla Product Recommendations: Best All-Natural Shampoos For Dogs and Best Medicated Dog Shampoos.
1. Stodola Vizslas Nebraska
Stodola Vizslas are reputable breeders of beautiful Vizsla puppies, a breed that originates from Hungary. Their puppies are AKC-certified and guaranteed to be purebred. The breeders have a wealth of excellent experience, as evidenced by their great references.
The breeders do not inbreed their dogs. They are quite proud of their reputation and enjoy enriching the lives of people all over America with their puppies. Their Vizsla puppies are family-raised from the time they are born until they arrive at your door.
They are not kept in a kennel 24 hours a day, seven days a week. They are treated like members of the breeders' family, and the breeders are always sad when the puppies have to go. Daily, the puppies receive a lot of attention.
The breeders massage their feet to make them used to have their nails clipped, and they regularly put them on the back. This teaches the puppies to trust human hands. When shipping day is approaching, they put the puppies in a crate at night to adjust them for the trip home. This is also to get them separated from their dam during travel.
Stodola Vizslas Nebraska Details
2. Big Red Vizslas Nebraska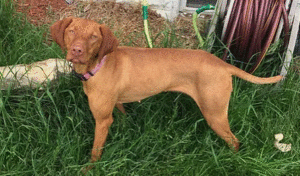 Big Red Vizslas is a family breeding business. The family has bred and trained Vizslas for over 20 years. Their goal is to breed high-quality dogs that are both enjoyable to hunt with and enjoyable to own. The family believes in only high-quality breeding dogs and conducting health tests to avoid passing on genetic defects.
Their dogs are showered with affection and attention. The dogs run and play on their 5 acres and in their home every day. The breeders dock their puppies' tails and remove their dew claws. They also ensure that each Vizsla puppy has their first round of vaccines, ensuring that they are up to date on shots when you acquire them.
All Vizsla puppies are given their favorite blanket (which smells like mom), a goodie bag of treats, toys, dog food, and a welcome package with all the information and paperwork you will need for the puppies. Big Red Vizslas does not ship any puppies. You will need to pick up your Vizsla in person at their location or request to meet up at a nearby airport.
Big Red Vizslas Nebraska Details
3. K & L Vizslas Nebraska
K & L Vizsla is owned and run by Kent and Lisa Andersen. The couple has been breeding, raising, and training Vizslas for over two decades. The duo focuses on breeding exceptional hunting dogs that are also great family companions in an ethical manner.
The two breeders concentrate on producing Vizslas with the drive to maintain an active lifestyle, wonderful temperaments, and the ability to adjust easily to a calm family environment. Kent and Lisa consider all their dogs as family members.
They handle the puppies from birth and start training them at four weeks. They socialize the puppies with different settings, environments, noises, humans, and other animals to develop a friendly and confident Vizsla.
Although the couple does not have a strong digital presence, they are open and available to answer all your questions and guide you in finding your forever Vizsla.
K & L Vizslas Nebraska Details
4. Rebel Run Vizslas Nebraska
Rebel Run Vizslas is owned and operated by Emily Hubl. Emily established the kennel as part of her FFA Supervised Agricultural experience, and she hasn't looked back since.
She grew to love breeding, raising, and training her dogs so much that she has dedicated her life to ensuring that each Vizsla is a premium companion choice for homes across the country. All of her vizslas are AKC-registered and raised in her family home.
Emily says she treats all her dogs as family members, preparing them for a happy forever home. Since starting her business, Emily has bred and placed over 100 Vizslas in wonderful homes across the country. The dogs have proved themselves to be excellent companions and hunters.
All Vizsla puppies from Emily have their dew claws removed, tails docked, current on all shots and vaccinations, and come with AKC registration papers. Emily requires that all families seeking to purchase her Vizslas have ample playing areas, among other things.
Rebel Run Vizslas Nebraska Details
5. Jazzberry Vizslas Missouri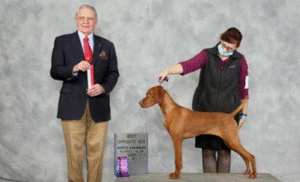 Jazzberry Vizslas is a Missouri-based breeder passionate about the health and wellbeing of the Vizsla. The founder, Deborah Baker, built her program with care and intention in each step to achieve one goal.
Her goal is to provide each Vizsla from her program with a solid foundation of good health, neurological development, and loving care. All of her Vizslas are subjected to extensive health testing to ensure this.
She also starts training the Vizslas at four weeks old to ensure a smooth transition into your home. Her current Vizslas and past puppies have become champions, accomplished in Conformation, Hunt tests, Obedience, and Agility.
Jazzberry Vizslas Missouri Details
6. Meghan Tallman Vizslas Missouri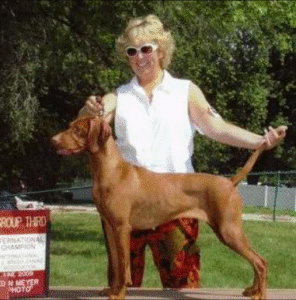 Meghan Tallman is the founder of the Missouri-based kennel. Meghan credits her parents for her drive and passion for breeding Vizslas. Meghan's parents were the original importers of the Hungarian Vizsla to the US in the 50s.
This set her up as the 2nd generation in the breed for over 63 years. Meghan is setting her niece to continue this breeding program as the 3rd generation. One thing that has remained constant throughout the three generations is the personal care and touch each Tallman gives to their Vizsla puppies.
Meghan hand-raises all her Vizslas and has high expectations that each puppy will be a wonderful family companion for a family in America. This is why she focuses on four core things when breeding; health, temperament, pedigree, and overall excellence of the breed.
Meghan is CHIC certified and a certified Puppy Culture Breeder. She is also a member of the Gateway Vizsla Club and Vizsla Club of America. She offers a Lifetime health guarantee that covers any genetic and hereditary defects, which is rare to find for many breeders.
Meghan Tallman Vizslas Missouri Details
7. Red Dog Vizsla Ranch Idaho
Yvonne Smith is the founder of Idaho-based Red Dog Vizsla Ranch. She credits her passion for breeding Vizslas to her parents, who bred dogs on their family ranch all her childhood. When her husband, a Vizsla breeder, suggested they breed Vizslas, Yvonne was on board immediately.
She purchased her first female to breed with his male, but the old rooster was too old by the time she was old enough to be bred. So Yvonne used another breeder's male to get her first litter. Yvonne was hooked and never looked back.
Yvonne's passion for Vizslas is felt in every point of her business. Each puppy is raised with care, and she is only sold to responsible homes. The AKC preservation breeder seeks to preserve the unique characteristics of the Vizslas while considering a variety of traits, including health, conformation, and temperament.
She emphasizes the proper socialization and training of her puppies and strives to promote responsible dog ownership. Whether you need a Vizsla for hunting, service, or as a family dog, Yvonne is the right person to talk to.
Red Dog Vizsla Ranch Idaho Details
Conclusion For "Vizsla Puppies For Sale in Nebraska"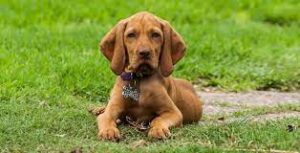 If you are looking for an active, energetic, and fearless dog, look no further than the Vizsla. The Vizsla is a powerhouse and makes a great hunting and family companion. This is why many serious hunters and active families are looking for this agile breed.
For more guides similar to this list of breeders with Vizsla puppies in Nebraska for sale, you can check out:
If you enjoyed this guide on this list of breeders with Vizsla puppies in Nebraska for sale, you might want to take a look at the "Vizsla What To Know" video down below:
Garrett loves animals and is a huge advocate for all Doodle dog breeds. He owns his own Goldendoodle named Kona. In addition, he volunteers at the Humane Society of Silicon Valley, where he fosters dogs and helps animals. Garrett enjoys writing about Doodles and believes that dogs can teach humans more about how to live than humans can teach a dog.
Why Trust We Love Doodles?
At We Love Doodles, we're a team of writers, veterinarians, and puppy trainers that love dogs. Our team of qualified experts researches and provides reliable information on a wide range of dog topics. Our reviews are based on customer feedback, hands-on testing, and in-depth analysis. We are fully transparent and honest to our community of dog owners and future owners.