Are you searching for pet stores in Houston? Our pets are more than just animals that we take care of. They are our best friends, family, and kids, so we naturally want to use only the best pet supplies to ensure they live long and healthy lives.
Finding a pet store with your pet's best interest at heart can be challenging because the pet supply market is over-saturated. Look no further. We have provided you with the best pet stores in Houston that your pet will love.
Before you scroll down this list of pet stores in Houston, you can check out these other pet-related recommendations from our team at We Love Doodles: Poodle Rescues For Adoption in Houston and Best Dog Rescues in Houston.
Find a Pet Store Near Me in Houston
Here's a list of pet stores in Houston compiled by our team at We Love Doodles. We hope you can find a pet shop in Houston to buy stuff for your companion.
Pet Product Recommendations: Best Onesies For Dogs and Best Soft Dry Dog Foods.
1. Pet Wants Heights
Stephen Minton created Pet Wants Heights after he was diagnosed with an autoimmune condition. He saw what natural living did for him and did the same for his two Frenchies—Stephen then opened a pet supply store to offer the same to other pet owners.
You can purchase their dry dog food by the pound, pick up a bag of your pet's favorite treats, or purchase chews a la carte. They offer dog versions of popcorn, ice cream, and beer. For that fun treat, your dog won't soon forget.
Pet Wants Heights Details
2. Natural Pawz Montrose
Natural Pawz offers the top cat and dog food, treats, toys, and supply brands. You can buy supplies using in-store purchases, online with store pickup, online with delivery, and curbside pickup.
Their wellness pass loyalty program is your most generous loyalty program from any pet store company. If you've found the pet supplies your pet likes, then you can set up their convenient auto-ship, so you never have to worry about running out of a supply again.
Natural Pawz Montrose Details
3. Loyl's Natural Pet Grocery & Groomery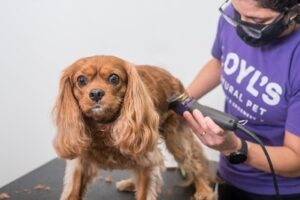 Loyl's is all about spoiling your pets but doing so healthily. They only buy food made in the USA or Canada and make sure they get made with only the best organic human-grade ingredients possible.
You will only find the best food here regardless of your pet's age, breed, or condition. They also offer online ordering with curbside delivery when you need supplies in a pinch. Loyl's also offers non-food supplies like toys, harnesses, and supplements.
Loyl's Natural Pet Grocery & Groomery Details
4. Kriser's Natural Pet – West University
Kriser's Natural Pet is your one-stop shop for everything pet related. They offer pet supplies that can be picked up in-store or delivered locally. They sell all top brands for dogs and cats so that you won't have issues finding your pet's favorite food.
Kriser also offers grooming, training, daycare, and mobile vet services. Through their Wellness Pass, they offer a generous loyalty program on all their food, toys, supplies, grooming, training, and daycare services.
Kriser's Natural Pet – West University Details
5. Nourish Pet Care & Cat Boarding – Memorial
The owner of Nourish Pet Care started a pet supply store because of their experience with their dog Jag. Through holistic food and supplements, they managed to add seven years of life previously impossible with traditional treatment.
With their 23 years of veterinary medicine training, the owner wanted to pass this possibility to other pet owners by selling the best cat and dog supplies. Nourish Pet Care offers local in-store, delivery, and curbside pickup from their Memorial location.
Nourish Pet Care & Cat Boarding – Memorial Details
6. The Pet Shop
Angella Prinz purchased The Pet Shop in 2005, making it one of Houston's most trusted pet stores. She aims to provide your pets with unique products and the healthiest food. The Pet Shop offers all the top pet supply brands and will special order a product for you. They offer consultation services to find your pet the best possible food. While they don't sell anything online, you can browse the pictures of the pets their employees have owned over the years. Super adorable.
The Pet Shop Details
7. Carter's Pet Market
Carter's Pet Market offers a wide variety of food, toys, treats, and accessories for your pets. They have a staff picks section on their website, which are the best of the best items your pet could have. Carter's has a fantastic refer-a-friend service that could get you free food and discounts off their services, so make sure you refer all of your friends and family members. They offer same-day curbside pickup and free local delivery so you can get your pet supplies. Whatever is the most convenient for you.
Carter's Pet Market Details
8. Rocky & Maggie's Pet Boutique And Salon
Rocky & Maggie's Pet Boutique offers pet supplies for dogs, cats, and fish. They are your one-stop shop offering all the food, toys, accessories, health products, and waste management you will ever need under one convenient roof. Their staff is known as some of the most knowledgeable and helpful staff of any pet store in Houston. They also offer grooming and pet sitting services to pamper your pet truly. Rocky & Maggie's offers free shipping to the lower 48 states.
Rocky & Maggie's Pet Boutique And Salon Details
9. Pet Supermarket
Pet Supermarket lives up to its name by offering many supplies and services for dogs, cats, fish, birds, reptiles, and other small pets. They have the top food, treats, and accessories brands for your pet's needs.
It's never been easier to buy your pet supplies as they offer convenient in-store shopping or delivery straight to your door. Pet Supermarket has an informative resource center on its website that links to articles on the various aspects of pet ownership so you can be the best pet owner possible.
Pet Supermarket Details
10. Purrs N Barks Pet Market & Barkery
Adorable pet puns aren't the only thing this pet store offers. Purrs N Barks Pet Market & Bakery's commitment to you is offering only the best local and independent pet food and supplies. Since all the products they offer are local, you know you can trust their ingredients and be happy you're supporting a local business.
Purrs N Barks offer the best dog and cat food, treats, accessories, and supplies in Houston. They even bake their treats locally, so you can feel good about giving your pet their favorite snacks.
Geovanni's Pet Shop Details
11. Pet Supplies Plus Jersey Village
Pet Supplies Plus Jersey Village's goal is to become your favorite neighborhood pet store. They offer only the best pet supplies for your furry, feathery, and scaly friends. Looking for that all-in-one location, then this is your place. They offer grooming, self-serve wash, vet services, and live food sources. Purchase at their in-store location, using a curbside pickup or auto shipment.
Pet Supplies Plus Jersey Village Details
12. Big Tex Feed, Pet Supply, Dog Grooming Houston TX
Big Tex Feed, Pet Supply, Dog Grooming is a family-owned business supplying Houton's domesticated pets and livestock for three generations. They offer pet supplies from local vendors in their pop-up shop and hope to bring the lovely Houston community together through our pets. Big Tex also offers dog training, a pet hotel and sitting, grooming, and a pop-up clinic. It's easy to see that Big Tex will continue serving Houston for generations.
Big Tex Feed, Pet Supply, Dog Grooming Houston TX Details
Conclusion For The "Best Pet Stores in Houston"
The supplies we use for our pets are just as essential as what we use for ourselves. You must buy only the best supplies from pet stores that know what they are doing. A pet store business should come from a place of love for all things pets. We have taken your guesswork by providing Houston's twelve best pet stores that keep your pets happy and healthy for years to come.
For more guides similar to this list of pet stores in Houston, you can check out these other pet-related recommendations from our team:
Before you shop at a pet store in Houston, you can learn and see what it's like by watching "Exploring PetSmart – Animal Friends Everywhere" down below: