Are you searching for Golden Retriever breeders in the UK? If you live in the United Kingdom and are looking for a loyal, reliable friend, a Golden Retriever puppy is a good option!
The dogs are highly trainable, friendly, and intelligent. Not only do they make excellent family dogs, but they also make highly capable working dogs. So if you're looking for a dog that's both loyal and loving, Golden Retrievers are exactly what you need.
If you live in the United Kingdom and would like to buy a Golden Retriever, you must purchase your Golden Retriever from a reputable breeder. In doing so, you will not only ensure that your puppy is well taken care of, but it will also mean that you're bringing home a puppy that's both happy and healthy.
Before scrolling down this list of Golden Retriever breeders in the UK, check out these other breeder recommendations: Best Cockapoo Breeders in the United Kingdom and Best Labrador Breeders in the United Kingdom.
Golden Retriever Puppies For Sale in the United Kingdom
With a reputable breeder, it's also likely that you'll get some tips and, in some instances, even a puppy pack with everything you need to get started.
Make sure that you avoid puppy mills when looking for a Golden Retriever puppy as they tend to produce unhealthy dogs with undesirable temperaments. Check out the breeders on our list to get you started on your way to finding a reliable Golden Retriever breeder.
Golden Retriever Product Recommendations: Best All-Natural Shampoos For Dogs and Best Dog Crate Alternatives.
1. Bonsaviour Retrievers
Bonsaviour Retrievers takes pride in being the home of pedigree Golden Retrievers. Not only is each dog a part of the breeder's family, but they are also cared for in the best possible way. Puppies are socialized with children that reside in the home and grow up in a loving and caring environment.
Bonsaviour Retrievers are based in the small beautiful countryside of Whinston, and all puppies are bred from parents that have long-established proven bloodlines. Bonsaviour Retrievers only have about three to four litters per year and are fed a natural diet of raw meat and vegetables and added vitamins.
As puppies are planned carefully and are born and raised in the house, reserving a puppy from planned litters is recommended. Deposits (£300) are required if you're looking to reserve a puppy and each Golden Retriever puppy currently costs £3000.
Bonsaviour Retrievers Details
2. Fallowfen Training Kennels
Fallowfen Training Kennels specializes in breeding Nova Scotia Duck Tolling Retrievers, Labrador Retrievers, and Golden Retrievers. They also offer Gundog Training Courses to Pet Obedience and even Pet Obedience Training.
They have information on all of their stud dogs and Kennel Club Accredited Breeders. All puppies are well socialized and undergo full health screening before heading to their new homes.
The puppies are microchipped, wormed, and come with a puppy pack, and your purchase comes with six weeks of free insurance. If you're new to welcoming a puppy to your home, you'll also be happy to know that the puppies also come with lifetime 24/7 aftercare help and service in case you run into any issues.
Fallowfen Training Kennels Details
3. Harmony Golden Retriever
Harmony Golden Retriever prides themselves on responsibly-bred Golden Retrievers. Not only do all puppies undergo proper socialization before heading off to their new families, but you'll also get an extensive health guarantee along with puppy transportation if required.
All puppies purchased from Harmony Golden Retriever come with ISO Microchip, health guarantee, play toys and treats, and so much more. You'll also get a 30 day, 100 percent money-back guarantee.
Harmony Golden Retrievers lists the available Golden Retriever puppies on their website, and they've also got testimonials from happy owners. If you'd like to learn more about how they raise their puppies, they've got a section on their website that details everything they do for their puppies from week one to week eight when dogs go home with their new families.
Harmony Golden Retriever Details
4. Haydengold Golden Retrievers
While relatively small breeders, Haydengold Golden Retrievers have access to some of the best lines from the United Kingdom and Australia. They breed only occasionally and aim to breed Golden Retrievers that are true to type.
All dogs are tested for hereditary diseases before being bred, and they do have information on both their male and female dogs on the website.
If you are interested in one of their Golden Retrievers, you need to express interest early. They've also got information pertaining to their show results on the website, and there are photo albums and puppy albums for you to look at.
Haydengold Golden Retrievers Details
Location: Leicestershire, United Kingdom
Website: Haydengold Golden Retrievers
Phone Number: 01530 830604
Email: haydengoldggg@gmail.com
5. Gaytonwood
Gaytonwood is a small kennel consisting mainly of Golden Retrievers and the team at this kennel has always aimed to breed capable dogs. All of the dogs are tested for hereditary hip, elbow, and eye conditions, and they do occasionally breed puppies from time to time. They have information about their male and female dogs and puppies on their website.
While Gaytonwood has temporarily placed their training on hold, they typically have training classes for all dogs, from puppy obedience classes to basic obedience classes and more. They also stock food and health supplements to ensure that your puppy is getting the nutrition it needs.
Gaytonwood Details
6. Catcombe
The next breeders on our list, Catcombe, are kennel club assured professionals who aim to breed Golden Retrievers that are both healthy and social. Situated in Wiltshire, England, about nine Golden Retriever dogs currently reside in the cottage.
Each dog hse the freedom to roam around the property, and all dogs have their eyes, hips, and elbows screened. Dogs are also DNA tested, and the website showcases their two main breeding lines: the working strain and the show strain.
It's important to have a good idea of which strain you would prefer. If you have questions about the difference, just ask the breeder! While Catcombe doesn't breed puppies often, when they do, you can be assured that they're of the absolute highest quality.
Catcombe Details
7. Little Close Kennels
Little Close Kennels breeds Golden Retrievers and Chocolate Labradors and Nova Scotia duck tolling retrievers. They are not only a council-licensed, family-run breeder, but their dogs are also a part of their family.
While there isn't a significant amount of information on their website, they do give a good overview of the Golden Retriever breed. With wonderfully calm natures, Golden Retrievers are an excellent choice for families.
They are easy to train, eager to please, and are very social by nature. Little Close Kennels also has a newsletter that you can sign up for if you're looking to gather more information. Stay tuned to the Little Close Kennels website for information about upcoming and available Golden puppies.
Little Close Kennels Details
8. Lovissa Golden Retrievers
Last on the list of Golden Retriever breeders in the UK is Lovissa Golden Retrievers. Lovissa Golden Retrievers are small breeders that are situated in West Midland. All of their dogs live in the house with the breeders and their children.
While they do breed relatively infrequently, when they do, you can be assured that the puppies undertake extensive health screening and are bred from only healthy dogs. On their website, they've got information on both their male and female dogs as well as their upcoming litters and available puppies.
Lovissa also has published a news area which showcases the various competitions and shows that their Golden Retrievers attend. Take a look at the photos, and check out the guestbook if you'd like to leave any comments.
Lovissa Golden Retrievers Details
Conclusion For The "Best Golden Retriever Breeders in the UK"
As you've now seen, there are quite a few reputable Golden Retriever breeders in the UK. When selecting your breeder, you want to make sure that you have the option to view – or meet – both parents if possible.
It's also a good idea to have an understanding of the type of home environment that your Golden Retriever puppy has grown up in. They should have high-quality dog food, supplies, and equipment in their home.
Always make sure that your Golden Retriever puppy comes with the necessary paperwork and health checkups. Breeders should have also properly vetted you and should be interested in the home environment and lifestyle that you lead.
Responsible breeders work very closely with their dogs and will thus have an excellent understanding of the personality and temperament of each of their dogs.
Most reputable puppy breeders will also allow you to contact them after you've brought your puppy back to your home. They'll want to make sure that your puppy is getting the love and attention it needs, and they should be happy to help answer any questions or concerns you may have.
With puppies becoming increasingly popular, it's important to avoid puppy mills – places that breed puppies quickly but not in the best conditions – and select a responsible breeder. This will ensure that you've not only got a healthy and happy puppy but also have one that has grown up in a loving home.
For more guides similar to this list of Golden Retriever breeders in the UK, you can check out:
Before you purchase a Golden Retriever puppy from a breeder in the United Kingdom, you can learn more about the breed by watching "Golden Retriever Dog Breed Guide" down below: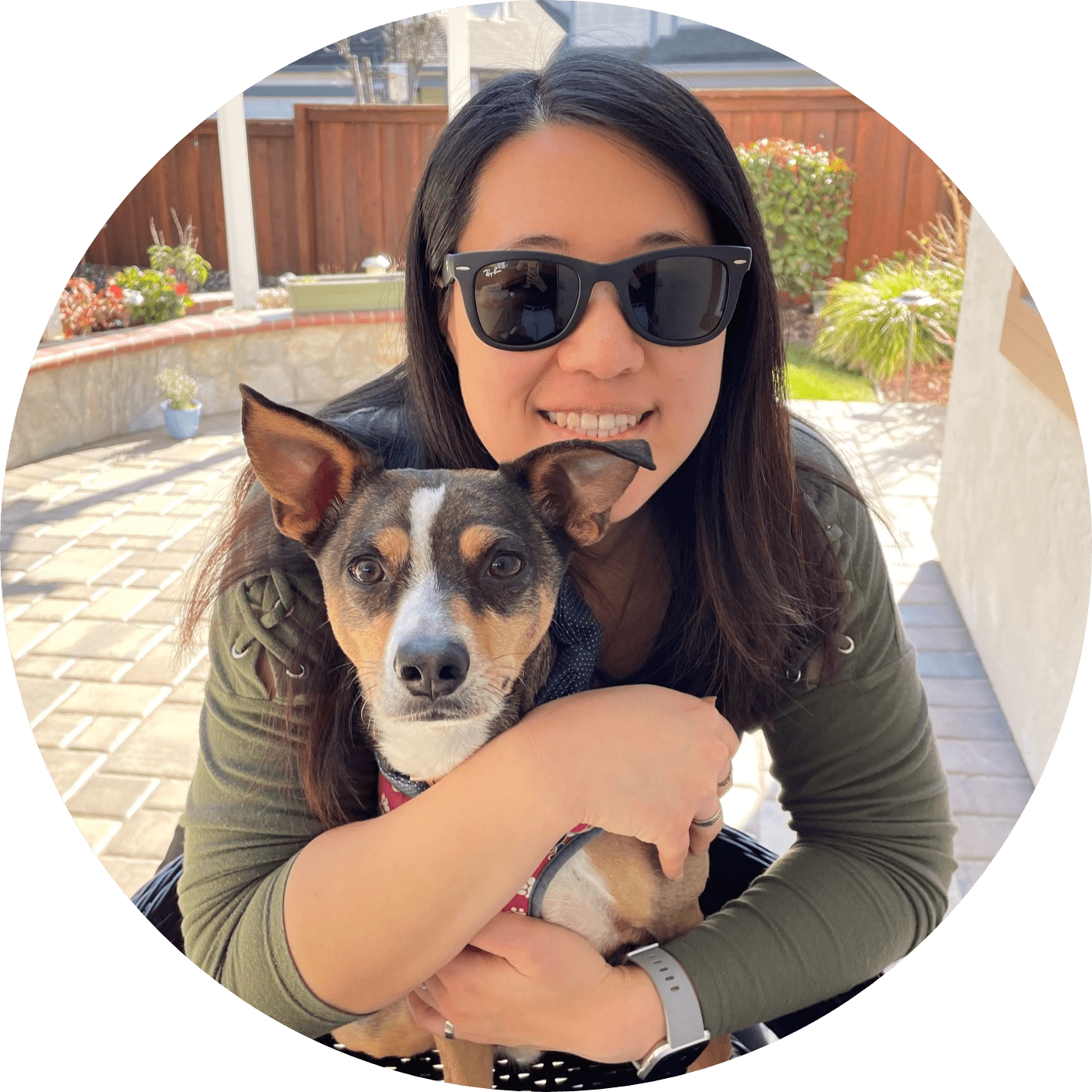 Dr. Sabrina Kong graduated from the Royal Veterinary College in England in 2016 and has been working at a small animal clinic in Northern California since then. She grew up in the Bay Area and got her bachelor's degree from Cal Poly San Luis Obispo. She also became a Certified Canine Rehabilitation Practitioner through a program at the University of Tennessee.
When she isn't in the clinic taking care of her four-legged patients, she enjoys traveling and trying new foods with her friends and her three-legged dog, Apollo. She adopted Apollo from her clinic when he was a puppy with numerous health issues. Dr. Kong truly cares about taking care of animals.