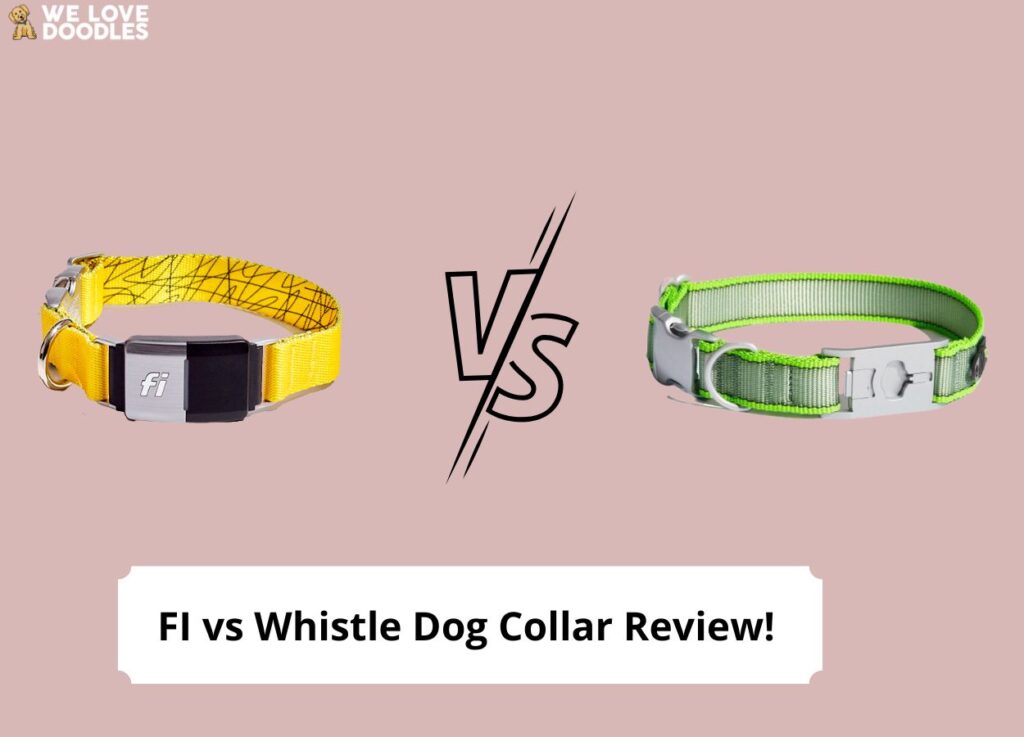 Our team at We Love Doodles loves our dogs. Losing one of our furry friends would be like losing a family member! That's why we would do anything to protect them from getting lost and keep track of their health, including buying a great smart collar. In this FI vs. Whistle Dog Collar Review, we'll break down two of the hottest smart collars on the market today.
Before you scroll down this review, "FI vs Whistle Dog Collar Review," you can check out these other reviews from our team at We Love Doodles: The 6 Best Dog GPS Trackers! and PupBox vs. BarkBox.
Whistle Collar
Whistle tracking devices are collar attachments that track your dog over WiFi and AT&T's cellular network.
When your pet is within reach of your home WiFi network, the collar will connect to conserve battery life. If there is no WiFi network available, the collar will use cellular coverage.
The tracker in the Whistle collar connects with an app that allows you to see your dog's location at any time.
Types of Whistle Collars
Whistle makes three different types of smart collars. The first and cheapest collar only tracks the health of your dog. The mid-tier device tracks both health and location. The last and most expensive collar does the same as the mid-level collar, but it includes two interchangeable batteries and an extra collar.
Whistle Health
The lowest tier of tracking devices that Whistle offers tracks your dog's health. The Whistle Health attachment works on dogs of all sizes. It tracks several health behaviors, such as:
Scratching
Licking
Drinking habits
Eating habits
Sleeping
Fitness and activity
The device connects to an app where you can view each behavior and communicate live with a vet. The Whistle Health addition includes a strap to attach the device to your dog's collar, a charging cable, and a quick-start guide.
The Whistle Health device costs $34.95 plus a Whistle plan. You can pay $9.95 for a monthly plan, $60 for a yearly plan, or $108 for a two-year plan.
Whistle Health & GPS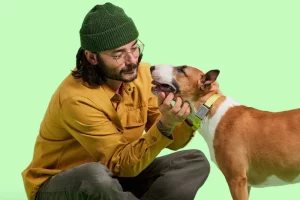 The Whistle Health & GPS is also known as Whistle GO Explore. This mid-level device tracks all the health information that Whistle Health tracks, plus your dog's location. It works for dogs that weigh at least 25 lbs. Whistle Health & GPS includes the same benefits as Whistle Health, plus these extra features:
Fitness monitoring
Location alerts
Daily updates
This device also connects to an app that allows you to see live data. The Health & GPS package includes a device to attach to your dog's collar, a USB charging cable, and a quick-start guide.
The Whistle Health & GPS device costs $129.95, and you must purchase a Whistle Plan to use it. A monthly subscription costs $12.99. The yearly plan costs $99, and the two-year plan costs $192.
Whistle Health & GPS +
The Whistle Health & GPS + collar – also called the "Whistle 3" – is the most expensive and deluxe tracker that Whistle offers. The device tracks the same information that the Whistle Health & GPS tracks, but it comes with two interchangeable batteries, a collar with the mount built into it, the standard charger, and a start guide.
Having interchangeable batteries is a great deal in itself. You can keep one battery on the dog's collar while the other charges, then simply switch them when one gets low.
Another advantage is that the Whistle 3 comes with a collar that has a built-in mount, making it sturdier than an average collar. The collar attachments that come with the Whistle Health & GPS + are still detachable.
The Health & GPS + is the most expensive smart collar from Whistle, costing $179.95. Users can choose from the same plan and price options available to those who purchase the Whistle Health & GPS.
How Do Whistle Collars Work?
Upon receiving your Whistle tracking device, unpackage it and download the Whistle Pet Tracker app. You will need to create an account and set up the device before you go any further.
After you have connected your phone to the tracker, the app will help you connect the device to your home WiFi and designate safe places for your pet.
Once you receive the notification that your tracker is fully activated, it is time to attach the device to your dog's collar. Depending on which model you get, you will attach it via a Velcro strap or with a snap-on mount. After you attach it, you are good to go! You just need to be aware of the device's battery life, which you can view in the app.
The app uses WiFi and cellular coverage from AT&T to check that your pet is always in its designated safe places. Your Whistle Plan subscription pays for this service, so you do not need to be a customer of AT&T to use this product. If your dog leaves a safe place, you will receive a notification. If your dog strays from your home WiFi network, the device will switch to cellular mode and update you on your pet's location every 15 seconds.
Pros of the Whistle Collar

Variety of price options
Monitors health habits
Monitors activity
Option to switch out the battery to charge (with Whistle 3)
Connects to WiFi to save battery
Set safe places
Waterproof
Free returns
Cons of the Whistle Collar
Awkward fit for small dogs
Short battery life on cellular coverage
Subscription plan
AT&T coverage may be limited
Only two collar color options
Our Take on Whistle
Whistle seems like a great brand to protect your furry family members from getting lost or experiencing unseen health issues. We love that it has a range of price options and a variety of services. It also requires a subscription, but that is necessary to track your dog's location using cellular coverage.
Our worries stem from the short battery life. If your loved pet gets lost, you may only have a short time to find it. Another concern pet owners have is how the collar fits small dogs. The tracker does not mold to the shape of the dog's neck, so it could be uncomfortable for your pet if it weighs less than 25 lbs.
Fi Smart Collar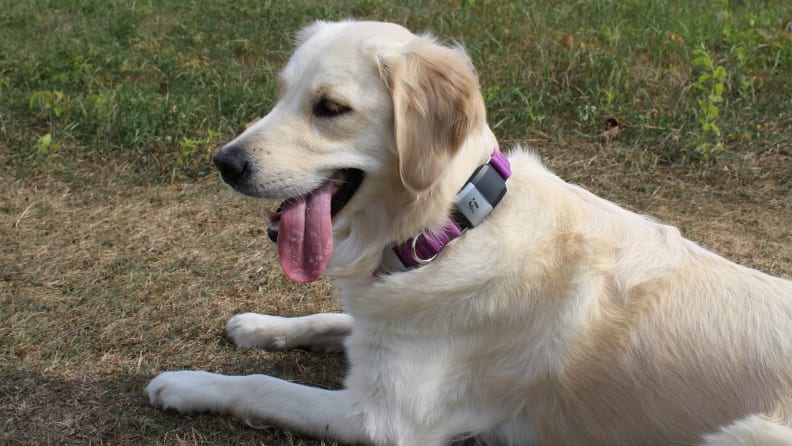 The Fi Smart Dog Collar works very similarly to the Whistle collar. Fi uses AT&T coverage as well, but instead of the typical 3G/4G/5G/LTE coverage, it uses an LTE-M signal. This is a new technology that reaches far distances with little battery use.
The Fi Collar tracks location, activity, and sleep habits. The app also has a ranking page where your dog can compete with other Fi dogs. You can even add people that your dog is commonly around so they can check on your pet when you are away. Doing this also allows the app to identify who your dog is with.
Variety is abundant with Fi. Their collar is available in four different color options and four different sizes. It costs $150, plus the cellular subscription. Fi has three options for their subscription service: one year costs $99, two years is $186, and three years is $248.
How Does Fi Work?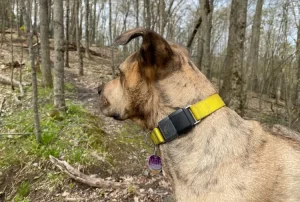 When you receive your Fi Collar, you will need to set it up in the app before doing anything else. Download the Fi – GPS Dog Tracker app. Then, follow the prompts on the screen, filling out your and your dog's information.
After you set up your app, you plug in your base. Situate the base near a place your pet spends a lot of time. You should also make sure it's close enough to connect to your home WiFi network. The app will connect to the base to the WiFi.
To charge your Fi Collar, remove it from your dog and dock it on the base. The collar takes about three hours to charge fully. During this time, you will not be able to track your dog's location.
Pros of Fi Collar

LED light for proximity locating
Monitors activity
Fi News on the app
Can view other Fi dogs on the app's Discovery page
Long-lasting battery life
Sleep tracking
Waterproof
Safe zones
Four collar color choices
Comes in a variety of sizes
Cons of Fi Collar
Does not monitor health habits
May be too large for small dogs
No price variety
Only one product
No option to switch out batteries
Our Take on Fi
Fi is an excellent brand. They have a nice website with personal stories of dog owners who have had positive experiences with Fi Collars. The app even provides a space where Fi dog owners can find community and talk about their dogs.
The branding of Fi is intriguing. The collars are sturdy and come in various color options. The tracking module is also attached to the collar. There is not much chance of it coming off without the whole collar coming off.
The most impressive aspect of the Fi Collar is its battery life. A single charge can last between three weeks and three months. In Lost Dog Mode, where the app constantly scans a dog's location, the battery will last up to two days.
Our only problem? We want more Fi! It's unfortunate that Fi only has one product at one price. A tiered option would be an excellent idea for this brand. That way, there is something for every customer at a price they can afford.
Fi vs Whistle
Fi and Whistle are both great options for you and your dogs. When comparing the Whistle vs. Fi Collar, it truly comes down to your priorities and preferences.
Cost
Whistle has a variety of products at different prices. They offer three devices, ranging from only tracking health habits for $35 to tracking everything with multiple batteries for $180.
On the other hand, Fi offers one option that costs $150. Whistle does have a slightly cheaper option at $130 for the Health & GPS tracker, but it has a lower battery capacity than the Fi.
Battery Capacity and Charging
Fi's battery capacity decisively beats any collar from Whistle, providing up to three months of use with one charge. If you are concerned about your dog being without a tracker for the three hours it takes to charge the Fi, you may want to opt for the Whistle 3. Its interchangeable batteries may be perfect for you since they give no room for your pet to escape without a tracker.
Health Tracking
Another thing to note when comparing the Fi Collar vs. Whistle GO Explore is that Whistle offers a health tracking option while Fi does not. Fi monitors activity, sleep, and location, while Whistle monitors activity, health (including sleep), and location. If you're more interested in monitoring your dog's health with a smart collar, the Whistle may be the better option for you.
Color and Size Options
Whistle has two collar color options, yellow and black. The Whistle collar does not come in different sizes. On the other hand, the Fi collar is available in four colors: yellow, gray, blue, and pink. You can also purchase it in four different sizes.
Tracking Technology
Both collars use AT&T's coverage cellular network, but Fi uses a newer technology that reaches farther while preserving battery life. Both collars are waterproof up to a certain depth for 30 minutes. In addition, both brands allow you to input "safe areas" into the app and will notify you if your pet has left that area.
Frequently Asked Questions
Is Fi smart dog collar legit?
The Fi collar is 100% legit. In fact, it's one of the best smart collars on the market right now.
Is the Fi smart collar a shock collar?
The Fi smart collar is NOT a shock collar. It will not deliver any shock or vibration to your dog should it leave a safe area. Instead, the Fi is meant to precisely track your dog's location and monitor its sleeping patterns.
Is Whistle dog collar worth it?
The Whistle collar is worth the price if you're looking for a smart collar that will provide in-depth insights into your dog's overall health. Opt for the more luxe option if you want to track health and location.
FI vs Whistle Dog Collar: Which is Best?
Our choice in the Fi vs. Whistle dog collar battle? It has to be the Fi Smart Collar.
When comparing the Fi Smart Dog Collar to the Whistle, we love Fi's color and size options, battery life, and tracking range. It is the best option for a sustainable and reliable collar – two critical characteristics to keeping your dogs safe!
If you find this review, "FI vs Whistle Dog Collar Review," informative, you can check out these other reviews from our team at We Love Doodles:
You can learn more about these dog collars by watching "GPS for Dogs comparison: Whistle, Fi, and Tractive" down below:
Garrett loves animals and is a huge advocate for all Doodle dog breeds. He owns his own Goldendoodle named Kona. In addition, he volunteers at the Humane Society of Silicon Valley, where he fosters dogs and helps animals. Garrett enjoys writing about Doodles and believes that dogs can teach humans more about how to live than humans can teach a dog.
Why Trust We Love Doodles?
At We Love Doodles, we're a team of writers, veterinarians, and puppy trainers that love dogs. Our team of qualified experts researches and provides reliable information on a wide range of dog topics. Our reviews are based on customer feedback, hands-on testing, and in-depth analysis. We are fully transparent and honest to our community of dog owners and future owners.