Looking for the right place to buy a dog in Japan? Search no more, as we've carefully analyzed and reviewed some of the best dog breeders in Japan. Finding a reputable dog breeder in Japan is not an easy task, as there are many factors you need to consider.
Whether it is your first time or you've gone through this process, it is essential to find a breeder who prioritizes the health and well-being of their dogs and puppies.
Sadly, some people buy dogs because they are in fashion or cute, only to find out later that their lifestyle does not allow them to keep the pet. To avoid this, we recommend you do proper research about the breeds available and find one that best suits your personality and family.
Before choosing any breeder, we recommend you have an in-depth discussion and ask important questions. A good breeder will allow you to visit their home or kennel to see the conditions where the parents live.
Good breeders also offer lifetime support and health guarantee on all their puppies. After thorough research and consultations, here are some dog breeders you can trust in Japan.
Before scrolling down this list of dog breeders in Japan, check out: 25 Japanese Dog Commands To Teach Your Dog! (2023) and Can Dogs Eat Mochi? (2023).
1. Shibainu Breeders
At the top of our list of dog breeders in Japan, we have Shibainu Breeders. This established breeder is dedicated to providing families with exceptional puppies. They specialize in breeding Shiba Inu puppies from health-tested parents.
They ship and deliver puppies across the country and overseas. The Shiba Inu is one of the oldest dog breeds in Japan; it has lived with the Japanese since ancient times.
Shibainu Breeders is a family business passed down for generations. The family works with a team of staff who are committed to the success of the breeding program and the development of the puppies.
The breeder lives with their puppies in a calm rural countryside in Anan, Tokushima. The family had the breed for about 40 years and was enchanted by the personality, look, and temperament of this dog.
They breed according to the standards of the Japanese Dog Preservation Society (NIPPO) and the Public Interest Incorporated Association. Shibainu Breeders partook in shows held by NIPPO to study and understand their dog's results.
Whether you want a show dog or a family companion, you can rely on the puppies from this breeder. They breed and raise their puppies to be great additions to their new families. As such, the family invests a lot of time and resources into socializing and preparing the puppies for their new families.
All puppies are well-socialized with kids, adults, and other dogs, making them the ideal for multi-pet homes. They also introduce the puppies to various surfaces, textures, sights, and sounds.
Health is also one of the top priorities in this breeding program. They pay close attention to the health of their puppies by choosing only the healthiest sires and dams for the breeding program. The sires and dams are DNA and health tested for more than 150 different health conditions. They test for elbow, joints, eyes, heart, and other common health issues associated with this breed.
A few weeks after birth, all puppies are health-tested to ensure they are completely free of any genetic defects that could be passed down from the parents. In addition, all puppies are vaccinated, dewormed, and microchipped before going.
The family is always there for all its customers. You can rely on them for support and guidance when raising your puppy. You can also consult them for advice before making your decision. If you are looking for a top-quality Japanese Shiba Inu, we highly recommend this breeder.
Shibainu Breeders Details:
2. BreederONE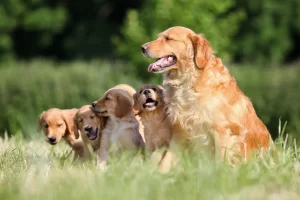 BreederONE is one of the most popular breeders in Japan. This breeding program is backed by a highly knowledgeable and experienced team focusing on breeding and raising the best puppies possible.
This breeder has a biometric guarantee — a system that guarantees the breeder is responsible for the puppy's health condition.
You can rely on these breeders for various dog breeds and sizes. They specialize in family companions and show dogs. All their breeding dogs come from the best bloodlines worldwide. They produce various dog breeds, including:
Toy Poodle
Chihuahua
Miniature Dachshund
Yorkshire Terrier
Shiba Inu
Shih Tzu
Miniature Schnauzer
Maltese
Pomeranian
They import the best studs and dams to ensure they provide all their customers with nothing but the best puppies. If you are looking for health-tested and genetically sound puppies with exceptional temperament, you can rely on BreederONE.
They have some of the best in-house breeders with many years of experience. Different breeders are allotted to different dog breeds, so rest assured your puppy is cared for by someone with many years of experience.
All puppies are born and grow up in a clean, well-maintained facility. There is very little risk of contracting an infectious disease during distribution. The puppies also live with their parents until they are ready to go home to their new families.
BreederONE also makes it easy for potential buyers to learn more about their puppies before and after buying. You can get more information about a puppy by interacting with the breeders and watching over the puppies from birth. You can keep in touch with the breeder for continuous support.
The breeding facility is also open for tours. During the tour, you can see the puppies' parents, check the pedigree, and see where they stay. BreederONE also offers affordable puppies. You can buy a puppy from this breeder at a low price because there are no intermediaries.
All their puppies are healthy, both mentally and physically. They also go home vaccinated, dewormed, microchipped, and with a two-year genetic health guarantee. BreederONE breeds according to a plan, not random breeding. They also take responsibility for the discipline and health management of the puppies.
Despite being a large breeder, BreederONE provides excellent customer service. They respond empathetically and promptly to inquiries from customers, such as tour requests, questions, purchase requests, and more.
BreederONE Details:
3. Grace Garden
Grace Garden is another fascinating dog breeder with many years of experience. They are passionate about breeding and raising excellent family companions and pets with great temperament and health.
This family-owned and operated breeding program produces some of the best puppies in Japan. They have a clean and large breeding kennel where the puppies and dogs are loved unconditionally.
They specialize in producing the Akita, one of the most popular dog breeds in Japan. The Akita is affectionate and loyal toward his friends and family but quite territorial about his home and aloof with strangers. If you are looking for an excellent watchdog that will also serve as a loving family companion, this is one of the best breeds to consider.
Osamu Yamaguchi is at the forefront of this breeding program, alongside his family. All his breeding dogs are JKC registered, and the puppies are bred according to the JKC standards. He also ensures the puppies engage in socialization and training exercises to prepare them for their new owners.
Grace Garden is concerned about health and temperament. The breeders conduct thorough health examinations and temperament assessments when choosing the sires and dams.
They also consider the body balance and bone structure of the Akita dog when choosing the studs and dams. Their goal is to preserve this breed while providing families with exceptionally-bred puppies without any congenital defects.
You can contact Yamaguchi to inquire about the breeding program and puppies before making your final decision. You can still contact him after buying the puppy for support and guidance.
The entire family is involved in the breeding program, and they have a unique role to play. The kids socialize and play with the puppies daily to ensure they are ready to join their new families.
Your Akita Inu will arrive well-socialized, semi-trained, and used to being around kids and other dogs. Potty and crate training are also parts of the program, so your puppy will learn the basics before coming home.
Grace Garden Details:
4. Angel Puppies
Experience is crucial to consider when looking for a breeder. Angel Puppies has been in the breeding business since 1971 — it's one of the most experienced breeders in Japan.
They stock, breed, and sell puppies of various breeds and sizes. The breeder is based in Kanagawa and has shops in Sagamihara, Yokohama, and Yamato. They specialize in breeding:
Chihuahuas
Miniature Dachshunds
Toy Poodles
The puppies are affordable compared to other breeders. However, being affordable does not mean the puppies are of low quality. They spare no resources in choosing the best-breeding dogs and providing the best health care for the dogs and puppies.
All their breeding dogs are DNA and health-tested to ensure they are not carriers of hereditary health conditions. Their quality healthcare system extends to the puppies, as they are vet-checked by professionals, given their first shots, dewormed, and microchipped before joining their new families.
In addition to providing customers with high-quality, healthy puppies, Angel builds excellent relationships. They remain with all their customers for life, providing them with all the support, advice, and guidance they need to raise their puppies healthily.
They have in-house vets that ensure the puppies remain healthy and in good shape. All puppies come with a full guarantee for the first 90 days.
Angel knows the importance of early socialization in puppies and does their best to ensure they are ready before going home. Puppies that are three months or older and have been vaccinated are kept in the shop's socialization space regardless of their breeding differences.
Putting them together allows the puppies to learn how to live and play with other puppies. They also allow visitors to pet them, which helps expose them to people. One unique thing about this breeder is that they wean and care for their puppies until they are mature enough to go home.
They adhere to a policy of self-imposed restraint, so they do not sell any puppy younger than 45 days. All their puppies spend quality time with their mothers.
Angel Puppies Details:
Frequently Asked Questions
What is the most popular dog in Japan?
The most popular dog breed in Japan is the Toy Poodle, followed by Chihuahuas, Miniature Dachshunds, Shiba Inus, and Pomeranians.
What is the most loyal dog in Japan?
Hachiko, an Akita born in the 1920s, is famous in Japan and around the world for his loyalty. He has a memorial statue at Shibuya Station.
Why are dogs so expensive in Japan?
Breeders face numerous expenses, especially if they are licensed and follow reputable breeding practices, and those fees ultimately go into the price buyers pay. Dogs also require a lot of space, which can be precious in Japan. Additionally, certain breeds are considered luxury pets.
Conclusion for "Best Dog Breeders in Japan"
Owning a dog is a huge responsibility and a lifetime commitment.
Fortunately, many of the best dog breeders in Japan provide free consultancy services. You can contact them to inquire about their dogs and seek their advice on the best breed. You can also rely on them for after-sale support, so you will not be alone on your puppy-raising journey.
For more guides similar to this list of dog breeders in Japan, check out these guides:
Before you bring home a puppy from a breeder in Japan, you can learn more by watching "Top 10 Best Guard Dog Breeds For First Time Owners" down below:
Garrett loves animals and is a huge advocate for all Doodle dog breeds. He owns his own Goldendoodle named Kona. In addition, he volunteers at the Humane Society of Silicon Valley, where he fosters dogs and helps animals. Garrett enjoys writing about Doodles and believes that dogs can teach humans more about how to live than humans can teach a dog.
Why Trust We Love Doodles?
At We Love Doodles, we're a team of writers, veterinarians, and puppy trainers that love dogs. Our team of qualified experts researches and provides reliable information on a wide range of dog topics. Our reviews are based on customer feedback, hands-on testing, and in-depth analysis. We are fully transparent and honest to our community of dog owners and future owners.