Here's what you need to know if you're searching for the best dog breeders in Illinois. Illinois is one of the most pet-friendly states in the country. In Illinois, there are many dog-friendly areas and two dog-specific beaches.
If you're in Chicago, there are several dog parks and dog-friendly restaurants and cafes. Many establishments even provide food and water to dogs walking by. In addition, Illinois has several reputable breeders.
Before scrolling down this list of dog breeders in Illinois, check out these other recommendations from our team at We Love Doodles: Best Yorkie Poo Breeders in Illinois and Best Belgian Malinois Breeders in Illinois.
Dogs For Sale in Chicago
Choosing a reputable breeder will give your dog an advantage in life. Breeders need to make sure the dogs they breed are healthy, well-socialized, and the best of their kind. Check out these top dog breeders in Illinois if you're looking for a puppy to add to your family.
Dog Product Recommendations: Best Whitening Shampoos For Dogs and Best Tug Toys For Dogs.
1. PuppySpot's Dogs For Illinois
If you're searching for dog breeders in Illinois, then we highly recommend checking out PuppySpot's platform. PuppySpot isn't an individual breeder but an enormous platform, where you can connect from Illinois to browse for available puppies.
Whether you want a Chihuahua or a Golden Retriever, keep in mind that all breeders with puppies listed on PuppySpot have to go through a strict screening process. Before you continue on your search for a puppy for sale in Illinois, check out the link to the marketplace below.
PuppySpot Details
2. It's a Bulldog Thing
It's a Bulldog Thing that has been offering healthy, happy English Bulldog puppies from their loving home for over 20 years. Located in Salem, Illinois, they are dedicated to the Bulldog breed.
Their Bullies are like family to them, and they adore them. For more than 20 years, it has been their passion to take care of and nurture them.
In addition to providing a healthy and safe environment for their dogs, they take great pride in their facilities. From their cherished puppy years into adulthood, their English Bulldogs bring fun, laughter, and love to their forever homes.
It's a Bulldog Thing Details
3. Heartland Dachshunds of Southern Illinois
Heartland Dachshunds of Southern Illinois is a family-owned and operated business. Their dogs are AKC-certified and are licensed by the state of Illinois. Dachshunds are the only breed they produce.
They breed all three coats in different colors and patterns. Their Dachshunds are all registered with the American Kennel Club. They adhere to and encourage all the club's rules.
When adopting a Heartland Dachshund, what can you expect? You can expect a little dog with a big bark. As excellent watchdogs, they will alert you if anything is out of the ordinary. They are also very playful. Dachshunds love to play.
Heartland Dachshunds of Southern Illinois Details
4. Chicagoland Boxers Kennel
Since 1990, Chicagoland Boxers Kennel has been raising Boxers with unrivaled passion. Their name reflects their dogs' heritage, accomplishments, and the quality their families have come to expect from their Boxers.
Their mission is and will always be to maintain the health and character of this magnificent working breed. You can rest assured that their dogs are healthy, stable, and intelligent while still retaining their loving nature. In addition, their boxers are second to none.
Chicagoland Boxers Kennel Details
5. Treygens Cavaliers
Treygens Cavaliers is located just outside of Chicago, in the suburb of Hoffman Estates, Illinois, and has been showing and breeding dogs for over thirty years. They began with Irish Setters, adding Gordon Setters and English Cocker Spaniels along the way.
After losing their last English Cocker, the Cavalier King Charles Spaniel caught their attention, and Treygens was born. Their dogs are OFA-tested for hips, patellas, and hearts. Cerf registers their eyes.
DNA tests are conducted for Curly Coat, Dry Eye, and Episodic Falling. The dogs do not enter their breeding program if any of these tests are not passed. Their Cavalier King Charles Spaniels will steal your heart at Treygens Cavaliers.
Treygens Cavaliers Details
6. Amazing Shih-Tzu's
Over 30 years ago, Amazing Shih-Tzu's began raising Shih-Tzu puppies locally in Southern Illinois. They are licensed by the state of Illinois and raise only AKC registered Shih-Tzus.
They specialize in all Shih-Tzu colors and sizes, from standard to tiny teacup. In addition to standard colors like Black and White, they also have Gold, Red, Blue, Chocolate, and Silver. All of their Shih-Tzu puppies are AKC.
Their Tiny Shih-Tzu's are all AKC registered and will be up to date on shots and worming, also vet checked. And when you pick up your Amazing Shih-Tzu will come with a health guarantee, a homemade fleece blanket, and a puppy pack.
Amazing Shih-Tzu's Details
7. Cornerstone Bernese Mountain Dogs
Cornerstone Bernese Mountain Dogs (or Cornerstone Berners) is a family-owned breeder of AKC Champion Bernese Mountain Dogs. Located in Flat Rock, Illinois, they ship anywhere in the United States.
They have been breeding Bernese Mountain Dogs since 2010, and they are an exceptional breed. There are no words to describe how wonderful the puppies are at Cornerstone Berners. Their dogs are loyal, easy to train, and very caring towards everyone around them.
By focusing on quality, genetic health, personality, and beauty, their breeding program produces champion stock. Their puppies are AKC registered, vet checked, up-to-date on shots/wormer, and come with a one-year guarantee.
Cornerstone Bernese Mountain Dogs Details
8. Brylee's Angels Havanese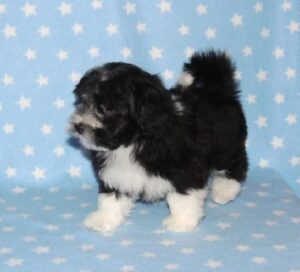 Brylee's Angels is a small hobby show breeder of Havanese puppies dedicated to improving the breed with every new generation.
Brylee is a combination of all their family members' names, and everything they do, from loving and raising to grooming & showing, is a team effort.
Their daughters have grown up with these dogs and have become beautiful groomers, trainers, handlers of dogs for shows and have carried on their family's passion.
Their goal is to ensure the longevity of this scarce breed. Their dogs live in the house with them as family members. They wouldn't be complete without their furry little children.
Brylee's Angels Havanese Details
9. Windy Acres Puppies
Windy Acres Puppies carries a large selection of puppies, most of them designer breeds, and they are cautious in their breeding programs. Their parents are carefully selected, and as they get older, they make sure they are OFA certified and health tested.
Your new puppy will become your best friend, close companion, and family member. Therefore, they treat them the same way you will. Puppies are spoilt with love to ensure they have an easy transition to their new forever homes.
In addition, all of their family breeders have promised to follow strict socialization practices, and many have young children who enjoy playing with the puppies.
Windy Acres Puppies Details
10. B & C Kennels
B & C Kennels are an Illinois licensed breeding and boarding facility. The Better Business Bureau has given them an A rating for the past nine years. They also have four-plus stars on Google and Facebook.
They are passionate about their work. They breed Toy poodles, King Charles Cavaliers, Cocker Spaniels, Schnauzers, and Doodles on their site.
In addition, several other family members and close friends produce a few of their dogs, and they entrust them to place their puppies in remarkable homes.
They take great pride in the care that their puppies receive from their guardians and family members. Their guardian program has allowed them to offer vet checked, well socialized, happy, and healthy dogs to families, and they are so blessed to have them.
Whether they are bred on-site or by one of their cooperative breeders, all of their puppies are handled and talked to from the day they are born (as long as mom is okay with it).
B & C Kennels Details
11. Skyline Akitas
Last on the list of dog breeders in Illinois is "Skyline Akitas." Skyline Akitas is located in Chicago, Illinois, and has owned Akitas since 2002. In addition to showing in conformation, they have volunteered at local Akita Rescue for over 15 years.
They hope to participate in performance events with the puppies soon. They raise loving, stable temperament, top quality AKC Akitas that are well regarded and home raised.
An ethical, caring, and passionate Akita show breeder in Illinois. They are always conscientious, focused, and oriented towards the stability, health, and soundness of this lovely breed as a whole.
They carefully plan their occasional breeding program. Genetically proven hips and eyes disorders are covered by their lifetime health guarantee on all their show and companion quality Akita puppies.
Skyline Akitas Details
Puppies in Illinois
Woof. There are tons of pet-friendly places and activities in Illinois. The streets of Chi-town are likely to have doggie daycares, dog parks, bakeries, spas, and even pet-friendly restaurants and hotels, so it's no wonder there are many dog breeders in the area.
Think of treating your furry family members to some time away from home as a way of saying "thank you" for everything they add to your life daily. You and your best friend can traverse steep canyons, wooded trails, and majestic waterfalls at Starved Rock State Park in LaSalle County.
A quiet, leisurely adventure awaits at Klehm Arboretum & Botanic Garden in Rockford. Enjoy the arboretum's eight gardens with your leashed dog. Pet parents can enjoy small-batch beers while their dogs munch on healthy biscuits made from spent grains at Obed & Isaac's Microbrewery.
Chef Augie cooks unique dishes for his canine customers on Saturdays at Augie's Front Burner in Springfield. Humans can usually get a dog-friendly portion for just $2.50. Visit Galena's Historic District. Pets are permitted aboard the Galena Trolley Tours, where you can learn about the town's mining history as you ride.
Among the tour, stops are former President Ulysses S. Grant's 1868 home and the Dowling House, the oldest stone structure in Illinois. Your pets are welcome on the tour. There are 150-plus miles of dog-friendly trails near Harrisburg in the Shawnee National Forest. Dogs are also allowed inside the Garden of the Gods, where you can explore ancient sandstone cliffs and formations.
More Breeders: Best Maltese Breeders in Illinois and Best Pointer Breeders in Illinois.
How to Choose a Dog Breeder in Illinois
Understanding the traits that make a breeder top-notch is crucial to evaluating and choosing one. Breeders often pursue their calling as a hobby rather than a profession; they are enamored with a particular breed. All aspects of a breed's behavior and health problems are known to them.
They can also make a living as dog trainers or show dogs. A good breeder always makes a lifetime commitment to each dog they breed. Their rewards go beyond financial gain.
Where Do You Find a Dog Breeder in Illinois?
The popularity of the dog breeding industry in Illinois makes finding good breeders challenging. A simple online search for dog breeders is an obvious and tempting place to look.
Still, unless you have been personally recommended or are affiliated with recognized kennel clubs, you might be wasting your time. Consider asking your local vet, going to a dog show, or looking online for The American Kennel Club's breeder referral service.
Personal recommendations cannot be replaced, so if you know someone who owns a beautiful puppy, ask them which breeder they used.
Conclusion For The "Best Dog Breeders in Illinois"
Choosing the right puppy begins with finding a reputable breeder who cares about the breeding process and the puppies they will send home with new families. Unfortunately, even with a few helpful tips on finding a reputable breeder, it is still a tedious and frustrating process.
Listed above are Illinois breeders that are proven to be reputable to assist potential new owners. Working with the right breeder and bringing home a new family member is possible with little patience and dedication.
For more guides similar to this list of dog breeders in Illinois, you can check out:
Before you purchase a dog from a breeder in Illinois, you can learn more by watching "How to Raise a Dog When You're Busy" down below: