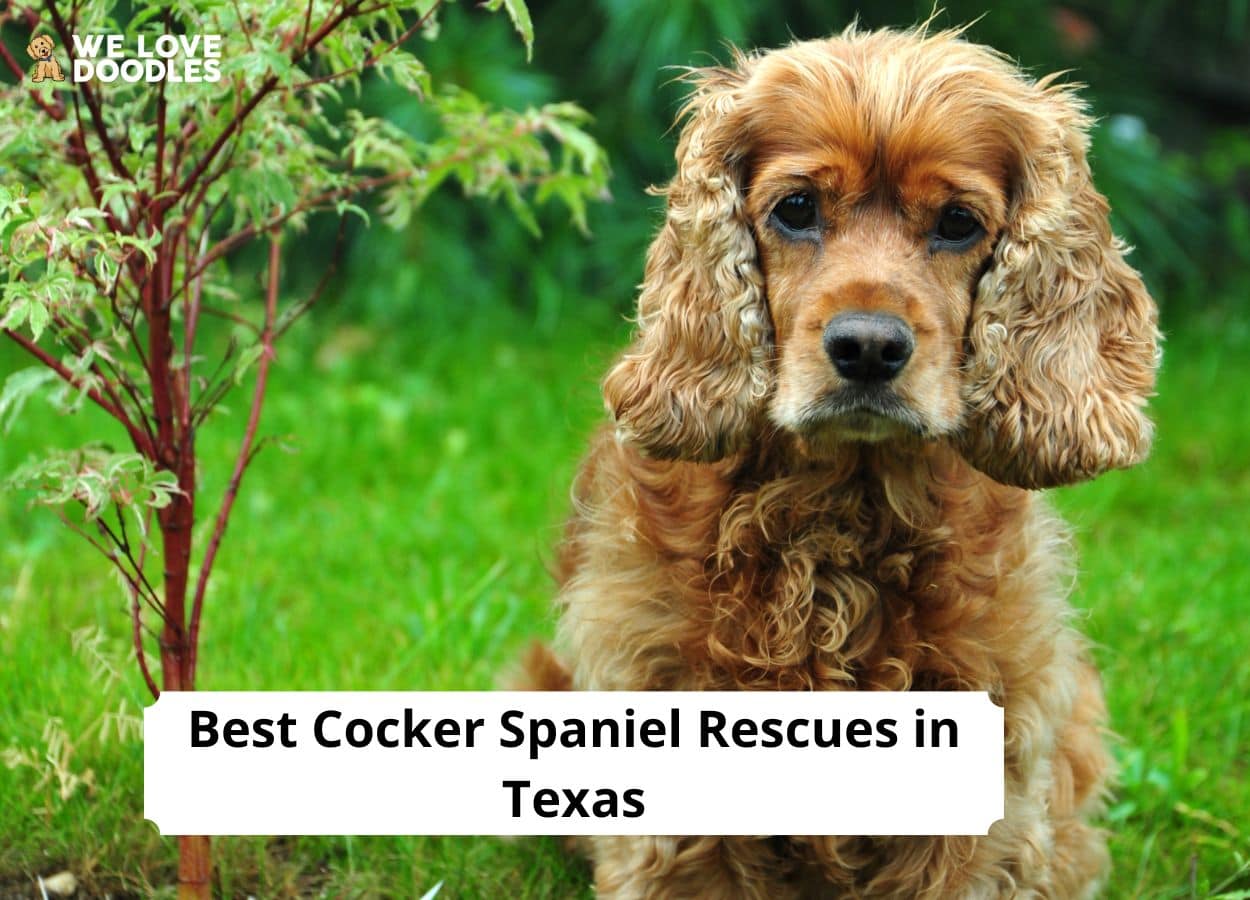 If you're searching for Cocker Spaniel rescues in Texas, you've come to the right place. Cocker Spaniels are among the most popular dog breeds in the United States. Americans love their intelligence, energy, and ability to get along with family members of all ages.
If you're a Texas family considering bringing a Cocker Spaniel into your home, why not consider adopting? Many shelters across Lone Star State would love to help you find a forever furry friend.
The dogs in these shelters have been surrendered, neglected, or even produced by puppy mills and abused. Some may have lost their owners, while others have been saved from high-kill shelters. We've compiled a list of the top Cocker Spaniel rescues in Texas so you can begin the search for a deserving spaniel near you.
Before you scroll down this list of Cocker Spaniel rescues in Texas, you can check out these other dog rescue shelter recommendations from our team at We Love Doodles: Best Chihuahua Rescues in Texas and Best Boston Terrier Rescues in Texas.
Find a Cocker Spaniel Rescue Shelter Near Me in Texas
Our team at We Love Doodles created this list of the best Cocker Spaniel rescues in Texas with available dogs for adoption.
Cocker Spaniel Product Recommendations: Best Scissors For a Cocker Spaniel and Best Shampoos For a Cocker Spaniel.
1. Cocker Spaniel Rescue of East Texas
Cocker Spaniel Rescue of East Texas is a Sugar Land, Texas non-profit organization. They've committed to saving as many cockers as possible from the streets of Texas and high-kill shelters in the area. The group has existed since 1988; they've grown from a two-person operation to a group that enlists a team of volunteers and foster families.
You'll need to meet certain requirements to adopt a dog from this Texas Cocker Spaniel rescue. You must be an adult, and no students are accepted. You must prove your financial capability, and a home visit is required. Puppies require extra considerations. If you're approved to adopt, you are expected to pay between $350 and $450, depending upon the age of your Cocker Spaniel.
Senior and special needs dogs may be offered at a lower cost. The adoption fee covers a portion of the expense incurred while your puppy was in foster care, including housing and veterinary costs. All dogs will be spayed or neutered before going home with their new families and will have been nose-to-tail vet-checked.
Cocker Spaniel Rescue of East Texas Details
2. DFW Cocker Spaniel Rescue
DFW Cocker Spaniel Rescue serves the Dallas and Forth Worth areas of Texas. They've been in operation for twenty years and have rescued over a thousand puppies in that time. They're a non-profit, 501(c)3 organization, and they rely on the donations and hours given by the community to support their mission.
You must be an adult with a fenced-in yard to adopt from DFW Cocker Spaniel Rescue, or if you live in an apartment, you must not be a first-time dog owner. Home visits are required, and you may be asked to provide veterinarian references.
Once your application is reviewed and you're approved to adopt a dog, it's time to pick your puppy. Browse the available dogs and pick the one you'd like to make your forever friend.
Note that sometimes there are non-cocker breeds up for adoption. Once you've chosen the dog you'd like to adopt, you can expect to pay $125 for seniors, $275 for adult dogs, or $300 for puppies under six months old.
Your dog will be current on vaccinations and wormers and altered (spayed or neutered) when it's time to join your family. Ask the DFW Cocker Spaniel Rescue team for information about general health conditions your dog may suffer.
DFW Cocker Spaniel Rescue Details
3. Cocker Spaniel Rescue of Austin & San Antonio
Cocker Spaniel Rescue of Austin & San Antonio is next on our list of Texas's top Cocker Spaniel rescues. They're another organization that's run solely by volunteers. If you live in the Austin area and have a few extra hours each week, consider volunteering to help this non-profit.
You can assist with home visits, offer to help transport puppies, or go the extra mile and apply to foster a dog. Adoptable dogs are organized by age; you can choose a puppy, an adult, or a senior. The adoption fees are $350, $250, or $250, respectively.
If you're a senior citizen, you may qualify to adopt a senior dog for only $25. There is a separate application for this program, so contact the shelter directly if interested. Ask about the Enduring Love dogs.
Cocker Spaniel Rescue of Austin & San Antonio relies heavily on the support of donors to continue the work they do across Texas. If you can, consider donating to the organization. Your contribution is generally tax-deductible; speak with a tax professional for more information.
Cocker Spaniel Rescue of Austin & San Antonio Details
4. Houston Cocker Spaniel Rescue
Houston Cocker Spaniel Rescue, as you may have assumed, is based in Houston, Texas. Rescue is another non-profit organization, and the founding team has over two decades of combined experience caring for Cocker Spaniels.
They've put their expertise to work and are committed to saving Cocker Spaniels from high-risk scenarios, rehabilitating them, and rehoming them with loving families. You'll need to complete an application to adopt from this shelter.
Houston Cocker Spaniel Rescue wants to hear about your family, your experience with pets, and your current living arrangements. Once you're approved to adopt, it's time to check out the available dogs.
Scroll the listings online, or schedule a time to meet a dog in person. Houston Cocker Spaniel Rescue will do everything possible to match a dog's temperament with a family's needs and wishes.
The puppy you want may not be entirely suitable for your home, so trust the HCSR team to pair you with the perfect puppy. There is a 30-day "return" policy, during which your adoption fee is refundable or transferrable.
Adoption fees range from $300 for senior dogs to $450 for puppies. Your dog will have been nose-to-tail vet checked, vaccinated, wormed, and spayed or neutered before joining your household.
Houston Cocker Spaniel Rescue Details
5. Austin Pets Alive
Austin Pets Alive is a no-kill shelter located in Austin, Texas. They don't specialize in Cocker Spaniels, but the breed occasionally comes through the shelter system. You can view the available dogs by scrolling through the website.
There are cats available for adoption, as well. You can filter your search results to cater to your family's needs to find the puppy of your dreams. Do you have children? Do you spend several hours each day away from home?
Is your home high-traffic or relatively calm? Input these variables into the search function to find a dog that suits you. Once you've found the perfect companion, you can complete an adoption application.
Alternatively, you can walk into the adoption centers on Windsor Road and W Cesar Chavez. It's best to call ahead due to health and safety concerns. If you're approved to adopt a dog, you'll pay the adoption fee and bring your dog home with you.
The fee may vary based on the dog's age, but you can find this information on the dog's biography. Some dogs can be adopted at no cost, while others will cost a couple hundred dollars.
Austin Pets Alive Details
6. Humane Society Central Texas
The last Texas Cocker Spaniel rescue on our list is a nationwide program you've likely heard of – the Humane Society. The Humane Society has chapters scattered across the country, and one of the most successful in Texas is the shelter in Waco.
This large non-profit is committed to saving animals from abuse, neglect, and homelessness. You can rescue a puppy for a much lower adoption fee through the humane society than through many other groups.
Dogs over five years of age cost nothing. A puppy will cost $85, and an adult dog will cost you $60. Of course, you'll need to apply to adopt, but the process is much less lengthy than in other shelters.
All dogs will be spayed or neutered, vaccinated, dewormed, and treated for other health conditions. You'll be notified before signing an adoption contract if your dog has an existing illness.
In addition to supporting Humane Society Central Texas through donations, you can contribute by volunteering or attending one of the group's fundraising events. Check the website calendar for more information on upcoming fundraisers.
Humane Society Central Texas Details
Conclusion For The "Best Cocker Spaniel Rescues in Texas"
Lone Star State residents and families looking for a new forever friend need look no further than our list of the top Cocker Spaniel rescues in Texas. The shelters we've chosen are non-profit groups that have pledged to help end the instance of Cocker Spaniel homelessness, abuse, and neglect in the state. By supporting these groups, you can do the same.
For more guides similar to this list of Cocker Spaniel rescues in Texas, you can check out these other dog rescue shelter recommendations from our team:
Before you adopt a Cocker Spaniel companion from a rescue shelter in Texas, you can learn more about this dog breed by watching the "Cocker Spaniel Dog Breed Guide" down below: