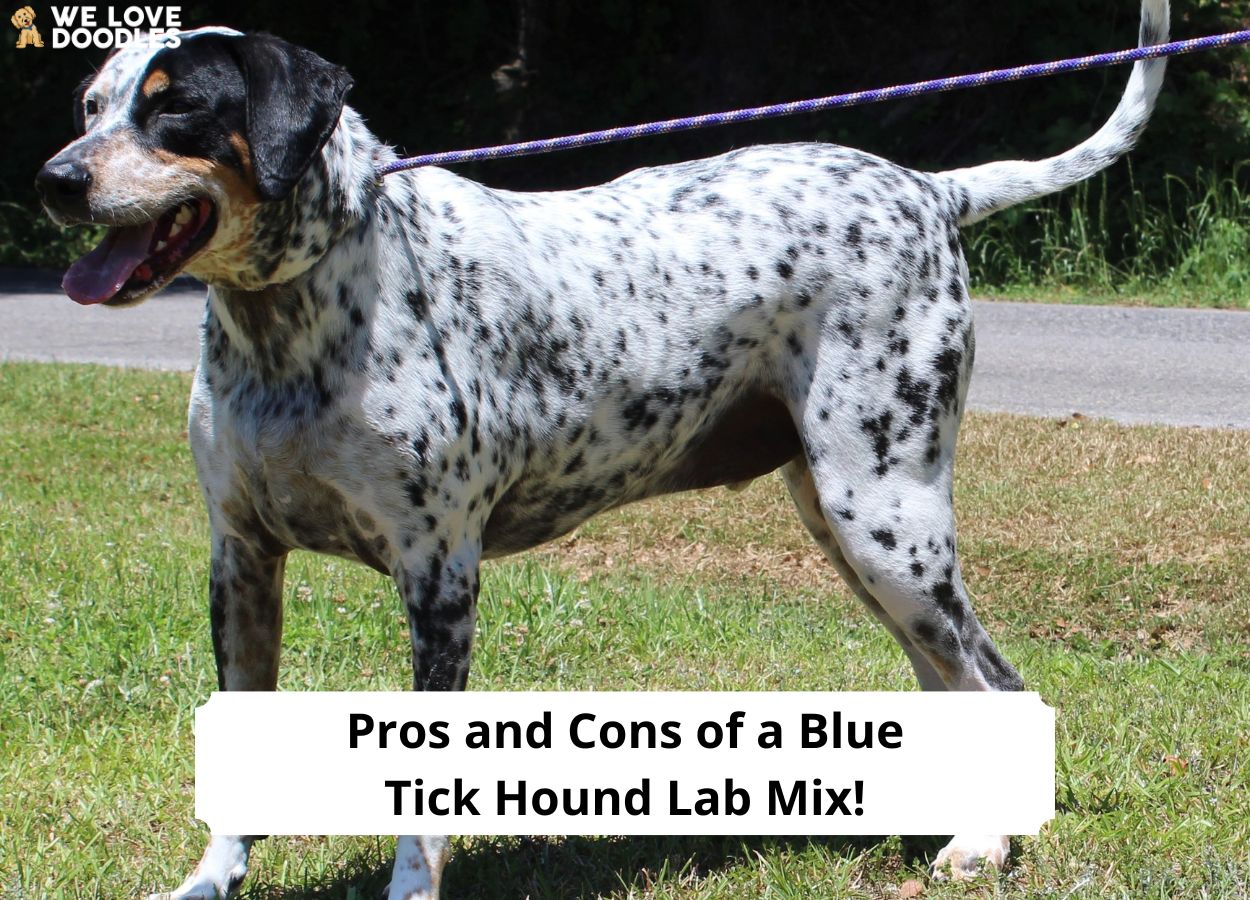 Thinking about getting a Bluetick Coonhound Lab mix? If so, you should know that each breed has pros and cons. The American Kennel Club recognizes over 300 different dog breeds. While some are renowned for their size or looks, other breeds are noted for their intellect and loyalty. The Bluetick Hound Lab mix is a well-known Labrador and Coonhound hybrid.
Their name is based on the pattern of colors on their coat, which is short in length and shiny in texture. Their coat is covered in blue and white ticks. The color of their coat might occasionally include a brown hue as well.
This hybrid dog breed is devoted to its owners. They are friendly and loving. They pick things up quickly thanks to their intellect. Because of their coats' heavy shedding, these dogs are not ideal for those who suffer from allergies. Early socialization is also necessary for these dogs.
Read below as we cover all the important information about the Bluetick Coonhound Lab mix.
Before scrolling down this Bluetick Hound Lab mix guide, check out: Pitbull Coonhound Mix Information, Facts, Images! (2023) and Best Dog Food for a German Shepherd Lab Mix! (2023).
About the Bluetick Coonhound
While the slick and attractive Bluetick Coonhound is a charming and loving dog who likes to nap in the shade, when it comes to hunting, they are unrelenting, brave, and single-minded. Their extreme prey drive must be regulated.
Blueticks have a droopy-eared appeal that is irresistible. They are fiercely loyal to individuals who show them affection because they crave it. Bluetick Coonhounds have a strong desire to catch prey. Coonhounds that are mistreated or neglected — without a way to express their ingrained urges — might engage in problematic activities, such as playing loud and making unpleasant sounds.
About the Labrador
The Labrador Retriever is one of the most famous dog breeds in the United States. For a family searching for a medium-to-large dog, Labs make sociable, outgoing, and affectionate companions with plenty of love to go around. Labs are known for being amiable.
They get along well with the entire family and are friendly companions. They also get along well with other dogs and people in the neighborhood. The Lab is an eager athlete that needs loads of activity, such as swimming and games of fetch, to be physically and mentally fit. So don't confuse the laid-back demeanor with low energy.
Bluetick Hound Lab Mix Temperament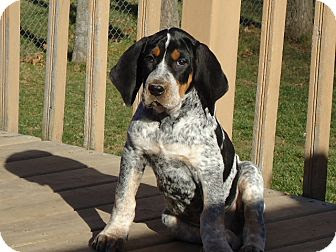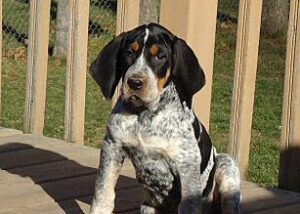 The Bluetick Coonhound Lab mix has a calm and caring temperament. They are incredibly knowledgeable and talented. They are lively and vigilant like their parents, and get along well with people, children, and strangers. This breed is adept at picking up on any negativity. Their lives revolve heavily around socialization.
They become joyful, amiable, and confident as a result. It also reduces their aggression, whether it is motivated by fear or not. Socialization should begin before they become 12 weeks old. Although Labradors are sociable, a Bluetick Coonhound mix may be less so. Therefore, early socialization strengthens their kind character.
Bluetick Hound Lab Mix Appearance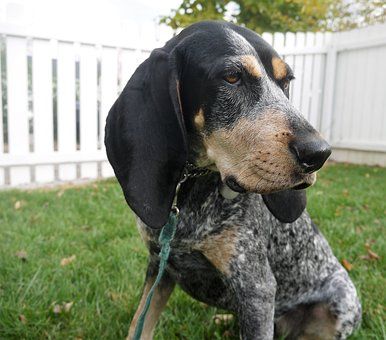 The Labrador Retriever and the Bluetick Coonhound are the breeds that make up this mix. Labs weigh between 65 and 80 pounds and stand 22 and 25 inches tall at the shoulder. In contrast, Bluetick Coonhounds stand 21–27 inches tall and weigh 45–80 pounds.
The mix is classified as medium-large in size. They may resemble the Lab's chocolate/yellow/black coat or the Coonhound's dark blue coat with black ears and tan markings on the torso. The coat is either short, thick, and flat, or it is short, smooth, and glossy.
They have large paws, long, drooping ears, and charming expressions.
Bluetick Hound Lab Mix Lifespan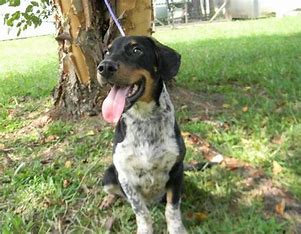 A Bluetick Coonhound Lab mix typically has a 12- to 15-year lifespan.
The parent breeds' lifespans are important predictors in the case of hybrid dogs. The average lifespan of a Labrador is 12 to 13 years, however, the Bluetick Coonhound has a variable lifespan.
Therefore, it is unknown how long these dogs may live. Their longevity is mostly impacted by their diet, activity, regular vet visits, and health problems. They could pick up various illnesses from their parent breeds. Therefore, routine checks are necessary to live a healthy life. These dogs are made happier and healthier by socializing.
Bluetick Hound Lab Mix Cost
Generally speaking, a Bluetick Coonhound Lab mix costs between $700 and $2,000.
This price range may change depending on the dog's location, size, color, coat type, health status, and other characteristics. Adopting from a rescue group will be less expensive than buying from a breeder.
From a rescue group, you may get them for about $300 or even less. These medium shedders require frequent grooming treatments. If you have allergies, avoid buying them because they shed quite a lot. Lastly, although you are required to spend money on their grooming, their friendship is priceless.
Pros of a Bluetick Hound Lab Mix
Exceptional Working Dog
Labradors have existed since the early 1700s. Originally, they helped fishermen with their responsibilities. They would drag nets, pull ropes, and recover fish that had escaped the hooks. They would travel home with the fisherman in the evening.
Today, Labs hunt with their owners, compete in dog competitions, work as service dogs, and perform search and rescue missions. They are excellent working dogs, but they also don't mind being coddled by people all day.
The Coonhound is another diligent breed ideal for hunting small animals. Undoubtedly, this combination produces a fantastic working dog. This stylish mutt won't let you down whether you're getting them for home or when hunting.
Great Companionship
Bluetick Coonhound Lab mixes are excellent companions. They have a devoted and kind nature. The Labrador Retriever is known for being a sociable dog. This breed is reputed to be so friendly that when a visitor enters the home, they would be the first to meet them.
They have a profound love for all living things, including children, animals, and adults. The other parent, the Hound, enjoys spending time with the owners and gets along well with children, animals, and people. Naturally, combining the two breeds will have these fantastic qualities.
Trainability
The fact that this mix is simple to train is the third benefit. This dog is incredibly perceptive and bright, with a natural aptitude for picking up new abilities quickly.
Due to their curious and energetic nature, it is recommended to keep the training sessions brief and to the point to prevent your dog from getting bored and attempting to go after little animals. Offer a good amount of treats and lots of praise. Positive reinforcement works wonders.
Overall, you will enjoy working with this mix.
Minimal Grooming Needs
A Bluetick Coonhound Lab mix has a short, shedding coat. The majority of these hybrids have a short, lustrous coat similar to the Coonhound. This makes grooming them simple. Please be aware that this breed sheds periodically, so you'll want to prepare yourself with a quality vacuum.
Additionally, giving the coat a weekly brushing will keep it tidy and clean. Rarely, the mix may get the Lab's short, thick coat, which has the propensity to shed a lot. As a result, the need for grooming will increase accordingly.
Similar to other dog breeds, this mix requires baths, nail trims, and teeth cleanings.
Cons of a Bluetick Hound Lab Mix
High Energy Levels
For the Bluetick Hound Lab mix to be at its healthiest and happiest, it must first engage in a lot of physical exercises. This breed of dog cannot get by lying about all day. They need to exercise, play, and run. The minimum amount of exercise is 60 minutes each day, but they would benefit from more.
Take your dog along when you go on treks, extended walks, or runs. On the weekend, engage in some Frisbee or fetch. Allow them to run free when you aren't home if your yard is large. They'll enjoy sprinting from one end of the complex to the other.
Barking
This mix is unsuitable for you if you don't want to own a dog that barks. The Hound Lab mix cannot control its mouth. Apartment dwellers often have problems with their neighbors due to constant barking. Be prepared for your dog to be quite noisy, whether it's happy or upset. Training will undoubtedly help reduce the habit to some level, but it too has a limited effect.
Health Issues
Health is a concept that is more individualized than it is generalized. Nevertheless, certain breeds are more susceptible to specific health issues than others. This mix is likely to get some of its parents' health conditions.
Obesity, luxating patellas, and elbow dysplasia are common in the Lab. The Coonhound, on the other hand, is prone to bloat, ear infections, and hip dysplasia. Go with a reputed breeder with the required health clearances if you want to be safe.
Size
This dog's size might be considered a drawback. This mix, as was previously noted, may weigh up to 80 pounds, which can make caring for it a little more challenging than if it were a smaller dog.
Due to its size, this mix is typically not suggested for first-time dog owners because they may also be quite powerful and will drag you with them if they want to go somewhere when you're out for a walk.
This size of dog can be challenging to bathe because they might not want to be cleaned if they don't like the experience. This combination of breeds will particularly benefit from positive reinforcement. If they have trouble getting into the tub, make sure to have lots of goodies and toys available.
The size of your home is very important. If you live in a tiny apartment, this dog might not be the best option for you because they are happiest when they have lots of space to explore and run around.
Frequently Asked Questions
How big will a Bluetick Coonhound Lab mix get?
Coming from two large parent breeds, the Bluetick Hound Lab mix can weigh up to 80 pounds.
Why do Hounds cry so much?
These scent-tracking dogs can be highly vocal due to their original purpose as a breed. If your dog is crying, it may be excited, anxious, or stressed — or it may just want more attention.
Do Labs calm down with age?
Labradors likely won't settle down until they are at least two, and possibly not until they turn four.
Conclusion for "Pros and Cons of a Bluetick Hound Lab Mix"
Overall, the Bluetick Hound Lab mix is a wonderful union of two extraordinary breeds. It is versatile and intelligent, making it ideal for families with children. The best part is that training is not too difficult.
Although this is a lovely companion dog, it's vital to keep in mind that they need a lot of care and affection. Give them what they require, and they will repay you by returning your love without condition.
If you're not sure what breed is ideal for you, talk to an experienced breeder about the type of dog you want.
If you find this article, "Pros and Cons of a Bluetick Hound Lab Mix," helpful, check out:
You can learn more about this dog breed by watching "6 Month Old Lab/Hound Mix "Sadie" | Daytona Beach Dog Trainers | Central Florida Dog Trainers" down below: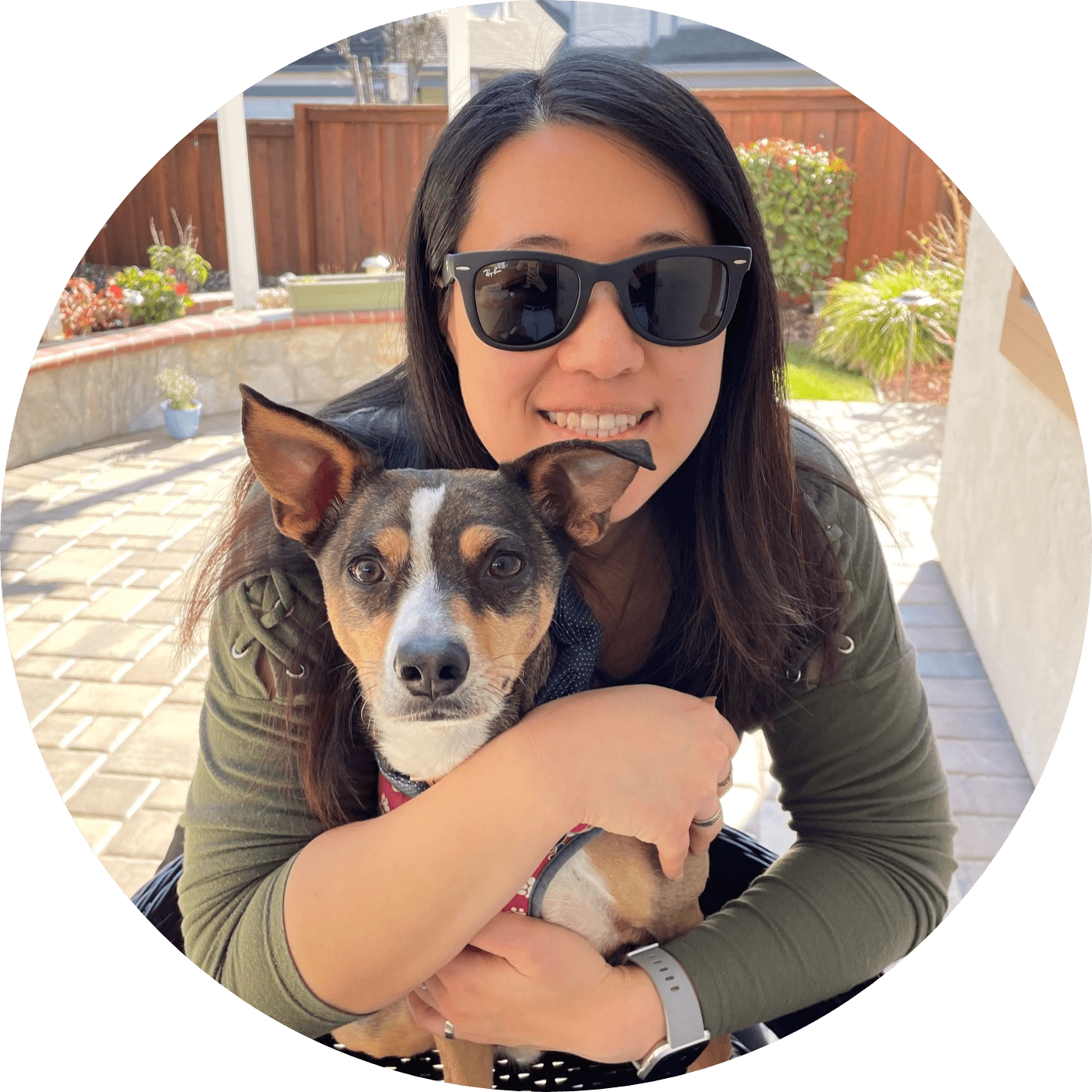 Dr. Sabrina Kong graduated from the Royal Veterinary College in England in 2016 and has been working at a small animal clinic in Northern California since then. She grew up in the Bay Area and got her bachelor's degree from Cal Poly San Luis Obispo. She also became a Certified Canine Rehabilitation Practitioner through a program at the University of Tennessee.
When she isn't in the clinic taking care of her four-legged patients, she enjoys traveling and trying new foods with her friends and her three-legged dog, Apollo. She adopted Apollo from her clinic when he was a puppy with numerous health issues. Dr. Kong truly cares about taking care of animals.