Your dog deserves the same love and devotion in their foods that you give them in every other aspect of their life. Much like humans, dogs require specific nutrition and balance to have a well-rounded diet and to be supported for their health in all of the ways they should be. 
This is true of German shorthaired pointers, as well as just about any other animal out there. With that in mind, we know that finding just the right food can be quite the challenge. There are SO many options out there and you could search forever only to end up frustrated that you still can't make a decision. 
Don't worry! We've got you covered! We've taken the time to do testing and research so that you don't have to. We not only looked for quality foods but also took the time to research and identify just what type of nutrition your GSP really needs for their health and activities. 
In this guide, we will share with you our top 6 picks for the best dog food for a GSP, or a German shorthaired pointer. We've sifted and sorted and narrowed down the options with a good variety of budgets, flavors, and brands for you to choose from. We hope you will find something here that can work well for your dog. 
Let's get started! 
The 6 Best Dog Foods for German Shorthaired Pointers Reviewed
In this part of our guide, we will break down the foods that we selected to be the very best options out there. We do not make these decisions lightly but rather work through a myriad of details and information to carefully choose based on nutrition and ingredients. 
Our goal was to bring you the best but also bring you a variety of options so you actually have choices and don't feel like you're stuck with just one flavor that really doesn't appeal to you. Keep in mind your dog and your preferences as you check out these top picks! 
Product
Best Overall
Purina ONE Smart Blend Natural Chicken & Rice Adult Dry Food
Runner Up
Hills' Science Diet Dry Dog Food, Sensitive Stomach and Skin
Editor's Choice
Rachael Ray Nutrish Super Premium Dry Dog Food, Chicken & Veggies
Image
Best Overall
Product
Purina ONE Smart Blend Natural Chicken & Rice Adult Dry Food
Image
Runner Up
Product
Hills' Science Diet Dry Dog Food, Sensitive Stomach and Skin
Image
This first option is one of our top picks and with good reason. This food has almost 15,000 ratings when you check out the listing and yet it still falls into one of the most highly-rated options out there. It's a steady 5 stars and it is Amazon's Choice in this category as well, which really does stand out to us when you're searching through so many choices. 
The Purina One Smart Blend food comes in a lot of different sizes. GSPs tend to eat plenty of food so you might as well go with the large bag. It also comes at a really great price for the quality so if you need a budget-friendly options then this one is a perfect fit. 
This formula is chicken and rice. Chicken is the first ingredient, which is always something that we really like to see in dog food. You can't beat that! It's a good that is made in the USA and they use quality, reliable ingredients for balanced nutrition. There are no fillers and a wholesome approach to nutrition. 
This is a veterinarian recommended brand that is packed with vitamins and minerals to give your dog all-around health support in every aspect of the word. There's a good variety of ingredients here, which quite the array of options overall. 
Hill's Science has been a reliable, veterinarian dog food for many years and that's with good reason. Their food is consistent and reliable and provides healthy nutrition that is perfect for sensitive skin and coats, as well as sensitive digestion.  This one is a simple chicken recipe and they also have a grain-free recipe if that is your preference. 
This food again focuses on a wholesome and balanced nutrition so that your dog gets all of the nutrients and minerals that they need and deserve. The formula is created for digestive health with prebiotics and fiber. In addition, your GSP will have a beautiful coat and their skin will be nourished and healthy. 
They don't add any artificial preservatives and no artificial colors or flavors either. It's just a simple dog food with simple and reliable ingredients overall. This is one of the top veterinarian recommended brands on the market and you can often find it at your vet's office as well. 
We like to point out when a brand has integrity and values as well and Hill's Science does just that. You won't find chicken by-product meal here. They make all of their food in the USA and they also work hard to care for shelter pets throughout the USA, donating food and support.
Rachael Ray doesn't just work the kitchen making delicious foods for humans but now she creates dog foods too. She uses the same approach to create quality and tasty meals for your pup and this is a great option for your German shorthaired pointer. This recipe is chicken and veggies and you can buy it in small to extra-large bags as well. 
This brand uses chicken as the first ingredient, which is always a plus that we like to see. There are no artificial flavors or ingredients, no fillers, and concerning ingredients that wreak havoc or provide absolutely no nutritional value for your dog. The food also has natural prebiotics that aid healthy digestion as well. 
In addition to presenting your pup with a balanced diet that is absolutely healthy and nutritious, Rachael Ray uses the sale of this food to support and aid animals in need across the country. Every ingredient here is safely cooked in the USA and sourced here as well. 
They believe in using the finest ingredients. The chicken even comes from U.S. farm raised chickens so you know you're getting quality protein from the food. She uses a balanced approach with real chicken, brown rice, and veggies so the ingredients are thoughtful and balanced. 
German shorthaired pointers are often used as sporting and hunting dogs, which means they spend a lot of time in the wild. Taste of the Wild is all about bringing a little bit of the wild to your dog, in a hunter and gatherer style. It's unique and wholesome and that wild flavor is something that dogs like this really love. 
In this food, the first ingredient is salmon and they use real salmon that is fresh-caught to make the food. This food is quite a bit pricier than some of the other options so that is certainly something to be aware of as well. It's well worth the cost if it's something you're willing to pay for. 
This recipe uses the Pacific stream to create a balanced and nutritious food for your GSP. They make the food grain-free and rather find balanced nutrition through other sources. If you prefer grain-free feeding, this is really great! The salmon is smoked, giving he food delicious flavor that dogs love. 
The food is packed with probiotics that are specific to the needs of dogs, rather than being random probiotics. It's also an egg-free recipe, which can sometimes be challenging to find. You will find it supports the digestive system and provides necessary antioxidants as well.
Take your dog food back to the basics with a dog food that is designed for dogs that require excellent nutrition for whatever they are supporting. In this case, you find the proper support and nutrition for a German shorthaired pointer that is active and functional and used for a working dog. They need additional calories and nutrition to sustain those activities. 
This food is dense in nutrition, made with quality proteins that include a blend of flavors. It has beef, chicken, pork, and fish meals in it to bring protein from multiple varieties and provide a high nutrition meal. 
In addition to the meat meals, this has vitamins, minerals, amino acids, and essential fatty acids that are fortified into the food to bring your dog all of the nutrition that they need. The company has Victor core ingredients that are scientifically proven to support the digestive and immune systems of your pup. 
This food digests easily and is made with wholesome and balanced foods. It does have grains but the grains are all gluten-free so you get quality nutrition and you hit all of the important points on the food pyramid while you do it. 
Finally, we finish up with the Purina Pro Plan food, that is made with nutrition and professional dogs in mind. In this case, your German shorthaired pointer is most likely incredibly active, especially if you train them and use them for sporting and hunting activities. They need proper nutritional support to sustain that lifestyle and this dog food gives you just that. 
This line was their focus line but they have recently changed it to Pro plan. The intentions are clear as to what the food is intended for. In addition, the formula is made for sensitive skin and stomachs so your dog always gets the nutrition they need without harming their tummies and coats. 
This is a high-protein formula and the protein comes from quality ingredients. It's made with salmon and rice but the rice is wholesome and not just your everyday white rice. They add oatmeal to fortify the food and this is easy for digestion and gentle on dogs in many ways. 
This food does not contain corn, wheat or soy. It is also not packed with awful fillers or artificial flavors and colors that just have no nutritional value. You will also find that there is no chicken or by-product meal in the mix, which is always a plus in our books. 
How to Choose the Best Dog Food for a GSP
Choosing a dog food requires more than just knowing brands. You also need to know the quality of the brands and food but more than that you need to understand what your dog needs as far as nutrition is concerned. Every breed and every dog, including the German shorthaired pointer, has specific nutritional requirements. Before you choose a dog food, you should take into consideration some of these details so you know you are choosing wisely for your pup. 
This section of our guide is all about providing you with basic information to help you make an informed decision. We will talk about the nutrition needs of your GSP and how you can thoughtfully choose a quality dog food that supports those needs. Keep in mind that your dog may be different from someone else's so always take into account the needs of your dog specifically. 
You know your dog better than anyone else so take your knowledge and combine it with these helpful tips to help you understand what options may work best for you and your pup's needs. 
Nutritional Requirements
One of the most essential things that you should consider is the nutritional value of the food. German shorthaired pointers are incredibly active, particularly if they are used for sporting and hunting events. This means they need appropriate nutrition to support their activity levels but they also need nutrition that supports their coats and their joints as well.  
Your GSP requires high-quality animal protein in his or her food. Always look for food that has high levels of protein but also provides protein from quality sources as well. You don't just want random protein or mystery meal additives just because it's a high protein percentage. So, look for quality protein that comes in high levels. To be clear, meal is acceptable if you know what it is and you know it's not just some foreign additive that is used to fill the food but degrade the quality. 
A GSP really needs high protein and it needs to come from a quality source, no matter what. It is possible to get quality protein from plant sources as well but for a GSP, the majority of the protein really needs to be derived from meats. 
We like to see foods like lamb, chicken, turkey, and even beef as a quality choice for these dogs. As always, some dogs do have sensitivities and allergies so this is something to be aware of. In those cases, you can turn to ingredients like salmon, turkey, or buffalo to bring your dog hearty nutrition without the sensitivity issues. 
So, why does the GSP need protein that is superior in quality? These dogs are often incredibly active and are also used in a lot of hunting and sporting event as well. This requires protein to support their required energy and to strengthen and support their joints and muscles as well. 
Proteins aren't all they need so also look for a balanced diet that includes other fruits and vegetables, grains or healthy carbs and fats, and additional probiotics, antioxidants, and amino acids. 
When you put all of these details together, you find a quality meal that offers balanced health and nutrition for the optimal health of your pup.  
What are the Calorie Needs of a GSP? 
When it comes to choosing a food for your GSP, you want to be familiar with their calorie needs. The activity levels and requirements of a German shorthaired pointer requires a fairly high number of calories to support them. When full grown, the average male GSP weighs around 60 pounds. 
The recommended calorie level on for this size and weight of dog on a daily basis is set at about 1,500 calories each day. These charts are available for you so you can always look up your dog's size and weight. This number is for an average dog who has just average activity levels and needs. 
Now, consider that your German shorthaired pointer might be extra active if you use them in the field or for extracurricular activities. In this case, the calorie intake needs of your GSP is about double, meaning that an average 60-pound male needs more like 3,000 calories per day for optimal health. 
Check the Ingredients List
Always check the ingredients list. This is essential to know where your dog's nutrition is really coming from but also to know if there are additives and fillers thrown in that offer no value or are just downright bad for them. 
Keep in mind that we prefer protein that is sourced directly from animals. If the ingredients include meal from meat, just make sure you know the meat source and that it's not mystery meal. 
Always look for nutrition that also includes essential vitamins and minerals here. For general health, we recommend looking for specific vitamins such as A, C, and E. You will also want to watch for things like calcium and phosphorous as well. These are all essential for overall health purposes. 
There are some high-quality foods contain chondroitin and glucosamine, or MSM, and these are really great additions if you can find them. These tend to be more expensive and more rare. However, these things support bone and joint health, which is critical for an active GSP. 
Finally, as far as ingredients go, the addition of prebiotics and probiotics will round out the balanced diet and nutrition that your dog needs. When it comes to ingredients, balance and nutrition are key so look for ingredients that serve a purpose for your dog's health.
Conclusion For The Best Dog Food For A GSP
In closing, understand that the best way to find the best food for a German shorthaired pointer is to understand the needs of your dog in particular, as well as the breed specifics. We hope that you find this guide to be a helpful resource for choosing a quality dog food for your GSP. 
There is a lot to know and understand but just know that you really can't go wrong with any of the choices here in our guide. Our goal is for both balance and nutrition to play a huge role in the food your GSP eats. 
Remember that your pet relies on you to make sure they are getting the proper nutrition for their optimal health. 
Check out this video: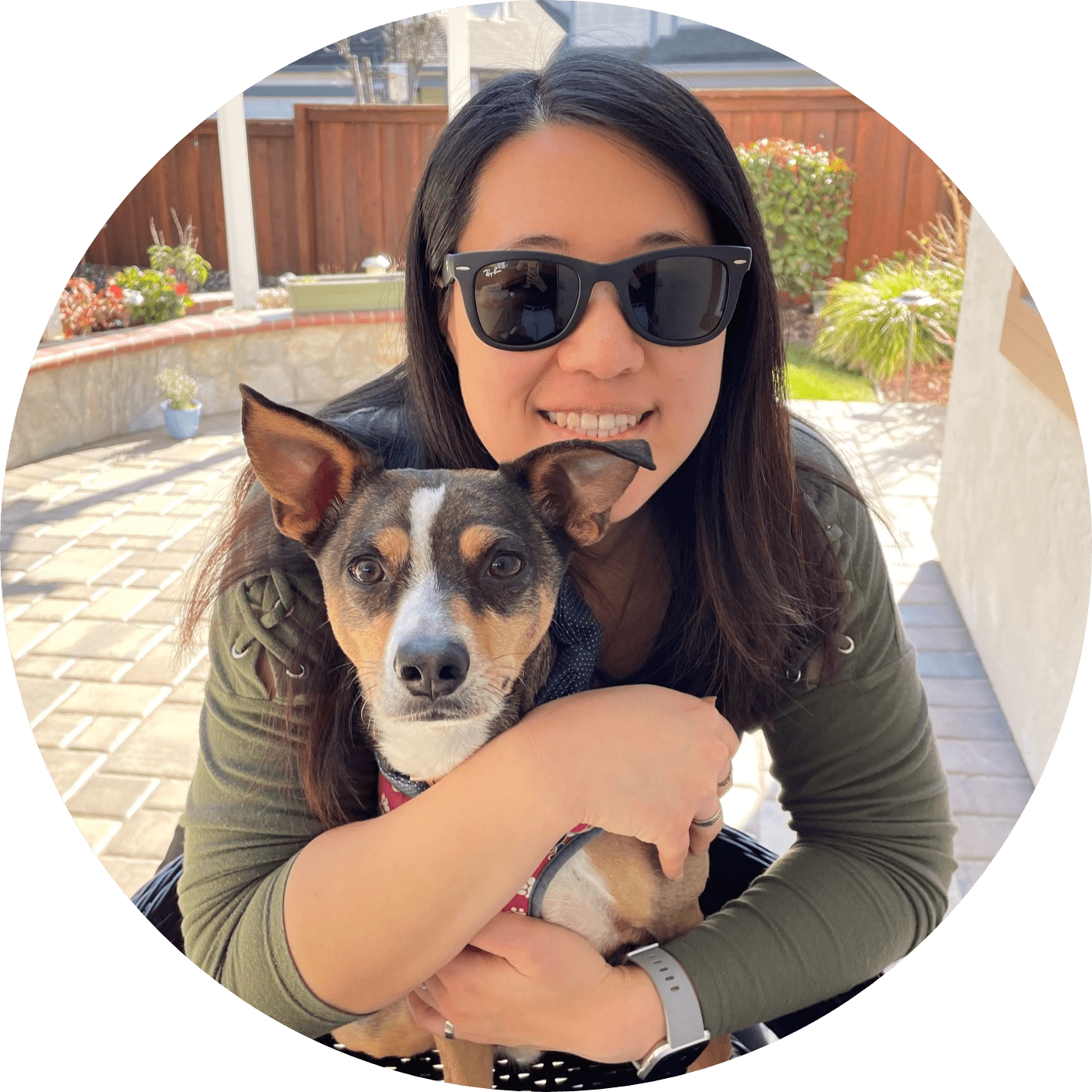 Dr. Sabrina Kong graduated from the Royal Veterinary College in England in 2016 and has been working at a small animal clinic in Northern California since then. She grew up in the Bay Area and got her bachelor's degree from Cal Poly San Luis Obispo. She also became a Certified Canine Rehabilitation Practitioner through a program at the University of Tennessee.
When she isn't in the clinic taking care of her four-legged patients, she enjoys traveling and trying new foods with her friends and her three-legged dog, Apollo. She adopted Apollo from her clinic when he was a puppy with numerous health issues. Dr. Kong truly cares about taking care of animals.