Are you looking for breeders with Basset Hound puppies in Wisconsin for sale? Here's what you need to know. Basset Hounds are an independent, pleasant, and easygoing breed of dogs famous among animals and humans for their affectionate and extremely friendly nature.
Before you scroll down this list of breeders with Basset Hound puppies in Wisconsin for sale, you can check out these other recommendations from our team at We Love Doodles: Vizsla Puppies in Wisconsin For Sale and German Shepherd Puppies in Wisconsin For Sale.
Basset Hound Breeders in Wisconsin
A little stubborn yet laidback, these canines are generally the pet of choice for people new to the dog world. They'll not only improve your daily life but will also top your expectations. So today, we bring you our list of the top 4 breeders of Basset Hound Puppies for sale in Wisconsin so that you can enjoy a loving companion that'll stick around for years to come.
Basset Hound Product Recommendations: Best Beef Trachea For Dogs and Best Air-Dried Dog Food.
1. First Class Bassets and Bedlingtons
First Class Bassets and Bedlingtons have been breeding top-ranked Bedlington Terriers and Basset Hounds since 1971 – that's for 25 years and counting. They are an ethical hobby breeding program practicing preservation breeding to the written standard, producing superior-quality puppies from strategically planned litters. First Class Bassets and Bedlingtons are honored AKC Breeders of Merit and members of the Basset Hound Club of America.
Owing to their vast experience and education in healthy breeding, First Class Bassets and Bedlingtons produce social, easily trained puppies that transition smoothly into their new homes. This is possible by practicing enrichment methods such as human interactions, early neurological stimulation, and household desensitization.
In addition, every puppy undergoes various health tests and frequent visits to the vet to ensure they are happy and healthy before being sent to their new home with some dog food and a toy with their littermates' scent. A health guarantee is commonly included with a puppy; however, the period and particulars may vary.
First Class Bassets and Bedlingtons Details
2. Stud Hound Bassets
Next on our list of Basset Hound puppies in Wisconsin is the Stud Hound Bassets program. Based on the principles of dedication, passion, and admiration for Basset Hounds, these breeders provide superior-quality pure-bred puppies that are healthy and capable of performing athletically.
Stud Hound Bassets are responsible for breeding and socializing fit and joyful puppies so families can enjoy living with this cuddly canine. They understand the importance of training puppies correctly from an early age – building confidence, teaching basic manners, and emphasizing obedience through socializing with other animals, people, and adult dogs.
Prioritizing quality over quantity, these breeders produce only a few litters yearly. Every puppy is bred indoors to safeguard its health and well-being, and all applicable puppy health protocols are followed. Also, they avoid line breeding to ensure the dogs don't carry genetic disorders such as skin ailments, bad temperaments, allergies, and even cancers.
Stud Hound Bassets offer a two-year health guarantee for their puppies, covering genetic conditions. Before being sent to their new home, the puppy accompanies some dog food and a toy with their littermates' scent. And last but not least, for every Basset Hound sold, five percent of the proceeds will be donated to a Basset Adoption of your choice.
Stud Hound Bassets Details
3. Mueller's Bassets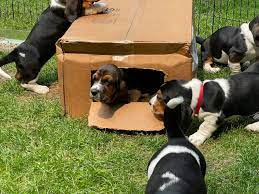 The main focus of Mueller's Bassets is maintaining the Basset Hound standards, breeding only after comprehensive research and health analysis of the parent dogs. Their Basset Hound puppies for sale in Wisconsin have brilliant temperaments, top health, and are socially compatible with humans and other animals.
The Basset Hounds at Mueller's Bassets are raised in their own home, ensuring that they get accustomed to the everyday routine of family life. Their goal is to provide well-rounded and easily trainable puppies to loving families. Spending time with other adult dogs early on, the puppies learn to be confident and social and acquire proper etiquette.
They are also encouraged to play and explore in various indoor and outdoor settings using techniques such as early neurological stimulation (ENS; days 3 through 16 post-birth), grooming desensitization (weekly shortening nails, etc.), socializing with the elderly and children, physical, and mental, and sound stimulation, noise desensitization, and desensitization to various surfaces.
All their puppies are regularly dewormed, receive health clearance from a veterinarian, receive all initial vaccinations, and are micro-chipped before being sent to their new homes. Moreover, each departing puppy carries a blanket with their littermates and mom's scents, vaccinations, food starter bags, and AKC registration.
Mueller's Bassets provide a one-year health guarantee for all their puppies, covering congenital and genetic defects, including Autoimmune Thyroiditis, Primary Open Angle Glaucoma, and Thrombopathia based on the Basset Hound type.
Mueller's Bassets Details
4. Calabria Basset Hounds
Last on our list of Basset Hound puppies in Wisconsin is Calabria Basset Hounds. This program aims to provide top-quality puppies that are physically sound, healthy, instinctual, and have amazing temperaments. They fully understand their responsibility to prioritize their puppies' overall health and personality and to ensure they are appreciated and well-cared for before being sent off to their forever homes.
Calabria Basset Hounds breed and raise socially acceptable and happy puppies for families to relish living with a Basset Hound. Their dogs are trained early on to function as a part of a family and trained to play hard, work hard, love hard, and outshine as pets.
Some responsible enrichment and training practices used by Calabria Basset Hounds include human interactions, socializing with other animals, and socializing with adult dogs. They are committed to preparing their puppies the best they can for a smooth transition during the rehoming process.
Calabria Basset Hounds follow all applicable puppy health protocols, and all their puppies are microchipped before being handed over to their future families. They also offer a one-year health guarantee covering congenital and genetic defects, including von Willebrand Disease I (vWD I) and Primary Open Angle Glaucoma based on the Basset Hound type.
Calabria Basset Hounds Details
How to Choose Basset Hound Breeders in Wisconsin
A committed and reliable breeder socializes with their puppies, provides a safe and nurturing growing and living environment, and prioritizes their health and well-being over everything else.
So before selecting Basset Hound Breeders in Wisconsin, keep in mind these particularly vital points so that you don't fall prey to unreliable or low-quality breeders:
Reputable breeders are transparent and openly display their non-profit and tax status, details about the board of directors, location, registration details, and phone number.
The environment where the puppies are raised and bred should present commitment and an overall sense of security and safety for the dogs and staff involved.
Always check for a registered Affix; all puppies should have the breeder's name on their registration papers. This guarantees integrity and responsibility on the part of the breeder.
Check if the breeder has vetted the puppies, and ensure they are neutered, vaccinated, and treated for worms/fleas and other diseases. Also, all this information must be documented, including information about the puppy's personality and temperament.
Dedicated breeders spend time and money to support health organizations researching health issues and diseases in Basset Hounds.
General health consents provided by the breeder should include heart, eye, hips, Patellas, DE (Dry Eye), CC (Curly Coat), and EF (Episodic Falling).
More Information About Basset Hound Puppies in Wisconsin
The attractive and easily recognizable Basset Hounds are a long-term favorite among dog breeders and lovers worldwide. These soft-tempered and low-key hounds may be somewhat stubborn but are undoubtedly charming. Standing at a maximum of 14 inches at the shoulder, Basset Hounds have extraordinarily heavy bones, short little legs, and huge paws, with the strength and stamina of any big dog.
They are well-known for their large, domed heads, unusually long, velvety ears, sad-looking eyes, and a wrinkled brow that reminds one of a sad clown. Excelling in endurance rather than speed, Basset Hounds move swiftly and effortlessly.
Their sense of smell is uncanny, coming second only to the Bloodhound's nose. Subtle and courteous at home, Basset Hounds do have a loud, ringing bark. And even though they are not too expressive with affections, they are unwaveringly faithful.
Conclusion For "Basset Hound Puppies In Wisconsin"
We hope these top four Basset Hound breeders in Wisconsin will help you select the perfect Basset Hound puppy for your family. As always, we'd like to thank all the amazing breeders for breeding and raising these healthy and happy Basset Hounds and making a difference in their lives and the lives of the individuals and families that adopt them. Feel free to contact the breeders for more questions and comments.
For more guides similar to this list of breeders with Basset Hound puppies in Wisconsin for sale, you can check out:
If you enjoyed this guide on this list of breeders with Basset Hound puppies in Wisconsin for sale, you might want to watch the "Everything You Need To Know About Owning A Basset Hound Puppy" video down below:
Garrett loves animals and is a huge advocate for all Doodle dog breeds. He owns his own Goldendoodle named Kona. In addition, he volunteers at the Humane Society of Silicon Valley, where he fosters dogs and helps animals. Garrett enjoys writing about Doodles and believes that dogs can teach humans more about how to live than humans can teach a dog.
Why Trust We Love Doodles?
At We Love Doodles, we're a team of writers, veterinarians, and puppy trainers that love dogs. Our team of qualified experts researches and provides reliable information on a wide range of dog topics. Our reviews are based on customer feedback, hands-on testing, and in-depth analysis. We are fully transparent and honest to our community of dog owners and future owners.