The Basset Hound is a short-legged scent-hound breed among France's six recognized Basset-type breeds. Originally bred for hunting hares, these dogs have an exceptional sense of smell that comes second only to the Bloodhound.
Basset Hounds are independent dogs with a slightly stubborn streak. However, they're very pleasant, friendly, easy-going, and connect well with people and animals of all ages. A few breeders are selling Basset Hound puppies in Oregon; however, finding one that is reliable, reputable, and offers health-tested, top-quality, and medically covered puppies is extremely important.
If you live in or near Oregon and are searching for Basset Hound puppies, this article will connect you with some of the best breeders in the business! We'll also tell you how to distinguish a good breeder from an unethical backyard breeder.
Before you scroll down this list of breeders with Basset Hound puppies for sale in Oregon, check out these articles: Aussiedoodle Puppies in Oregon – Top 4 Breeders! (2023) and Goldendoodle Puppies in Oregon – Top 5 Breeders! (2023).
1. Houndful Hearts
Houndful Hearts collaborates with various reputable breeders worldwide to produce healthy and happy European Bassets featuring excellent bloodlines. In addition, the breeder is an approved and active member of Bred with Heart with AKC and the Good Dog breeder program for genetic testing.
The facility is a holistic kennel where the dogs can roam free and are raised with immense love. Moreover, the breeder ensures that all its canines are free of harmful and synthetic chemicals that compromise the immune systems and make the animals prone to allergies and diseases.
Houndful Hearts strictly follows AKC guidelines to preserve and enhance the standard of the Basset breed. All dogs feature excellent temperaments and conform to the physical characteristics associated with the breed. They are also learn to showcase exemplary mannerisms.
Houndful Heart puppies live alongside older dogs, children, the elderly, and many visitors to improve social skills. Some of the enrichment methods used by the breeder include touch and noise desensitization, grooming desensitization, Early Neurological Stimulation (ENS), and initial house training.
To guarantee top-quality health, all the puppies are vaccinated, dewormed, microchipped, and undergo a thorough veterinary exam before heading to their forever homes. They are also given human-grade cold-pressed food supplements. In addition, all puppies go home with their complete medical record, a food starter kit, AKC registration, and a blanket with their mom or littermate's scent.
Houndful Hearts provides a two-year health guarantee for all their Basset puppies, covering genetic defects.
Houndful Heart Details:
2. Dilley's Country Bassets
Dilley's Country Bassets, a small farm-based breeder, raises American/European Bassets. The main goal of the breeder is to raise top-quality furry canine companions for dog lovers. All the puppies are born and reared inside their home with unrestricted access to an enormous backyard for running and exercising.
Dilley's Country Bassets began with Millie, who joined the breeder's family in June 2020. Mabel, Millie's full-blooded sister, showed up a few months later, and that's how the breeding of beautiful Bassets began.
The two-acre farm also features other animals, including cats, goats, chickens, and other breeds of dogs, so the Bassets learn to socialize and interact. When the weather permits, the dogs go on hikes as well.
The existing litter of puppies features 55 percent European and 45 percent American bloodlines. In addition, they are health-tested and come with medical cover. For more information about purchasing and pricing, go through the puppy application on the breeder's website.
Dilley's Country Bassets Details:
3. Bassets of Hood Canal & Steamboat Island
There might only be a few Basset Hound puppies for sale in Oregon, but located just six hours away in Washington is Bassets of Hood Canal & Steamboat Island. Their Bassets are an exceptional combination of American and European bloodlines. To pick up your cherished puppy, you can either meet the breeder at Seattle–Tacoma International Airport or have him flown to your nearest airport via a chaperone.
Bassets of Hood Canal & Steamboat Island is a small kennel-based breeder. Spread over a six-acre facility; the puppies experience nature in abundant peace and beauty. The facility also features a 1,300-square feet indoor kennel with a generator that keeps it heated and cooled. The dogs can choose to be indoors when they're in the mood for belly rubs or outdoors when their hunter instincts kick in.
To maximize socialization, the puppies are raised around other dogs and cats and handled by children under adult supervision. The enrichment methods used by the breeder include initial house training, Puppy Culture, noise and touch desensitization, doggy door training, car training, basic mannerisms, crate training, and potty training.
A licensed veterinarian thoroughly examines all puppies. They're also vaccinated, AKC registered, given probiotics, and fed high-quality food. They are microchipped and regularly dewormed once they are two weeks old. Once they're ready to leave with their forever parents, the puppies receive their medical certificates, a puppy starter kit, a food starter bag, and a blanket with their mom' or littermate's scent.
Their dogs are bred in mahogany and white, white and lemon, black-brown, and white colors. Bassets of Hood Canal & Steamboat Island provides a one-year health guarantee covering genetic defects.
Bassets of Hood Canal & Steamboat Island Details:
4. Welcome Home Bassets
And the last breeder on our list selling Basset Hound puppies in Oregon is Welcome Home Bassets.
Located about seven hours from Oregon, this breeder is based in Pinehurst, Idaho. Spread over an open area of 10 acres, the breeder provides ample space for Basset puppies and dogs to roam around with their children and other pets.
Dedicated to matching the perfect homes with the perfect Basset, you can meet the breeder at Spokane International Airport, choose a location you can travel easily to, or have your puppy flown or driven to your location.
Welcome Home Bassets ensures that their breeding parents are healthy and come from good bloodlines. In addition, they are intentionally given the highest-quality food and vitamins to supplement their bodies so that they give birth to well-nourished puppies.
All puppies are thoroughly vet-checked, updated on age-appropriate vaccinations, and dewormed. They are well-tempered, well-socialized, and routinely cuddled and handled by family members and visitors.
The breeder raises tan and white, black and white, and brown Bassets. The colors may vary with each litter.
Welcome Home Bassets Details:
How to Choose Basset Hound Breeders in Oregon
Finding a responsible breeder selling Basset Hound puppies in Oregon is the first and most important step in finding your forever canine companion.
We've mentioned four of the best breeders for Basset Hounds in this article, but if you're looking on your own, here are some tips for distinguishing a responsible breeder from an unethical backyard business:
More Information About Basset Hound Puppies in Oregon
The word Basset means "low set" in French. This breed is well-known for its hanging ears, lovable sad expression, prominent jaw, droopy eyes, and short, tiny legs. The average weight of a Basset Hound is generally between 50-70 pounds. Originally bred for hunting, today's Basset Hounds make great pets with pleasant and adaptable personalities.
Basset Hounds love everyone and everything. They are the ideal breed for children and the elderly and are always up to making new friends and welcoming everyone they see. Bassets also have a unique sense of humor and are perfect for dog owners who don't mind a few hilarious antics around the house.
Frequently Asked Questions
How much does a Basset Hound puppy cost?
Basset Hound puppies can cost anywhere from $1,500 to $3,500 depending on the breeder and the dogs' lineage.
Do Basset Hounds live very long?
Yes! Basset Hounds have a life expectancy of 12 to 13 years.
How much do Basset Hounds bark?
Basset Hounds rank fairly high on the noisy list. Their bark is unmistakable, as is their howl.
Conclusion for "Basset Hound Puppies Oregon – Top Breeders"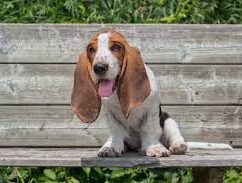 Bassets are best known for their calm and loving personalities. This breed is great around children and makes exceptional companions and family pets. Basset puppies will brighten the day of everyone they meet!
So, if you're ready to start your quest for Basset Hound puppies for sale in Oregon or nearby states, contact the breeders on our list today.
For more guides similar to this list of breeders with Basset Hound puppies in Oregon for sale, you can check out:
Before you bring home a Basset Hound companion from a breeder in Oregon, you can learn more about this dog breed by watching "Basset Hound – Top 10 Facts" down below:
Garrett loves animals and is a huge advocate for all Doodle dog breeds. He owns his own Goldendoodle named Kona. In addition, he volunteers at the Humane Society of Silicon Valley, where he fosters dogs and helps animals. Garrett enjoys writing about Doodles and believes that dogs can teach humans more about how to live than humans can teach a dog.
Why Trust We Love Doodles?
At We Love Doodles, we're a team of writers, veterinarians, and puppy trainers that love dogs. Our team of qualified experts researches and provides reliable information on a wide range of dog topics. Our reviews are based on customer feedback, hands-on testing, and in-depth analysis. We are fully transparent and honest to our community of dog owners and future owners.