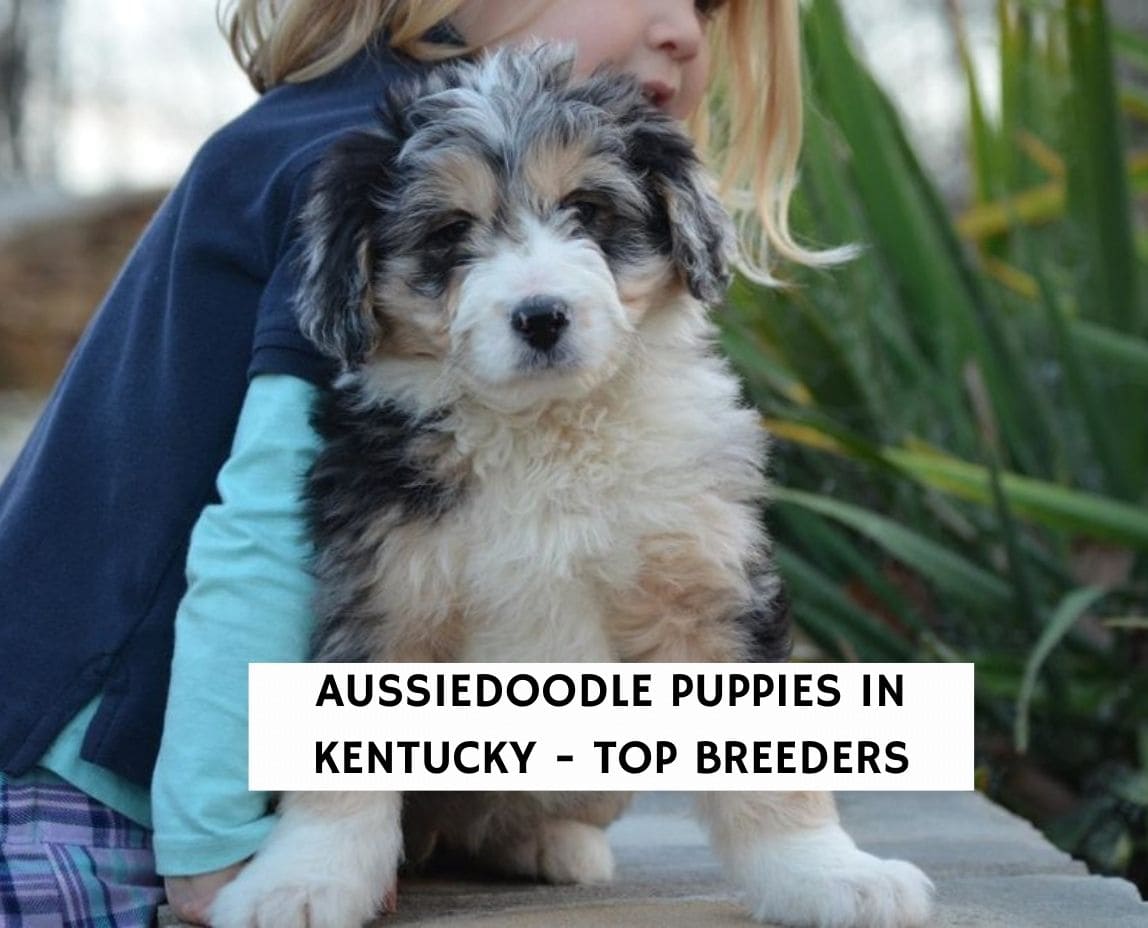 If you're searching for the best Aussiedoodle breeders in Kentucky, then you've come to the right place. You're either someone who loves being active all day or enjoys spending quiet days whenever you're free.
An Aussidoodle makes for a great company in both these situations—Aussiedoodles cross between the calm and collected Australian Shepherd and the active and intelligent Poodle.
They're so bright that they are referred to as the Einsteins of the dog world. Aussiedoodles are incredibly affectionate and have a surprisingly lovely temperament, courtesy of their Australian Shepherd parent.
They enjoy running around and tiring themselves out, but don't let their zoomies fool you. Aussiedoodles are great at snuggling and make for excellent service and therapy dogs.
Before scrolling down this list of the best Aussiedoodle breeders in Kentucky, you can check out these recommendations: Best Labradoodle Breeders in Kentucky and Best Cockapoo Breeders in Kentucky
Aussiedoodle Puppies For Sale in Kentucky
If you're a Kentucky resident, here's a list of the top Aussiedoodle breeders in the state.
Aussiedoodle Product Recommendations: Best Dog Detangler Spray and Best Dog Head Halters
1. PuppySpot's Aussiedoodle For Kentucky
The enhanced, all-inclusive experience provided by PuppySpot towards their customers places them on top of this list of premier Aussiedoodle breeders in Kentucky.
Their mission of connecting high-quality puppies with the most loving homes is incredibly commendable. In addition, they are completely intolerant of unethical breeding and thus have an extremely rigorous screening process and compliance for the breeders they choose to work with.
They've got over 100 points of emphasis that associated breeders should mandatorily adhere to. Your Aussiedoodle puppy will have been raised with a tremendous amount of attention and care.
They also have a scientific advisory board with veterinary medicine experts who enforce industry-leading standards for breeding. In addition, you get a special American Kennel Club (AKC) registration package that has been fully paid for by PuppySpot.
To experience a host of exclusive benefits alongside adopting the Aussiedoodle of your dreams, contact PuppySpot using the information listed below:
PuppySpot Details
2. Blessed Hope Kennels
Owned by the Shrock family, this breeding company first began raising Goldendoodles in 2006 as a family project. Since then, they have expanded into raising Aussiedoodles and Bernedoodles as well.
Their Aussiedoodles puppies are famous for being incredibly social, as they've spent every waking moment around children. After 2-3 weeks of the puppies being born and individually displayed on their website, the breeders allot a specific day and time to accept deposits via PayPal.
This non-refundable deposit may range anywhere between $250 and $450. Visitations are encouraged after placing a deposit. Before arriving at your doorstep, these puppies will have received their first round of shots and will be dewormed. In addition, you will receive a copy of their health records from vet examinations and their CKC registration papers.
You can pick up your Aussiedoodle puppy when they're around 7-8 weeks of age. Blessed Hope Kennels offers a one-year health guarantee covering major genetic health issues. The puppies will also be microchipped.
Blessed Hope Kennels Details
3. Dunroamin Farms
This breeding company was set up in 2014 by Brandy Potter, who aims to offer the ultimate experience for people looking for a canine best friend. Their objective is to become the premier dog kennel in Burkesville, Kentucky. 
They are extremely dedicated to caring for their puppies during their first eight weeks of life, as they firmly believe that training and loving your puppy in its formative years makes for great temperament in them.
Starting at just two weeks of age, their Aussiedoodles are carefully groomed. At Dunroamin Farms, the puppies are subjected to different situations and early stimulation, so they get desensitized to different surroundings.
They are also extensively tested using Canine Healthcheck to eliminate 150 different genetic illnesses. In addition, a one-year health guarantee is offered to cover any disorders that the parent dogs have been genetically tested for.
To procure one of their mini or standard F1B Aussiedoodles, you need to pay a non-refundable deposit of $200. The puppies are ready for their forever homes by the time they're eight weeks of age. To get in touch with Dunroamin Farms and enquire about these gorgeous canines, you can use the contact information listed below.
Dunroamin Farms Details
4. Allons-y Dogs
The Harris family owns this small-time breeding facility aspires to create the perfect adoption experience. They are particular about providing more than just a puppy to their customers; they prioritize support and offer training recommendations and material so that you can give your pet the best life they can have.
Allon-y Dogs is Life's Abundance Independent Field Representatives, which means they promote their products with incredible evidence of its effect on your Aussiedoodle's health.
They screen their clients using a checklist that determines whether you can adequately provide for the puppy. Then, after filing your adoption application, you can contact them by phone or schedule an in-person visit to determine further specifics.
If you want to purchase an Aussiedoodle puppy, you'll need to make a partially refundable deposit of $400 using Paypal or Venmo. During this time, you'll receive constant updates about your puppy.
You can pick the puppy of your desire after 4-6 weeks of their birth. Raised with the highest quality foods, health testing, and temperament training, the puppies are given 24/7 attention from their children as well. The puppies retain their declaws and are vaccinated and dewormed accordingly. 
Allon-y Dogs Details
5. Twisted B Kennels
Located in Benton, this breeding kennel is owned by Bailey Barrett, an animal lover who strives to raise top-quality Aussiedoodles. She enjoys spending hours training and teaching her dogs different tricks to understand their strengths and weaknesses.
She is also of the firm belief that the well-rounded development of young puppies can help them transition to a new family easily. Twisted B Kennels offers mini and standard Aussiedoodles for dog lovers looking to adopt this lovely breed.
The puppies grow alongside adult dogs and are enriched using methods such as early socialization, puppy culture, household desensitization, controlled exposure to rain, etc. This stimulation helps ensure a desirable temperament.
The puppies are microchipped, vaccinated, and are dewormed every two weeks. They also get started on health supplements right after birth. A non-refundable deposit of $500-$1000, depending on the size and coloring of the puppy, needs to be paid to get on their six-month waitlist.
You can take the puppy home when they're eight weeks old. Twisted B Kennel offers a one-year health guarantee against all genetic ailments, and their puppies are completely genetically tested. So if you're interested in getting yourself a little Aussiedoodle, contact them at the earliest.
Twisted B Kennels Details
6. Doodles Galore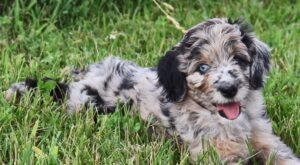 Pam and her husband Dusty are the loving owners of Doodles Galore, who raise their Aussiedoodle and Goldendoodle puppies on a 14-acre farm in Benton. Pam has extensive experience working with veterinarians and has dedicated all her attention to her canines. 
Their Aussiedoodle puppies are standard-sized and have minimal to low shedding. They only sell to inside homes. The canine parents are registered service and therapy dogs so that you can be assured of great temperament from the puppies. 
To get on their waitlist, they require a non-refundable deposit of $200. You can pick them up when they reach eight weeks of age. During this time, they are potty-trained, learn bite inhibition and socialization.
All puppies are dewormed and vaccinated as per age requirements. Accordingly, these puppies arrive with a two-year health guarantee against all genetic defects.
They don't encourage air shipping, so you'll have to pick them up at the farm or meet them midway. Pam is happy to answer any questions you may have during the adoption process, as well as after you've taken your Aussiedoodle home. 
Doodles Galore Details
7. D and D's Dandy Doodles
Owned by Darell and Diane Adamson, D and D's Dandy Doodles are breeders that prides themselves on their mission to provide families with loving Aussiedoodle puppies.
The couple enjoys receiving updates on the puppies they've sold to families across Kentucky and are happy to provide references for the stellar adoption experience they provide.
D and D's offers mini and standard Aussiedoodles in various colors, including merle, phantom, parti, solid, and tuxedo. These puppies are raised on a farm sprawling 15 acres where they play and take long walks with other adult dogs. 
They've officially partnered with online puppy BAXTER and Bella and offer a 25% discount on lifetime members' only access to their dynamic Puppy Prep curriculum and coaching classes. 
A non-refundable deposit of $500 needs to be made if you're looking to procure their Aussiedoodle puppies. This deposit is split into two installments.
You first pay $250 to get on their waiting list, and once you pick up your puppy, you can pay the remaining amount. If you're interested in bringing one of their Aussiedoodle puppies back to your home, you can contact them in the following ways.
D and D's Dandy Doodles Details
8. Kentucky Mountain Doodles
Melisa and Taylor Bray are the breeders of this family-owned kennel established in 2004, previously known as Liberty Pines Doodles. They are an established breeder of Goldendoodles, Aussiedoodles, and Bernedoodles.
They've even got customers who have purchased from them multiple times and swear by the seamless experience provided by Kentucky Mountain Doodles.
They've been around for 14 years and guarantee the healthiest puppies that Paw Prints Genetics and DDC Veterinary have genetically tested. They focus on raising only a few litters per year, and their puppies are highly trained and hypoallergenic.
They offer a health guarantee of two years against genetic diseases and hip dysplasia. After filling out their application, you can pick your puppy and make your payment via Paypal, Venmo, bank cheque, or money order.
They offer private ground transport that will deliver your puppy to your door, and this service is available all over the US. Additionally, Melissa will also provide you with constant updates about your quality puppy. Prepare to be blown away by their intelligent little Aussiedoodles that will become part of your family in no time. 
Kentucky Mountain Doodles Details
9. Salt River Kennels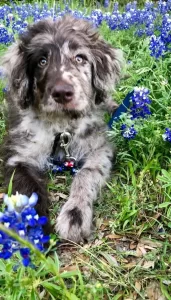 Last on this list of Aussiedoodle breeders in Kentucky is Salt River Kennels. Located in Leitchfield, this kennel is owned by Gloria Watkins. She is a licensed veterinary technician, professional groomer, and puppy culture breeder.
Before her retirement, she was the Head Surgical Assistant at a vet clinic, overseeing over 20 surgeries per day. Currently, she breeds standard-sized F1 and F1B Aussiedoodle puppies that are highly trained and enjoy attention from families.
These puppies are provided early neurological stimulation, beginning three days post-birth. Puppy culture training begins when the puppies are 15 days old, and at four weeks, they are groomed, and potty training begins.
The Aussiedoodles are also vaccinated and started on crate training. You can expect them to behave gently around people at all times, as they are trained not to nip, bite, or even jump on people. 
Their price is around $1,500, and you'll need to pay a non-refundable deposit of $200. You also need to agree to a spay/neuter contract. A one-year health guarantee that covers over 100 genetic diseases and breed-specific genetic ailments is also offered with your puppy.
By the time they are eight weeks old, they would have gained excellent social skills to cope with their new home and family. Then, you can either pick up your puppy from the kennel, meet Gloria at Nashville or Louisville International Airport, or avail of ground transportation. 
Salt River Kennels Details
Conclusion For The "Best Aussiedoodle Breeders in Kentucky"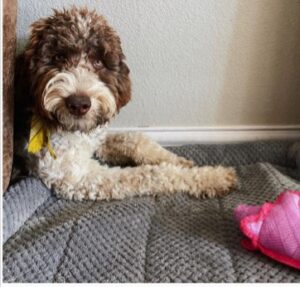 It is said that crossbreeds generally inherit the best characteristics of both their parent breeds. This cannot be more accurate than in the case of Aussiedoodles. Make sure you're giving your Aussiedoodle a home that can keep them pretty occupied, or you might have to deal with some bad behavior.
Aussiedoodles enjoy physical and mental stimulation, so actively spend time with them to encourage constructive entertainment. Positive reinforcement is the golden tool that will make your puppy grow into the best friend you could ever have. 
For more articles with mentions of the Aussiedoodles, you can check out:
Learn more about the Aussiedoodle dog breed by watching "Aussiedoodle Dogs 101 – The Einstein of Cross Breeds" down below: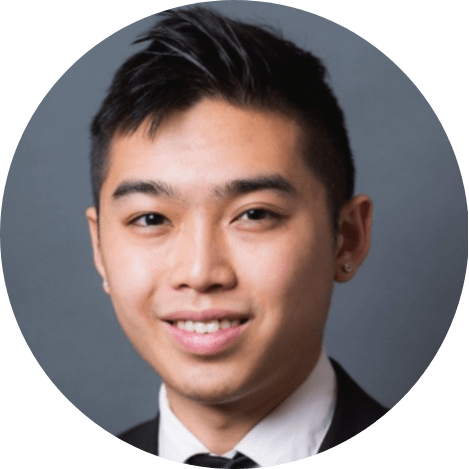 Andy is a full-time animal rescuer and owner of a toy doodle. When he's not saving dogs, Andy is one of our core writers and editors. He has been writing about dogs for over a decade. Andy joined our team because he believes that words are powerful tools that can change a dog's life for the better.
Why Trust We Love Doodles?
At We Love Doodles, we're a team of writers, veterinarians, and puppy trainers that love dogs. Our team of qualified experts researches and provides reliable information on a wide range of dog topics. Our reviews are based on customer feedback, hands-on testing, and in-depth analysis. We are fully transparent and honest to our community of dog owners and future owners.