We will cover the top Vizla breeders in Arizona in this guide. But, before we begin, here's some information about the Vizla breed. The Vizsla is a versatile, red-coated gundog built for long days in the field.
These rugged but elegant athletes have been the pride of Hungarian sportsmen for centuries, and their popularity in America keeps growing yearly. Vizslas are easily recognized by their golden-rust coats.
At 21 to 24 inches at the shoulder, they are the picture of a lean, light-footed hunting companion. The long, silky ears frame a facial expression that's sensitive and loving at home and intense at work.
Before you scroll down this list of breeders with Vizsla puppies in Arizona for sale, you can check out these other recommendations from our team at We Love Doodles: Best Maltipoo Breeders in Arizona and Best Maltipoo Breeders in Arizona.
Vizsla Breeders In Arizona
Due to their hunter's nature, Vizslas form close bonds with their owners and hate to be left alone. Vizslas excel in many sports and activities due to their many talents. The dogs are eager and graceful trotters with great stamina, making them excellent joggers or cyclists.
Vizsla Product Recommendations: Best All-Natural Shampoos For Dogs and Best Medicated Dog Shampoos.
1. Mehagian Vizslas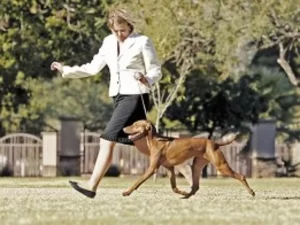 Sandy was the family's first Vizsla. He was acquired in 1964, long before most people heard of Vizslas. But, despite being my constant companion, he was destined for much more remarkable and better things.
His show career culminated in winning Best of Breed at the Westminster Kennel Club Dog Show – the first Western Vizsla to ever do so. They bred him to several female dogs and decided to keep a hunting dog when a litter was due.
Little did they know what lay ahead. The breeders at Mehagian Vizslas are committed to breeding dogs of sound temperament and mind without genetic health issues. It has been demonstrated that dogs are working toward achieving their breeding goals.
They desire to see their dogs sold, even to pet homes, as healthy, wonderful, intelligent family companions, so they breed them to be complete dogs – as hunters and pets.
Mehagian Vizslas Details
2. Valhalla Vizslas
The Laman family started breeding vizslas in 1998, with their first Vizsla named "Zoe," she was a household pet that was easy to train. Zoe was a loving, gentle dog. In Zoe's later years, they acquired a second Vizsla named "Tova."
They started showing Tova under the breeder's advice, and as luck would have it, she started winning and winning and winning. As a result, she became the first Vizsla in Arizona to achieve her Bronze Grand Championship and win a Merit Award at their National Specialty.
She also holds several "back end" titles. This has helped us develop skills in many areas, such as working, breeding, and showing Vizslas. Valhalla Vizslas occasionally breeds Vizslas based on the AKC Breed Standard, emphasizing health, temperament, and breed type.
Dogs must be free of symptoms of genetic heart, eye problems, and hip dysplasia. Every puppy you purchase from Valhalla Vizslas will come with pedigree's grandparents and parents. You will also receive guidance and support from the breeder on becoming a dog owner.
Valhalla Vizslas Details
3. Crown Jewell Vizslas
Crown Jewell Vizslas had had Vizslas since 2003, when they got their first dog, Maggie. Their dogs are raised as family members in their homes, not kennels. So, first and foremost, they are family members. In addition to embarking on a 7-mile hike together, they are equally happy to cuddle on the couch while watching TV.
The dogs are the "CROWN JEWELS" of their family. With their affectionate and adorable personalities, their dogs brighten their lives. Their dogs are involved in conformation dog shows, field hunt training, hunt testing, and obedience training.
Knowing their puppies will primarily go to pet homes, they strive to improve the breed and produce the best possible litters. They aim to breed for health, sound temperament, natural abilities, and conformation to the breed standard.
Crown Jewell Vizslas Details
4. Tappancs Vizslas
Tappancs Vizslas' goal is to ensure the future of the Vizsla through responsible breeding exceptional dogs. A new life is given the most promising start when brought into the world. The first step in this process is to ensure a puppy's health and socialization, beginning even before birth.
Then, by carefully selecting the parents of each litter, they set their puppies up for success, considering factors such as health, temperament, conformation, ability, and drive. Their goal is to produce healthy puppies and find loving, responsible homes.
Their dogs are tested for hip dysplasia, eye certification (CAER, registered with OFA), and other diseases such as thyroid (Autoimmune Thyroiditis, OFA-registered).
Tappancs Vizslas Details
Vizsla Puppies in Arizona For Sale
Vizslas are lively, gentle, and affectionate, with above-average learning abilities and a strong desire to be with people. Some Vizslas can be stubborn, overly excitable, or shy.
The Vizsla can become bored and destructive if left to his own devices. However, this eager-to-please dog is hard to beat if he gets the training, exercise, and companionship he needs.
Vizslas, like all dogs, need early socialization – exposure to a variety of people, sights, sounds, and experiences – when they're young. Socialization helps your puppy grow into a well-rounded dog.
A happy and healthy relationship with a Vizsla depends on exercise, exercise, and work in dog sports and therapy. He needs at least two half-hour workouts per day, such as walks, runs, or fetch games, or he'll become destructive and difficult to handle.
Consistency and kindness are the keys to training a Vizsla. Praise, play, and food rewards are the best ways to motivate him. When you bring your puppy home, begin training immediately for the most effective results. After a few minutes of practice, you will see success several times a day.
How to Choose a Vizsla Breeder in Arizona
Before committing to a breeder, do your research. The following tips will help you find – and work with – a responsible breeder.
Get to know the breeder: Meeting a breeder in person at their kennel or home is the best way to know them. You might not be able to meet your breeder and their dogs during COVID-19, but you can video conference with them.
Look at the dogs and the breeder's premises: Are they clean? Fresh-smelling? Is the breeder enthusiastic about dogs? Do the dogs get enough food? What kind of interactions do the dogs have with their breeder and strangers? Puppies and dogs should be outgoing with strangers and not shy away from the breeder.
Where Do You Find a Vizsla For Sale in Arizona?
Find a good breeder by talking to people in the know. For instance:
Ask your veterinarian, who sees a lot of puppies, for a recommendation.
 Find out where your friend got their dog if you like it.
 Most reliable breeders earn their reputations by providing healthy puppies to good homes, resulting in "word of mouth" endorsements.
 You can find breeders at local dog shows or search the AKC website www.akc.org for breed clubs and breeder referrals.
Learn as much as possible about a potential breeder, but remember that they will want to learn about you! Breeders wish for their pups to have loving homes so that they will ask you a few questions. Furthermore, you want a healthy, happy puppy so that you will have questions for them. Therefore, engage your breeder in an informative discussion.
Conclusion For "Vizsla Puppies In Arizona"
Adopting a Vizsla is exciting, but you may run into unscrupulous breeders. By doing thorough research, you can avoid this. You cannot go wrong when purchasing a puppy from a reputable breeder nearby. Please browse our list of the best breeders in Arizona. We hope you find it helpful.
For more guides similar to this list of breeders with Vizsla puppies in Arizona for sale, you can check out:
If you enjoyed this guide on this list of breeders with Vizsla puppies in Arizona for sale, you might want to watch "Vizsla What To Know" video down below:
Garrett loves animals and is a huge advocate for all Doodle dog breeds. He owns his own Goldendoodle named Kona. In addition, he volunteers at the Humane Society of Silicon Valley, where he fosters dogs and helps animals. Garrett enjoys writing about Doodles and believes that dogs can teach humans more about how to live than humans can teach a dog.
Why Trust We Love Doodles?
At We Love Doodles, we're a team of writers, veterinarians, and puppy trainers that love dogs. Our team of qualified experts researches and provides reliable information on a wide range of dog topics. Our reviews are based on customer feedback, hands-on testing, and in-depth analysis. We are fully transparent and honest to our community of dog owners and future owners.