If you're looking for the best breeders with Labrador puppies in Kentucky for sale, here's what you need to know. For decades, the Labrador Retriever has been one of the most popular pedigree breeds. Having a rich history as a working companion to finding its place in modern homes everywhere, this dog is always making new friends.
Before scrolling down this list of breeders with Labrador puppies in Kentucky for sale, you can check out these other recommendations from our team at We Love Doodles: French Bulldog Puppies in Kentucky and German Shepherd Puppies in Kentucky.
Labrador Breeders in Kentucky
It's your lucky day if you've always wanted one of these dogs but didn't know where to find one. Here is a list of Kentucky's top Labrador Retriever breeders.
Labrador Product Recommendations: Best Air-Dried Dog Food and Best Dog Scooting Treatments.
1. PuppySpot's Labradors For Kentucky
First on the list of the best breeders with Labrador puppies for sale in Kentucky is PuppySpot. This AKC-authorized organization is dedicated to promoting the health of every dog. They encourage breeder education and hold every breeder in their community to high standards. Every breeder they work with is either licensed or has a legal exemption from licensing.
Since they began their work over 10 years ago, they have found homes for more than 200,000 healthy puppies happy homes. Each breeder who applies to sell with PuppySpot must undergo a strict, USDA-approved screening process.
Very few breeders make it through this process, and the ones who go on to sell through their website must submit to annual screenings to ensure their breeding programs continue to meet or exceed national standards. This careful vetting process means you'll never have to worry about accidentally supporting puppy mills or other scammers.
Every puppy sold through PuppySpot will come with a Vet Health Report, vaccination records, a certificate of good health, AKC limited registration paperwork, membership in AKC Reunite for lost dogs, and entry into all AKC events. They also include a PupPack, containing a dog bed, a sherpa blanket, dog dishes, a leash, a few toys, a waste bag dispenser, two rolls of waste bags, and a drawstring bag to help you keep your Labrador pet supplies organized.
PuppySpot Details
2. West Ky Labs
In 2006, West Ky Labs began selling quality Labrador Retriever puppies. It all started as a hobby for their son, which turned into an exciting adventure through the years. In the beginning, they had a yellow female named Allie Bell and a chocolate male named Rambo (they still have him today).
West Ky Labs is located on a 130-acre farm in Drakesboro, Kentucky. They strive to sell quality Labrador Retrievers that are well-tempered & socialized. Their puppies are all purebred Labrador Retrievers registered with the AKC. Their only focus is on Labs because they believe they are the best family pet you can have.
West Ky Labs Details
3. RCM LABRADORS
RCM LABRADORS have been breeding Labradors since 1995. They live on a small farm in Bloomfield, Kentucky. First, their children were involved, and now their grandchildren are. The grandchildren are always eager to help feed and play with the puppies. However, they admit they can sometimes balk at picking up after them.
They are a small breeder of AKC Labrador Retrievers, raising their puppies in their own home. They make sure their puppies are well socialized. RCM LABRADORS are AKC-inspected and 100% compliant.
RCM Labradors Details
4. LincolnParkLabs
There's no doubt that Labrador Retrievers have captured the hearts of Americans. With the top spot on the American Kennel Club's list of registered dogs for years, they are the preferred choice of many families and are lovingly nurtured from the comfort of their homes. Located in the cozy town of Springfield, Kentucky, Lincoln Park Labs has been breeding labrador retrievers for over 20 years.
They have extensive experience raising and breeding these dogs, as they always work to ensure every puppy receives the care it deserves from birth. In addition, Lincoln Park Labs produces white and English lab puppies, all of which are light to white, allowing you to choose the perfect puppy for you.
English Labradors are all AKC-registered and have champion pedigrees. Before breeding, all sires and dams are DNA tested, OFA Certified, and have health clearances on their hips and elbows. Each Lab puppy comes with a health certificate, a pedigree, a vet exam, and a 30-month guarantee against hip dysplasia before it is placed in your care.
Lincoln Park Labs Details
5. Carter Farm Labs
Carter Farm Labs are located in the heart of south-central Kentucky in a small town called Center, KY, only 20 minutes from Mammoth Cave National Park. In addition, they are just one hour from Bowling Green and Elizabethtown, 1.5 hours from Louisville and Nashville, Tennessee, and 2 hours from Lexington.
They raise their Labradors on their 160-acre farm and their Red Angus cattle, horses, and children. Labradors are their specialty, focusing on breeding them to make the perfect family companions. Most of their Labradors have an English appearance, with stocky builds, blocky heads, and thick coats.
The Labradors they breed stay within the standard for size (females 55-70lbs and males 65-80lbs). The English Labrador is also known for its laid-back, easy-going, loving temperament. Even though they are Labradors and love to retrieve, they don't have a high drive like American Field-bred Labradors.
Chocolate Labradors are their specialty, and most of their litters are chocolate, but occasionally they have other colors too. Despite the importance of color, they breed with health, pedigree, and improvement with each litter.
Carter Farm Labs Details
6. Bluegrass Labradors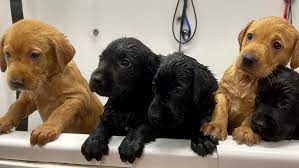 Bluegrass Labradors are dedicated to breeding high-quality, multifunctional dogs which are physically sound, mentally stable, and emotionally resilient. These dogs make excellent family companions and hunting partners. In Wilmore, Kentucky, they have a 31-acre farm where they have their kennel.
Many of the pups they produce become service dogs, specific odor detection dogs, therapy or emotional support dogs, and hunting companions. Many of the puppies they breed come from the best American and British lines.
They aim to produce healthy, intelligent, athletic dogs that can hunt upland birds or waterfowl daily and snuggle up with you by night. Explore their website to learn more about them, how they raise their puppies and each member of the breeding program.
Bluegrass Labradors Details
Labrador Puppies in Kentucky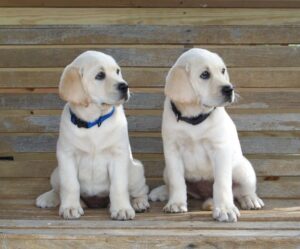 Every responsible pet owner wants their dog to be as healthy as possible. Labrador Retrievers are easier to care for than many other breeds. A well-bred Labrador is a relatively low maintenance, fit, and healthy.
However, your Labrador's continued health and well-being depend entirely on you. A nutritious diet, regular exercise, grooming, preventive measures, and regular visits to the veterinarian are the keys to maintaining good health and wellness.
You'll want to learn to take care of your Labrador's health and hygiene and set up a daily, weekly, quarterly, and annual routine. Diet control, exercise, and physical examinations will be daily routines. Weekly routines include grooming and caring for ears, eyes, teeth, and nails.
How to Choose a Labrador Puppy in Kentucky
Choose a breeder who breeds not just for "color" but for genetic soundness, good temperament, and conformation to breed standards. You may end up with an aggressive or hyperactive dog or a dog that dies young. Puppies are cute, but what kind of dog will you spend the next 15 years with?
Having "papers" or being "AKC registered" does not make a dog a good dog. AKC registration merely signifies that the dog's parents are registered (the AKC doesn't guarantee the quality, they're just a registry). You can breed two dogs with AKC registration, but they can be terrible specimens of Labradors.
If you are not planning on participating in high-stress, professional field trials, look for a lab with "English" bloodlines. American Field lines have a different temperament. These dogs can be hyper, high-strung, and not always make good indoor pets. This is not true for all American labs. However, you might see this difference more frequently.
Where Do You Find a Labrador Puppy in Kentucky?
Find a quality Labrador Retriever puppy from a reputable breeder using the American Kennel Club's Labrador Retriever puppy finder. Despite Labradors being generally healthy dogs, both parents must get screened for any health issues before breeding.
You are also much more likely to encounter a puppy mill if you adopt from unregistered litters. When you adopt a puppy, you should meet both parents (or the mom) and get information about each parent's health history.
Conclusion For "Labrador Puppies in Kentucky For Sale"
The Labrador Retriever is a beautiful dog, and you are well on getting one. However, you still need to tackle a few things first. It's crucial to find the right breeder, and it may be time-consuming, but it's worth the effort.
Always choose a breeder that you like, trust, and respect. Avoid being pushed into any decision. This should be a natural and intuitive process. Finally, have fun with your new puppy.
For more guides similar to this list of breeders with Labrador puppies in Kentucky for sale, you can check out:
If you enjoyed this guide for breeders with Labrador puppies in Kentucky for sale, you might want to take a look at the "10 Things Only Labrador Dog Owners Understand" video down below:
Garrett loves animals and is a huge advocate for all Doodle dog breeds. He owns his own Goldendoodle named Kona. In addition, he volunteers at the Humane Society of Silicon Valley, where he fosters dogs and helps animals. Garrett enjoys writing about Doodles and believes that dogs can teach humans more about how to live than humans can teach a dog.
Why Trust We Love Doodles?
At We Love Doodles, we're a team of writers, veterinarians, and puppy trainers that love dogs. Our team of qualified experts researches and provides reliable information on a wide range of dog topics. Our reviews are based on customer feedback, hands-on testing, and in-depth analysis. We are fully transparent and honest to our community of dog owners and future owners.