Here's what you need to know if you're searching for breeders with Great Dane puppies for sale in Louisiana. Massive, imposing, and often intimidating looking, their fearsome size and looks do little to mask their true personalities of sweet, loving goofballs.
They often think that they are lapdogs and want nothing more than to sit on your lap and cuddle, blissfully oblivious of the effect of their bone-crushing bulk. Contrary to their name, Great Danes originally bred some 400 years ago in Germany, not Denmark.
Descendents of Mastiff-like breeds, these powerful, elegant dogs were bred by German nobility to protect their property and hunt wild boar. The modern Great Dane was developed in the 1800s. Today, they are kept primarily as family pets and, despite their size, are even suitable for apartment and city dwellers as long as they are exercised adequately. They have low to medium energy levels and very modest exercise needs.
It is not uncommon to find a Great Dane on the couch for hours at a stretch, and a hyperactive Great Dane that needs loads of physical stimulation a day is rare. The most impressive thing about a Great Dane is its size. It is known as one of the largest breeds globally, with males reaching 32 inches at the shoulder and weighing up to 120 lbs and females up to 30 inches and up to 120 lbs.
Here's a little fun fact about the Great Dane for you. On record, the largest Great Dane is Giant George, a blue Dane that measured 43 inches (109 cm) at the shoulder and tipped the scales at a whopping 245 lbs (111 kg). Of course, being this big comes with its own set of potential health problems.
Before you scroll down this list of breeders with Great Dane puppies in Lousiana for sale, you can check out these other recommendations from our team at We Love Doodles: Maltipoo Puppies in Louisiana For Sale and Best Boxer Breeders in Louisiana.
Great Dane Breeders in Louisiana
Choosing your Great Dane breeder with much care and focusing on genetics and temperament is crucial. If you are looking for a Great Dane in Louisiana, read on as we share some of our favorites!
Great Dane Product Recommendations: Best Luxury Dog Houses and Best Odor Resistant Dog Beds.
1. PuppySpot's Great Danes For Louisiana
Almost everyone has adopted a puppy or dog or has someone in their family who has adopted. The first thing you must have noticed is the attraction and proximity of these Great Dane puppies towards their owners. Great Dane puppies are very playful, and they want to play with their owners. You may have thought once about adopting a puppy in your life.
If you still have some interest, we have brought PuppySpot for you in this regard. PuppySpot is where you can find your favorite puppies with just a few searches. There are thousands of puppies listed every single week. You have to filter out your Great Dane puppy's age, breed, size, and gender, and PuppySpot will show you the best possible results you are wondering about.
PuppySpot takes good care of the health of the puppies which they sell. They take care of feeding requirements, nutrition, and health checkups daily. It is done to maintain the quality and physical fitness of these puppies. Moreover, PuppySpot also offers ten years of extended health care warranty to their valuable customers who buy puppies.
More than 200,000 puppies are already sold via this platform, and people are leading extraordinary lives with their furry playmates. These customers give more than 10,000 reviews with 5-star ratings and encouraging remarks. The reviews and appreciations are proof of the authenticity and delivery that PuppySpot is offering.
PuppySpot also has the facility of airplane puppy delivery service to Louisiana. Through this service, PuppySpot allows you to order your favorite Great Dane puppy online if you cannot come to the shop and bring it. It saves customers a lot of time and gets their favorite puppy at home. PuppySpot has excellent customer care support as well.
All those looking for any information from the customer care department can easily reach them and resolve their queries. When it comes to the breeding and fitness of puppies, PuppySpot has developed some unique and strict protocols for the breeders to follow. It is said that only 10% of breeders go successfully through these tests.
PuppySpot is also affiliated with one of the biggest societies in America, to name a few are American Humane Society and AKC. Along with that, 100 plus steps are taken for the breeders before they join the selling community of PuppySpot. So it elaborates the transparency of PuppySpot as well. We can safely say that PuppySpot tries to deliver puppies with care, safety, and physical fitness.
PuppySpot Details
2. Country Acres Great Danes
Country Acres Great Danes is a family-run business set on 23 acres of farmland in central Louisiana. All of their Great Danes are adored and handled as children, and their litters descended from the top European and American lineages to produce healthy puppies. They breed to improve the Great Danes' quality, temperament, size, and lifespan.
They send out images, videos, and weight updates every two to three days from the day the puppies are born, so the prospective buyers may enjoy watching their reserved puppies grow until they are ready to join their new home. The hand-raised puppies are surrounded by affection and attention from the minute they are born, ensuring a stable, happy start to life.
All of the puppies at Country Acres Great Danes have been well-socialized and desensitized to loud noises such as TV, music, yelling, barking, phones ringing, trampling, and numerous other stimuli that some dogs might get nervous about if under-exposed. Country Acres Great Danes also start puppy potty training with a training bell to go outdoors.
Country Acres Great Danes Details
3. Wehrhaus Great Danes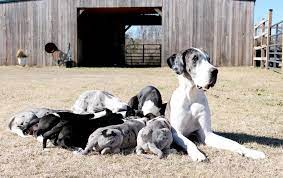 Wehrhaus Great Danes is a Louisiana-based breeder of American Kennel Club (AKC) Great Danes. Their primary goal is to produce a well-rounded and intelligent Great Dane with minimal genetic conditions and an optimal lifespan. Their dogs have exceptional temperaments and are from the champion, health-tested, European and American bloodlines.
Desensitization training begins at three weeks, and potty training begins at five weeks. They do not go outside unaccompanied before six weeks and are taught their names and basic obedience commands to complement their potty training.
Wehrhaus Great Danes also stream live daily footage so that buyers may keep track of their puppies, which enjoy extensive socialization with other dogs, cats, farm animals, and young children. Since 2012, Wehrhaus Great Danes has participated in the AKC Bred with H.E.A.R.T.
The program is made up of breeders pledged to uphold the values of "health, education, accountability, responsibility, and tradition." Their Great Dane puppies are precisely bred for extraordinary health and temperament, and a limited number of puppies are available each year.
They do not have multiple litters a year to ensure that their breeding pairs are not overbred, and their puppies enjoy plenty of attention, resulting in well-rounded dogs. Before they are considered for future parents, all of their puppies are health examined and cleared of genetic disorders.
Wehrhaus Great Danes Details
4. Louisianne's Great Danes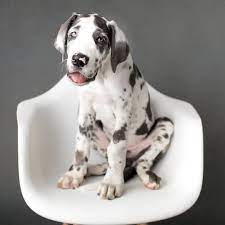 Louisianne's Great Danes have AKC-registered Great Dane puppies available in various colors. Their puppies, mainly from American lineage with a touch of European genes, are bred to be friendly, slender, and athletic, with lovely, blocky heads and no droopy eyes or excessive drool.
They treat the puppies as their own, and all prospective owners are carefully screened and chosen through a clear and straightforward application process. All puppies are sold with a one-year health guarantee and a return-to-breeder contract.
Louisianne's Great Danes is a "pet-only" breeder near Shreveport, Louisiana, offering payment options and shipment upon request. Louisianne's Great Danes aims to create a positive experience for fellow Great Dane lovers by giving great dogs to only the best families.
Their adult Great Danes are like family to them, sharing their beds, going on vacations, and even enjoying their air-conditioned patio for the short time they spend away from their humans. Louisianne's Great Danes devotes a significant amount of time ensuring that each puppy is thoroughly socialized and spoiled when delivered.
Louisianne's Great Danes Details
5. King's Guardian Great Danes
King's Guardian Great Danes is a reputable Great Dane breeder in St. Amant, Louisiana. They breed some of the most stunning off-color and standard-color Great Danes in the south. All of their puppies and adult Danes are nurtured and extremely well-socialized with children in their homes.
King's Guardian Great Danes are proud of their breeding program and only sell to other family-type, loving households that they know would care for the puppies in the same way that they do. They aim to breed healthy, caring, and intelligent Great Dane puppies who are socially active and potty trained.
All puppies are required to be sold on a sales contract that includes spay and neuter and a return-to-breeder clause, and all prospective buyers must fill out an extensive puppy application. King's Guardian Great Danes strive to breed high-quality, well-mannered, healthy puppies to make excellent additions to any household.
King's Guardian Great Danes Details
6. Southern Barron Danes
Last on the list of breeders with Great Dane puppies in Louisiana is "Southern Barron Danes." Based in Prairieville, Louisiana, Southern Barron Danes is a small in-home Great Dane breeder that isn't a kennel but rather a home breeder that lovingly hand-raises their litters in their homes members of their family.
With both standard and off-color puppies, Southern Barron only releases their puppies after eight weeks. All their puppies come with a 2-year genetic health guarantee, dewclaws removed, dewormed, and an up-to-date vaccination schedule.
These Great Dane breeders keep in constant touch with their eventual buyers and offer lifetime assistance to all their customers. Their AKC-registered puppies are raised with strict principles and extensive socialization with children and dogs and animals.
The American Kennel Club Reunite microchipped puppies are sold with a spay and neuter clause in the sales contract, and by the time they are ready for their new homes, potty and crate training would have already begun.
The return-to-breeder clause in a contract also stipulates that if you have to return your dog, they get first to pick on whether to keep it, ensuring that your dog never ends up in a shelter.
Southern Barron Danes Details
Common Health Problems in Great Danes From Lousiana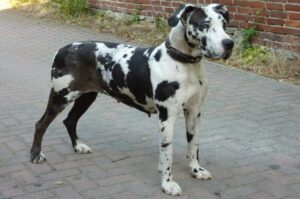 Being one of the largest dog breeds globally, Great Danes are unfortunately exposed to several genetic conditions that can range from discomfort to danger.
Some of these genetic predispositions include:
Hip and elbow dysplasia: This is a common condition, especially in large breeds, where the bones in the hips or elbows don't form properly. It's a hereditary condition, so only buy Great Danes from reputable breeders who have had their dogs' hips and elbows checked and certified by the Orthopedic Foundation for Animals (OFA).
Bloat: This is a potentially life-threatening condition where the stomach twists and fills with gas. Great Danes are particularly susceptible to bloat because of their deep chests.
Cardiomyopathy: This is a heart muscle disease that can lead to heart failure. It's relatively common in Great Danes and can also affect young dogs.
Cancer: Unfortunately, cancer is also relatively common in Great Danes. The most common types of cancer seen in the breed are osteosarcoma (bone cancer) and hemangiosarcoma (cancer of the blood vessels).
Conclusion For "Great Dane Puppies in Louisiana"
Great Danes are lovin', kind, teddy bears whose imposing appearance often belies their gentle nature. However, as with most breeds, their risk of health problems can be reduced by going to a reputable breeder with a strong focus on genetics. Thanks for reading, and happy Great Dane hunting.
For more guides similar to this list of breeders with Great Dane puppies in Lousiana for sale, you can check out:
Before you bring home a Great Dane puppy from a breeder in Louisiana, you can learn more about this dog breed by watching "Things Nobody Tells You About Owning a Great Dane" down below: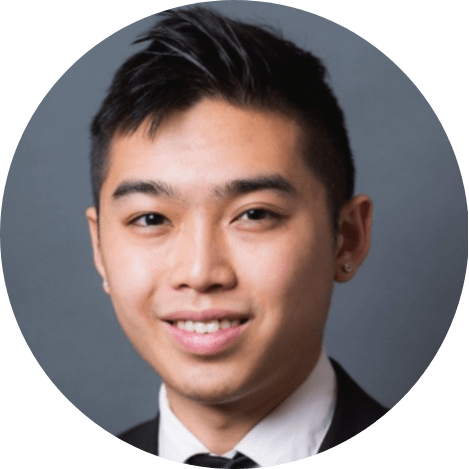 Andy is a full-time animal rescuer and owner of a toy doodle. When he's not saving dogs, Andy is one of our core writers and editors. He has been writing about dogs for over a decade. Andy joined our team because he believes that words are powerful tools that can change a dog's life for the better.
Why Trust We Love Doodles?
At We Love Doodles, we're a team of writers, veterinarians, and puppy trainers that love dogs. Our team of qualified experts researches and provides reliable information on a wide range of dog topics. Our reviews are based on customer feedback, hands-on testing, and in-depth analysis. We are fully transparent and honest to our community of dog owners and future owners.