If you're searching for French Bulldog breeders in Tennessee, you've come to the right place. French Bulldogs are one of the most famous dog breeds on the planet. Maybe it's their shape. Maybe it's their temperament. People just love them and can't seem to get enough of them.
Before scrolling down this list of French Bulldog breeders in Tennessee, you can check out these other recommendations from our team at We Love Doodles: Best German Shepherd Breeders in Tennessee and Best Shih Tzu Breeders in Tennessee.
French Bulldog Puppies For Sale in Tennessee
If you're interested in getting one of the said puppies for yourself or your family and live around  Nashville or Knoxville, you're lucky because we've compiled a list of the top breeders in Tennessee.
French Bulldog Product Recommendations: Best Pet Insurances For French Bulldogs and Best Bone Broth For Dogs.
1. PuppySpot's French Bulldogs For Tennessee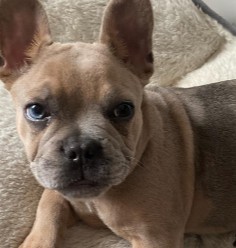 Since you're searching for French Bulldog breeders in Tennessee, we highly recommend that you look at PuppySpot's online platform. PuppySpot is a reputable and trusted dog marketplace where you can browse and find available French Bulldog puppies right from the comfort of your home in Tennessee.
It would help if you kept in mind that all French Bulldog breeders with listed puppies must go through a strict screening process to rest assured, knowing that your companion will be safely shipped to your home in Tennessee. Before you continue on your journey for a French Bulldog puppy for sale in Tennessee, check out the link to the marketplace below.
PuppySpot Details
2. Joyful Noise Frenchies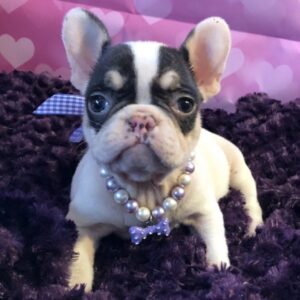 Let's kick off this top French Bulldog breeders in Tennessee list with Joyful Noise Frenchies, a small, family-managed breeder located in Pall Mall, TN. Joyful Noise's owners have over 50 years of combined experience raising and breeding animals, including cats and Franch Bulldogs.
They take their work very seriously, as they have very high standards. They were named one of the top 50 dog breeders in the US. Their biggest priorities when breedings are health and the puppies' socialization.
To make sure the dogs have the best possible health, they are checked by a vet right after they are born. They are then vaccinated and de-wormed. For the social aspect, the dogs are left free to mingle and play between themselves right after birth. This shows the dog's great temperament and behavioral skills. If you're interested in getting a dog with them, you can contact them through their web page.
Joyful Noise Frenchies Details
3. Doree's Riverside Frenchies
Up next comes Doree's Riverside, located in Linden, TN. Their main motivation to breed is their love for the bulldog breed and their wish to educate and share them with the world. They seek happy and healthy puppies.
They raise the puppies in their own house, placing them in a comfortable environment for them to grow up. At the same time, they'll get some exposure to some of the sounds and small they might perceive once they are adopted.
Their puppies grow alongside other puppies, helping develop social skills and temperament. It is an AKC-certified breeder, meaning they offer quality bred and healthy puppies. When it comes to trust, you can place yours with Doree's comfortably, knowing you'll get a nice puppy.
They also take the puppies' health very seriously. Every puppy they sell is allergy and epilepsy free. In addition to that, the dogs will be checked by a vet and get vaccinated and de-wormed. If you're interested in getting your bulldog with them, you can contact them through their webpage.
Doree's Riverside Frenchies Details
4. Blue Buddha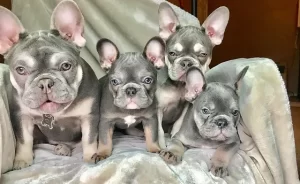 Up next comes Blue Buddha, a family-owned, small-scale breeder. They breed Bulldogs due to a big love of the breed. They say Bulldogs are "a breed like no other" due to their wacky personality yet sweet and energetic temperament. They also describe the breed as "be addicting to be with."
They love the playfulness of the puppies. They strive to breed quality puppies, both healthy physically and mentally.  They are raised in a home environment that is calm and peaceful. There, the puppies can grow, run, interact, and develop a sweet temperament.
They focus on making getting a puppy an experience. If you're interested in getting your dog with them, they'll update you every step of the way until you take your new puppy to your house. Since physical health is also important to Blue Buddha, they have become experts in breeding healthy puppies with good DNA.
Blue Buddha Details
5. Superbulls French Bulldogs
The next breeder we'll review is Superbulls. They are located in Kingston, TN. And have been breeding dogs for over ten years, with a lot of success. They have gathered a lot of expertise during this time, and their breeding methods have only gotten better.
When breeding, their main priorities are health and socialization. They take big measures to ensure the puppies get the best in both aspects of the equation. On the health side, once the puppies are born, they'll be vaccinated and de-wormed as soon as possible. A vet also checks them.
On the social side, they believe in slowly exposing the puppies to sounds, tastes, smells, and people. They do so gradually, allowing the dog to mature and develop a temperament while also learning how to behave in various situations. To give these puppies the best chance in life, the puppies won't be sold to any 3rd parties or brokers. This way, they can get to know the family who'll buy their puppies.
Superbulls French Bulldogs Details
6. Sapphire Blue Frenchies
Next on our list comes Sapphire Blue Frenchies, a family-owned breeding business located in Hendersonville, TN. Let's start by saying the breed Bulldogs due to a bog love of the breed. The py think Bulldogs are special dogs with curious dispositions and a funny yet cool way of being.
They are focused on giving you a quality product. They invest many resources and research on giving puppies high-quality products to grow healthy, strong, and happy. They begin by DNA testing the puppy's parents for any genetic disease. Once the puppies are born, they'll receive vaccinations and de-worming treatment.
During their day-to-day life, the puppies will receive high-quality food and vitamins, and they'll also get cozy beds where they can comfortably sleep. Your puppy will be well-mannered. They train the puppies and let them live in a house environment. This helps them learn about domestic life and form a mild temperament.
Sapphire Blue Frenchies Details
7. Full of Love Frenchies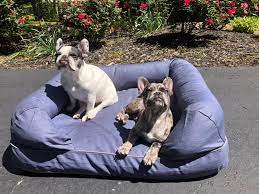 Last on the list of the best French Bulldog breeders in Tennessee is "Full of Love Frenchies." They are a small-scale breeding family who decided to start this breeding venture due to a big love for the puppies.
They have a lot of experience working with Bulldogs and breeding them. They have gathered many skills and knowledge on good ways to raise happy puppies during this time. They breed to get healthy, high-quality puppies to families.
They test all of their dogs just before mating them for any genetic disease. Once the puppies are born, they'll be vaccinated and de-wormed. They are an AKC certified breeder, meaning they offer top-notch puppies and are worthy of your trust throughout the breeding process.
Should you consider going with them as your breeder, they offer a one-year health guarantee in the case of an unfortunate event. If you also want, they offer delivery to your home.
Full of Love Frenchies Details
Website: Full of love Frenchies
Location/Address: TN, United States
Choosing a French Bulldog Breeder From Tennessee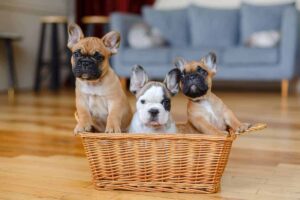 Choosing a breeder seems like a pretty straightforward thing, right? The answer is quite the opposite. It is difficult to do so. After all, you choose and trust someone to breed, take care of, and educate your future puppy. Something for which few people are suited.
Choosing the right person is very important. If you don't go the right way, your puppy might have some behavioral or health issues going down the road, so it's important to consider who you're adopting from.
These breeders have their own thing and breed in the way they see fit. It isn't a matter of being right or wrong, but rather of going in a direction, you feel comfortable, happy, or satisfied. It is also recommended to go with a breeder who can offer you the most.
More Information About French Bulldogs From Tennessee
Bulldogs are a unique dog breed, they have a very special personality and way of carrying themselves, and it is something very cool to get the opportunity to see one of them in action.
Here are a couple of interesting facts about bulldogs:
Bulldogs' original purpose was to bait bulls
They come from England
Bulldogs don't like water
It is also important to let you know that having a Bulldog will require time, dedication, and energy. Suppose you're okay with all of that, great. If not, maybe it would be better to entirely go with another breed or pet.
Before you make any monetary commitment, be sure to properly investigate everything you need about the breeder, as it could be someone who's looking to take advantage of you. Be sure to sort out who to trust and who not to by asking as many questions as possible. A certification can also go a long way.
Conclusion For The "Best French Bulldog Breeders in Tennessee"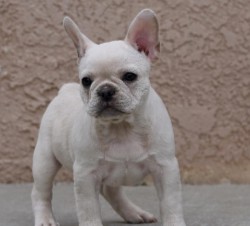 French Bulldogs are great pets. If you choose to go with one, the odds are you won't regret it. They are a very big responsibility, so be sure you can handle it. Do proper research before committing to anything, and go with someone you feel is right for you.
For more guides similar to this list of French Bulldog breeders in Tennessee, you can check out:
Before you bring home a French Bulldog puppy from a breeder in Tennessee, you can learn more about the breed by watching "Before You Own a French Bulldog" down below: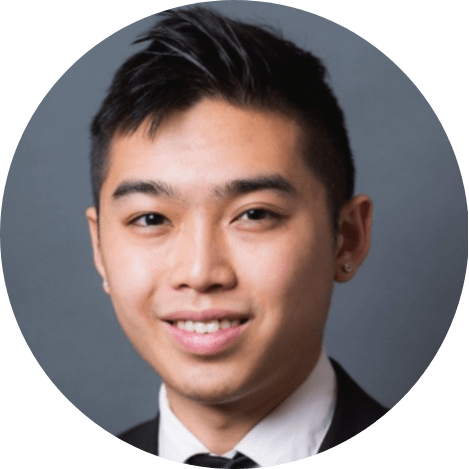 Andy is a full-time animal rescuer and owner of a toy doodle. When he's not saving dogs, Andy is one of our core writers and editors. He has been writing about dogs for over a decade. Andy joined our team because he believes that words are powerful tools that can change a dog's life for the better.
Why Trust We Love Doodles?
At We Love Doodles, we're a team of writers, veterinarians, and puppy trainers that love dogs. Our team of qualified experts researches and provides reliable information on a wide range of dog topics. Our reviews are based on customer feedback, hands-on testing, and in-depth analysis. We are fully transparent and honest to our community of dog owners and future owners.