Thankfully, you can enjoy all the advantages of owning a puppy without actually purchasing one. In this article, we'll show you some of the most effective and proven ways to get free puppies in Montana.
Dogs have played a significant role in our lives for many years. Puppies bring a lot of happiness and are a constant source of company. They can also promote workouts, socialization, and reducing stress.
No matter the breed, puppies will make you feel less alone. They are the most popular family pets and companions since they are great with children. A puppy from a breeder may cost you a few hundred to several thousand dollars.
You need to be patient and put in some effort when looking for a free puppy in Montana. You don't have to give up when one method does not work for you — try multiple sources until you find your desired puppy for free. Here are some of the things you stand to enjoy when you get a free puppy.
Before you scroll further down this guide, "Best Places to Get Free Puppies in Montana," check out: Maltipoo Puppies For Sale in Montana: Top 5 Breeders! (2023) and 6 Best Labradoodle Breeders in Montana! (2023).
Advantages of Getting Free Puppies
For dog lovers who want to save money but still want a companion to care for, getting a free puppy is a blessing. The following are some of the main advantages of receiving a free puppy.
You Don't Have to Wait a Long Time to Get Your Puppy
There is no lengthy waiting period or application process when getting a free dog. It takes time to purchase from a breeder or adopt from a rescue. You would need to wait until all necessary procedures are finished and your application is approved.
To make sure your home is acceptable for the puppy you wish to adopt, many rescue groups also do home visits, which often take a few weeks or approximately a month. When receiving a free puppy, you can avoid prolonged waiting as well as house visits, extensive interviews, and potential rejections.
You can get a companion right away without having to endure a protracted waiting time. The only thing you need to be concerned about is how long it will take the puppy to get to you, but how you obtain the puppy will determine how long it takes.
You'll Save a Lot of Money
You could save thousands of dollars by getting a free dog. A puppy from a breeder might cost up to $5,000 depending on the breed. Some purebred dogs are very expensive, and you might have to pay for full registration and shipping.
Getting a free puppy also exempts you from the small adoption fees charged by rescued organizations and shelters. However, the fees charged by these organizations are nothing compared to buying from a breeder.
You Can Get a Purebred Puppy Without Spending a Fortune
Popular purebred puppies cost a lot of money. Reputable breeders charge a few thousand dollars for these dogs. If you're fortunate, you might be able to obtain a purebred puppy for free. Any listing or advertisement for a free purebred dog may be a once-in-a-lifetime chance; do not let it pass you by.
It Will Enable You to Take Proper Care of Your Puppy
By getting a puppy for free and saving a lot of money, you can allocate more money to the basic things your new best friend needs. Getting a puppy for free does not mean you won't spend money caring for it.
The supplies or accessories like a bed, toys, treats, food, a carrier, grooming tools, and more can be purchased with the purchase or adoption price. You may want to purchase an excellent pet insurance policy to prevent significant costs down the road.
Tips for Getting a Free Puppy in Montana
You can effectively use any of the approaches detailed here to get a free puppy in Montana.
Some techniques might not be 100 percent guaranteed. However, if you are more motivated and work harder, you can get a new companion for free.
1. Leverage Craigslist
People from all over the US can see advertisements on Craigslist for services, employment, and even free dog adoption. Adoption fees, which vary depending on the breed, size, and listers, are often required for the majority of the postings on the platform.
However, if you're lucky, you might find a puppy listing without any costs. You need to be cautious when engaging with anyone because some of these posts may just be scams.
Never provide anyone access to your personal information, especially your location, without verifying their legitimacy and asking a series of questions. Never pay any shipping or delivery fees before making sure they are real.
2. Ask Family and Friends (Referral)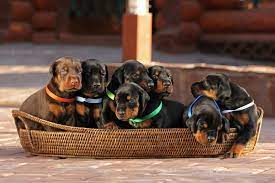 Sometimes, the best place to find a new dog is right in your own circle. There's a chance that one of your family members, close friends, neighbors, or coworkers is expecting a litter or knows someone who is and is ready to share.
If a family member or someone you know intends to give their puppies away for free, you might let them know about your plans and ask to take one for yourself. As an act of kindness, you can present them with something or take them to a beautiful restaurant or pub.
3. Ask Rescue Organizations for a Free Puppy
One of the most effective options to explore is to ask the nearest dog rescue in your neighborhood. These organizations rescue dogs from kill shelters and the streets. You may already be aware that adopting a dog or puppy from a rescue organization is never free.
Nevertheless, you can offer your services as a foster parent, housebreak the puppy, and ultimately adopt it. Based on your agreement with the rescue, they may waive the fees if you sign up to be a foster parent as a method to demonstrate your ability to care for the puppy.
Getting a puppy from a rescue comes with its advantage because these puppies are only released when there's a match, meaning you will go home with a puppy suitable for your lifestyle, home, and family.
You could also avoid the arduous process of adopting a puppy. The adoption fees for all or some of the dogs and puppies in several rescues are occasionally waived during special events or days. However, you must meet the organization's criteria to qualify for a free puppy.
Here are some reliable dog rescue groups in Montana you can contact for a free puppy:
4. Online Platforms
Online platforms like Petfinder, Adopt-a-Pet, and ClassifiedAds can also come in handy when looking for healthy, high-quality puppies. These platforms frequently have puppies and dogs listed as "lost and found." The sites are also used by some pet owners who want to find new homes for their animals.
Most puppies or dogs that are featured on these websites are subject to a small fee. However, if you look through the collection of adverts from pet owners and breeders, you can find free alternatives. Listings from rescue organizations and shelters that are trying to find better homes for their puppies and dogs are also available.
5. Check Pet Shelters
Montana is one of the states with many government-owned animal shelters. Every day, scores of puppies and dogs are taken in by animal shelters. Dogs that are not adopted after a specific period may be euthanized.
Most times, these shelters don't charge an adoption fee to release these puppies and dogs. Nevertheless, given that many shelters take in puppies and dogs regardless of their physical or behavioral health, you might be given a free puppy with behavioral problems or a serious physical health issue.
You will incur costs for treatment or behavioral training if you bring such puppies home. So, be cautious when adopting a puppy from a shelter.
Frequently Asked Questions
Where is it best to get a puppy?
Rescues, shelters, and fosters are typically great sources of puppies, free or otherwise.
Does Montana allow Pitbulls?
While the state does not have a ban on Pitbulls, they are not allowed in White Sulphur Springs.
Is Montana a dog-friendly state?
Montana is a great place to bring a dog, whether you're visiting on vacation or a resident.
Conclusion for "Best Places To Get Free Puppies in Montana"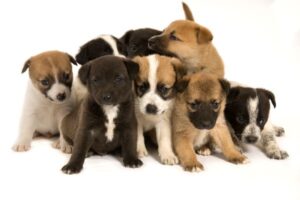 As much as you want to get a puppy without breaking the bank, your focus should be on a healthy puppy without any genetic or behavioral issues.
You should only accept puppies from trusted sources, such as those listed above. Besides that, owning a dog is a lifetime commitment and you want to ensure you can own up to the responsibility of owning it.
If you find this guide, "Best Places to Get Free Puppies in Montana," helpful, check out:
Before you begin your search for free puppies in Montana, learn more dogs by watching "HOW TO GET A FREE PUPPY || 3 WAY TO GET A FREE DOG || VLOGRSH" down below:
Garrett loves animals and is a huge advocate for all Doodle dog breeds. He owns his own Goldendoodle named Kona. In addition, he volunteers at the Humane Society of Silicon Valley, where he fosters dogs and helps animals. Garrett enjoys writing about Doodles and believes that dogs can teach humans more about how to live than humans can teach a dog.
Why Trust We Love Doodles?
At We Love Doodles, we're a team of writers, veterinarians, and puppy trainers that love dogs. Our team of qualified experts researches and provides reliable information on a wide range of dog topics. Our reviews are based on customer feedback, hands-on testing, and in-depth analysis. We are fully transparent and honest to our community of dog owners and future owners.